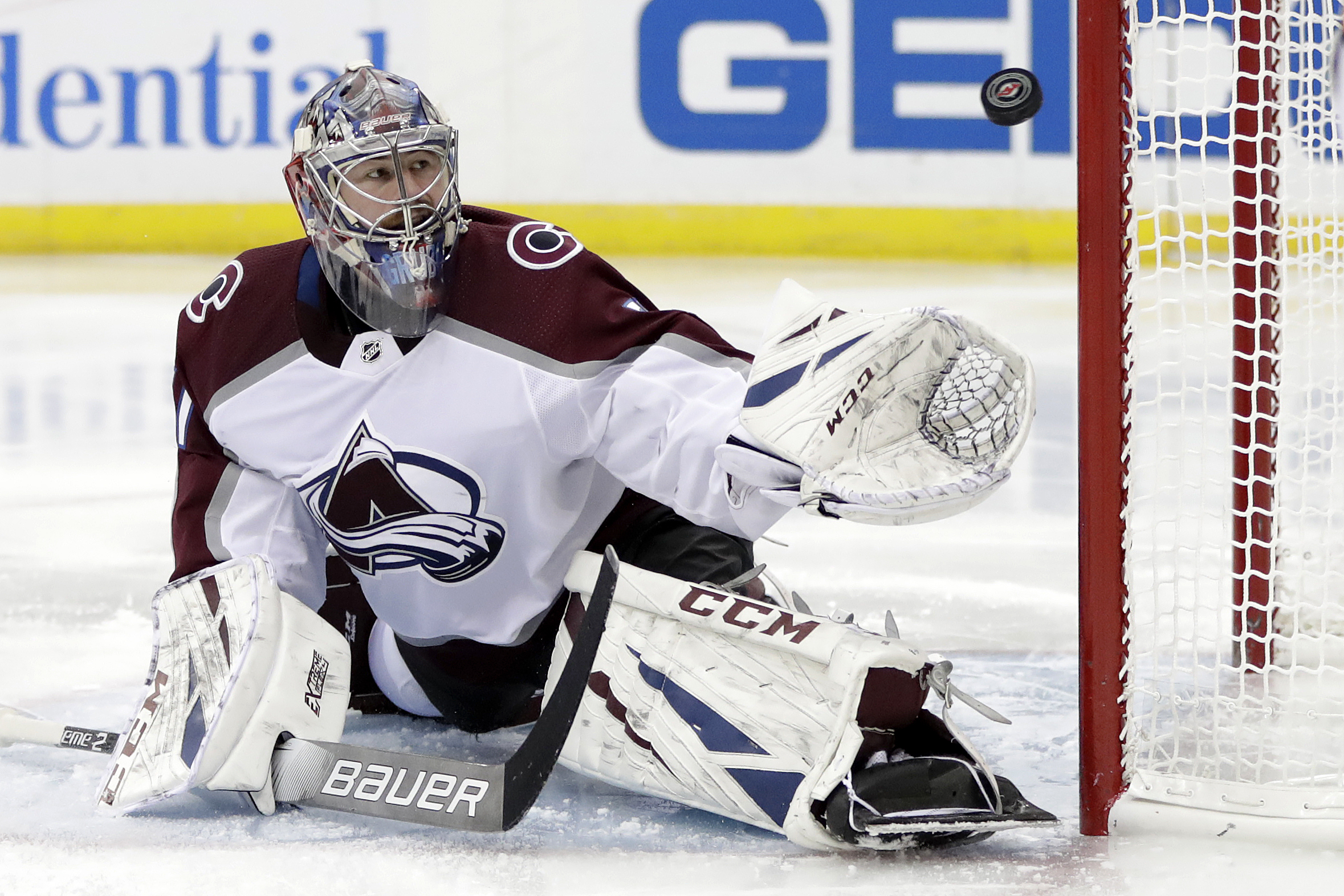 NEWARK, N.J. | Colorado squandered a chance at victory on the start of its East Coast swing, and Avalanche captain Gabriel Landeskog wasn't about to let it happen a second time.
Landeskog scored three goals, the last of which put Colorado ahead with 3:22 remaining, and the Avalanche beat the previously unbeaten New Jersey Devils 5-3 on Thursday night.
Landeskog completed his third career hat trick with a one-timer off a pass by Mikko Rantanen from behind the net. He also scored earlier in the third period on a deflection of a shot by Ian Cole.
"We were starting a road trip and wanted to get off well," Landeskog said of the Avalanche's 3-2 overtime loss to the New York Rangers. "We got the point at MSG (Madison Square Garden). I said, 'Just give me the puck and I hope I can bang it in for you.' No, seriously, you can't over think it too much. It's good for our team bonding."
Landeskog has five goals in the young season.
"No question, we obviously felt confident playing anyone, but this is a very tough team," Landeskog said. "They're a good defensive team and we scored five goals on them."
Cole praised his captain.
"He's very strong and very capable to accept contact and stay with the play," Cole said.
"You can see how well he can carry a team. They're a very good hockey team. They're very well coached. They play hard. They're good defensively. You could see they were pushed hard by us and then they pushed back. Luckily, we kept coming back. We were able to stick to our game plan and get the win. It's a great sign for us. This was as complete as we've been this season."
Mikko Rantanen had an empty net goal with 12.1 seconds left and added three assists, giving him 11 for the season, good for the lead in the NHL.
"When Mikko's skating that well, he's a lot to handle," Colorado head coach Jared Bednar said. "He was holding guys off. He'll eventually find you open. He made some nice plays and that's what he can do."
Philipp Grubauer stopped 27 shots for his first win of the season, including a glove save on Kyle Palmieri with just 44 seconds left to preserve the win.
"I think the guys made it easy for me," Grubauer said. "I felt good about getting the start. It's always different when you step out onto the ice. They really didn't have too many chances or odd man rushes on me. Everything was pretty much in front of me."
Bednar was impressed with his goalie's performance.
"He made some really big saves when we needed them," Bednar said. "He hadn't been on the ice in a while, but he was sharp."
Keith Kinkaid made 30 saves in net for the Devils.
The Devils got on the board first in the first period, when Nico Hischier scored his first goal of the season with 2:18 remaining in the period. While on the power play, Hischier received a great pass from Travis Zajac and fired a wrist shot past Grubauer for a 1-0 lead.
The Avalanche scored twice to start the second period.
The first goal, scored by Sven Andrighetto, came just two minutes into the second. It appeared that Devils goalie Kinkaid made a spectacular glove save, but after league replay review, it was determined that Kinkaid's glove was over the goal line, so Andrighetto, playing in his first game of the season, tied the game at 1-1.
The Avalanche then took a 2-1 lead when Landeskog made a brilliant burst of speed past the Devils' defense and lifted a wrist shot past Kinkaid.
The Devils then tied the game at 2-2 on Taylor Hall's first goal of the season. On a delayed penalty, Hall took a fine pass from Andy Greene and fired a shot past Grubauer. Hischier got the second assist on the goal.
The Devils took a 3-2 lead when Brian Boyle was credited with his second goal of the season, when Palmieri's shot went off Boyle's leg with 13:38 left.
Less than two minutes left, when Landeskog scored his second goal of the game off a deflection of a Cole shot with 11:52 remaining.
"They had a game plan and went out and executed it," said Palmieri, who saw his goals streak snap at four games. "We weren't ready to push it back."
"We weren't clean enough in our plays tonight," said Devils captain Andy Greene. "We don't give up or quit. We didn't back down."
NOTES: Avalanche goalie Grubauer made only his second appearance of the young season. . Andrighetto was not expected to play and was on the injured reserve list to start the season, but was activated in time for Thursday's game. . The game ended a five-game home streak to start the season for New Jersey, although the first game was technically played in Bern, Switzerland. . G Cory Schneider is still rehabbing after hip surgery, but has begun skating with the team. His return date is not known. . Kinkaid had a scoreless streak of 105 minutes snapped by Andrighetto's goal. . Devils C Travis Zajac suffered a left leg injury and was helped off the ice in the second period and did not return. Devils coach John Hynes did not comment after the game about Zajac's injury.
UP NEXT
Colorado: At Carolina on Saturday afternoon.
New Jersey: At Philadelphia on Saturday afternoon.