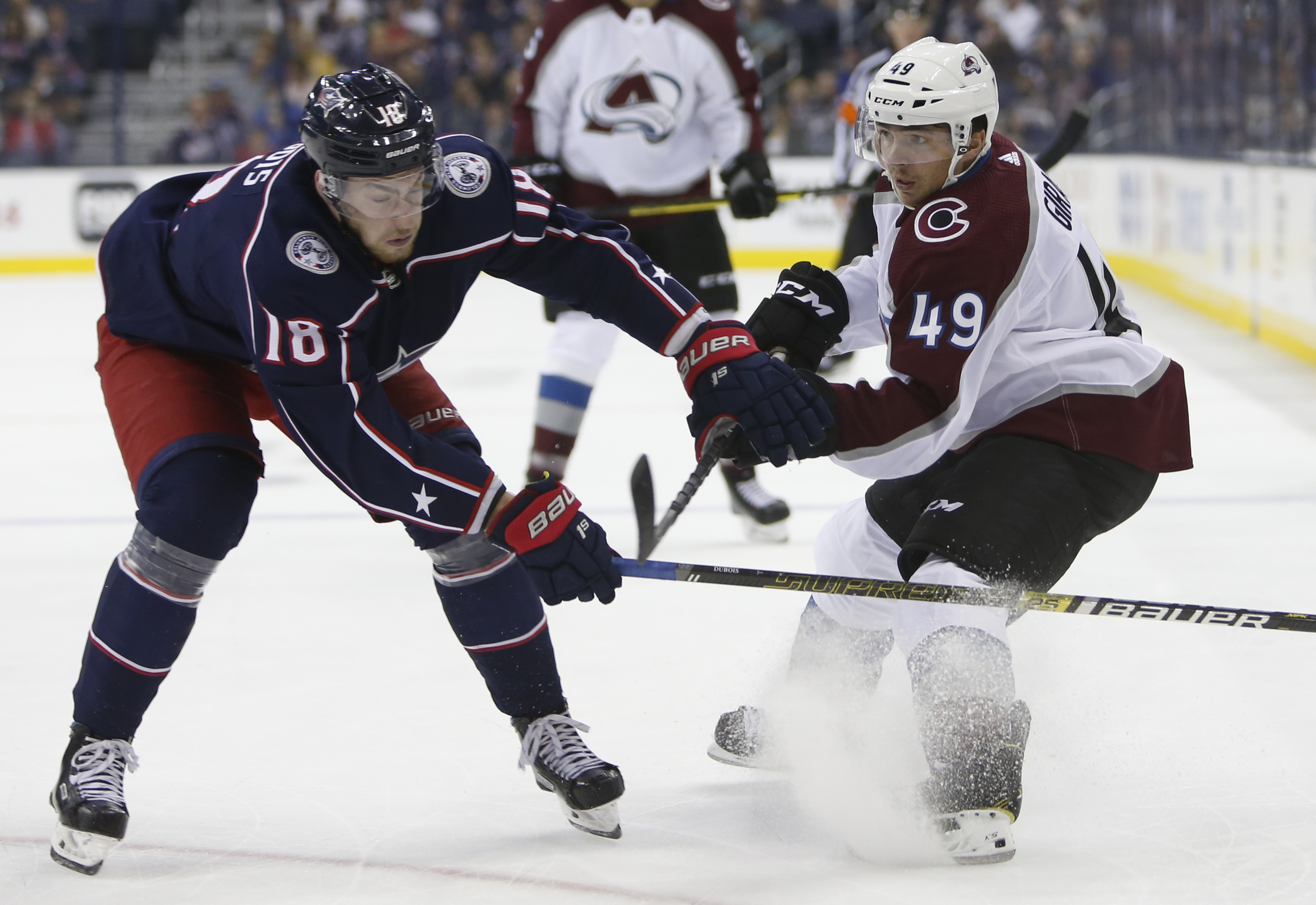 COLUMBUS, Ohio | Coach John Tortorella thought the Columbus Blue Jackets had run out of energy after taking a 2-0 lead in the first period and then allowing Colorado to climb back in the second to tie it.
Maybe, but they managed to find some more. The Blue Jackets regrouped, led by captain Nick Foligno, and ran away in the third period for a 5-2 win over the Avalanche on Tuesday night.
"We had a really good first, then we didn't have a good second but we came right back and had a really good third — and I think that's important for the mindset in here," Foligno said. "No matter what's going on in a game, you just got to find a way to win a period sometimes. That's how you win in this league is just finding a way."
Foligno had two goals and an assist, and Sergei Bobrovsky made 25 saves to get his first win of the season.
Pierre-Luc Dubois, Artemi Panarin and Josh Anderson also scored for the Blue Jackets, who dealt the Avs their first loss. Alexander Wennberg had the primary assists on both of Foligno's goals.
Philipp Grubauer, making his Colorado debut after being acquired from Washington in June, had 30 saves. Nathan MacKinnon and Carl Soderberg scored in the second period.
Panarin found an opening from inside the left circle about five minutes into third period to give Columbus the lead. Foligno got his second of the night, a wrist shot from inside the left circle that clanged in off the bar, with 8:28 left in the game.
Anderson added an empty-netter from the other end of the ice with 2 minutes remaining.
"I'm happy we had to go through some stuff and found a way to win," Tortorella said.
Foligno got his first goal of the season 6:49 into the game when he took a pass from Wennberg from behind the line and found the net with a back-hander from the slot. Dubois got what he called "a pretty easy goal" halfway through the period, going off Grubauer's glove with a rebound while Columbus had a 5-on-3 advantage.
Early in the second period, MacKinnon got his third goal of the year when he pulled up and snapped a shot over Bobrovsky's glove from 40 feet out. Soderberg got a deflection goal — his 200th NHL point — on a power play to tie the game later in the second.
"It really doesn't matter if the second period was great," Grubauer said. "The first one and the third one, that's where we ran into some trouble. You got to play the right way for 60 minutes, not just one period."
NOTES: Riley Nash centered the third line for the Blue Jackets after Brandon Dubinsky suffered a strained oblique muscle in practice Sunday and was put on injured reserve. … Former Blue Jackets F Matt Calvert and D Ian Cole returned to Nationwide Arena for the first time since signing free-agent contracts with Colorado last summer. Calvert, who played eight seasons in Columbus, got a standing ovation during a video tribute. … Colorado's Gabriel Landeskog was in the lineup after missing practice Monday with a lower-body injury. … Lukas Sedlak made his season debut after being a healthy scratch in the first two games. … D Scott Harrington played his first game of the season after being out with a concussion.
UP NEXT
Colorado: At Buffalo on Thursday.
Columbus: At Florida on Thursday.