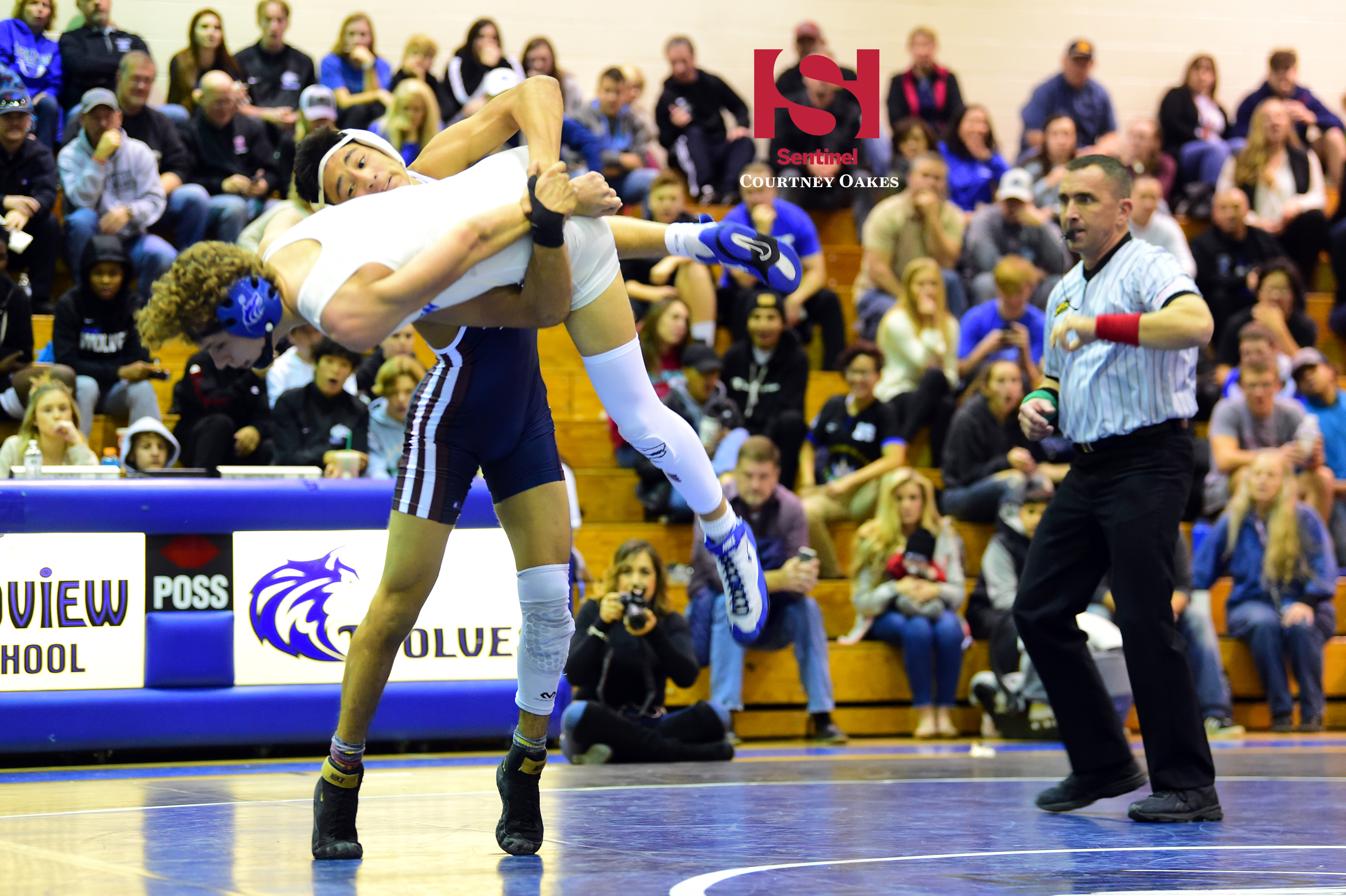 AURORA | With an uncommonly large dual match crowd packed in the stands, Zack Fish already had an anxious feeling in the pit of his stomach Thursday night.
The sub sandwich the Cherokee Trail sophomore consumed minutes before the start of his team's Centennial League showdown at Grandview added another layer.
Fish overcame both layers of discomfort to record a pin in the 145-pound match, which help set an early tone as the veteran Cougars dealt the fresh-faced Wolves their first league dual loss in six years with a 44-24 victory.
"I was just trying not to throw up," Fish said of his match in which he pinned Talen Rice for the first of four wins by fall for coach Jeff Buck's Cherokee Trail team.
"I thought they were going to start at the light weights and I was going to have some time to digest, but I guess that didn't happen," he added. "All those extra practices to help get my conditioning down got me through a match like that."
The Cougars — who featured seven seniors in the lineup — had recently risen to the No. 5 spot in On The Mat's first set of rankings in the new year, while coach Ryan Budd's Wolves (who deployed five sophomores and a freshmen in the dual) had slipped to No. 8.
Both coaches wanted desperately to win the opening coin toss, which would give the advantage of seeing who the opponent would put out first and adjusting accordingly.
That edge went to Buck, used it to his benefit throughout the match.
"We always know Coach Budd and his coaches are as competitive as we are, so you are going to find every angle to get to win," Buck said. "Overall, it worked out well."
Budd immediately knew his team had its work cut out for it.
"The writing was on the wall a little bit already with their older kids and our young roster, so a lot of it comes down to the coin flip," Budd said. "We needed the extra effort tonight, so losing the coin flip did not help me. I'm proud of how we competed, though."
Senior Alex Santillan got Grandview off to a strong start with a pin at open the dual at 132 pounds, which senior Jorge Felix countered for Cherokee Trail at 138 pounds.
That brought up Fish, who was facing a fellow sophomore in Rice, who had just placed third at the Mullen Invitational. He built a four-point lead in the second period, then
"For Zack Fish to be able to come out and get a pin, I think that changed a lot for the kids," Buck said. "The kids were like 'Alright, let's go.'"
Senior Brock LaBonde (152) followed with a tech fall win and Connor Davis (170) added a first-period pin to give Cherokee Trail a double-digit lead it would have for the majority of the rest of the match.
Cougars' undefeated junior standout Sam Hart contributed only with a win by forfeit at 220 pounds as Budd shifted sophomore Angelo Falise to the 285-pound match after Buck had put Kobe Euell in at 195 pounds in place of senior Julian Williams. Williams ended up with a pin of Falise in the opening minute of the third period.
The anticipated matchup of 5A's top two ranked wrestlers at 106 pounds — junior Frankie Sanchez Jr. of Grandview and sophomore Derek Glenn Jr. of Cherokee Trail — did happen and it was a tightly contested match, though it didn't have much bearing on the team score.
Sanchez Jr. defended his top spot with a 3-1 victory that was much different than his 17-1 win by technical fall from the previous season.
"It was good to see him again; he definitely put on some weight and got a lot stronger," Sanchez Jr. said of his opponent. "I did want to take a few more shots. I wish I had pushed a little bit harder, but I was working to keep it close and not make any stupid mistakes."
The Wolves — who earlier got a pin by senior Joe Renner at 182 pounds — had three straight wins by decision after Jiovanny Gonzalez (113) and Rolando Nono (120) followed Sanchez Jr.
Budd knew the match would be difficult given only five wrestlers that were in last season's dual with Cherokee Trail — a 45-24 Grandview victory — were back.
"It's been awhile since we lost a league dual, so it does not feel good, I'm not going to lie," said Budd, whose team turns around to compete in the Ron Granieri Memorial Tournament Friday and Saturday at Arvada West High School.
The win over Grandview — the first for Buck over the Wolves since 2013 — put the Cougars in good position to go after the Centennial League championship after they posted big wins against Smoky Hill and Overland.
"There's a lot of work still left to do, but if we can wrestle like this against Grandview, we know we've done a couple of things right," Buck said.
Courtney Oakes is Sentinel Colorado Sports Editor. Reach him at 303-750-7555 or [email protected] Twitter: @aurorasports. IG: Sentinel Prep Sports
CHEROKEE TRAIL 44, GRANDVIEW 24
132 pounds: Alex Santillan (Grandview) pinned Ethan Debelak (Cherokee Trail), 5:20; 138 pounds: Jorge Felix (Cherokee Trail) pinned Andrew Sarro (Grandview), 3:10; 145 pounds: Zack Fish (Cherokee Trail) pinned Talen Rice (Grandview), 3:17; 152 pounds: Brock LaBonde (Cherokee Trail) tech. fall Maxwell Kibbee (Grandview), 15-0; 160 pounds: Gabe Lasley (Grandview) dec. Matthew Buck (Cherokee Trail), 7-5; 170 pounds: Connor Davis (Cherokee Trail) pinned Dane Abeyta (Grandview), 1:44; 182 pounds: Joe Renner (Grandview) pinned Gavin Young (Cherokee Trail), 2:18; 195 pounds: Kobe Euell (Cherokee Trail) dec. Harrison Bull (Grandview), 3-1; 220 pounds: Sam Hart (Cherokee Trail) won by forfeit; 285 pounds: Julian Williams (Cherokee Trail) pinned Angelo Falise (Grandview), 4:09; 106 pounds: Frankie Sanchez Jr. (Grandview) dec. Derek Glenn Jr. (Cherokee Trail), 3-1; 113 pounds: Jiovanny Gonzalez (Grandview) dec. Kyle Schumann (Cherokee Trail), 6-0; 120 pounds: Rolando Nono (Grandview) dec. Andrew Chilton (Cherokee Trail), 6-5; 126 pounds: Austin Kammerer (Cherokee Trail) won by forfeit