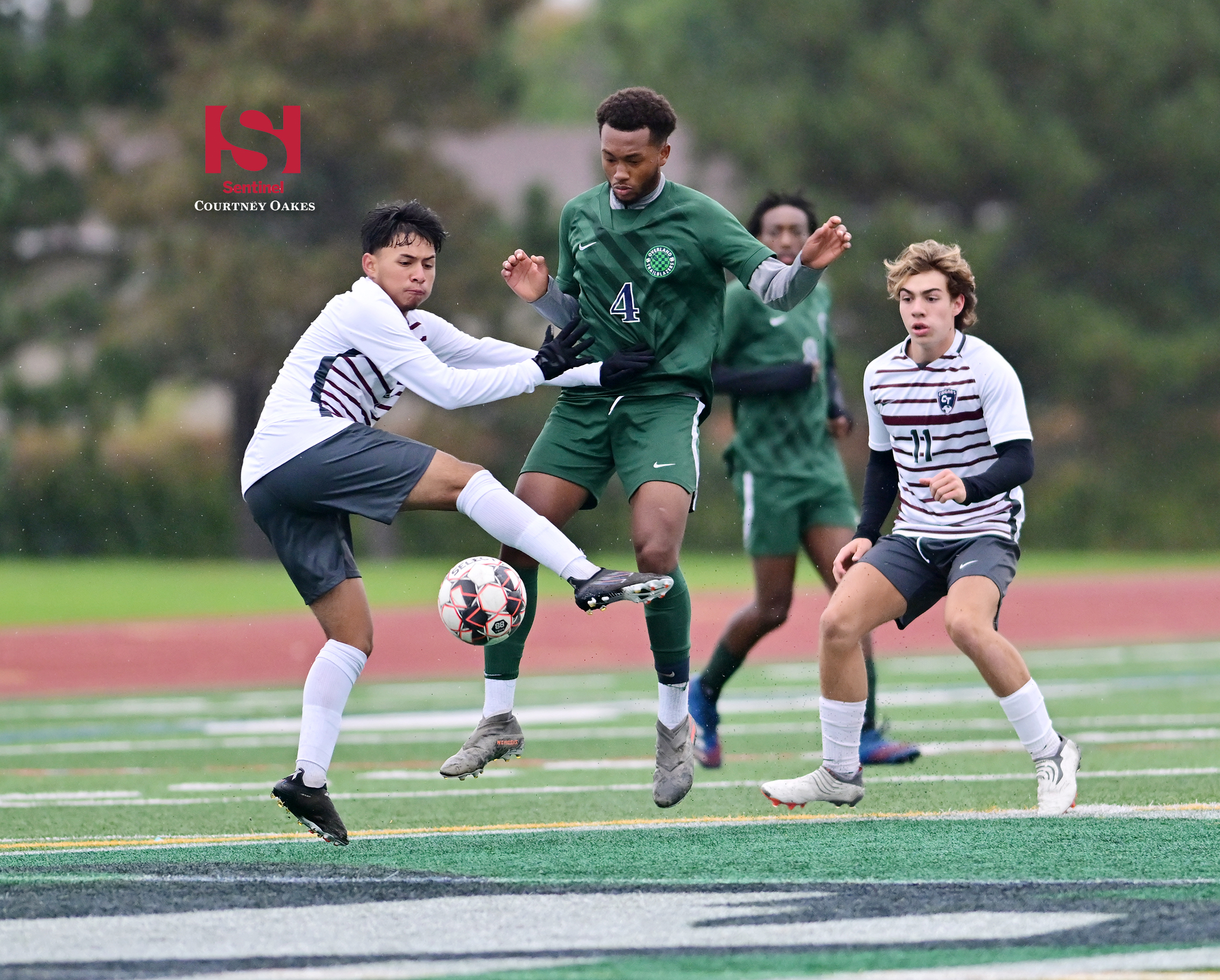 AURORA | A look back at some of the key games, tournaments and happenings in Aurora prep sports from Sept. 22-28, 2022:
Courtney Oakes is Sentinel Colorado Sports Editor. Reach him at [email protected] Twitter: @aurorasports. IG: Sentinel Prep Sports
WEDNESDAY, SEPT. 28: Elizabeth Kelly drove in four runs and five other players had RBI for the Overland softball team in a 12-11 walk-off win over the FNE Warriors. …Makayla Valle struck out 12 and scattered three hits in the Grandview softball team's 15-1 Centennial League win over Mullen. …The Vista PEAK softball team dropped a 7-6 contest to Denver North. ..Sanaa Grant registered 10 kills to pace the Cherokee Trail girls volleyball team to a 25-16, 25-19, 25-19 win over Eaglecrest, which got an eight-kill effort from Janna Preskorn. ….The Grandview girls volleyball team defeated Arapahoe 25-13, 25-16, 18-25, 25-14 on a night that saw three players reach double digits in kills (Emerson Deferme with 17, Gabriella Placide with 11 and Peyton Belcher with 10). … Jessica Da silva Martinez had six kills and three aces to help the Smoky Hill girls volleyball team to a 25-21, 25-23, 25-19 win against Overland. …Ayden West had 11 kills and Joy Aburto nine in the Vista PEAK girls volleyball team's 25-15, 25-16, 21-25, 25-12 loss to Denver South.
TUESDAY, SEPT. 27: The Rangeview boys soccer team piled up a season-high eight goals in an 8-3 win over Hinkley at Aurora Public Schools Stadium. Alexis Salas had half of the tallies for the Raiders, who also got goals from Roberto Bustillos, Jose Rocha Castaneda, Alberto Luevano and Marco Rodriguez. Devyn Mena had two goals and Angel Avila one for the Thunderbirds. …The Aurora Central boys soccer team scored in each half for a 2-1 victory over Adams City. …The Regis Jesuit boys soccer team lost for the first time against Colorado teams with a 1-0 defeat against Rock Canyon. …Joy Aburto registered 21 kills, Kenzie Kirby recorded 27 assists and Charli James had 16 digs as the Vista PEAK girls volleyball team downed visiting Lakewood 25-22, 21-25, 25-14, 25-17. …The Gateway girls volleyball team swept Adams City in three sets. …The Regis Jesuit girls volleyball team dropped a Continental League match with Douglas County 25-17, 25-14, 25-14. …The Regis Jesuit field hockey team got three goals from Sydney Cornell and three assists from Carly Kennedy on its way to a 4-1 home win over St. Mary's Academy. Bebe Ghiselli had the other goal and Emily Bradac the other assist, while MaryKate Berg stopped three of the four shots she faced for the Raiders. …Saida Teni had two hits and stole four bases for the Aurora Central softball team, which out hit Skyview 5-1, but lost 21-8 as its opponents capitalized on double-digit walks.
MONDAY, SEPT. 26: The Gateway boys soccer team posted its first shutout of the season with a 4-0 road win over Thornton in Colorado League play. …The Vista PEAK softball team evened its record at 9-9 with a 10-1 PL road win at Westminster behind a complete game, 10-strikeout effort from Ayanna Cruz-Vazquez. Anastasia Molina had three hits, while Jaya Gray and Amara Herrera each doubled and drove in a pair of runs for the Bison. …The Cherokee Trail softball team played top-ranked Columbine to a tie after four innings, but ceded a slew of runs late in a 10-3 non-league loss.
SATURDAY, SEPT. 24: The Overland gymnastics team played host to 15 others teams in the annual Overland Invitational and finished in second place with a team score of 173.175 points. Kyla Burke finished as the runner-up in the all-around competition after she was second on the balance beam, third on the uneven bars and fourth on the vault. …The Regis Jesuit boys soccer team got a goal from Stefan Zehnacker, but lost to Rockhurst 4-1 to finish off an 0-2 showing at the Jesuit Classic, which was held in Kansas City. …Brooklyn Heil and Kristin Gallego had four hits apiece and each drove in three runs in a 17-hit attack for the Grandview softball team, which topped Smoky Hill 13-6. Elliana Trujillo had a double, triple and home run for the Buffs. …Kaitlyn Hendrian homered and drove in all three runs for the Eaglecrest softball team in a 13-3 loss at Arapahoe.
FRIDAY, SEPT. 23: The majority of Aurora's boys and girls cross country teams converged on Clement Park and competed in several divisions of the Dave Sanders Invitational. Behind Andrew Fox and Owen Zitek in eighth and ninth, respectively, Grandview finished third in the Division 1 boys race, while Cherokee Trail — competing without the majority of its lineup —took seventh with Brady Smith's 10th place the top result. Regis Jesuit (10th), Rangeview (18th), Vista PEAK (19th) and Overland (21st) also competed in the D1 race, while Hinkley finished 21st in the boys D2 race. Paced by Grace Kirkpatrick in 12th place, the Grandview girls finished eighth in the D1 standings with Rangeview 15th and Overland 17th, while Hinkley took 17th in D2. …The Regis Jesuit field hockey team played to a 0-0 overtime draw on the road at Kent Denver in a matchup of two of the state's top teams. …The Vista PEAK boys soccer team lost a 4-0 decision to Denver East.
THURSDAY, SEPT. 22: The Cherokee Trail softball team earned a 12-0 Centennial League win over Cherry Creek behind a four-hitter over four innings from Alyssa Fullmer. Kennedy Brian homered twice and drove in six runs, while Cayman Lightner plated three and Addi Krei went 3-for-3 and scored three times. …Aubrey DeJong homered twice and drove in three runs as the Grandview softball team rallied past Eaglecrest 10-7. Brooklyn Heil also homered for the Wolves, who overcame a double, triple and homer from Maddie Demoss. …Roberto Bustillos and Ryan Harcrow scored goals in the second half as the Rangeview boys soccer team defeated Westminster 2-1 in its DPL opener. …Aurora Central scored twice in the second half to top Gateway 2-1 in Colorado League boys soccer play. …The Grandview boys soccer team dropped a 2-0 decision to Valor Christian. …The Cherokee Trail girls volleyball team topped Smoky Hill 25-16, 25-16, 21-25, 25-18 in Centennial League play as Sanaa Grant registered 14 kills and 14 digs to overcome a 10-kill effort from the Buffs' Nicole Sparks. …Emerson Deferme piled up 18 kills, Gabriella Placide had 12 and Evelyn Klumker amassed 45 assists in the Grandview girls volleyball team's 25-18, 25-16, 18-25, 25-11 road win at Mullen. …Nikaia Lydia and Claudia Rossi tied for team-high honors with nine kills apiece in the Eaglecrest girls volleyball team's 25-17, 25-17, 25-18 win over Arapahoe. …In Centennial League boys tennis, Grandview swept past Smoky Hill 7-0, while Overland (with a No. 1 singles win from Ilan Schinagel) and Eaglecrest (with a No. 2 singles win from Owen Shonka) lost 6-1 matches to Arapahoe and Mullen, respectively.