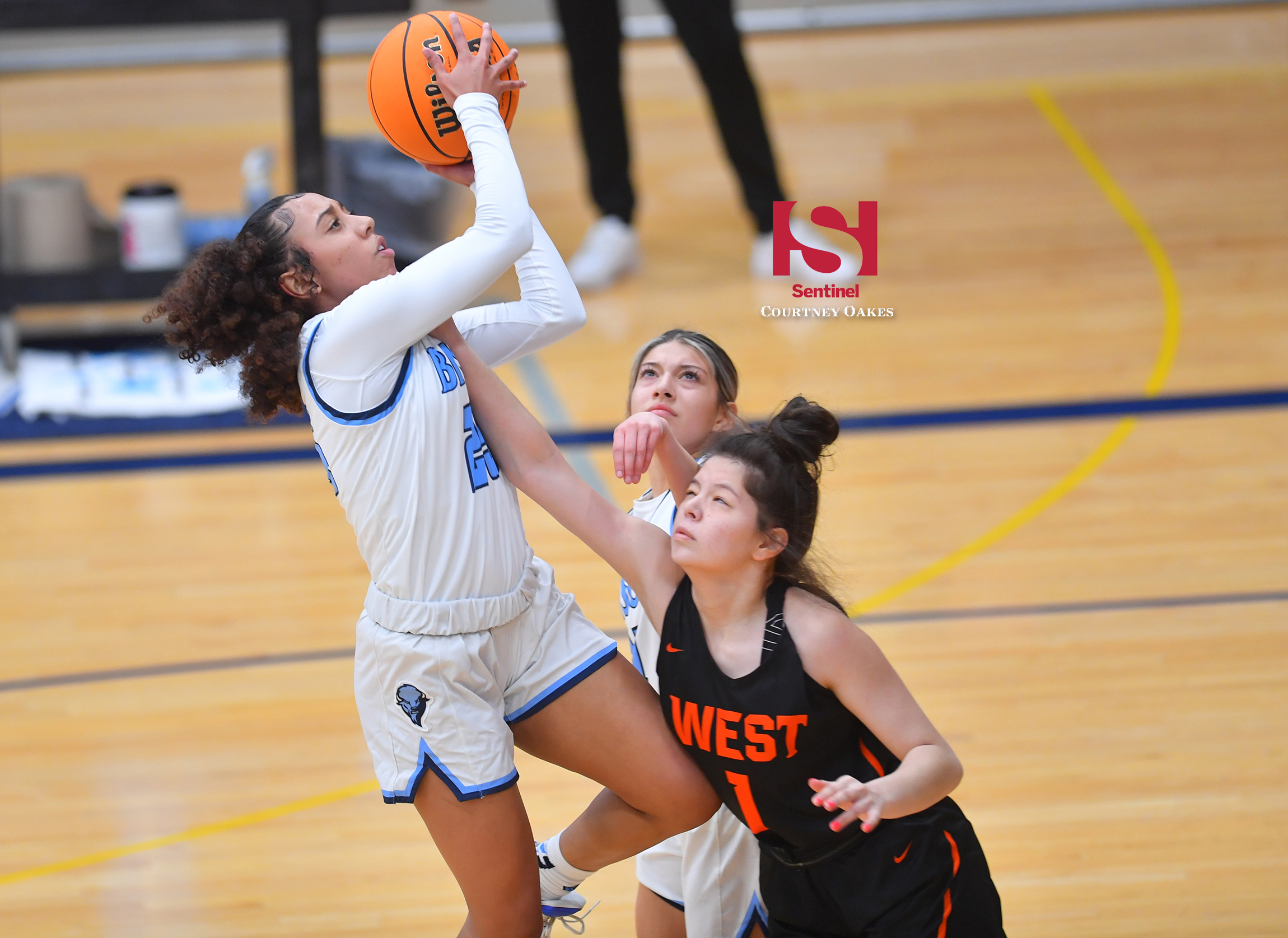 AURORA | A look back at some of the key games, tournaments and happenings in Aurora prep sports from Jan. 24-Jan. 30, 2023:
Courtney Oakes is Sentinel Colorado Sports Editor. Reach him at [email protected] Twitter: @aurorasports. IG: Sentinel Prep Sports
THE WEEK PAST IN AURORA PREP SPORTS, 1.24-1.30.23
MONDAY, JAN. 30: The Eaglecrest boys basketball team knocked off Smoky Hill 79-71 in front of a raucous crowd in a rescheduled Centennial League contest. LaDavian King scored 13 of his game-high 27 points in the fourth quarter to help the Raptors — who also got 18 from Joshua Ray and 16 from Garrett Barger — hold on. Rickey Mitchell tallied 23 and Kai McGrew 14 for the Buffs. … The Vista PEAK boys basketball team shook off a low-scoring first half with a big second half on its way to a 51-37 non-league home win over Green Mountain. Javon Lowman paced the Bison with 13 points. …Jaleel Dixon tallied 15 points, Hamza Mursal scored 13 and Siraaj Ali 12 as the Overland boys basketball team rallied for a 64-62 Centennial League home win over Mullen. Ali's two late free throws held up as the winning margin. …The Grandview boys basketball team outscored visiting Cherokee Trail each quarter on its way to a 66-45 Centennial League victory. …The Eaglecrest girls basketball team got back on the winning track with a 77-19 Centennial League road victory at Smoky Hill. …Seilani Relford scored 14 points as the only Overland girls basketball player in double figures in a 56-38 Centennial League home loss to Mullen.
— The Aurora prep sports scoreboard for Monday, Jan. 30, here
SATURDAY, JAN. 28: UK Onyenwere scored 27 points before he fouled out and the Grandview boys basketball team held on for a 76-66 overtime win at Overland in Centennial League play. Zane Cole added 17 for the Wolves, who overcame a 34-point effort by the Trailblazers' Siraaj Ali, whose 3-pointer with less than five seconds left in regulation send the game to overtime. …The Rangeview boys basketball team outscored George Washington 18-2 in overtime to earn a 65-49 City League home victory. DeMarco Duncan tallied 14 points, while Mareon Chapman and Khiem Davison had 12 apiece and Royce Edwards 11. …The Smoky Hill boys basketball team surpassed the 90-point mark for the third time on the season in a 91-49 Centennial League road win at Mullen. Rickey Mitchell tallied 21 points to lead the Buffaloes, who also got 17 from Lorenzo Contreras, 11 from Torian Gasaway and 10 from Kai McGrew. …The Cherokee Trail girls basketball team suffered its first loss to a Colorado team with a 62-55 home defeat to Arapahoe. …In a matchup of teams ranked in 6A's top 10, the host Eaglecrest girls basketball team fell to Cherry Creek 47-25. …The Vista PEAK girls basketball team finished the first quarter with a 30-0 lead and went on to an 85-15 defeat of Denver West in City League play. …Joe Dorais poured in 22 points, while Cole Records (13) and TaRea Fulcher (10) also scored in double figures as the Regis Jesuit boys basketball team downed Rocky Mountain 66-50. …The Regis Jesuit boys wrestling team finished in third place at the Continental League Championships as 10 wrestlers finished with places in the top six. Richard Avila (120 pounds), Garrett Reece (132) and Dirk Morley (285) won their respective weights. …The Grandview boys wrestling team finished in fourth place at the multi-classification Mile High Classic tournament hosted by Thomas Jefferson H.S. behind eight placers. Max Kibbee won the 190-pound bracket, while Jonathan Montes Gonzales finished as the 138-pound runner-up. Eighth-place Vista PEAK had the 215-pound champion in Oscar Valdez, while Ezekiel Taylor lost to Kibbee an an all-Aurora 190-pound final. …All four Aurora girls wrestling teams competed in the Chatfield War Horse Invitational, which featured 49 scoring teams. Eaglecrest placed fifth on the strength of placers in the gold and silver brackets, with Blythe Cayko winning the title at 190 pounds with a win over Olathe's Taylor Knox, who defeated her a week earlier. Vista PEAK finished 10th and had a handful of placers with Leilani Caamal leading the way with a third-place result at 155 pounds, while 24th-place Regis Jesuit had the 125-pound runner-up in Alexis Segura and Vianca Mendoza ended up third in the gold bracket at 120 pounds for 29th-place Overland. … Greg Brooks won the 190-pound championship and Bennett Closset was the 165-pound runner-up for fifth-place Rangeview at the Les Mattocks Invitational boys wrestling tournament. …Cherokee Trail's Jay Everhart (113 pounds) and Aurora Central's Juan Cooper (157 pounds) each finished as runners-up to pace city competitors at the Westminster Invitational boys wrestling tournament. …Dominic Suchkov scored a goal in the third period to tie the game and scored again in overtime as the Cherry Creek co-op ice hockey team defeated Mountain Vista 3-2. …Michael Manville had the only goal for the Regis Jesuit ice hockey team in a 3-1 loss to Ralston Valley.
— The Aurora prep sports scoreboard for Saturday, Jan. 28, here

FRIDAY, JAN. 27: Lexi Yi poured in a career-high 19 points and Sienna Betts tallied 17 for the Grandview girls basketball team in a 60-48 home win over Regis Jesuit in an all-Aurora clash (game story, here). Hana Belibi scored 18 points, Iliana Greene had 17 and Sophia Meyer 10 for the Raiders. …The Cherry Creek and Regis Jesuit ice hockey teams skated to a 3-3 tie in the second meeting of the season between the teams. Ayden Schmidt (Cherokee Trail) scored late in the third period to tie the score and he was joined in the goal column by Eric Burggraf and Larenz Johnson (both of Grandview) for the Bruins. Eli Ash, Parker Brinner and Jake Filler tallied for the Raiders. …Keean Lloyd scored 19 points (to go with 10 rebounds), Alonzo Rodgers tallied 17 and Michael Steinbrinck 11 as the Cherokee Trail boys basketball team earned a 69-65 Centennial League road win at Arapahoe. …The Smoky Hill boys wrestling team defeated Rangeview 47-27 in a non-league dual match that saw the Buffaloes win five of the nine contested matches. Zach Majernik, Jose Maes and Elijah Villegas won by fall for Smoky Hill, while Josh Fennelly, Patrick Gregory and Michael McGinnis earned pins for Rangeview. …The Hinkley girls basketball team got edged by Northglenn 30-27. … The Overland boys wrestling team fell to Cherry Creek 54-22 in a Centennial League that saw James Wethington, Talil Seals-Fisher, Eric Kelly and James Rada Scales post wins for the Trailblazers.
— The Aurora prep sports scoreboard for Friday, Jan. 27, here

THURSDAY, JAN. 26: The host Vista PEAK boys wrestling team topped rival Rangeview 60-18 in a dual that saw each team win four contested matches, while the BIson received six wins by forfeit. Tytus Hettich, Zachary Voltura, Isaiah Esparza and Oscar Valdez gave Vista PEAK four wins by fall, while Caleb Maez and Bennett Closset earned wins by pin for the Raiders, who also got a big 6-4 overtime win for 190-pounder Greg Brooks over the Bison's Ezekiel Taylor. …The Overland girls wrestling team topped Denver South 33-24 in a dual match in which the 'Blazers' wins in contested matches came from Violet Garcia, Vianca Mendoza and Tyrah Dawson. …Sienna Betts poured in 18 points to pace the Grandview girls basketball team to a 53-34 win over Mullen. In a doubleheader, the Wolves also defeated the Mustangs in boys play 62-45 as Gavin Placide had 16 points to lead four Grandview players in double figures. …Maximus Matthews scored 18 points and Kaiemion Ashley and Oriel Bailey contributed 10 apiece in the Gateway boys basketball team's 78-61 loss to the FNE Warriors. …Eaglecrest High School had an all-school assembly to honor its hip-hop dance team, which won the state championship in December (photo gallery, here).
— The Aurora prep sports scoreboard for Thursday, Jan. 26, here
WEDNESDAY, JAN. 25: The Overland boys basketball team came away with a 57-55 road win at Cherry Creek as Siraaj Ali and Hamza Mursal tallied 14 points apiece. …Garrett Barger poured in 19 points and DeAndre Brown added 15 as the Eaglecrest boys basketball team topped Cherokee Trail 65-52. The two schools split a doubleheader as the Cherokee Trail girls topped Eaglecrest 50-35 (game story, here). Delainey Miller had 13 points and Alana Biosse 11 for the Cougars, while Laci Roffle went for 13 points and Nia McKenzie nine for the Raptors. …The Smoky Hill boys basketball team got up big early and held on defeat Arapahoe 71-59. …The Cherokee Trail boys wrestling team downed Arapahoe 57-24 in a dual match that saw the Cougars get pins from Jay Everhart, Nate Jackson, Chancellor Matthews, Jason Maestas, Dominic Fish and Kyle Stevens.
— The Aurora prep sports scoreboard for Wednesday, Jan. 25, here
TUESDAY, JAN. 24: Aurora Central earned a girls-boys basketball doubleheader sweep of rival Hinkley with a 62-45 win in the girls game (boosted by Shaya Kelley's 30-point effort, game story, here) and 55-49 in a boys game that was blown open by a seven-point run by Alejandro Flores, who had 15 points and was joined in double figures by Nico Portillo (16) and Camron Crisp (10) (game story, here). …Maximus Matthews and Samuel Piedrahita scored 13 points apiece for the balanced Gateway boys basketball team in a 61-57 win over Adams City. …Kyree Polk tallied 17 points and Nasir Mills had 16 in the Vista PEAK boys basketball team's 57-44 win over Denver North. …The Regis Jesuit girls basketball team got 19 points from Hana Belibi and 18 from Coryn Watts in a 72-55 win at Mountain Vista. The Regis Jesuit boys team fell 68-56 despite 18 from Cole Records …Eianna Jackson scored 18 points to lead four players in double figures for the Vista PEAK girls basketball team in a 69-42 win over Denver North. …The Rangeview girls (55-21) and boys (77-51) earned basketball wins over FNE Warriors as Danielle Washington led the girls with 15 points, while Royce Edwards had 23 for the boys.
— The Aurora prep sports scoreboard for Tuesday, Jan. 24, here