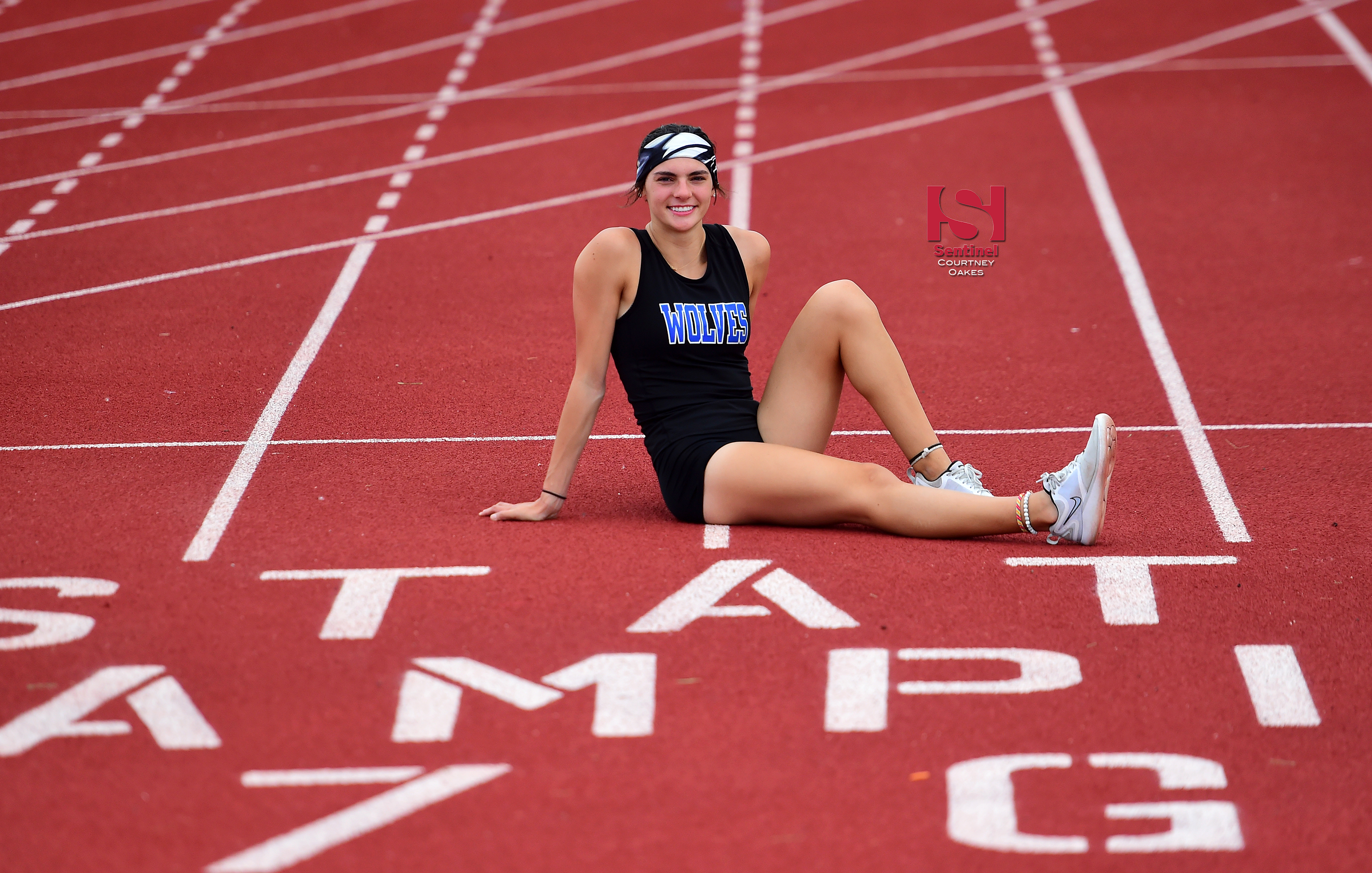 Aurora girls walked away from the Class 5A state track meet at Jeffco Stadium with a total of four individual event titles and Cherokee Trail — with help from its friends — collected the big prize with the team state championship.
The 2018 Sentinel All-Aurora Girls Track Team, which is based primarily on results from the state meet, is loaded with state champions in another outstanding season for city female athletes.
Grandview couldn't repeat its dominating run to the 2017 team title, but the Wolves were major factors all the way to the end of the three-day state meet. Sophomore Lily Williams created the buzz of the meet when she surged past Denver East star Arria Minor at the finish line to win the 400 meters.
Williams then outleaned Smoky Hill's Amelia Johannes at the line in the 4×400 meter relay to bring home a state title for her and teammates Kaitlyn Mercer, Kameryn Brown and Saniya Craft.
Senior Kylee Harr used last season's state championship in the high jump on her way to a scholarship from the University of Colorado and she built on it with a second state title and cleared even great heights (5 feet, 10 inches) to do it, just before she turned around and ran a leg on Aurora's best 800 sprint medley relay team with Williams, Craft and Melody Nwagwu that finished second.
The Wolves' final All-Aurora performer was senior Leilah Vigil, the runner-up in the shot put.
With help from Williams' performance in the 400 meters, Cherokee Trail eeked out a one-point win over Denver East for the state title. Senior Sydnee Larkin won the long jump and was also the city's top performer in the triple jump (second) and 200 meters.
Larkin — an Arizona State signee — relished her championship in the long jump, but she just missed out on a three-peat in her specialty, the triple jump. Larkin departs as owner of the state record in the event, however, which is officially her effort of 41 feet, 7 inches, set at the Centennial League Championships. She jumped 41-9 in the Mercury Invite to open the season, but no official measuring devices were onhand at the meet.
Seniors Taylor Watson (100 meters) and Jaiden Paris (100 meter hurdles) earned individual All-Aurora spots, then combined with senior Chian DeLoach and junior Mahogany Richardson on the Cougars' 4×100 and 4×200 meter relay teams that topped Aurora.
Watson, a University of Utah recruit, crossed the finish line in a career-best second place in the 100 meters with a time of 11.85 seconds. Through she outleaned Larkin to win the Centennial League title in the 200, Watson finished .03 of a second behind her teammate in the state finals.
Paris — who is headed to Michigan State — battled Rock Canyon star Emily Sloan all the way to the end before she ended up second in the 100 meter hurdles. Sloan crossed the line in a time of 13.59 seconds with Paris right there at 13.77.
The Cougars had hoped to win the 4×100 relay for a third straight season, but Cherokee Trail coach Chris Faust opted to pull Larkin off the relay and enter her in four relay events. Richardson moved into the mix along with DeLoach (whose runner-up finish in the long jump loomed large in the final results), plus Watson and Paris to keep them second.
The same group also finished second to Denver East in the 4×200.
The 4×800 meter relay team of Abby Snogren, Caitlin McConnell, Madison Gibson and Soonhee Han picked up a point to get the ball rolling for Cherokee Trail with a ninth-place finish on the opening day of the meet. The rest of the Cougars' points came from the relays, plus the foursome of seniors Larkin, Watson, Paris and
Regis Jesuit sophomore Isalina Colsman was the city's top girls distance runner, sweeping the 1,600 and 3,200 meter All-Aurora spots — though she just missed the medal podium in both in 10th in the 3,200 and 12th in the 1,600 — while senior teammate and University of Colorado signee Kylee Davis was the city's top finisher in the 300 meter hurdles.
Davis finished her prep career with an Aurora-best second pace finish in the 300 hurdles with an effort of 43.30 seconds, while she also took third in the 100 hurdles.
Sophomore Maria Potzer rounds out the Regis Jesuit All-Aurora contingent, though her city-best effort in the discus of 114 feet, 5 inches, left her a foot shy of a mark needed to qualify for the state meet.
Smoky Hill junior pole vaulter Choying O'Brien did not compete in state due to injury, but her clearing of 11 feet, 3 inches, at the Aurora City Championships was nearly two feet better than any other girls pole vaulter in the city. Had she cleared that height at the state meet, O'Brien would have finished in sixth place.
Courtney Oakes is Sentinel Sports Editor. Reach him at 303-750-7555 or [email protected] Twitter: @aurorasports. FB: Sentinel Prep Sports
2018 SENTINEL ALL-AURORA GIRLS TRACK TEAM
100 meters — Taylor Watson, Cherokee Trail, sr.; 200 meters — Sydnee Larkin, Cherokee Trail, sr.; 400 meters — Lily Williams, Grandview, soph.; 800 meters — Kaitlyn Mercer, Grandview, jr.; 1,600 & 3,200 meters — Isalina Colsman, Regis Jesuit, soph.; 100 meter hurdles — Jaiden Paris, Cherokee Trail, sr.; 300 meter hurdles — Kylie Davis, Regis Jesuit, sr.; 4×100 meter relay — Cherokee Trail (Jaiden Paris, Taylor Watson, Chian DeLoach, Mahogany Richardson); 4×200 meter relay — Cherokee Trail (Jaiden Paris, Chian DeLoach, Mahogany Richardson, Taylor Watson); 4×400 meter relay — Grandview (Saniya Craft, Kaitlyn Mercer, Kameryn Brown, Lily Williams); 4×800 meter relay — Cherokee Trail (Abby Snogren, Caitlin McConnell, Madison Gibson, Soonhee Han); 800 sprint medley relay — Grandview (Kylee Harr, Melody Nwagwu, Saniya Craft, Lily Williams); High jump — Kylee Harr, Grandview, sr.; Long jump — Sydnee Larkin, Cherokee Trail, sr.; Triple jump — Sydnee Larkin, Cherokee Trail, sr.; Pole vault — Choying O'Brien, Smoky Hill, jr.; Discus — Maria Potzer, Regis Jesuit, soph.; Shot put — Leilah Vigil, Grandview, sr.
HONORABLE MENTION: Sierra Arceneaux, Hinkley, sr. (200 meters); Christine Bailey, Smoky Hill, jr. (long jump); Jasmine Bowman, Rangeview, jr. (400 meters); Raina Branch, Vista PEAK, soph. (high jump/200 meters); Ayana Brown, Rangeview, soph. (long jump); Kameryn Brown, Grandview, soph. (100 meter hurdles); Alisha Davis, Grandview, jr. (high jump); Kylie Davis, Regis Jesuit, sr. (100 meter hurdles); Chian DeLoach, Cherokee Trail, sr. (long jump/triple jump); Emma Goldsmith, Regis Jesuit, sr. (high jump); Molly Goldsmith, Regis Jesuit, jr. (high jump); Kylee Harr, Grandview, sr. (long jump); Hailey Harris, Regis Jesuit, jr. (triple jump); Amelia Johannes, Smoky Hill, jr. (300 meter hurdles); Sydnee Larkin, Cherokee Trail, sr. (200 meters); Kaitlyn Mercer, Grandview, jr. (400 meters); Jaiden Paris, Cherokee Trail, sr. (300 meter hurdles); Kamryn Scott, Vista PEAK, sr. (400 meters); Livia Sundberg, Rangeview, sr. (high jump); Taylor Watson, Cherokee Trail, sr. (200 meters); Zeaniah Wedgeworth, Overland, fr. (100 meters/100 meter hurdles); Diondra Wilborn, Hinkley, soph. (100 meter hurdles); Julyah Wilson, Overland, sr. (100 meters/200 meters); Relays: Grandview 4×200 meter relay (Kameryn Brown, Clara Tuti, Saniya Craft, Lily Williams); Hinkley 4×200 meter relay (Kierra Arceneaux, Precious Osei, Diondra Wilborn, Sierra Arceneaux) & 4×100 meter relay (Kierra Arceneaux, Precious Osei, Diondra Wilborn, Sierra Arceneaux); Overland 4×100 meter relay (Jaivion Lattimore, Zeaniah Wedgeworth, ShyTe'yana Davis, Julyah Wilson); Rangeview 4×100 meter relay (Ayana Brown, Jaedyn Martin, Ezi Ozoma, Jasmine Bowman) & 4×200 meter relay (Ayana Brown, Jaedyn Martin, Livia Sundberg, Jasmine Bowman); Smoky Hill 4×100 meter relay (Makiya Gayles, Christine Bailey, Sophia Cupp, Amelia Johannes), 4×200 meter relay (Makiya Gayles, Sophia Cupp, Sarah Klatt, Amelia Johannes) and 4×400 meter relay (Sarah Klatt, Christine Bailey, Sophia Cupp, Amelia Johannes); Vista PEAK 4×200 meter relay (Raina Branch, Mikayla Jones, Jadelyn Strasser, Kamryn Scott)