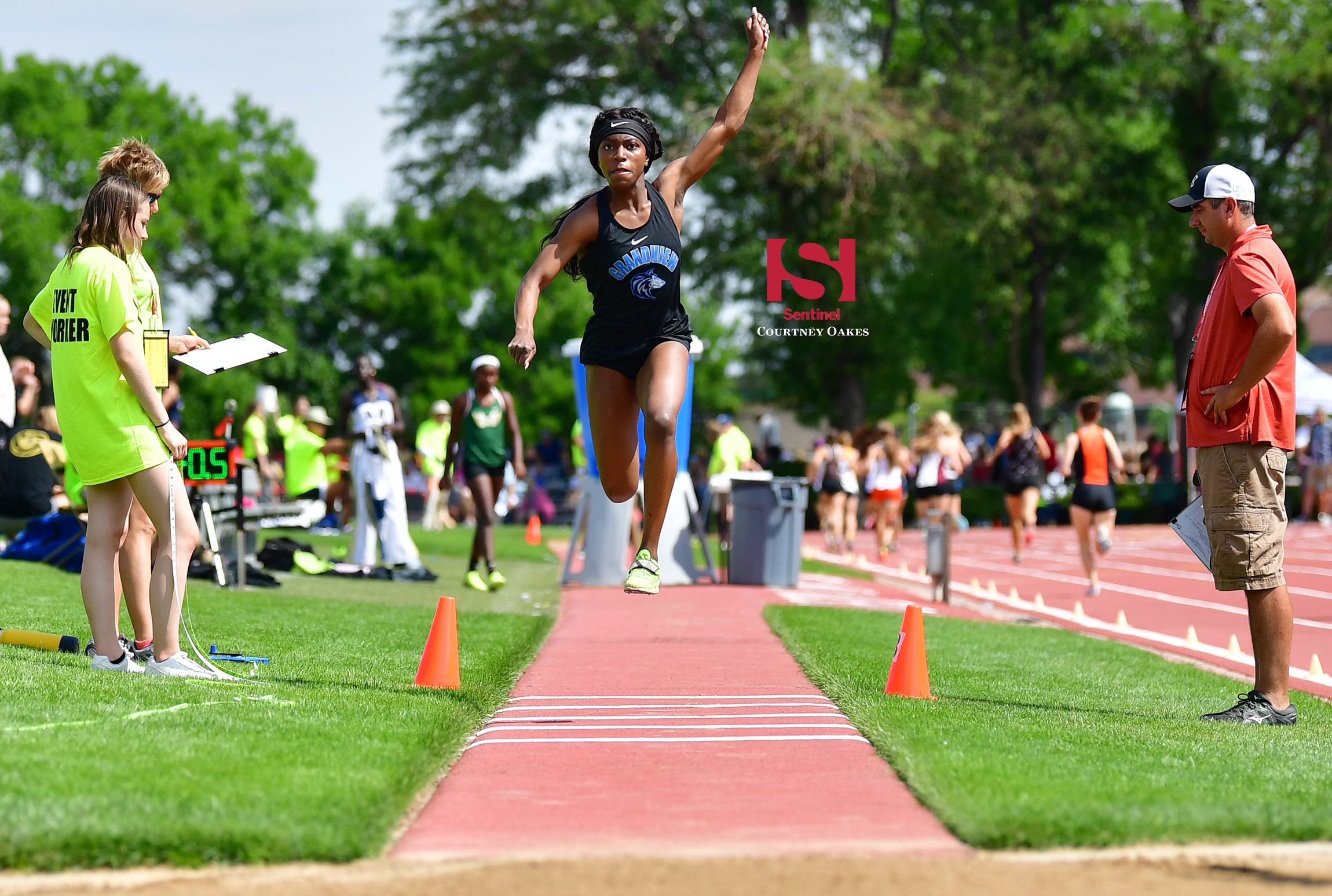 The 2021 Sentinel Colorado All-Aurora Girls Track & Field Team includes significant representation from a Grandview team that finished as the runner-up in the Class 5A standings.
Senior Melody Nwagwu claimed the Wolves' lone individual state championship when she triumphed in the triple jump — just falling short of the 40 foot mark she had focused on — while she also anchored a 4×100 meter relay team (which also included seniors Saniya Craft and Clara Tuti and freshman Gabriella Cunningham) that finished second to grab All-Aurora honors.
Junior Molly Skurcenski anchored both of Grandview's state championship-winning relay teams (the 800 sprint medley team with Craft, senior Amber Davis and sophomore McKenzie Droughns and the 4×200 team with Craft, Davis and Cunningham) and she also took All-Aurora honors in the 400 meters by taking fourth.
Sophomore Dallis Robinson took the other All-Aurora individual spot for Grandview as she led city high jumpers when she tied for third place.
Overland senior Zeaniah Wedgeworth won the state championship and All-Aurora honors in the 100 meter hurdles. Wedgeworth also denied a second state championship for Regis Jesuit junior Fabiola Belibi, who claimed the title in the long jump and finished as the runner-up in the 300 meter hurdles, earning All-Aurora honors in that as well. Belibi's teammate, senior Kylie Ward, had Aurora's best finish in the discus.
Cherokee Trail junior Cameron McConnell landed the most spots on the All-Aurora team as she claimed individual positions in the 800, 1,600 and 3,200 meters along with the 4×400 and 4×800 relays.
McConnell finished as the runner-up in the 800 and third in the 1,600, while her time in the 3,200 during the season as a city-best, though no Aurora runners ran the event at state.
McConnell teamed with senior Campbell Faust and sophomores Alexis Pagel and Grace Pierce on the runner-up 4×400 relay and anchored the group of senior Megan Hodges and sophomores Pagel and Mckenna Mazeski to third in the 4×800. Sophomore Sydnie Bernard gave the Cougars another All-Aurora performer in the pole vault, though she didn't place.
Smoky Hill senior Sophia Cupp earned All-Aurora honors in the 100 and 200 meters — with finishes of fifth and seventh, respectively — and Eaglecrest sophomore Blythe Cayko rounds out the All-Aurora team as she was a city-best seventh in the shot put.
Courtney Oakes is Sentinel Colorado Sports Editor. Reach him at [email protected] Twitter: @aurorasports. IG: Sentinel Prep Sports
2021 SENTINEL COLORADO ALL-AURORA GIRLS TRACK & FIELD TEAM
800 sprint medley relay — Grandview (Saniya Craft, McKenzie Droughns, Amber Davis, Molly Skurcenski)*; 4×800 meter relay — Cherokee Trail (Alexis Pagel, Mckenna Mazeski, Megan Hodges, Cameron McConnell); 100 meter hurdles — Zeaniah Wedgeworth, sr., Overland*; 100 meter dash — Sophia Cupp, sr., Smoky Hill; 4×200 meter relay — Grandview (Saniya Craft, Gabriella Cunningham, Amber Davis, Molly Skurcenski)*; 1,600 meter run — Cameron McConnell, jr., Cherokee Trail; 4×100 meter relay — Grandview (Saniya Craft, Gabriella Cunningham, Clara Tuti, Melody Nwagwu); 400 meter dash — Molly Skurcenski, jr., Grandview; 300 meter hurdles — Fabiola Belibi, jr., Regis Jesuit; 800 meter run — Cameron McConnell, jr., Cherokee Trail; 200 meter dash — Sophia Cupp, sr., Smoky Hill; 3,200 meter run — Cameron McConnell, jr., Cherokee Trail; 4×400 meter relay — Cherokee Trail (Grace Pierce, Alexis Pagel, Cameron McConnell, Campbell Faust); Long jump — Fabiola Belibi, jr., Regis Jesuit*; High jump — Dallis Robinson, soph., Grandview; Pole vault — Sydnie Bernard, soph., Cherokee Trail; Triple jump — Melody Nwagwu, sr., Grandview*; Discus — Rylie Ward, sr., Regis Jesuit; Shot put — Blythe Cayko, soph., Eaglecrest
 * — Class 5A state champion
HONORABLE MENTION: Fabiola Belibi, jr., Regis Jesuit (100 meter hurdles); Gabriella Cunningham, fr., Grandview (100 meter hurdles); Sophia Cupp, sr., Smoky Hill (400 meter dash); Kendall McCoy, soph., Vista PEAK (100 meter hurdles/300 meter hurdles/high jump); Melody Nwagwu, sr., Grandview (long jump/100 meter dash); Grace Solarin, jr., Rangeview (shot put); Jade Weathersby, soph., Grandview (high jump); Zeaniah Wedgeworth, sr., Overland (100 meter dash)
Relays: Vista PEAK (Jaila Turner, Averi Williams, Jadelynn Sullivan, Mariah Norris), 4×100 meter relay; Grandview (Ava Robinson, Amber Davis, Clara Tuti, Molly Skurcenski), 4×400 meter relay