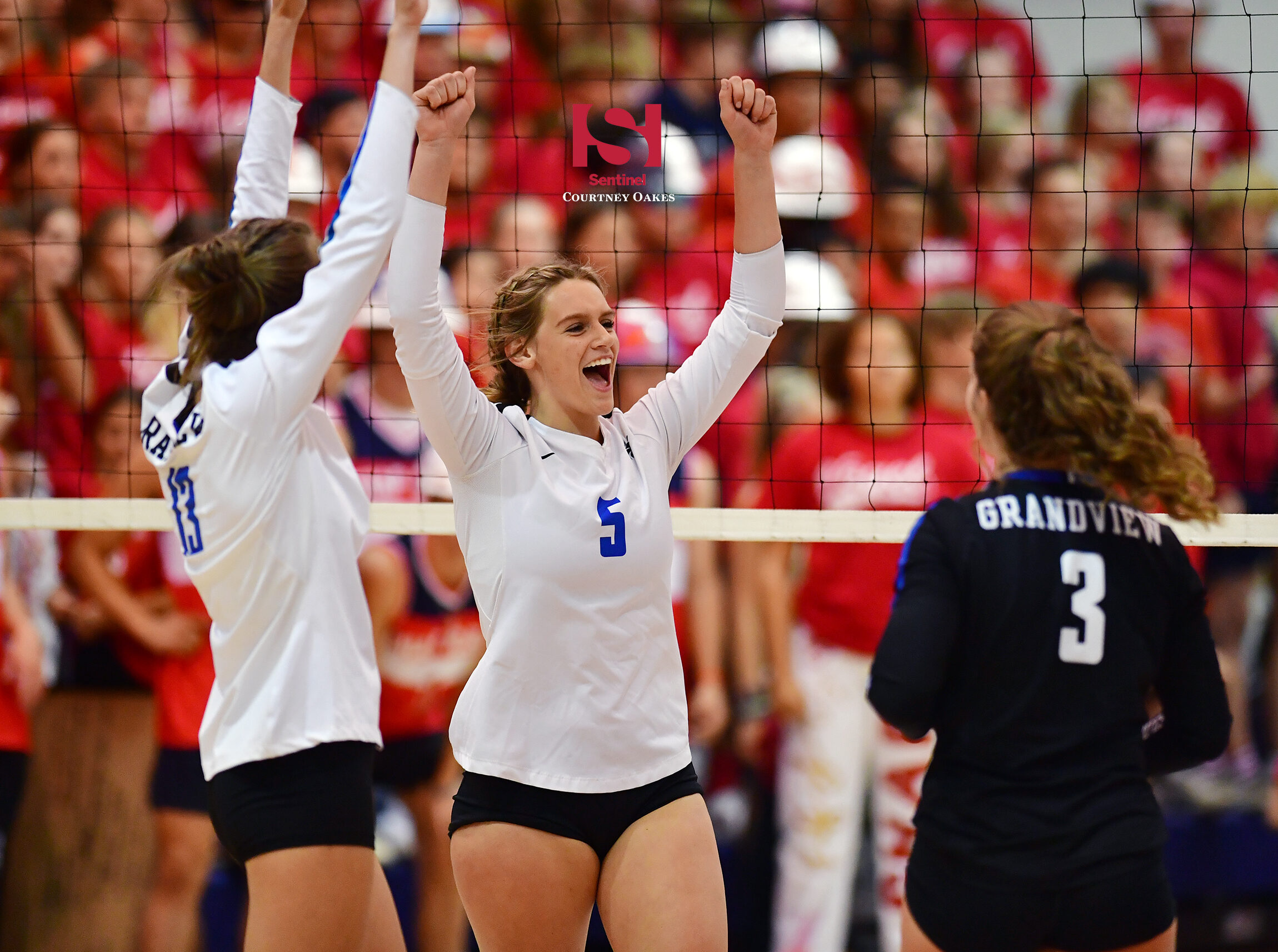 AURORA | A look back at some of the key games, tournaments and happenings in Aurora prep sports from Aug. 25-Sept. 1, 2021:
Courtney Oakes is Sentinel Colorado Sports Editor. Reach him at [email protected] Twitter: @aurorasports. IG: Sentinel Prep Sports
THE WEEK PAST IN AURORA PREP SPORTS, 8.25-9.1.21
WEDNESDAY, SEPT. 1: The defending Class 5A state champion Overland co-op gymnastics team finally got in its first competition, as the Trailblazers played host to Rock Canyon and Lone Star in a tri-meet they won with a team score of 169.975 points. Junior Mattea Dolan (Grandview) posted the top score in all four events and finished atop the all-around standings with teammate Kyla Burke (Colorado Early Colleges) second. …The Rangeview boys soccer team fell behind Smoky Hill by a goal early, but reeled off five consecutive unanswered scores for a 5-1 victory. …Sydney Cornell and Elsa Pater scored two goals apiece as the Regis Jesuit field hockey team topped Smoky Hill 8-0.
— The Aurora prep sports scoreboard for Wednesday, Sept. 1, here
TUESDAY, AUG. 31: In front of a packed house, the Grandview girls volleyball team took a showdown with Chaparral 25-22, 25-21, 18-25, 25-23 in a clash of teams that held the top two rankings in Class 5A. Emerson Deferme (16), Haley Glunz (12) and Gabriella Placide (10) all got into double-digits in kills, Maya Deferme dished out 47 assists and Brenna Kelly made 16 digs for the Wolves. Aurora Central was the other Aurora team winner as it topped Gateway in four sets, while Cherokee Trail won the opening set against Legend, but lost in four. …Brandan Wurst's double-overtime goal lifted the undefeated Cherokee Trail boys soccer team to a 1-0 victory over Littleton, while Bertra Ishimwe and Darwin Leiva tallied goals for Aurora Central in a 2-0 win over Gateway, Eaglecrest won by via shutout on the road and Grandview fell to Mountain Vista 1-0 on the road. …The Regis Jesuit softball team snapped a lengthy losing streak with a 12-10 road at Mullen in a game that see-sawed back and forth. Brooke Carey and Kate Michalek each homered among three hits and drove in two runs and Kendall Kersey also had three hits.
— The Aurora prep sports scoreboard for Tuesday, Aug. 31, here
MONDAY, AUG. 30: The Grandview softball team twice staved off defeat in the late innings and kept extending the game with visiting Regis Jesuit, eventually prevailing 9-8. Aubrey DeJong and Liz Herting had three hits apiece and Reagan Quigg drove in three runs for the Wolves, who overcame a two-homer day from the Raiders' Kendall Kersey. …No. 1 singles player Bruno Denegri Perez posted a 6-7 (4), 6-2, 10-6 victory to give the Grandview boys tennis team its lone win in a 6-1 dual match loss to Cherry Creek's V2 team. …The Grandview field hockey team dropped a 6-0 road contest to Cherry Creek.
— The Aurora prep sports scoreboard for Monday, Aug. 30, here
SATURDAY, AUG. 28: The Cherokee Trail boys cross country team — coming off winning the Aurora City Championship — posted another victory when it coasted to the championship fo the Steve Lohman Invitational at Cherry Creek State Park, taking the title over 22 other teams (including 16th-place Eaglecrest and 19th-place Regis Jesuit) with top-five individual finishes from Hunter Strand (2nd), Reuben Holness (3rd) and Evan Armstrong (5th). Mckenna Mazeski took sixth individually to lead Cherokee Trail to ninth place in the girls varsity team standings, while Regis Jesuit finished 15th and Eaglecrest 18th. …The Grandview boys cross country team captured the Washington Park Invitational championship with a score of 53 points, putting the Wolves comfortably ahead of runner-up Denver East (79) with Tyler Garfield and Owen Zitek, third and ninth, respectively, leading the way.  Rangeview finished 15th as the other boys team in the field. The Wolves fell short of a sweep when the girls finished second behind Denver East as they were paced by ninth-place finisher Megan Ericksen. Rangeview took ninth. …The Smoky Hill softball team suffered its first loss of the season when it fell to Legacy 5-4 in the Female Athletic Network Tournament in Fort Collins. Paris Elsberry delivered two RBI in the contest and Delaney Farnsworth, Amrajie Bass and Danika Wood had two hits apiece, but it wasn't enough for the Buffaloes, who were 3-1 at the two-day tournament. …A hat trick for Brandan Wurst — who also added two assists for good measure — helped the Cherokee Trail boys soccer team to an 8-0 win over Prairie View. …Rangeview topped Vista PEAK 16-6 to win the Aurora Public Schools softball tournament, finishing 2-0 against the Bison and Aurora Central. Hinkley was scheduled to participate, but had to cancel its season due to lack of numbers. …Cai'Reis Curby scored a late touchdown at bring the Aurora Central football team within a score of Falcon, but the Trojans fell short in a 14-6 Week 1 contest at Aurora Public Schools Stadium.
— The Aurora prep sports scoreboard for Saturday, Aug. 28, here
FRIDAY, AUG. 27: Logan Brook tossed five touchdown passes to four different receivers and the Cherokee Trail football team got past Mullen 35-24 at Legacy Stadium. …Marvin Jones Jr. had three of the Smoky Hill football team's six rushing touchdowns in a 47-8 win over rival Overland that brought the Buffaloes custody of the Wagon Wheel traveling trophy for a fourth straight season. …Exander Carroll and Luke Ford hooked up for a spectacular touchdown, but the Regis Jesuit football team couldn't put any other points on the scoreboard in a 24-6 loss to Valor Christian. …Wondame Davis Jr. rushed for two touchdowns, but the Hinkley football team went down 64-14 to Erie. …The Cherokee Trail softball team rallied late for a big 7-5 win over visiting Legend, as the Cougars scored all seven runs over its last three at-bats to dig out of an early three-run deficit. Brooke Scott and Ryleigh Cruz each had three hits, RBI and two runs scored to lead Cherokee Trail, which also got RBI from Addison Krei and CC Cushenbery in the win. …Isabel Ervin knocked in four runs and Megan Wilcox three for the Eaglecrest softball team in a 15-8 road win at Regis Jesuit.  Hailey Simco homered and joined Brooke Carey and Kate Michalek with two hits apiece for the Raiders. … Mountain Vista escaped Cherokee Trail with a 28-26, 25-16, 22-25, 23-25, 15-13 girls volleyball victory that went down to the wire. Kaci Young had 12 kills and Sanaa Grant added 11 for the Cougars, who also got 20 digs from Gabi Maas and 30 assists from Zoe Ackerman. …Delaney Farnsworth and Kenedy Sandoval combined to allow zero runs over seven innings between two games as the Smoky Hill softball team downed Resurrection Christian (15-0) and Mead (12-0) to open the Female Athletic Network Tournament in Fort Collins. Sandoval allowed no hits and struck out eight over three innings against Resurrection Christian.
— The Aurora prep sports scoreboard for Friday, Aug. 27, here
THURSDAY, AUG. 26: The Grandview football team won a thrilling opener against Pomona, as sophomore quarterback Liam Szarka accounted for his fourth touchdown of the game in the closing seconds of a 30-29 win (story). …Calem Moore and Christopher Marquez scored defensively to help the Vista PEAK football team top Rangeview 32-14 (story). …Diego Cearns and David Torres rushed for touchdowns in the second half, but the Eaglecrest football team couldn't catch Chaparral in a 35-21 loss at EchoPark Stadium (story). …A busy day in girls volleyball saw wins by Aurora Central, Eaglecrest, Grandview, Hinkley and Smoky Hill, with the Raptors (over Vista PEAK) and Buffaloes (over Rangeview) winning matchups with other Aurora programs. Dylann Harrower's 11 kills paced Eaglecrest past Joy Aburto and Vista PEAK, while Nicole Sparks had eight kills to lead Smoky Hill. Grandview swept Ponderosa 25-11, 25-22, 25-14 in its long-awaited opener as Haley Glunz piled up 15 kills and Emerson Deferme had 13. …The most striking result on the boys soccer pitch came from Gateway, which scored early and often as the Diego Ocampo-led Olys topped Alameda International 19-0. In other boys soccer results, Aurora Central topped visiting Eaglecrest 3-1, Cherokee Trail got goals from Amman Muzaffar, Jayden Roque and Brandan Wurst in a 3-0 win over Rocky Mountain and Overland scored a touchdown in a 7-2 win over Westminster. …Elsa Pater scored in the second half on an assist from Kenzie Gallagher and the Regis Jesuit field hockey team topped Arapahoe 1-0. …Conor Kaczmarczyk, Brady Jenkins and Alexander Samuelson swept singles matches as the Regis Jesuit boys tennis team won 5-2 over Heritage, which took No. 1 and No. 4 doubles.
— The Aurora prep sports scoreboard for Thursday, Aug. 26, here
WEDNESDAY, AUG. 25: Ben Beckman finally broke a scoreless deadlock with a goal to live the Grandview boys soccer team to a 1-0 overtime win at Hinkley, which got 19 saves from goalkeeper Lemus Leo. …The Smoky Hill softball team picked up a big 5-0 shutout win over Chatfield with Delaney Farnsworth recording a complete game two-hitter with 11 strikeouts, while Morgan Cameron and Amrajie Bass each drove in two runs.
— The Aurora prep sports scoreboard for Wednesday, Aug. 25, here