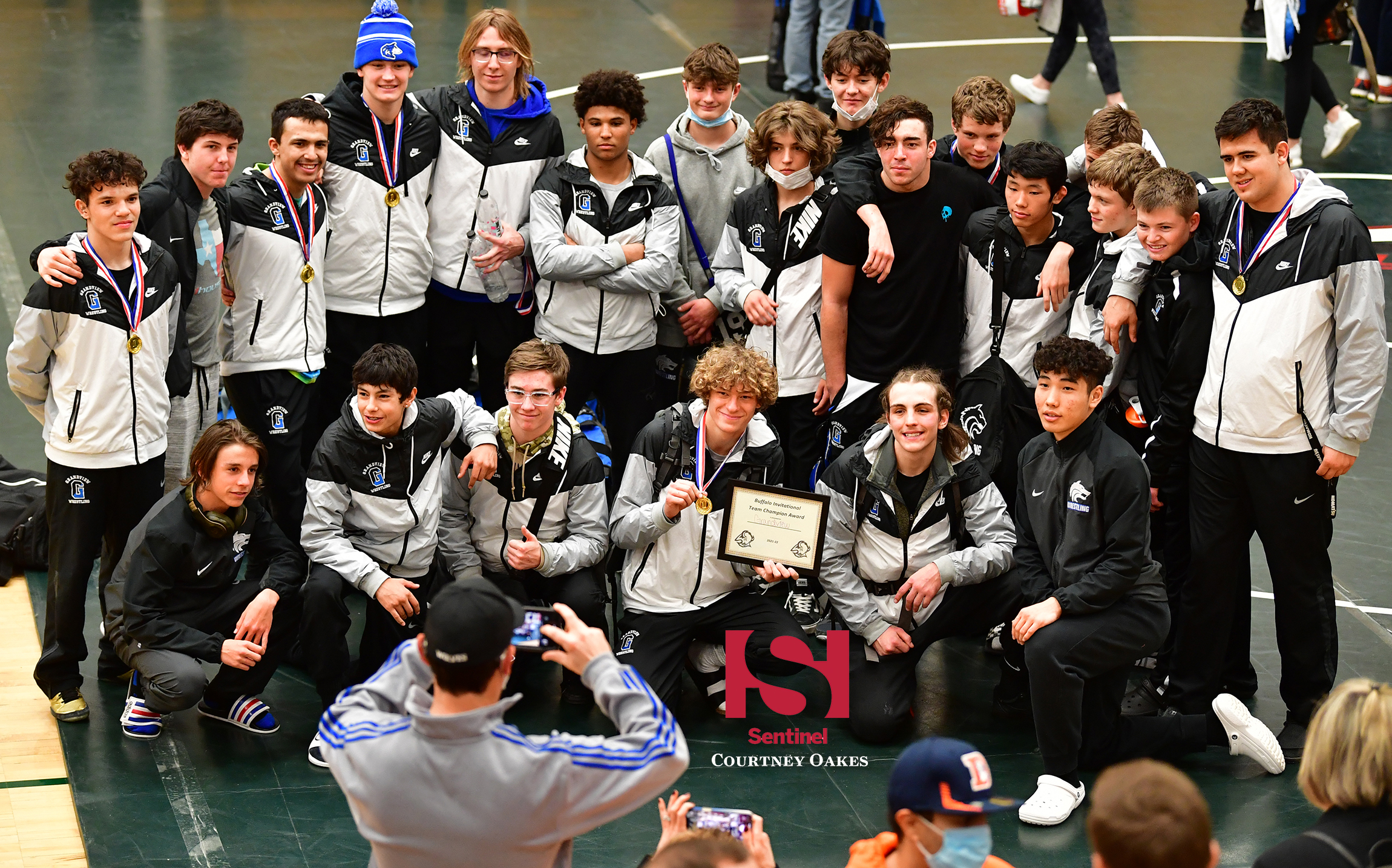 AURORA | A look back at some of the key games, tournaments and happenings in Aurora prep sports from Jan. 6-12, 2022:
Courtney Oakes is Sentinel Colorado Sports Editor. Reach him at [email protected] Twitter: @aurorasports. IG: Sentinel Prep Sports
WEDNESDAY, JAN. 12: A rematch of last season's Class 5A girls basketball state championship game between Regis Jesuit and Valor Christian took place, with the host Raiders coming up short in a 78-68 defeat despite connecting on 14 3-pointers. Sophomore Hana Belibi's 18 points led the Raiders, who also got double-digit efforts from juniors Coryn Watts (17) and Sophia Meyer (11), plus nine from senior Madden McHugh. …The Vista PEAK girls basketball team racked up 46 points in the second half on its way to a 75-68 road win over Denver South in a game in which senior Breanna Jefferson exploded for a season- and career-high 37 points. Senior Mikenzie Jones contributed a double-double with 10 points and 10 rebounds and freshman Eianna Jackson chipped in nine points. …The Smoky Hill girls basketball team had a three-game winning streak snapped with a 56-24 road loss at Legacy. …Senior Dayvon Vaughns eclipsed the 20-point mark for the fifth time as he scored 22 points, but it wasn't enough as the Hinkley boys basketball team fell to Heritage 74-53. …The Aurora Central boys wrestling team defeated Skyview 42-38 in a dual match that saw the Trojans pick up wins by fall from 195-pounder Manuel Millan as well as from Daniel Bartley (126), Emmanuel Martinez (132) and Van Nawl (152). …220-pounder Elijah Villegas (who had a pin in the first period) posted the lone win for the Smoky Hill boys wrestling team in contested matches in a 58-24 dual loss to Lutheran.
— The Aurora prep sports scoreboard for Wednesday, Jan. 12, here
TUESDAY, JAN. 11: The Rangeview boys basketball team picked up a huge 53-52 road win at Chaparral, which was ranked No. 4 in 5A. Elijah Thomas paced the Raiders with 17 points, while Hanif Muhammad and KK Stroter had 10 apiece and Chris Watkins nine. …The Rangeview girls basketball team also triumphed over Chaparral with a 51-30 home victory as senior Genesis Sweetwine struck for 13 points and senior Ny'Era West joined her in double figures with 12. …The Regis Jesuit boys basketball team downed visiting Columbine 71-60 as junior TaRea Fulcher poured in 19 points, senior Kyle Sandler added 15 and junior Archer VanSickle chipped in 14. …The Overland girls basketball team won a low-scoring road contest 29-18 over Adams City. …The extremely shorthanded Hinkley girls swim team dropped a 103-46 EMAC dual with Northglenn despite wins from Heromine Aguilar Lemos, Johanna Aguilar and diver Elizabeth Mayo.
— The Aurora prep sports scoreboard for Tuesday, Jan. 11, here
MONDAY, JAN. 10: The Smoky Hill girls basketball team picked up its eighth win of the season with a 52-20 road victory over Hinkley that pushed its winning streak to three games. …The Regis Jesuit girls basketball team stretched its own win streak to three games with a 73-60 home win against Columbine. …Oriel Bailey scored 17 points and Herbie Martin chipped in 10 for the Gateway boys basketball team, which rallied from a double-digit halftime deficit, but fell 55-51 to visiting Denver North.
— The Aurora prep sports scoreboard for Monday, Jan. 10, here
SATURDAY, JAN. 8: The Grandview boys wrestling team had to pivot with the Colfax Smackdown canceled and did so nimbly by joining the Smoky Hill Invitational and cruising to victory on the strength of placers in 12 of the 14 weights. Rhett Herman (120 pounds), Nehemiah Quintana (132), Sonny Quintana (145), Andrew Sarro (152), Charlie Herting (160), Josh Allen (170), Maxwell Kibbee (195) and Angelo Falise (285) won championships to lead the way. Without its full lineup, Eaglecrest had four placers — led by Adonias Cantu (113) and Michael Upchurch (152) as runners-up — to finish fourth, Vista PEAK (paced by Ezekiel Taylor's third-place finish at 182 pounds) took seventh, while eighth-place Overland got a title from 106-pounder Dominic Pacheco and finals appearance from Ryan Hensley (who got injured in the 170-pound title match) and host Smoky Hill took 10th with Jacob Castellano 2nd at 126 pounds. …The Cherokee Trail boys wrestling team finished 5-0 to win the Legend Duals, as it defeated the Classical Academy 46-21 in the final after a semifinal win over Legend and pool victories against Sterling, Arapahoe and Douglas County. …The Eaglecrest girls wrestling team captured the Lamar Invitational by placing 12 wrestlers and scoring 131 points to finish well in front of the hosts in a nine-team field. Chasey Karabell (100 pounds), Scarlett Williams (161) and Blythe Cayko (185) won their respective weights. …The Regis Jesuit girls swim team cruised to a 330-point win in the Mustang Invitational, which spanned two days as the Veterans' Memorial Aquatic Center. As the only Aurora program in the 22-team field, the Raiders won half the events — including two apiece from Emma Weber and Samantha Aguirre — to finish well in front of runner-up Legacy. Grace Dale, diver Chiara Lopach and the 200 medley relay team of Weber, Dale, Allie Sanchez and Greta Leege also prevailed. …The Cherokee Trail girls swim team won the Blizzard Invitational hosted by Legend, as the Cougars racked up five events wins and accrued 305 points to finish ahead of Heritage (288) and the host Titans (282). Emme Metzmaker picked up two of the win for Cherokee Trail in the 100 yard butterfly and 100 yard backstroke, while Skylar Brgoch took the 100 yard freestyle and Ella Drakulich the 200 yard individual medley, while the trio then combined with Morgan Walker to finish the meet victorious in the 400 freestyle relay. …The Grandview Invitational girls swim title went to Rock Canyon, while the host Wolves finished second among four competing teams thanks to four event victories. Paige Dailey took the 100 yard breaststroke title and Kya Guikema tied for first in the 100 yard backstroke, while Grandview also claimed the 200 yard medley and 200 yard freestyle relays. ...Andrew Capra (Eaglecrest) and Brenden Wolff (Cherokee Trail) each had goals, but the Cherry Creek ice hockey team fell to Valor Christian 5-2. …Archer VanSickle poured in 22 points, while TaRea Fulcher and Kyle Sandler added 12 apiece and Matt Yost 11 as the Regis Jesuit boys basketball team turned back visiting Valor Christian 72-55. …Four Aurora Central players scored in double figures in the Trojans' 75-65 boys basketball win over Lincoln. Brian Weatherford led the way with 19 points, Jaelan Johnson had 14, Trevon Simmons-Adams 13 and Cai'Reis Curby 10. … Despite 17 points from Malietoa Fifita, Dayvon Vaughns' 14 and Xander Smith's 11, the Hinkley boys basketball team fell to Castle View 56-52 in overtime. …Coryn Watts tallied 17 points, Hana Belibi 13 and Madden McHugh 11 to lead the Regis Jesuit girls basketball team to a 68-30 win over Rock Canyon.
— The Aurora prep sports scoreboard for Saturday, Jan. 8, here
FRIDAY, JAN. 7: Mostapha Elmoutaouakkil poured in 22 points and Jayden Washington added 15 as the Eaglecrest boys basketball team topped Overland 64-51. The Raptors used a 25-13 third quarter to break open the game against the Trailblazers, who got 19 from Marzouq Abdur-Razaaq. …Anthony Harris Jr. tallied 27 points to help the Smoky Hill boys basketball team score a season-high 92 points in a 92-79 victory over Arapahoe. Brayden Maldonado added 22 and Rickey Mitchell 19 for the Buffs. …The Grandview boys basketball team got 19 points from Breven Anderson and 14 from UK Onyenwere in a 45-36 road win at Cherokee Trail, which got 12 from Chase Titus plus 10 from Tony Niyongabo. …In a non-league battle of Aurora girls basketball programs, Regis Jesuit came away with a 62-46 victory at Vista PEAK. A balanced effort saw Coryn Watts score 17 points, while Hana Belibi had 14 and Savitri Jackson 12 for the Raiders, while Breanna Jefferson scored a game-high 18 points for the Bison, who also got 11 from Eianna Jackson. Vista PEAK welcomed back Mikenzie Jones to the lineup after she suffered a major knee injury and she scored six. …Harrison Follett's second goal of the game lifted the Cherry Creek ice hockey team into a tie with Mountain Vista late in the third period, but the Golden Eagles scored in the extra period for a 4-3 victory.
— The Aurora prep sports scoreboard for Friday, Jan. 7, here
THURSDAY, JAN. 6: The Eaglecrest boys wrestling team came away with a huge 36-33 Centennial League victory at Cherokee Trail in a match that came down to the result of the final match. John Pohl capped a big night for the Raptors' with a pin in the closing seconds to deliver the victory. …The Grandview girls swim team captured 11 of 12 events on its way to a 141-45 Centennial League dual win over visiting Smoky Hill. Megan Doubrava claimed two events, six others took one and the Wolves swept relays as well, while Annelise Thomas got the Buffs' lone win in the 100 yard backstroke. …The Eaglecrest girls basketball team shook off any rust from a long layoff with a 57-41 home win over eight-win Legend. Nia McKenzie paced the Raptors with 15 points, while Anjolene Ramiro added 14 and Haley Esser nine. …The Smoky Hill girls basketball team kept rolling with a 50-37 road win at Heritage. …All Aurora Public Schools after school activities were canceled when the district closed for the day due to snow and cold temperatures in addition to staffing shortages.
— The Aurora prep sports scoreboard for Thursday, Jan. 6, here