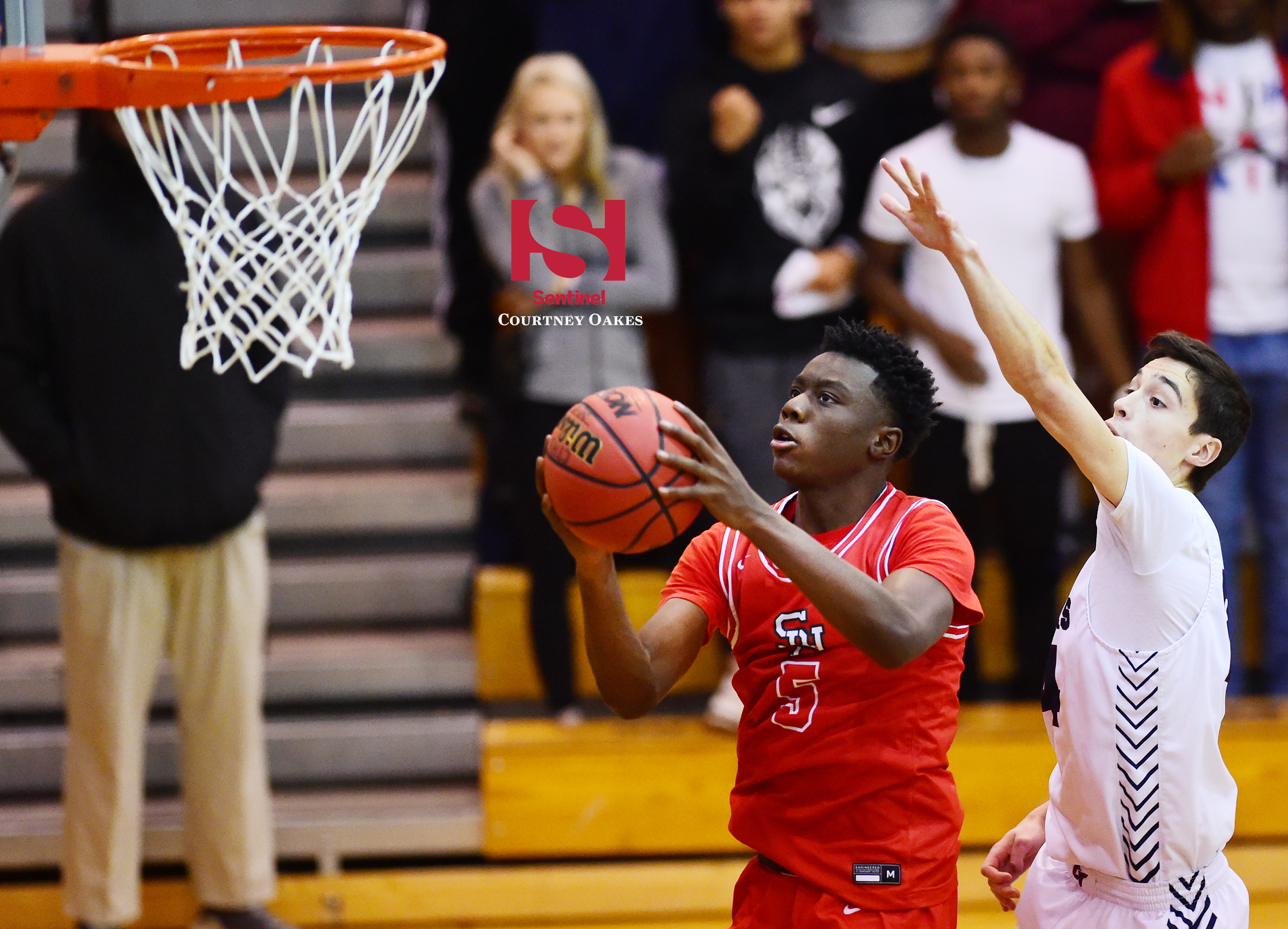 AURORA | A look back at some of the key games, tournaments and happenings in Aurora prep sports from Jan. 6-11, 2020:
Courtney Oakes is Sentinel Colorado Sports Editor. Reach him at 303-750-7555 or [email protected] Twitter: @aurorasports. IG: Sentinel Prep Sports
SATURDAY, JAN. 11: The Cherokee Trail girls swim team posted its best-ever finish at the Smoky Hill Invitational, as the Cougars racked up 353 points to finish behind only Heritage and Chatfield. The host Buffaloes finished fourth with 298 points, while Eaglecrest — which had the only Aurora champion in Catherine Rodocker, who topped the 1-meter diving competition — finished 12th with 71 points. (Full Smoky Hill Invitational results, here). …Meeting for the second time in eight days, the Regis Jesuit and Cherry Creek co-op ice hockey teams played to a 1-1 overtime tie at Family Sports Center. Riley Hunt-Bahn had given the Bruins — who won the first meeting 3-2 — a lead in the second period, but Leighton Walsh scored a power play goal with under six minutes remaining in the third period to tie it up and the teams played scoreless in the extra period. Dylan Romanow (Cherokee Trail) made 30 saves for Cherry Creek, while Gage Bussey had 22 for Regis Jesuit. …Grandview's Frankie Sanchez Jr. (106 pounds) and Joe Renner (182 pounds) each won the championships of their respective weight brackets at the Ron Graineri Memorial wrestling tournament held at Arvada West High School.

— Aurora prep sports scoreboard for Saturday, Jan. 11, here
FRIDAY, JAN. 10: The relentless Smoky Hill boys basketball team started running early and kept running all game long in a 94-63 Centennial League victory at Cherokee Trail. The Buffaloes forged a 14-point lead at halftime and didn't rest during a 53-point second half to top the Cougars, who got 22 points from Isaac Tesfaye and 14 from Tre Titus. …Sophomore Lauren Betts rang up a career-high 28 points and the Grandview girls basketball team cruised past Arapahoe 66-30 in Centennial League play, as the Wolves held the Warriors to single digits in three of four quarters. …The Eaglecrest wrestling team started in a hole, but worked itself back to a tie with two matches remaining before falling to Arapahoe 40-30 in a Centennial League home dual match. The Raptors got a pin at 152 pounds by Medhavi Peuo to forge a 30-30 deadlock, but they had to forfeit at 160 pounds and couldn't get a tying pin in the finale at 170 pounds. Caeleb Knoll (120) won by fall,  Alias Quinones (113) had a win by technical fall and Kyle Maccagnan (132) registered a major decision among seven wins for the Raptors, who ceded 12 points on two forfeits. …The Regis Jesuit ice hockey team celebrated its Teddy Bear Toss game with an 8-4 victory over Mountain Vista at Family Sports Center. Brody Sannes scored in the second minute to give the green light to the crowd to unleash a torrent of stuffed animals that were collected and will be donated to Children's Hospital Colorado.

— Aurora prep sports scoreboard for Friday, Jan. 10, here
THURSDAY, JAN. 9: The Cherokee Trail wrestling team won an anticipated showdown with Grandview by a 44-24 count, dealing the Wolves their first Centennial League dual match loss in six seasons. The Cougars got wins by fall from Jorge Felix (138 pounds), Zack Fish (145), Connor Davis (170) and Julian Williams (285), plus a tech fall win from Brock LaBonde (152) and undefeated star Sam Hart got a forfeit victory in the win. Grandview's Frankie Sanchez Jr. posted a 3-1 win over Derek Glenn Jr. in a matchup of the top two ranked wrestlers in 5A at 106 pounds by On The Mat, while seniors Alex Santillan (132) and Joe Renner (182) won by fall for the Wolves. ..The Vista PEAK wrestling team held off Aurora Central 45-33 in a head-to-head matchup at an EMAC tri-dual that also included Gateway. …The Grandview and visiting Smoky Hill girls swim teams combined for 16 5A state meet cuts in a Centennial League dual that saw the Wolves finish as 122-63 victors. Grandview swept the three relays and got two individual wins from Hailey Matthews and one apiece from Becky Hildebrand, Paige Dailey and Jenna Moss in the pool and Mattea Dolan on the diving board, while Maggie Robben, Blythe Iverson and Annelise Thomas posted victories for Smoky Hill. …The Rangeview girls swim team cruised to a 140-43 EMAC dual meet victory at Hinkley with wins in 10 of 12 events, include a relay sweep, two individual titles each for seniors Jasmine Johnson, Julie Maldonado and Haley Zant and Mercedes Capozzolo's first on the diving board. Alyssa Lutz claimed the 100 yard butterfly and 100 yard backstroke for the Thunderbirds.

— Aurora prep sports scoreboard for Thursday, Jan. 9, here
WEDNESDAY, JAN. 8: In the first of two meetings in Centennial League play, the Smoky Hill and Grandview boys basketball teams provided a thriller. The Wolves broke out to a 22-5 lead over the homestanding Buffs after one quarter, but in classic Centennial League fashion, the game tightened up in the second half and eventually went to overtime, where Smoky Hill prevailed 66-63. Quinten Rock and Jalen Weaver scored 24 points apiece for the Buffs to overcome the 23-point effort for the Wolves' Lian Ramiro, plus 14 from CJ Thomas and 10 from Caleb McGill. …The non-league boys basketball meeting of rivals Hinkley and Aurora Central went to the Thunderbirds, who surged in the fourth quarter for a comfortable 78-60 road win. Jeremiah Warren scored 15 points, Tjai Jackson and Taveon Long 12 apiece and 11 for Xavion Davison, while Tray Willard paced the Trojans with 20 and Messiah Ford chipped in 15. …Laci Roffle finished with 18 points and Jadyn Ross added 14 as Eaglecrest held off Overland 57-46 in Centennial League girls play. Amaya Charles scored 20 points for the Trailblazers. …Ny'Era West tallied 26 points and the Rangeview girls basketball team allowed just 15 total points to Northglenn in a 71-15 victory. …Avery VanSickle connected on four 3-pointers on her way to 20 points and Jada Moore was credited with 19 rebounds to go with 10 points in the Regis Jesuit girls basketball team's 54-41 non-league road win over Ralston Valley.
— Aurora prep sports scoreboard for Wednesday, Jan. 8, here
TUESDAY, JAN. 7: With a big fourth quarter rally, the Regis Jesuit boys basketball team picked up its first win of the season in its return from winter break with a 53-48 victory over George Washington. Michael Wolf led the Raiders with 15 points, while Blakeley Stoughton added 12 and Ty Bergmon 10. …The Overland boys basketball team came up on the short end of a 62-60 loss to visiting Chaparral despite a series of open shots in the final seconds to tie or go ahead. The Trailblazers (continuing to adapt to playing without injured star center Graham Ike, who is expected to miss the rest of the season) got 17 points from Hezekiah Swanson, 11 from Elias Hill and 10 from Vinni Veikalas. …Avery VanSickle finished with 23 points and Jada Moore added 21 points and 13 rebounds to pace the Regis Jesuit girls basketball team to a 79-54 non-league road win at Denver East. …Sophomore Hailey Matthews won twice individually and helped Grandview win both the 200 yard medley and 400 freestyle relays in a Centennial League home swim meet against Cherry Creek, which saw 22 5A state meet times recorded. Matthews won the 200 yard individual medley and 500 yard freestyle, but the Bruins prevailed 110-76.
— Aurora prep sports scoreboard for Tuesday, Jan. 7, here
MONDAY, JAN. 6: The Hinkley boys basketball team rang up triple digits in points in a 100-62 win over Adams City in a non-league matchup of EMAC teams. Jeremiah Taylor's 20 points paced the Thunderbirds, while Tjai Jackson (17), Xavier Starks (13), Jeremiah Warren (13) and Delvin Sipple (10) were in double figures. …The Vista PEAK boys and girls basketball teams swept Prairie View in non-EMAC contests between league teams as AJ Lacabe (15 points) and Sayo Owolabi (10) led the Bison boys and Seairra Hughes (21 points) and Mikayla Jones (15) paced the girls.
— Aurora prep sports scoreboard for Monday, Jan. 6, here