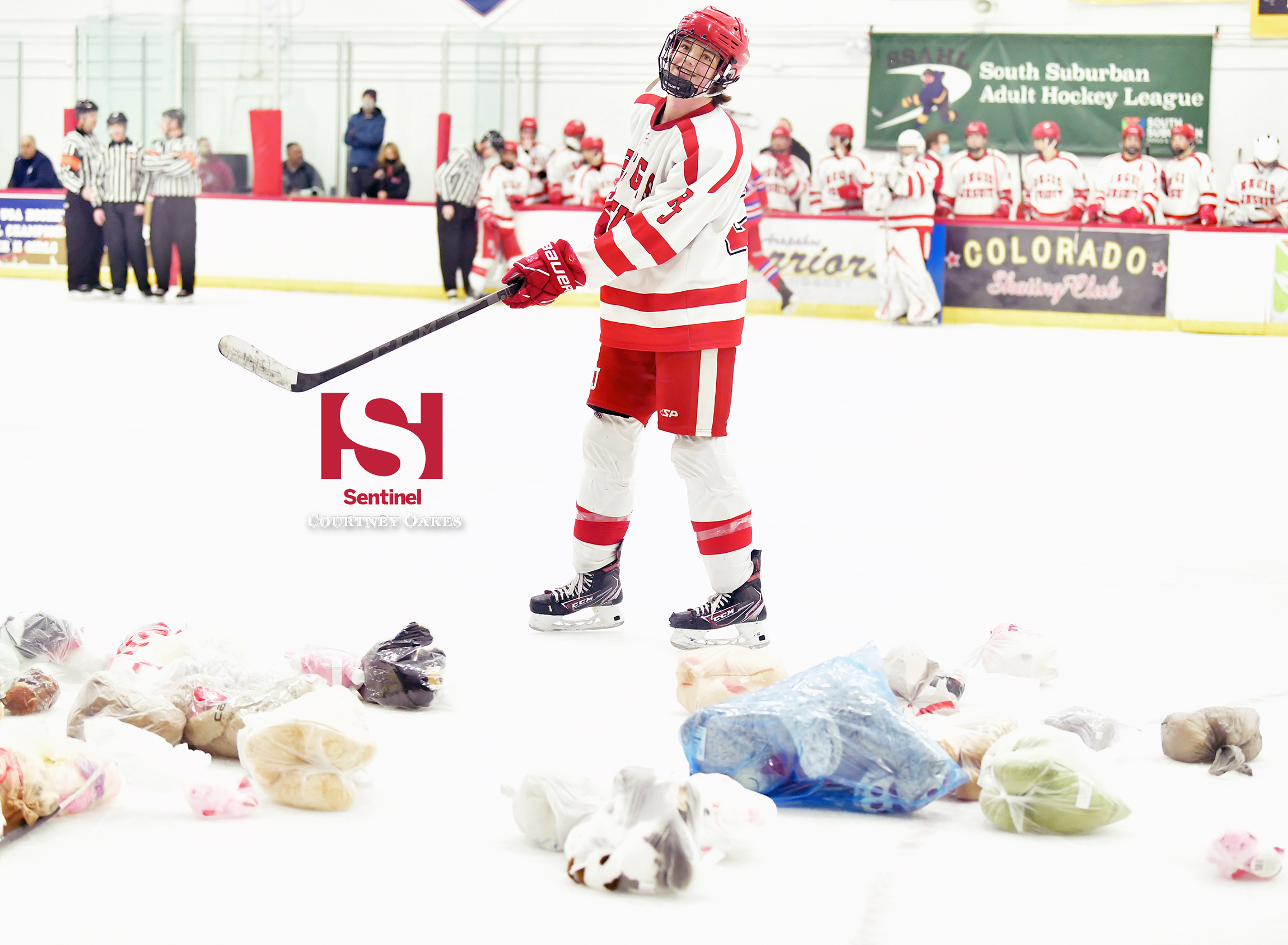 AURORA | A look back at some of the key games, tournaments and happenings in Aurora prep sports from Jan. 20-26, 2022:
Courtney Oakes is Sentinel Colorado Sports Editor. Reach him at [email protected] Twitter: @aurorasports. IG: Sentinel Prep Sports
THE WEEK PAST IN AURORA PREP SPORTS, 1.20-1.26.22
WEDNESDAY, JAN. 26: The Cherokee Trail girls swim team celebrated eight seniors prior to its Centennial League dual against Grandview and then went out and secured a 101-84 victory in a meet rescheduled from the previous day due to weather. Skylar Brgoch wrapped up her competition career in the Cherokee Trail pool with victories in the 200 yard freestyle and 100 yard butterfly and sophomores Sarah Woren and Emme Metzmaker and freshman Ella Drakulich posted victories for the Cougars, who also claimed the 200 and 400 yard freestyle relays. Juniors Kya Guikema and Paige Dailey, freshman Ava Zadigan and freshman diver Addison Campbell and the 200 yard medley relay team earned wins for the Wolves. …The Cherokee Trail boys wrestling team stormed its way to a 54-25 Centennial League victory over Mullen (which is ranked No. 1 in Class 3A by On The Mat) thanks to wins by fall from Brayden Smith (138 pounds), Finn O'Riley (152), Scott Stevens (170), Ellis Williams (195), Kobe Euell (285), Chancellor Matthews (113) and Nate Jackson (126). …The Smoky Hill boys wrestling team got wins by fall from Jacob Castellano (126 pounds) and Zack Majernik (138) among contested matches to edge Overland 42-35, while the Trailblazers' wins came from James Rada Scales (152), Christopher Hussain (160), Adan Martinez (195) and heavyweight Nathaniel Butler. …Despite pins by Emmanuel Martinez (126 pounds), Nathaniel Krantz (160) and Manuel Millan (195), the Aurora Central boys wrestling team fell to Englewood 36-30. …Katelynn Czerpak (111 pounds) and Arianna Butler (147) recorded wins by fall, but the Overland girls wrestling team fell a point shy of Mountain Vista in a 22-21 dual defeat. …The Rangeview boys basketball team got big games from KK Stroter (22 points) and Elijah Thomas (21) in a 67-32 victory over visiting Hinkley, which countered with 12 points from Dayvon Vaughns plus 10 from Malietoa Fifita. …The Regis Jesuit boys and girls basketball teams swept Ponderosa in Continental League play with the girls defending their home floor with a 68-58 victory behind a 26-point effort from Coryn Watts, plus 17 from Hana Belibi and 15 from Sophia Meyer, while the boys topped the Mustangs 52-44 on the road. …The Hinkley girls basketball team dropped a 50-22 non-league road visit to Heritage Christian.
— The Aurora prep sports scoreboard for Wednesday, Jan. 26, here
TUESDAY, JAN. 25: Worsening weather conditions canceled after school competition in Aurora Public Schools and Cherry Creek Schools, leaving only contests for the Regis Jesuit girls swim and ice hockey teams. On the ice, the Raiders bounced back from their first loss of the season with a 6-0 victory over Mountain Vista at Family Sports Center with six different players finding the back of the net. Robbie Dembeck was one of them and also one of four players with two assists, while Logan Zlot stopped all 24 shots he faced in the net. In the swimming, pool, Regis Jesuit downed Rock Canyon 198-116 in a Continental League dual meet that saw the Raiders sweep the three relay races and get two event wins apiece from seniors Grace Dale and Emma Weber along with single wins from Kenna Cashman and Shelby Enderlein.
— The Aurora prep sports scoreboard for Tuesday, Jan. 25, here
MONDAY, JAN. 24: The Overland boys basketball team built a double-digit lead after three quarters over visiting Cherokee Trail, only to watch the visitors nearly roar all the way back before the Trailblazers held on for a 56-55 Centennial League victory. Keean Lloyd led a balanced effort Cherokee Trail with 11 points, while Austin Gibson had nine. …The Rangeview boys basketball team remained on an offensive binge with an 83-32 EMAC win over Adams City that saw KK Stroter go for 22 points, while Chris Watkins added 17 and Elijah Thomas 14. …The Vista PEAK boys basketball team pulled away from Westminster in the second quarter and went on to a 56-36 EMAC road win. …Xander Smith racked up 28 points for the Hinkley boys basketball team, while Dayvon Vaughns added 16 in a 72-66 EMAC home loss to Prairie View. …The Gateway girls basketball team scored its most points of the season for a 65-13 EMAC road win at Northglenn. …The Rangeview girls basketball team got into double-digits in the win column with a lopsided 88-17 EMAC home win over Adams City. …The Vista PEAK girls basketball team is 2-0 in EMAC play after a decisive 74-35 win over Westminster.
— The Aurora prep sports scoreboard for Monday, Jan. 24, here
SATURDAY, JAN. 22: The Aurora Central boys basketball team trailed Prairie View 4-0 before the ball was even tipped off — because of technicals assessed for dunking in pregame warmups — and the Trojans never caught up in a 74-54 non-league home loss. Jaelan Johnson led Aurora Central with 17 points and Brian Weatherford added 14. …Jameri Hartsfield and Janiah Martinez scored nine points apiece, but couldn't rally the Gateway girls basketball team to victory in a 65-36 non-league home loss to Silver Creek. …The Grandview boys wrestling team finished in a tie for ninth among 33 teams from multiple classifications that competed in the Top Of The Rockies Invitational hosted by Centaurus H.S. The Wolves amassed the same point total as Adams City with four wrestlers getting on the medal podium, a group led by 195-pound Maxwell Kibbee, who played third. Angelo Falise finished 4th at 285 pounds, Sonny Quintana nabbed fifth at 145 and Talen Rice came in sixth at 182. …The Cherokee Trail and Eaglecrest boys wrestling teams finished first and second, respectively, at the War Horse Invitational at Chatfield High School. The Cougars grabbed the top spot with help from five champions in Jay Everhart (106 pounds), Chance Matthews (113), Derek Glenn Jr. (120), Brayden Smith (138) and Zack Fish (170), while four others had top-three finishes. …The Regis Jesuit boys wrestling team finished eighth out of 17 scoring teams at the Northglenn Norse Invitational on the strength of four top-three placers. Dirk Morley won the 220-pound championship for the Raiders, who had the runner-ups at 126 pounds (Garrett Reece) and 182 (Garrett Padgett) as well as the heavyweight bracket's third-place finisher in Tyler Bretoux. …The Eaglecrest girls wrestling team finished as the runner-up at the Douglas County Tiara Challenge with seven top-six placers. Blythe Cayko won the 185-pound championship, while Savannah Smith (111) and Gianna Falise (147) each earned third place. Tenth-place Vista PEAK had a trio of fourth-place finishers in Jayden Abreo (136), Leilani Camaal (161) and Samiah Andrews (215). … The Regis Jesuit ice hockey team dropped its first contest of the season with a 6-3 road loss to Denver East at Big Bear. Jake Filler scored two goals and Jacob Zinno had another, while Andrew Gleason had a pair of assists. …The Cherry Creek co-op ice hockey team got two goals from Eric Burggraf (Grandview) with an assist from Luke Brennan (Eaglecrest) and Walker McEntire (Smoky Hill) made 28 saves, but fell to Monarch 3-2.
— The Aurora prep sports scoreboard for Saturday, Jan. 22, here
FRIDAY, JAN. 21: In a key matchup early in the Centennial League boys basketball race, Smoky Hill downed visiting Overland 72-63 on a big night for junior Rickey Mitchell. Mitchell poured in 25 points to neutralize the same effort by the 'Blazers' Marzouq Abdur-Razaaq and the Buffs had three other players in double figures in Brayden Maldonado (14), Torian Gasaway and Anthony Harris Jr. (11 apiece). Jayden Kelsey joined Abdur-Razaaq in double figures for Overland with 12. …LaDavian King's 15 points led the way for the Eaglecrest boys basketball team in a 63-38 win over Mullen that also saw the Raptors get 11 from Mostapha Elmoutaouakkil. …Kahden Rullo poured in 21 points to help the Grandview boys basketball team to its highest offensive output of the season in a 66-57 win at Arapahoe. Colin Bilotta and Simon Kibbee added 15 apiece for the Wolves. …TaRea Fulcher and Kyle Sandler tallied 13 points apiece, but the Regis Jesuit boys basketball team dropped a 54-47 Continental League road contest at Chaparral. …The Regis Jesuit girls basketball team overcame a challenge from visiting Chaparral in Continental League play for a 66-61 victory that featured 20 points from Coryn Watts, 17 from Madden McHugh and 14 from Hana Belibi. …The Eaglecrest girls basketball team got held to single digits in three of four quarters in a 49-26 loss to powerhouse Mullen that saw Nia McKenzie lead the way with 10 points. …The Regis Jesuit ice hockey team earned a sweep of a two-game set with the Cherry Creek co-op team, as the Raiders left Family Sports Center with a 2-0 victory. Carder Lutz assisted on goals by Andrew Gleason and Jacob Zinno and Gage Bussey made 33 saves for Regis Jesuit. The game served as the Raiders' annual Teddy Bear Toss, with the stuffed animals that came down on the ice after the first goal headed to Children's Hospital Colorado …The Regis Jesuit girls swim team suffered a rare dual meet defeat as visiting Heritage won 177-138 while the Raiders celebrate their seniors. Emma Weber won twice for Regis Jesuit, which also got event victories from Grace Dale and the 200 yard medley and 400 freestyle relay teams. …The Eaglecrest boys wrestling team earned a commanding 72-9 dual meet win over Arapahoe on the strength of 12 wins by fall. The Eaglecrest girls wrestling team also rolled against Arapahoe with a 60-0 win. …The Vista PEAK boys wrestling team downed Smoky Hill 60-15 with five wins in eight contested matches. …Bennett Closset, George Knight III and Greg Brooks won consecutive matches, but the Rangeview boys wrestling team lost 33-19 to Lutheran.
— The Aurora prep sports scoreboard for Friday, Jan. 21, here
THURSDAY, JAN. 20: The Rangeview boys basketball team blew open a close EMAC contest with Brighton in the second quarter and went on to amass a season high in points in a 90-50 victory. Hanif Muhammad led the Raiders with 22 points, while KK Stroter had 19, Chris Watkins 15 and Elijah Thomas 13. …The Hinkley boys basketball team won its second straight game with a 55-49 road win at Northglenn to open EMAC play. Dayvon Vaughns' 14 points paced the T-Birds, while Keenan Starks added 11 and Malietoa Fifita 10. …Oriel Bailey poured in 26 points, but the Gateway boys basketball team fell to Prairie View 61-37. …Breanna Jefferson tallied 21 points and Mikenzie Jones added 16 to lead the Vista PEAK girls basketball team to a 76-22 win over Adams City. …The Hinkley girls basketball team limited Northglenn to just seven points in a 46-7 EMAC win. …The Grandview boys wrestling team topped Smoky Hill 76-6 in a dual with just four contested matches. Sean Arnett, Nehemiah Quintana and Max Kibbee earned wins for the Wolves, while Dashawn Jenkins collected a win by fall for the Buffs. …Daniel Lantz, Garrett Padgett and Dirk Morley picked up wins for the Regis Jesuit boys wrestling team, but Legend prevailed 51-22 in a dual. …Dominic Pacheco (106 pounds) posted the lone win for the Overland boys wrestling team in a 64-9 loss to Cherry Creek. …Cherokee Trail topped Smoky Hill 129-56 in a Centennial League girls swimming dual that saw 16 5A state qualifying standards achieved. Skylar Brgoch, Ella Drakulich and Emme Metzmaker topped two events apiece for the Cougars, which also swept relays. Diver Kaitlyn Mitchell earned a win for the Buffaloes, who also got state qualifying times from Annelise Thomas and Virginia Berglund. …The Rangeview girls swim team won 10 of 12 events and scored 114 points to top Westminster (33) and Adams City (19) in a tri-meet. Savannah Snow and Shemiah Turner won two events apiece for the Raiders, which also got wins from Kayla Allen, Tiffany Pham and diver Raegen Gable. …Brighton topped Aurora Central and Gateway in an EMAC girls swimming tri-meet.
— The Aurora prep sports scoreboard for Thursday, Jan. 20, here