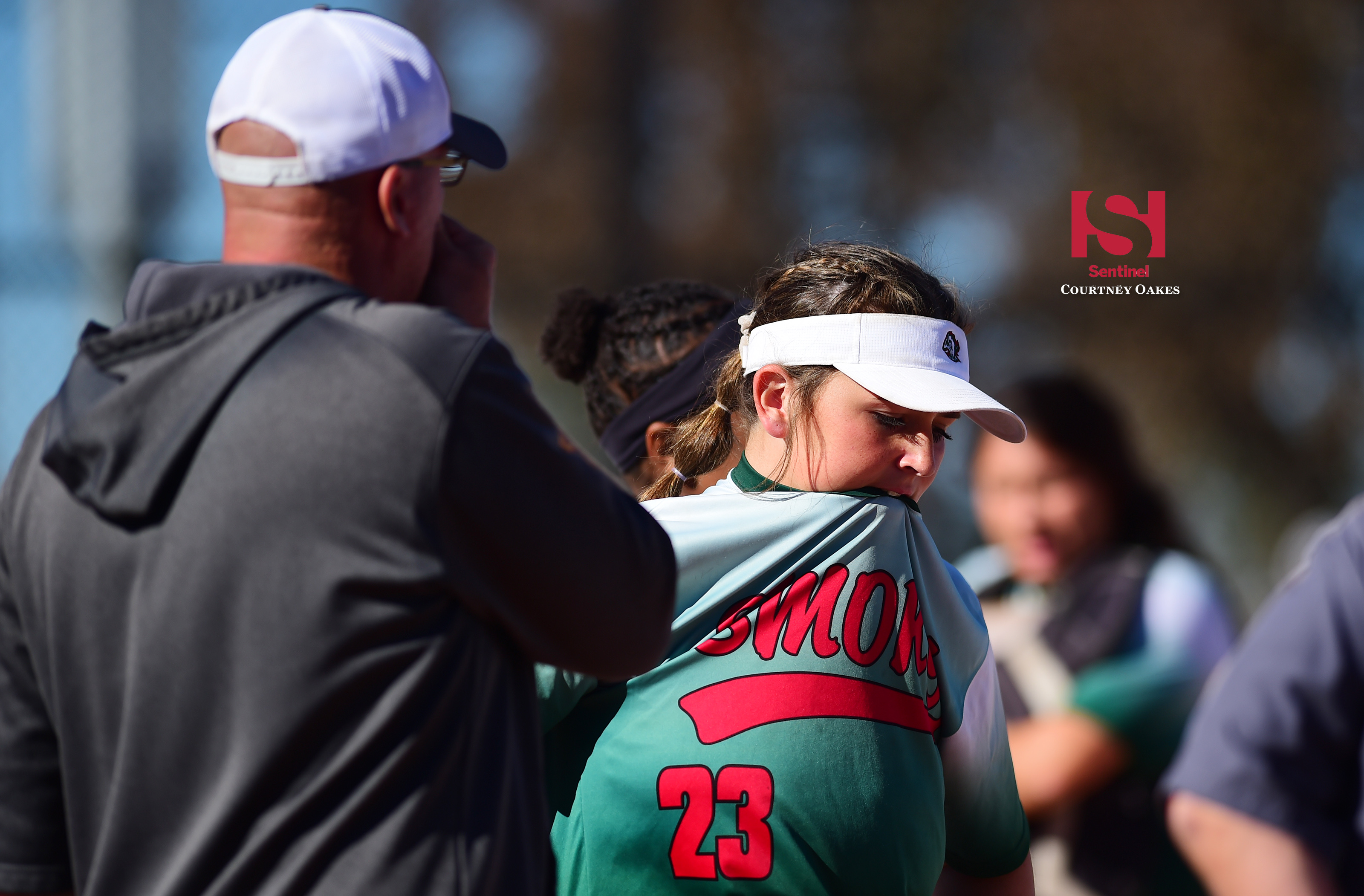 AURORA | The sun shone bright Friday afternoon at the Aurora Sports Park, but the Smoky Hill softball team got hit with a snowball out of left field.
A snowball in the form of an unpredictable, seemingly-unstoppable 12-run inning that ended their outstanding season well short of their goals.
Thanks to a clutch solo home run by sophomore Amrajie Bass, the Buffaloes were right where they wanted to be with a 1-0 lead over Arapahoe with just six outs left to get in a tense first round battle of Centennial League programs at the Class 5A state softball tournament.
Things rolled out of control from there in a mercy rule-shortened 12-1 loss that was far from indicative of the competitive battle the teams waged until the fateful last inning.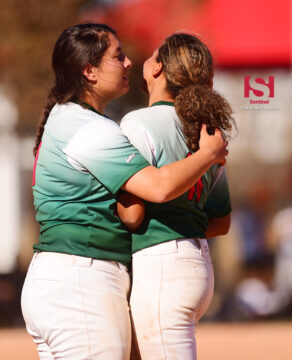 It was the second straight season Smoky Hill had its state tournament game ended with a walk-off home run — it lost 2-1 to Rock Canyon last season in the bottom of the seventh inning — but in a much different way.
The Warriors sent 14 hitters to the plate and made just two outs before its 12-run rally ended on a three-run home run that invoked the 10-run mercy rule. It brought a stunning end to an outstanding season for coach B.J. Kingsbaker's Smoky Hill team, which finished 22-5.
Things began to go a bit awry for Smoky Hill in the first inning, when a potential rally — opened when freshman Gabi Giroux drew a leadoff walk after a nine-pitch at-bat, moved up on a passed ball and advanced to third on a sacrifice bunt by junior Jahlisa Klear — got defused by an oversight.
Kingsbaker set the same batting order he had used all season, but he perplexed himself when he swapped Bass and senior Yasmine Ybarra on the lineup card he submitted before the game.
When Bass came up out of order and was hit by a pitch with Ybarra on deck, the Arapahoe coaching staff pointed out the error and Ybarra was called out. Bass flew out to right field to end the inning scoreless.
On top of throwing things off, Kingsbaker rued taking the bat out of the powerful hands of Ybarra, who had homered multiple times in her career against Arapahoe starting pitcher Kaleigh Krueger, including in both games during the regular season.
Krueger rang up 15 strikeouts in the previous meeting with the Buffaloes, who made adjustments and fanned just three times in six innings in the state contest. The classification's highest-scoring team managed just three total hits, however, and were kept off the scoreboard until Bass' screaming line drive over the center field fence.
Sophomore Izzy Giroux tried to keep Smoky Hill's snowball going with a drive to the same place, but it was low enough that Arapahoe center fielder Kathryn Maney pulled it in as she hit the flexible fence to end the inning.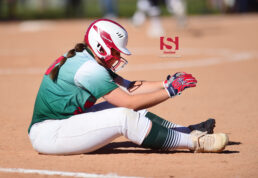 Sophomore pitcher Delaney Farnsworth came out in the sixth with a lead after she had tossed five scoreless innings, including a second inning in which she saw the Warriors put two runners in scoring position with no outs before she induced a pair of comebackers to the mound and ended the potential rally with a strikeout.
The sixth inning proved to be the undoing, however. Back-to-back singles opened the frame for Arapahoe and Farnsworth nearly made a huge play when she dove to catch a popped up bunt by the Warriors' Leah Cackowski. Umpires ruled that the ball had hit the ground before Farnsworth got to it, which allowed Arapahoe to load the bases.
A single by the next batter drove in two runs to put the Warriors in the lead and what followed was an error, two walks and six straight hits, with the game coming to an end when freshman No. 9 hitter Taylor Miller — who had barely made contact in three previous at-bats — slugged a three-run homer.
Smoky Hill graduates two hugely impactful seniors in Ybarra and Cameron Lyons, but had a large group of sophomores and freshmen who now know the best and the worst parts of playing in the 5A state tournament.
Arapahoe (23-4) turned around to lose 11-1 in five innings of its quarterfinal against third-seeded Rocky Mountain. Second-seeded Columbine went on to win the 5A state championship with a 7-1 victory over fifth-seeded Fossil Ridge.
Courtney Oakes is Sentinel Colorado Sports Editor. Reach him at 303-750-7555 or [email protected] Twitter: @aurorasports. IG: Sentinel Prep Sports
ARAPAHOE 12, SMOKY HILL 1 (6 inn.)
Score by innings:
Smoky Hill  000     001 —   1
Arapahoe    000 00(12) — 12
SMOKY HILL (ab-r-h-rbi)
Gabi Giroux ss 2-0-0-0, Jahlisa Klear 2b 2-0-0-0, Yasmine Ybarra c 3-0-1-0, Amrajie Bass 3b 2-1-1-1, Izzy Giroux 1b 3-0-0-0, Cameron Lyons cf 2-0-0-0, Delaney Farnsworth p 2-0-1-0, Jordan Espinosa pr 0-0-0-0, Paris Elsberry dp 1-0-0-0, Kailen Theel rf 0-0-0-0, Eliana Trujillo rf 1-0-0-0. Totals 18-1-3-1. Pitching (ip-h-r-er-bb-so): Delaney Farnsworth (L, 5 2/3-15-12-2-4-7).
ARAPAHOE (ab-r-h-rbi)
Kathryn Maney cf 3-1-0-0, Kali March 2b 3-0-0-1, Kaleigh Krueger p 3-0-2-0, Keely Holt lf 4-1-1-2, Michelle Salazar ss 4-2-3-1, Mia Glover c 3-2-3-1, Leah Cackowski 1b 4-1-3-1, Rebecca Dieffenbach rf 4-2-2-2, Taylor Miller 3b 4-2-1-3, Katy Edwards pr 0-1-0-0. Totals 32-12-15-11. Pitching (ip-h-r-er-bb-so): Kaleigh Krueger (W, 6-3-1-1-1-3).
HR — Smoky Hill: Amrajie Bass (solo in 6th); Arapahoe: Taylor Miller (2 on in 6th)