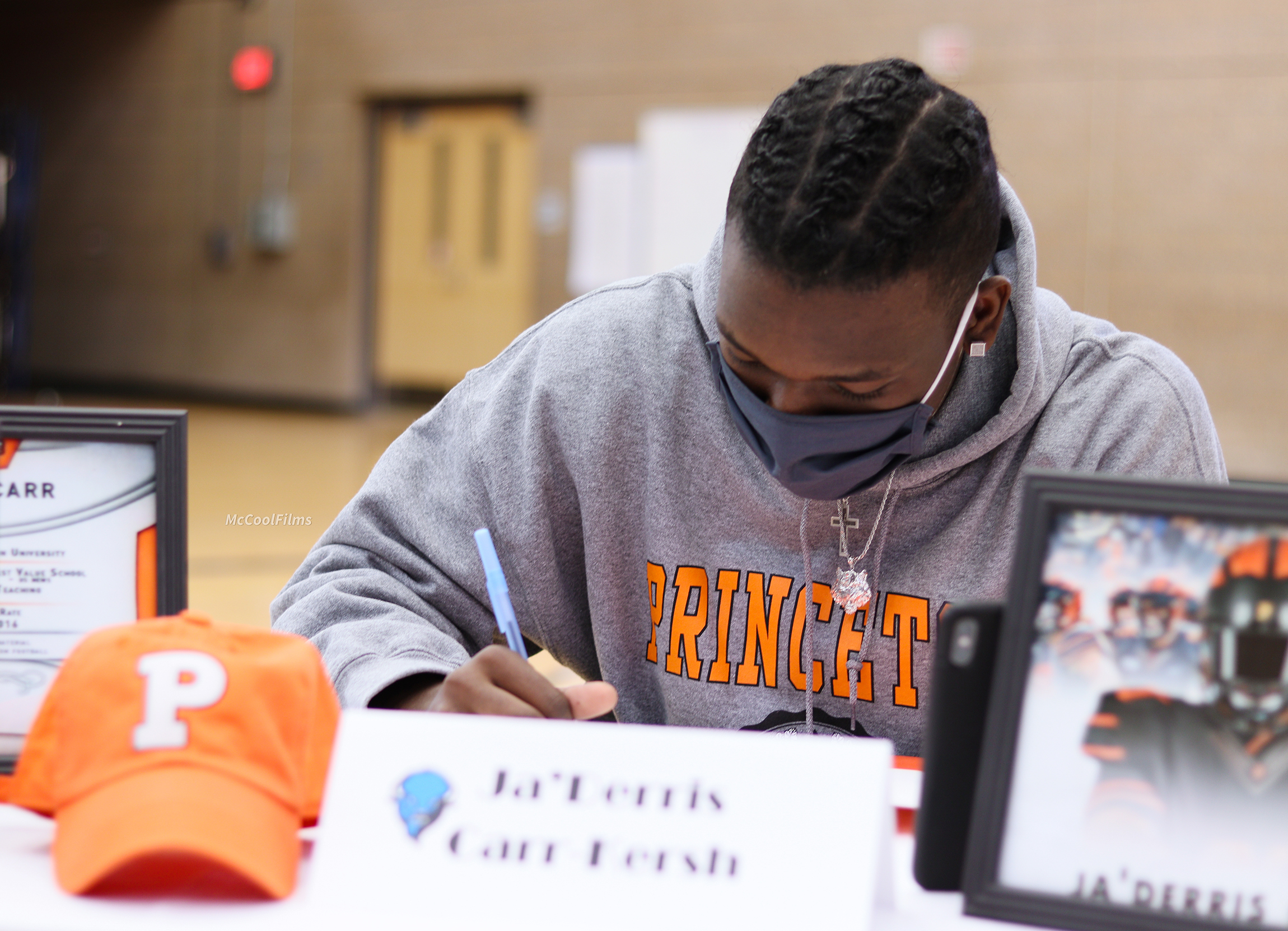 AURORA | Ja'Derris Carr wanted to experience National Signing Day with his teammates on the Vista PEAK football team and in a more "normal" setting, so he passed on signing with Princeton in December.
The star running back got his wish Feb. 3, joining teammates Braylen Nelson, Montral Hamrick and Victor Owens — in addition to cross country/track athlete Tristyn DiPentino — at a Signing Day ceremony in the school's gymnasium.
It wasn't exactly how he envisioned it, but it finally felt official that he is headed to play football and get an elite education at an Ivy League school.
"I just wanted to be able to sign with my brothers and I wanted to have a ceremony," Carr told the Sentinel. "Just because of the year we've had with COVID and stuff, it definitely feels special because we made it what it was and we made it the best we could."
Carr appreciated the efforts of Vista PEAK athletic director John Sullivan — who is also the head football coach — to put on the ceremony. Nelson signed with Fresno State in December, while Hamrick (Colorado State-Pueblo) and Owens (Northern State) actually signed. DiPentino is headed to Hastings College to run cross country and track.
Few ceremonies were in person on this signing day, but Regis Jesuit had back-to-back ceremonies in its performing arts center, splitting up its 24 signees/honorees due to the volume.
Among those were a pair of Colorado State-bound football players in Clay Nanke — who signed in December — along with Drew Kulick, plus Matthew Baer (Southern Methodist).
Also among the Regis Jesuit signees were many individual state champions, including two-time Class 5A boys tennis No. 1 singles winner Morgan Schilling (Claremont McKenna), two-time 5A 145-pound state wrestling champion Antonio Segura (American University) and 5A boys diving champion Quinn Henninger (Indiana University).
In terms of state championships, Carr is hoping that his Vista PEAK football team can grab one in the spring season. The Bison had to watch the majority of the state play in the fall and are preparing for their chance along with the other teams in Aurora Public Schools.
"Everybody is ready, we've been working since the fall," Carr said. "We had to take a couple of weeks off, but we've been working and conditioning since then. The whole team is ready to play our season."
No matter what the result of the season is, Carr has a bright future to look forward to at Princeton. Not only does he get texts from the coaching staff every day, he's connected virtually with his fellow incoming group — named "40-0" — that has plans to dominate the Ivy League in their time there.
He's also looking forward to the legacy that he leaves at his school.
"I think I've carried myself to a certain standard," Carr said. "I really want to help the younger generation to be in the same position I am. With me picking the Ivy League, it's like look at where grades can get you. Football can only get you so far and it isn't always guaranteed, but you can set yourself up with education."
Courtney Oakes is Sentinel Colorado Sports Editor. Reach him at [email protected] Twitter: @aurorasports. IG: Sentinel Prep Sports
AURORA NLI SIGNEES/HONOREES, 2.3.21
CHEROKEE TRAIL: Kelsey Bell, softball, UC-Colorado Springs; Gavin Buttshaw, golf, Concordia University; Joseph Clinton, baseball, University of Wisconsin-Eau Claire; Kadin Denner, swimming, University of California-Bakersfield; Noah Fischbach, football, Arizona Christian University; Sam Hart, football, Ohio State University; Brad Heap, baseball, University of Wisconsin-Eau Claire; Clara Heistermann, soccer, Austin Peay State University; Lauren Hodges, cross country/track, Colorado Mesa University; Megan Hodges, cross country/track, Colorado Mesa University; Austin Medina, baseball, Dakota College at Bottineau; Amaya Messier, volleyball, University of Utah; Kaitlyn Pagel, soccer, North Dakota State; Phoebe Ramirez, lacrosse, Fort Lewis College; Amber Williams, volleyball, Rhodes College
GRANDVIEW: Jenny Allen, softball, Texas Lutheran University; Summer Briata, lacrosse, Young Harris College; Mandy Brockamp, lacrosse, High Point University; Natalie Buravlov, volleyball, Ohio Wesleyan University;  Jacob Burr, football, Allan Hancock College; Libby Campbell, basketball, Briar Cliff University; Ty Chapman, baseball, Northern Oklahoma College-Enid; Amber Davis, track & field, UC-Colorado Springs; Trevyn Heil, football, University of Nevada-Reno; Dasiya Jones, basketball, Regis University; Luke McGahey, lacrosse, Colorado Mesa University; Lyla Michels, softball, Otero Junior College; Thomas Minckler, baseball, Trine University; Addison O'Grady, basketball, University of Iowa; Noah Salazar, football, Fort Lewis College; Katherine Shepherd, field hockey/lacrosse, Newberry College; Mukendi Wa-Kalonji, football, Colorado State; Meghan Weiss, lacrosse, UC-Colorado Springs
OVERLAND: Kamari Brown, football, Black Hills State; Jaheim Roper, football, Black Hills State; Malachi Sims, football, Black Hills State
REGIS JESUIT: Boys Division — Nick Ames, swimming, Chapman University; Matt Baer, football, Southern Methodist University; Brendan Barber, fencing, University of Incarnate Word; Alex Billings, soccer, Regis University; Will Callahan, swimming, Grinnell College; Quinn Henninger, diving, Indiana University; Alejandro Herrera, soccer, Regis University; Sawyer Inglis, swimming, Southern Methodist University; Drew Kulick, football, Colorado State; Will McFadden, lacrosse, Denison; Clay Nanke, football, Colorado State; Brandan O'Toole, soccer, Regis University; Jack Ringhofer, lacrosse, Princeton; Morgan Schilling, tennis, Claremont McKenna College; Antonio Segura, wrestling, American University; Dylan Tostrup, baseball, Solano CC; Max Valdez, baseball, Colorado Mesa University; Jayden Warlum, lacrosse, Whittier; Brock Weiss, baseball, UC-Colorado Springs; Braden Williams, baseball, Birmingham-Southern College; Alec Willis, baseball, Minnesota; Mason Young, baseball, Webster University; Girls Division — Amber Harvey, volleyball, Chadron State; Ellie Lopez, swimming, Lindenwood University
SMOKY HILL: Leslie Richardson III, football, Colorado State-Pueblo
VISTA PEAK: Ja'Derris Carr, football, Princeton; Tristyn DiPentino, cross country/track, Hastings College; Montral Hamrick, football, Colorado State-Pueblo; Victor Owens, football, Northern State; Braylen Nelson, football, Fresno State