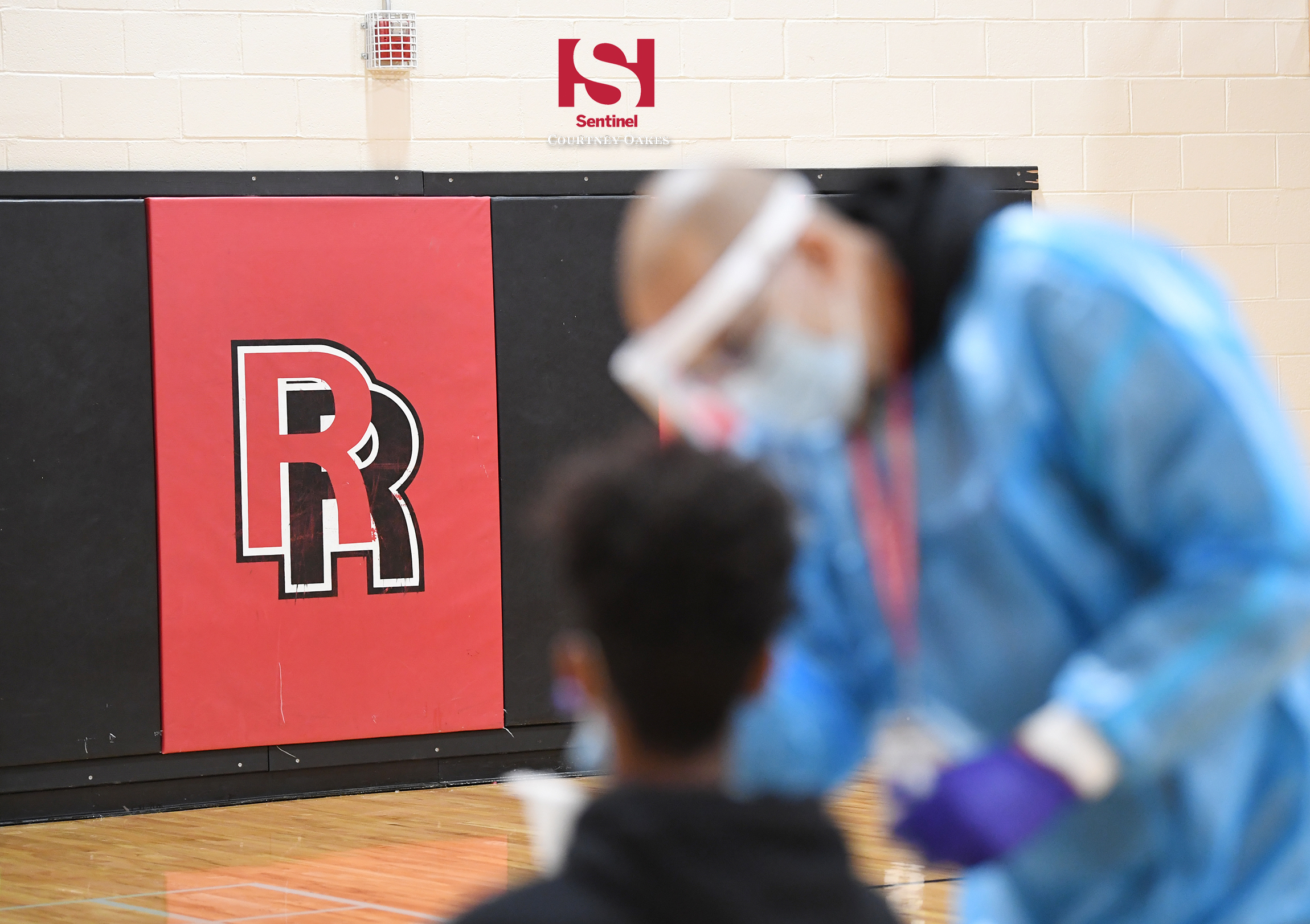 In about the time it takes to watch one of her 3-point shots travel to the hoop, Brianna Linnear got done with her COVID-19 test Jan. 10.
The Rangeview senior girls basketball player walked out of the small gym at her school with a smile on her face — concealed by her mask — at how much easier this swab up her nostril had been compared to her previous experience.
"I've gotten a COVID test before and it was terrible," Linnear said. "I think they went up in there to my brain with the first one, so I was scared. This one was way better."
That's good news, because it will become a regular practice for Linnear, who was part of the first wave of athletes and coaches around the Aurora Public Schools to receive testing, which the district announced a few days earlier would be mandatory in order to participate in Season B sports due to the coronavirus pandemic.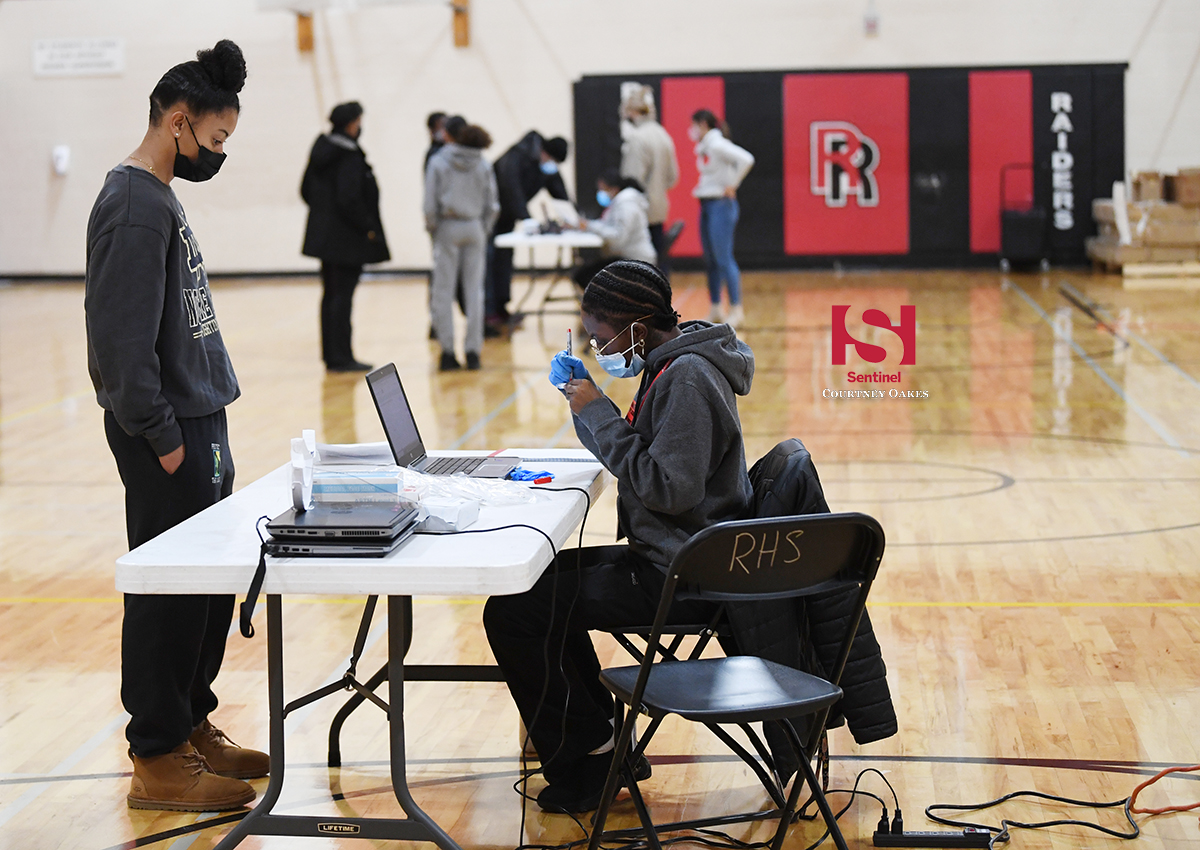 Prospective APS athletes or athletic staff wanting to compete in boys or girls basketball, boys or girls wrestling, girls swimming or competitive cheer — the district doesn't offer the other winter sports sanctioned by the Colorado High School Activities Association, ice hockey and skiing — must get tested twice a month during the season.
The process began at Rangeview Jan. 10, went to Hinkley the next day, then to Aurora Central, Gateway and Vista PEAK Prep. Athletes and coaches at William Smith and Aurora West College Prep could go to any of the other schools to get tested.
"It was given to us that if we want to proceed with competition, we had to go through testing, so it was non-negotiable," said Rangeview athletic director and boys basketball coach Shawn Palmer, who got tested in the afternoon along with his son, Cade, a basketball player.
"For us, we want to do everything we can do to allow our kids to be able to compete and keep them safe," he added. "The most important part is when we are able to compete, we'll be able to compete with a little more peace of mind. We'll be able to practice with a little more peace of mind even though we're following all the mask mandates and everything. It will put our kids in a better situation."
APS Athletic Director Casey Powell told the Sentinel that the regular testing was the only way the district would have winter athletics, something one Colorado school district — Mapleton — decided was too risky.
"It was brought to me that if APS was going to participate in Season B and beyond, we had to have a testing protocol in place," Powell said. "We were taking it slow and getting things in place when the dates changed and we had to go into another gear.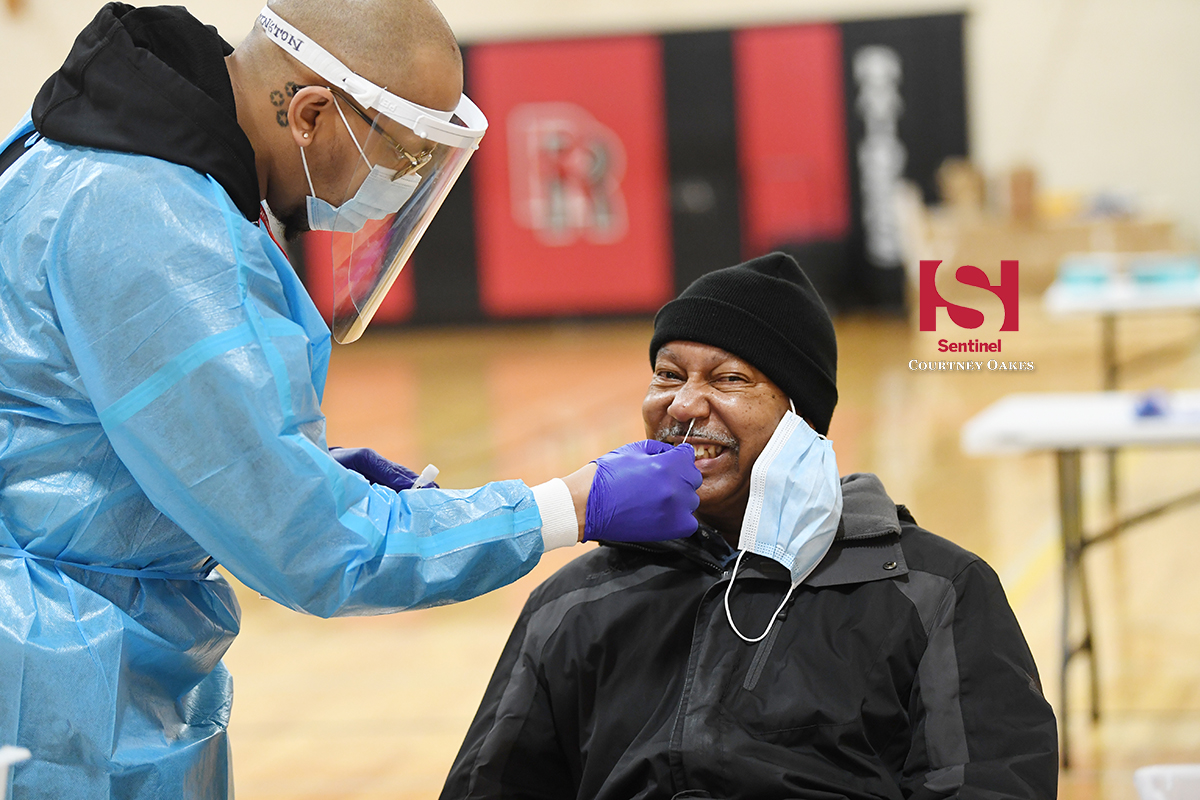 "Through the collective effort of the communications department, (APS Chief Operating Officer) Anthony Sturges, the high school ADs and especially David Schoenhals, we were able to put together and are ready for our first tests."
Schoenhals, Principal on Special Assignment in the district, had been in charge of the testing provided for APS for its employees and was able to use his relationship with COVIDCheck Colorado to explore the possibility of putting the testing in place for athletes and coaches.
The district lost a week of prep time when CHSAA was able to move up its calendar after variance approvals from the Colorado Department of Public Health and Environment, but Powell and Schoenhals gladly worked over the holiday to make it happen.
Best of all, COVIDCheck Colorado received money in November that allowed it to make the tests, lab time and other resources free of charge to APS, meaning the district only has to pay for a vendor to administer the tests, great reducing the cost. Results from the tests come back in 24-48 hours.
"This is costing us about one-fifth of what it would for other places around the country," said Schoenhals, who credits Powell as the driving force behind making it happen at the schools.
COVID-19 didn't have a major impact on the district during the fall athletic season — which included softball, cross country, boys tennis and boys golf for APS schools (football will be played in the spring) — but when Season B falls (the start of practice is Jan. 18 and competition Jan. 25), conditions are different.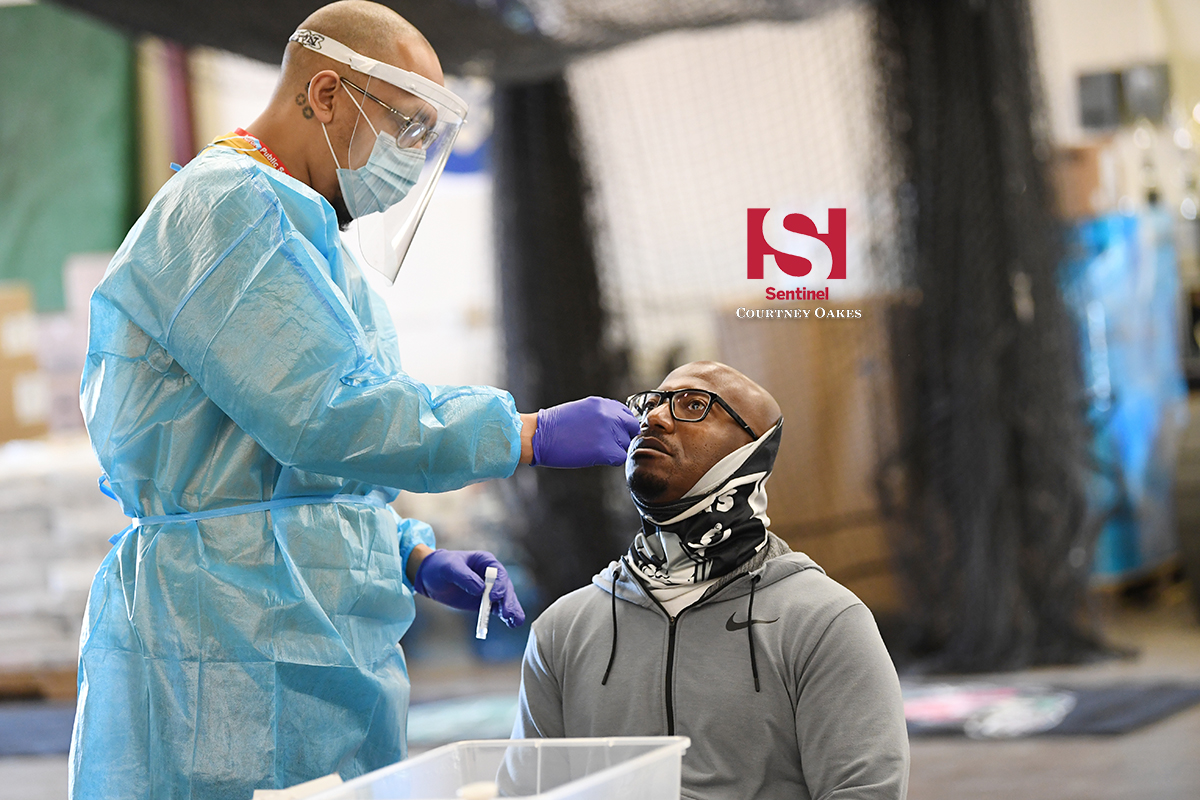 Testing before the start of practices could help keep anyone with COVID-19 who is not experiencing symptoms from introducing it to the team.
"For the first season of athletics, we were literally going through weeks at a time where only one or two members of staff were testing positive, so I think a lot of coaches and athletic directors felt like let's just continue what we're doing," Schoenhals said.
"The reality is that in following the spread, it's much greater now. Our superintendent (Rico Munn) said we really need to have this in place in order to keep our kids safe. …Especially at this time, I think it's so crucial to give our students the opportunity to have athletics."
Further complicating the timing is the fact that APS high school students will return to in person learning on Jan. 19, the first time they will be in building since last March when the pandemic began.
Students get broken into cohorts to limit the possibility of widespread exposure of the virus at school, but athletes who come together on a team may come from different cohorts, adding to the risk.
"Athletics really really does break the cohort group, so not only will testing be supportive of the athletes, it will be supportive of the student body," Schoenhals said. "It will be supportive of teachers and staff as well, so if you look at it deeper, it's supporting the whole school."
So far, no other school districts in Colorado have followed suit when it comes to testing of athletes and coaches, at least as a requirement.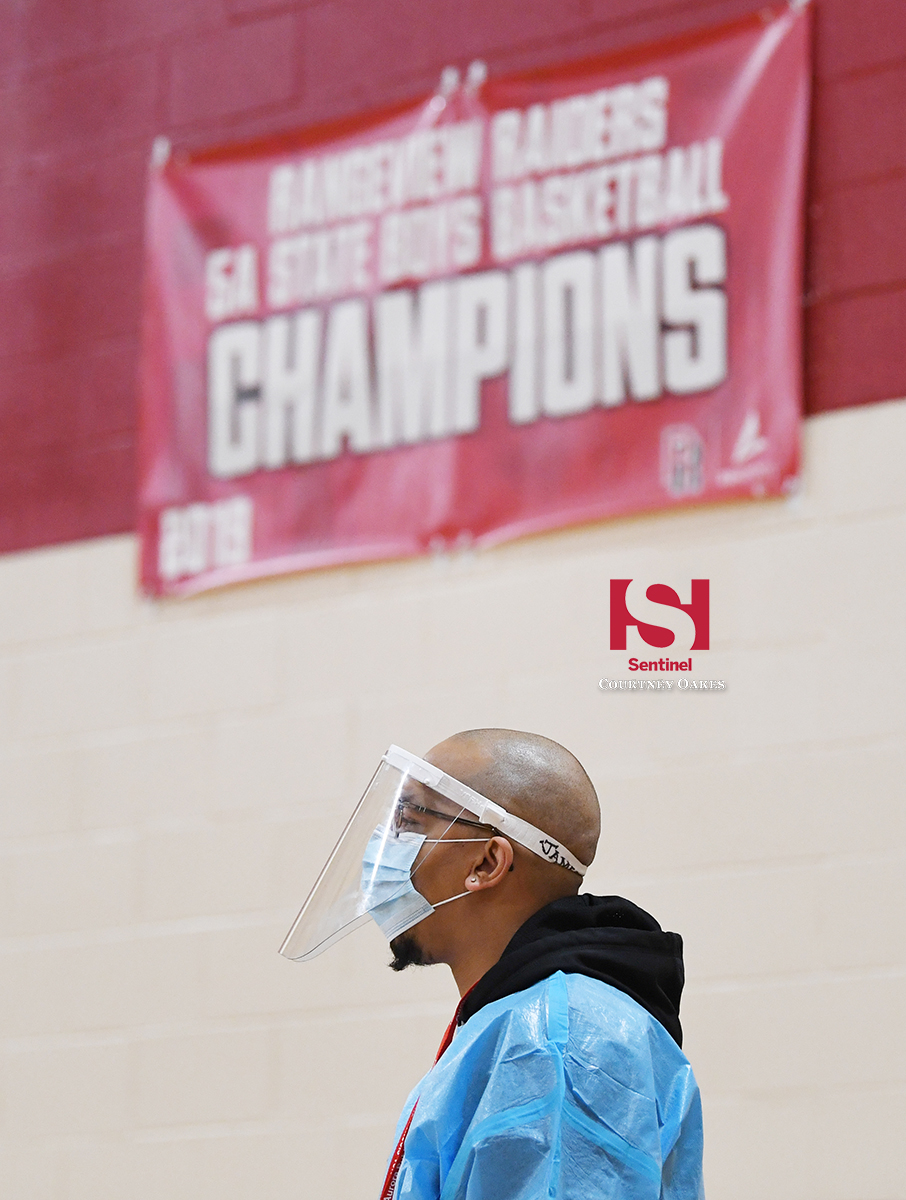 Cherry Creek Schools Athletic Director Larry Bull said his district has not made COVID-19 testing mandatory, however, athletes, coaches and families are encouraged to take advantage of the district's free testing (which is also provided by COVIDCheck Colorado) at two sites (the Instructional Support Facility and outside Stutler Bowl at Cherry Creek High School).
Regis Jesuit Boys Division Athletic Director Kelly Doherty said his school would continue the practices it put into place in the fall for football, which relies heavily on contact tracing.
Athletic directors at APS high schools were proud to be part of a forward step.
"We're the only ones doing this that I know of, but I doubt we'll be the last," said Hinkley AD Rodney Padilla, who had his school's boys and girls basketball teams tested in the first week, with girls swimmers, wrestlers and cheer the next week.
"It's our protocol now," he added. "If you want to be a part of it, you have to do it. It's plain and simple."
Ryan Widemon just got hired as Aurora Central's athletic director over the summer and has quite literally had a whole career's worth of experience in just a few months.
"To get sports rolling in a safe way, knowing we are as safe as we can possibly be will make it that much more gratifying once things start," Widemon said. "This testing isn't going to completely take away the possibility, but the district is going above and beyond."
Vista PEAK girls basketball coach Howard Payne believes the district should be "applauded" for instituting the testing, even as scheduling tests for his players might prove challenging.
The debate about the safety of high school sports remains a hot one nationally.
Michigan suspended the completion of three fall sports tournaments on Nov. 18 until January and the Michigan Department of Health and Human Services created a rapid testing pilot program for athletes and teams still alive in the postseason. State officials say 99.6 percent of tests administered since Dec. 30 have come back negative, though it had uncovered "dozens of COVID-positive student athletes" the MDHSS told Michigan Live.
An study last year in Wisconsin also showed very few positive tests for high school athletes and nearly no cases attributed directly to participation.
Courtney Oakes is Sentinel Colorado Sports Editor. Reach him at 303-750-7555 or [email protected] Twitter: @aurorasports. IG: Sentinel Prep Sports