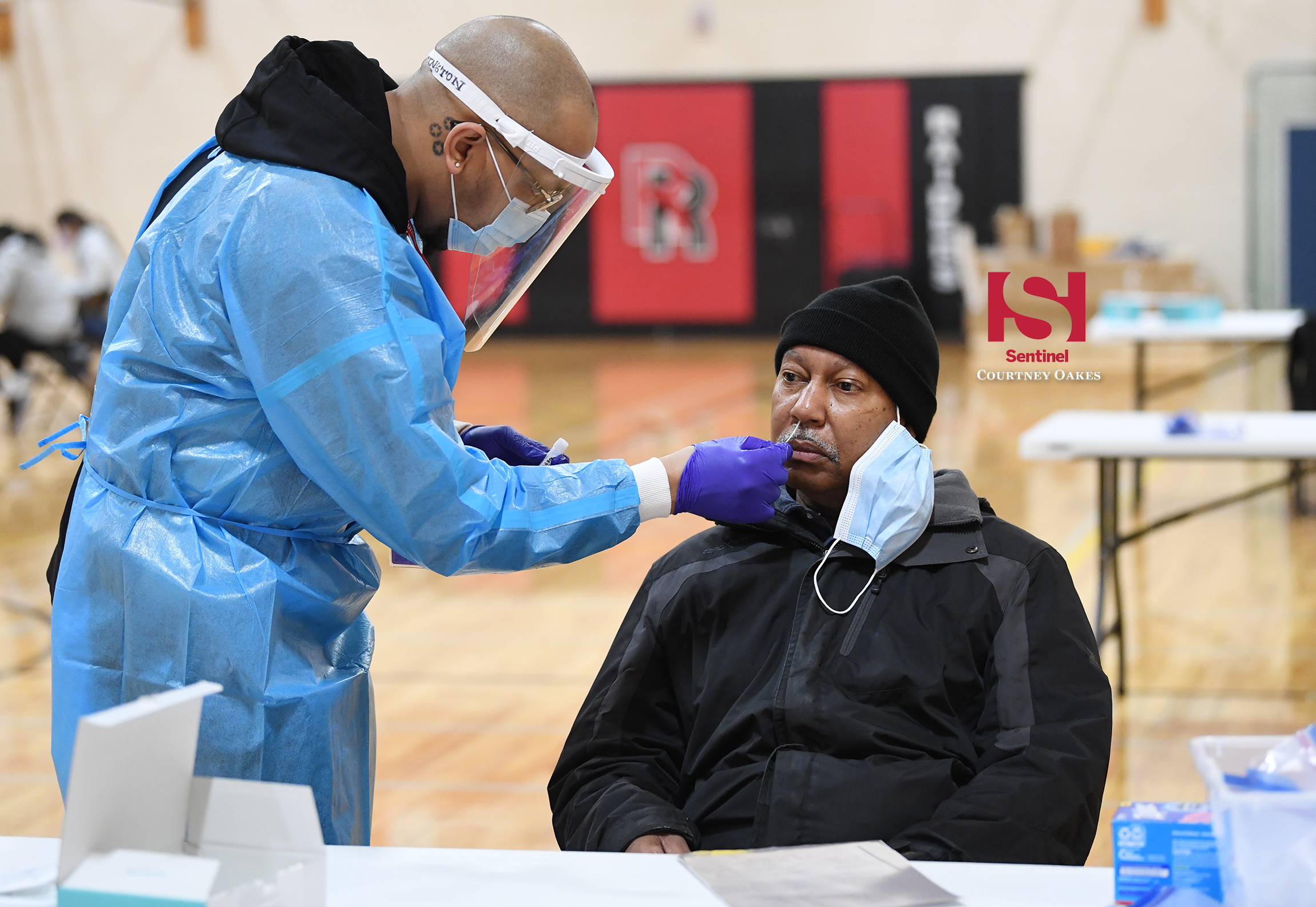 AURORA | Athletes and coaches who plan to participate in Season B of the Colorado prep athletic season lined up — socially distanced — in the small gym Monday morning at Rangeview High School, but it wasn't for official practice.
That doesn't start for another week, but those that want to play or coach boys and girls basketball, boys and girls wrestling, girls swimming or competitive cheer began to get used to another practice this season: regular COVID-19 testing.
Late Friday, Aurora Public Schools informed its athletic community that twice-monthly testing — provided by the district free of charge — would be required (Sentinel's Friday story) and that process got going at Rangeview, while it will continue for the rest of the week at other high schools in the district.
"It was given to us that if we want to proceed with competition, we had to go through testing, so it was non-negotiable," said Rangeview athletic director and boys basketball coach Shawn Palmer, who was to get tested in the afternoon along with his son, Cade.
"For us, we want to do everything we can do to allow our kids to be able to compete and keep them safe," he added. "The most important part is when we are able to compete, we'll be able to compete with a little more peace of mind. We'll be able to practice with a little more peace of mind even though we're following all the mask mandates and everything. It will put our kids in a better situation."
The testing is part of a busy week of logistics for Season B athletes and coaching staffs, making sure athletes are registered, have health waivers taken care of and getting testing done after the timetable was moved up a week due to variances approved by the Colorado Department of Public Health and Environment.
Official practices for Season B sports can begin Jan. 18, with competition starting Jan. 25.
APS Athletic Director Casey Powell, who was onhand to oversee the process, told the Sentinel Friday that mandatory testing is currently planned for Season B athletics, but the infrastructure could be in place for the rest of the school year.
Courtney Oakes is Sentinel Colorado Sports Editor. Reach him at 303-750-7555 or [email protected] Twitter: @aurorasports. IG: Sentinel Prep Sports