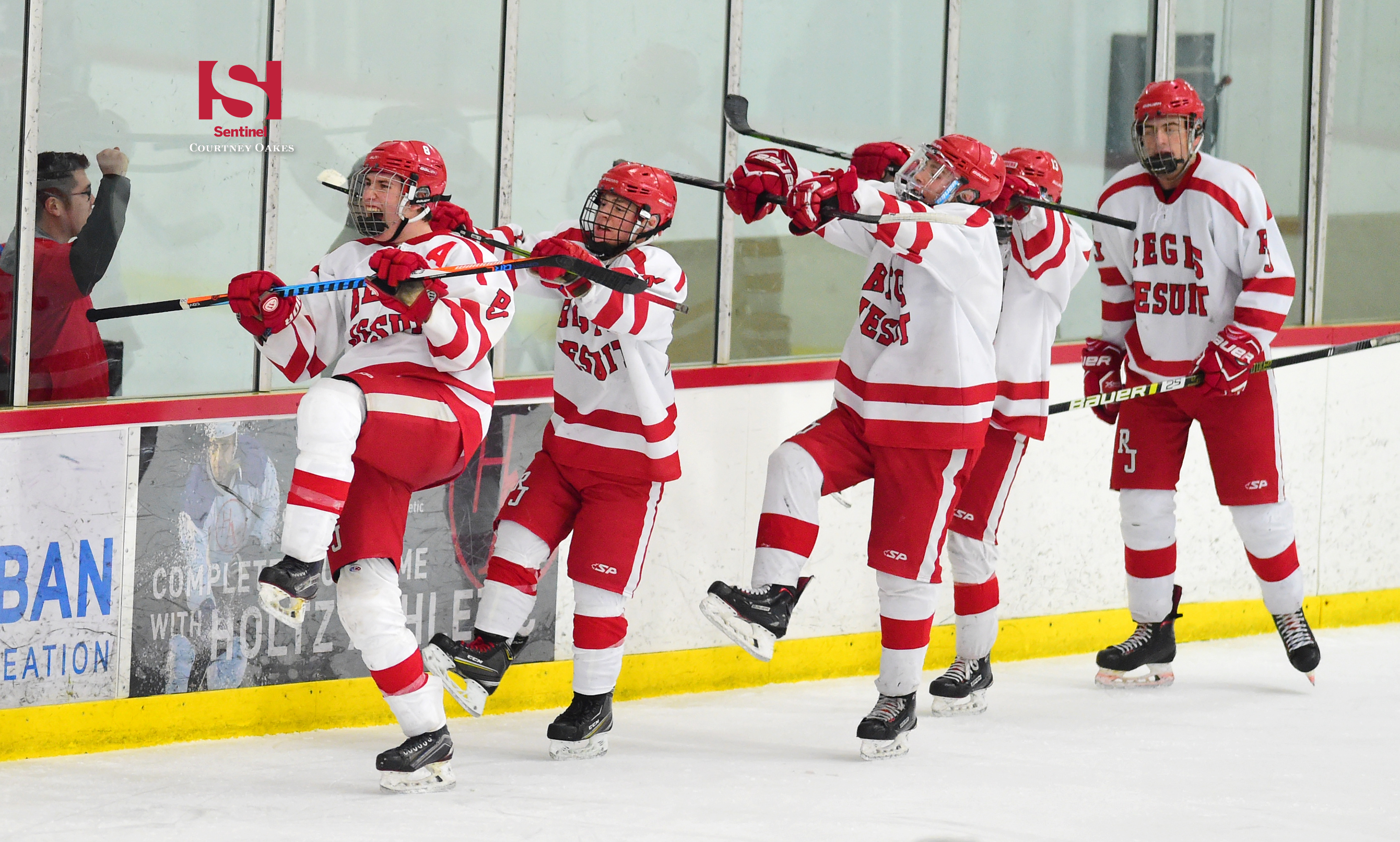 Dan Woodley has coached long enough to pick up a wide variety of interesting facts along the way.
The architect of the Regis Jesuit ice hockey juggernaut came to the realization of two of the most amazing ones Feb. 23.
Following his team's 3-1 victory over Cherry Creek in a state ice hockey quarterfinal contest at Family Sports Center, Woodley opined on a couple of facts.
No. 1, that Regis Jesuit will appear in the Frozen Four for a stunning 12th consecutive season when it faces off with Chaparral on March 1 at Pepsi Center in a game slated for 5 p.m.
Going along with that, Woodley realized that some of the youngest members of the team may have been just two years old when that streak of semifinal appearances began.
"It's unbelieveable," Woodley said.
That is impressive in its own right, but so is the fact that no senior class in the history of Regis Jesuit's program has graduated without winning a state championship.
Ever since the Cheyenne Mountain dynasty of the 1970s and 80s came to an end, there hasn't been a showing of dominance by any of the state's hockey programs as impressive as that Regis Jesuit currently has going on.
Last season's Regis Jesuit team went undefeated, ripping through 23 games and winning the state championship with a victory over Valor Christian on the same Pepsi Center ice it will return to this season.
This season's team hasn't been quite as dominant, mostly because it graduated several of its highest-scoring players from a year ago, but the Raiders have still hardly been touched this season.
A 5-4 loss on the road at Fort Collins in the second game of a back-to-back left the Raiders just short of matching the state's longest unbeaten streak established by Ralston Valley, but it also served to refocus them for the stretch run.
The loss definitely did just that, as Regis Jesuit has reeled off a slew of strong victories against high-quality opponents, including a come-from-behind 3-2 win over Valor Christian in the regular season finale.
It's a game that the Raiders may need to draw on if they see the Eagles again, which is a very real possibility. Valor Christian takes on sixth-seeded Dakota Ridge in the other semifinal contest March 1, with the winners of both Frozen Four games meeting at 7 p.m. March 4 for the state championship.
While Regis Jesuit is a little shorter on offensive firepower than it had last season, there is no doubt it is stacked on the defensive end.
Senior Justin Lico and junior Nolan Sargent give the Raiders perhaps the most dynamic pair of defensive players in the state.
With size, speed and a love for jumping into the offense when needed — not to mention playing key roles on the Regis Jesuit power play — the defensive duo is a big reason why the Raiders are in line to collect another title.
Sargent tied with senior Kale Lone for the team lead in regular season goals with 13 while Lico (10 goals) joined Luke Dosen as the only other double-digit goal scorers for the Raiders. Lico also finished with 21 assists, just one off the pace set by Lone in the regular season.
Sargent's second-period goal in the second period of the quarterfinal against Cherry Creek proved to be the dagger for Woodley's team, who earned a chance to face a Chaparral team it swept the season series from in the semis.
Courtney Oakes is Sentinel Sports Editor. Reach him at 303-750-7555 or [email protected] Twitter: @aurorasports. FB: Sentinel Prep Sports
2019 STATE ICE HOCKEY SEMIFINALS
March 1 at Pepsi Center
Chaparral vs. Regis Jesuit, 5 p.m.
Dakota Ridge vs. Valor Christian, 7:30 p.m.