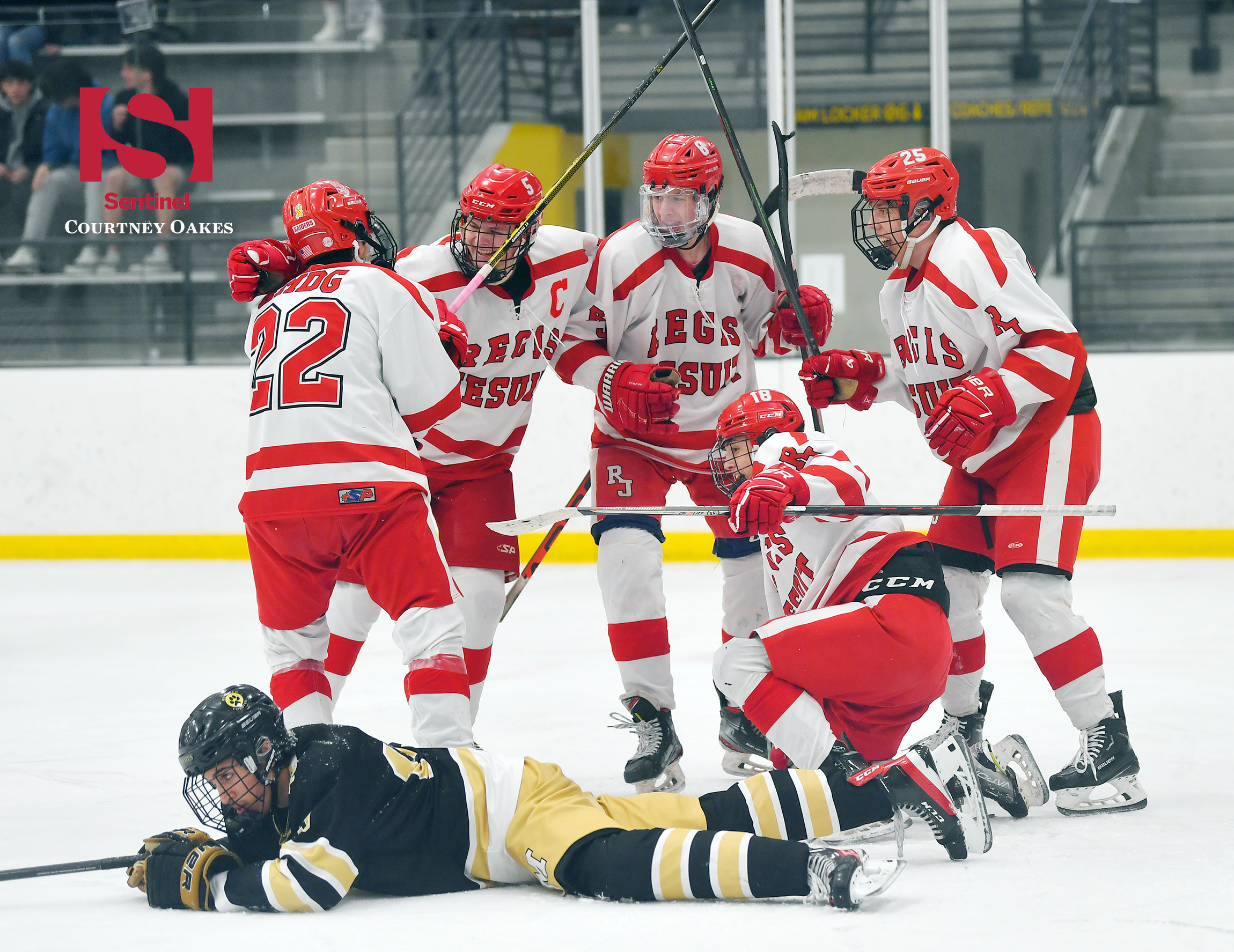 LITTLETON | After a one-season absence, the Regis Jesuit ice hockey team is back into the Frozen Four of the state playoffs and got there in thrilling fashion Tuesday night.
The fourth-seeded Raiders were locked in an intense contest with No. 5 Monarch that went into the second overtime at South Suburban Sports Complex before junior forward Nicolas Pineiro ripped a shot through traffic and into the net for a 4-3 victory.
Senior Carter Schick scored tying goals in the second and third periods for coach Terry Ott's Regis Jesuit team, which couldn't come through on a rare 5-on-3 power play in the first overtime, but finally got the game-winner when Pineiro scored on a nifty pass from sophomore Parker Brinner.
"I saw Parker give me that pass and I knew I wasn't missing that," said Pineiro, who scored his fifth goal of the season and first since Feb. 3. "I just put it in the back of net. …We definitely had the momentum there and the boys deserved that. Now, we're on to Valor."
PHOTO GALLERY FROM REGIS JESUIT'S VICTORY, HERE
Indeed, the victory advanced Regis Jesuit in the bracket into a Frozen Four matchup with rival Valor Christian (18-1), the No. 1 seed, which won its quarterfinal 9-0 over No. 8 Standley Lake in the game before the Raiders took the ice. The teams will square off Saturday at World Arena in Colorado Springs with a trip to the state championship game at Magness Arena at stake.
The remaining two Frozen Four teams will be determined by two quarterfinals on Wednesday that first pits No. 2 Denver East against No. 7 Chaparral at 5:30 p.m., followed by No. 6 Cherry Creek vs. No. 3 Ralston Valley at 8 p.m.
For Ott — a former assistant in his first season as head coach after taking over for original coach Dan Woodley — being part of the Frozen Four again is big. The program had made 14 consecutive trips to the semifinals until last season, when it lost to Fort Collins in the quarterfinals.
"Obviously, our goal from the start is to get back to the state championship game, but you have to play the process out," he said. "It's about becoming a team over the course of the year. You can't get to the championship game until you win the quarters and that next round. The Frozen Four is a place we've traditionally found ourselves, so it's nice to get back."
But it wasn't easy by any stretch, especially given the Raiders came into a competitive game for the first time in 11 days and faced a Monarch team that piled up 12 goals in a first round victory. The Coyotes had to play because they lost their regulars finale to Resurrection Christian, which bumped them down and moved Regis Jesuit into the fourth seed, which received an opening bye.
The Raiders appeared to have "nervous energy" in Ott's estimation in the opening minutes, but still managed to take the lead on a goal by sophomore Nolan Williams.
Monarch responded with a pair of goals in a three-minute span in the second period, but Schick lifted Regis Jesuit into a 2-2 tie when he settled a rebound, spun and whipped the puck past Coyotes' netminder Simon Holstein.
A power play goal put Monarch ahead yet again in the third and as time ticked away, Schick struck again when he came down the wing, took a short pass from senior Michael Manville and found the back of the net.
"It's just staying even keel, which is something I've been working on a lot this year," said Schick, who upped his goal total to nine. "Last year that was my biggest problem, I rode the highs too much and rode the lows too much. It's just having confidence in myself and my teammates and playing with that even keel attitude.
"You can't put your head down when things get tough or hold your head too high when they are good."
Regis Jesuit gained some jump and had a few good chances in the closing minutes of regulation to go ahead, but the 3-3 deadlock remained at the buzzer.
Midway through the first eight-minute, sudden-victory overtime, the Raiders had a prime chance to end the game when they received a 5-on-3 chance for nearly two minutes. But they missed one prime chance and the Coyotes survived, even generating their own shorthanded chance that was turned away by Regis Jesuit goaltender Alijah Hernandez.
"They say the team that gets a 5-on-3 and doesn't convert, the other team usually comes back and wins," Ott said. "We had an empty net we missed and the boys were feeling the pressure to score. The net gets smaller and smaller and you are trying to make the perfect play rather than just getting pucks to the net and maybe one goes in.
"I told them before overtime started that no shot in overtime is a bad one and anything has a chance to go in. They don't all have to be pretty."
The game-winner fit into that category, however.
The Raiders got the puck in deep and Brinner slid a pass out right in front, where Pineiro — who was lurking high, just inside the blue line — skated onto it and buried it as Monarch defenders dove to block the shot.
Now, Regis Jesuit can turn its attention to a Valor Christian team that it knows very well and lost to 5-4 on Feb. 4 and 4-3 on Feb. 10.
"The job's not done until it's done," Pineiro said.
Courtney Oakes is Sentinel Colorado Sports Editor. Reach him at [email protected] Twitter: @aurorasports. IG: Sentinel Prep Sports
2023 CLASS 5A STATE ICE HOCKEY PLAYOFFS (QUARTERFINALS)
Feb. 28 at South Suburban Sports Complex
(4) REGIS JESUIT 4, (5) MONARCH 3 (2OT)
Score by periods:
Monarch       0  2  1  0  0 — 3
Regis Jesuit  1  1  1  0  1 — 4
SCORING
First period
Regis Jesuit — Nolan Williams (Ian Beck), 4:55 (power play)
Second period
Monarch — Benjamin Wiener (Vincent Felt), 12:54
Monarch — Vincent Felt, 9:10
Regis Jesuit — Carter Schick (Jake Filler), 5:00
Third period
Monarch — Felt (Jack Davila, Wiener), 13:19 (power play)
Regis Jesuit — Schick (Michael Manville), 8:16
Second overtime
Regis Jesuit — Nicolas Pineiro (Parker Brinner), 4:46
Monarch saves: Simon Holstein (37 shots on goal-33 saves). Regis Jesuit saves: Alijah Hernandez (29 shots on goal-26 saves)