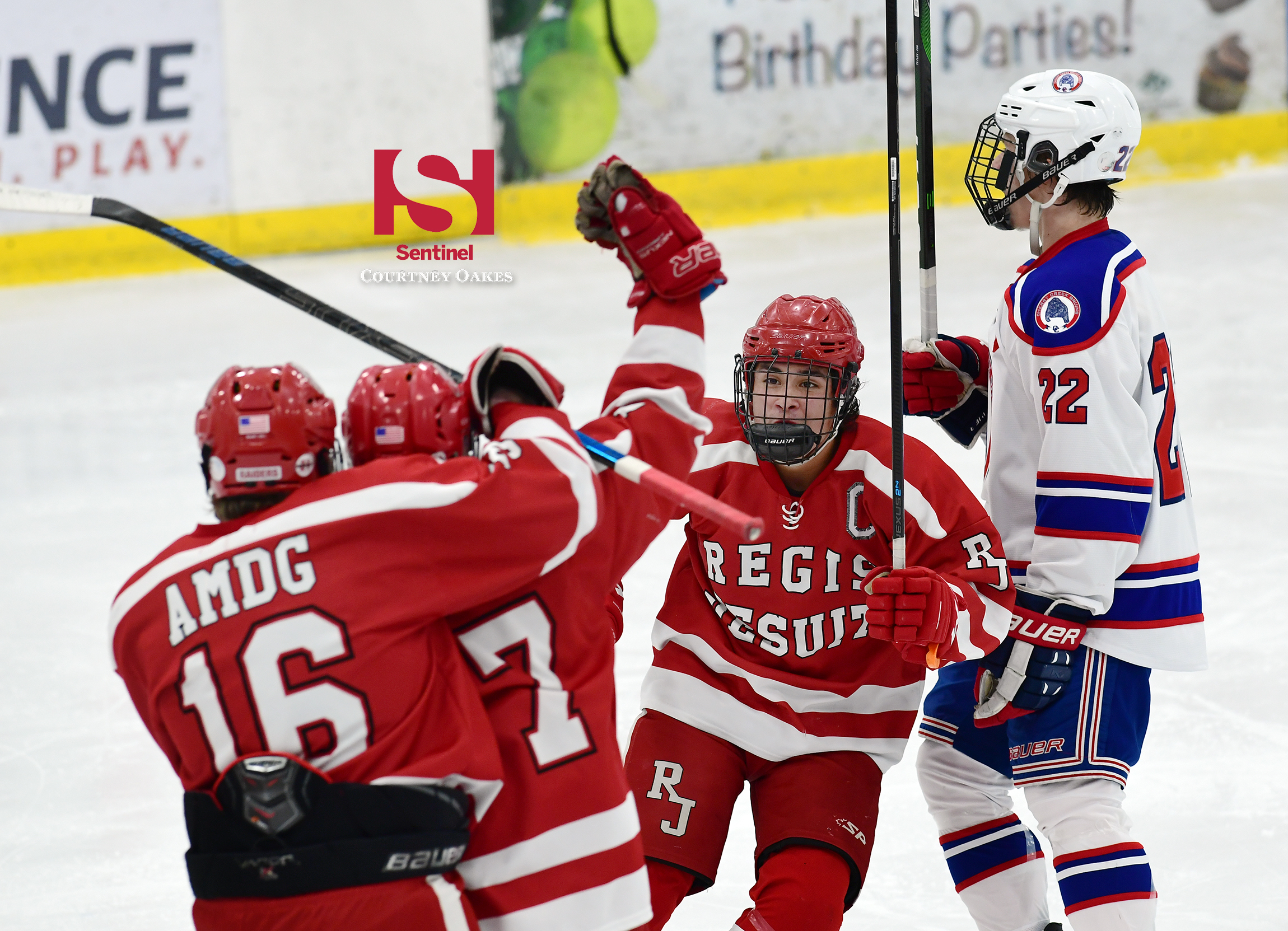 CENTENNIAL | The second period gear that the Regis Jesuit ice hockey team has found this season has simply been overwhelming.
For the second time in three games on the young season, the Raiders piled up a crooked number of goals after the first intermission to take firm control of a tight game on the scoreboard. Regis Jesuit's five-goal outburst Saturday — which came after it faced a goal deficit — led to a 6-3 victory over Cherry Creek at Family Sports Center.
Coach Dan Woodley's Raiders have scored 12 of their 18 goals this season in the second period and a handful of them came against the Bruins, with Brody Sannes opening and closing the flurry that helped Regis Jesuit get to 3-0.
Danny Bentz, Carter Schick and Sean Holloway also scored in the second period for the Raiders, while Andrew Gleason's power play goal in the third period put the finishing touches on the scoring for the Raiders.
Nowell Sinicki buried an early chance for coach Jeff Mielnicki's Cherry Creek team (2-1) — a mix of players from throughout the Cherry Creek School District — and the Bruins sought to add on to the advantage early in the second period, but immediately committed a penalty.
Regis Jesuit was unable to convert on the power play chance, but shortly after it expired, Sannes put a shot off the goal post from an odd angle, stayed in the play and eventually scored on a pass from Sergio Padilla.
A few minutes later, Bentz finished a prime feed from Robbie Dembeck for the lead and the Raiders upped the advantage to 3-1 just 45 seconds later when Schick tallied. A 31-second burst in the later stages of the period produced goals by Holloway and Sannes again, which necessitated a change of goalies for Cherry Creek.
The Bruins got some life early in the third period when Kris Clark kept the puck while administering two big hits and eventually putting a pass right in front that Luke Wainionpaa (Eaglecrest) converted to cut into the deficit.
Gleason's power play goal restored the four-goal advantage for Regis Jesuit, while Cherry Creek got its final goal from Riley Hunt-Bahn with less than a second remaining.
The teams are scheduled to play again on the same ice on March 6, but Saturday's meeting counted in the league standings per CHSAA mandates.
Courtney Oakes is Sentinel Colorado Sports Editor. Reach him at [email protected] Twitter: @aurorasports. IG: Sentinel Prep Sports
REGIS JESUIT 6, CHERRY CREEK 3
Score by periods:
Regis Jesuit    0  5  1 — 6
Cherry Creek  1  0  2 — 3
SCORING
First period: Cherry Creek — Nowell Sinicki (Kris Clark, Jaymin Rolfe), 5:11
Second period: Regis Jesuit — Brody Sannes (Sergio Padilla), 3:45; Regis Jesuit — Danny Bentz (Robbie Dembeck), 6:56; Regis Jesuit — Carter Schick (Sean Holloway), 7:41; Regis Jesuit — Holloway (Schick, Andrew Gleason), 13:20; Regis Jesuit — Sannes (Matthew Baer), 13:51
Third period: Cherry Creek — Luke Wainionpaa (Clark), 7:32;
Regis Jesuit — Gleason (Holloway) (power play), 12:24;
Cherry Creek — Riley Hunt-Bahn (Payne Pent, Ben Powell), 16:59
Regis Jesuit saves: Gage Bussey (18 shots on goal-15 saves). Cherry Creek saves: Walker McEntire (23 shots on goal-18 saves), David Novodvorskiy (15 shots on goal-14 saves)