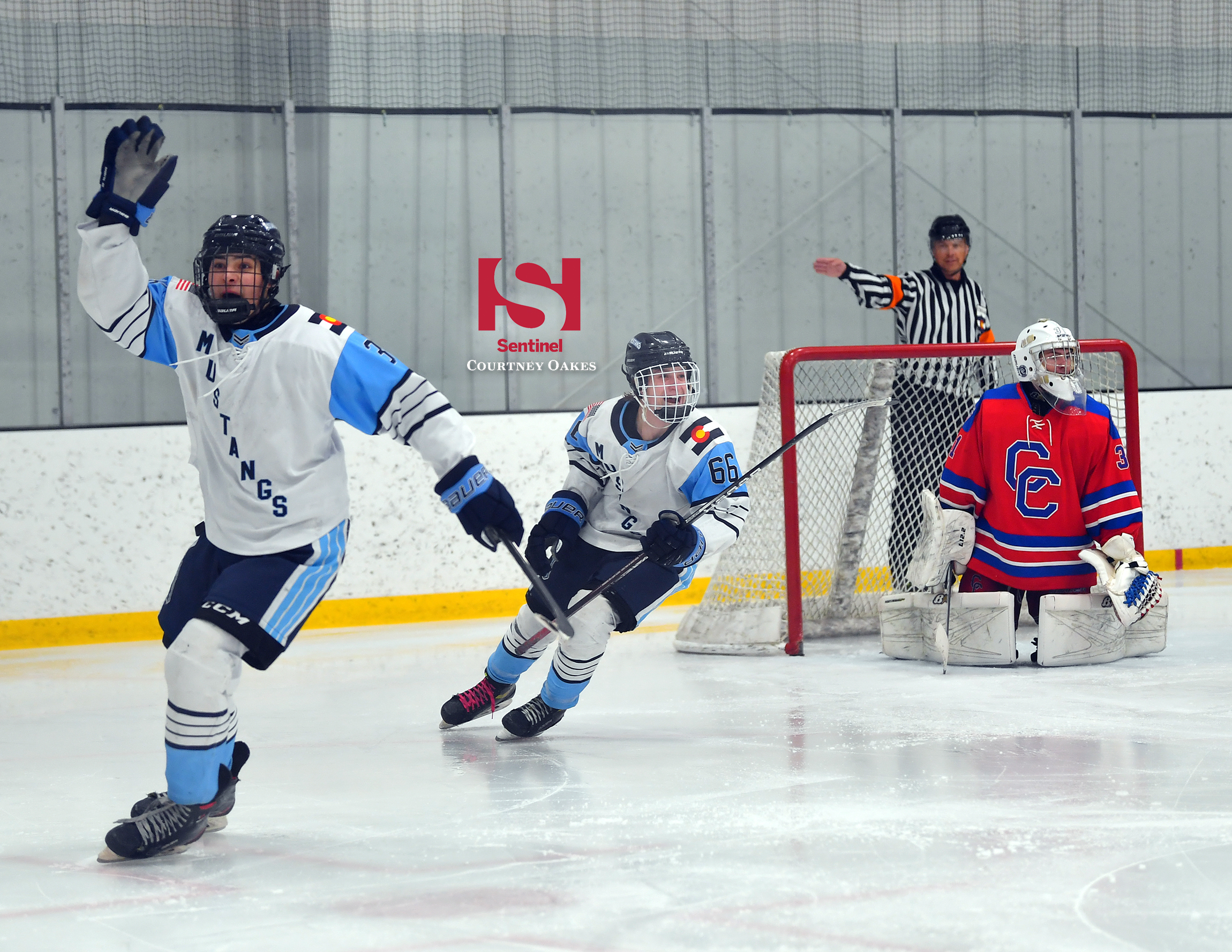 LITTLETON | In an anything-can-happen overtime, something happened — and quickly — the Cherry Creek co-op ice hockey team Wednesday night.
The sixth-seeded Bruins had rallied twice from goal-deficits against third-seeded Ralston Valley in an evenly-matched Class 5A state quarterfinal contest at South Suburban Sports Complex and the teams were skating 4-on-4 midway through overtime when the Mustangs put a quick turnover into the back of the net for a 3-2 win.
The blink-of-an-eye ending brought a close to the season for coach Jeff Mielnicki's Cherry Creek team, which finished the season 12-8-1 overall. With the victory, Ralston Valley secured the final spot in the 5A Frozen Four with a March 4 semifinal contest ahead against No. 2 Denver East at World Arena in Colorado Sports (updated 5A playoff scoreboard and schedule, here).
"Ralston is a very strong team and that was an even game," Mielnicki said. "Overtime is tough, that's just how it is. I'm really proud of our kids and I'm proud of Ralston Valley. I think both teams represented themselves well and played hard.
"Four-on-four hockey is a different breed because the ice is wide open and any time you tip a puck and it doesn't get to where you want it to be, it's going to be a chance. The kid (Carson Petz) made a nice shot. That's what is so tough about this game, just 'boom,' it happens."
In the third meeting of the season for the two teams, they played a scoreless first period and the score remained that way for most of the second period as Bruins' senior goaltender Ethan Barnard make a variety of outstanding saves to keep the Mustangs off the scoreboard.
Ralston Valley finally broke through 10 minutes into the period when Cherry Creek couldn't clear the puck after it killed off a penalty and Tyler Schons scored. That lead lasted just five minutes, however, as the Bruins capitalized on a power play chance when junior Maxamillion Tauoa (Cherokee Trail) slid a pass to senior Garrett Veyna, who ripped a shot inside the near post to tie it up.
The Mustangs again went in front for three minutes in the third period before junior Dominic Suchkov swatted in a rebound to make it 2-2 as senior Ayden Schmidt (Cherokee Trail) and junior William O'Grady (Grandview) picked up assists.
Less than a minute after they scored, the Bruins were back on the power play and had a couple of chances — including a wraparound by O'Grady that was stuffed by Ralston Valley goaltender John Hickam — but regulation expired with the game still deadlocked.
A penalty to Tauoa for delay of game when he lost his stick and gloved a loose puck gave the Mustangs a power play, but 18 seconds later, Cole Franque of Ralston Valley was whistled for roughing, creating a 4-on-4 situation.
The Bruins were 19 seconds from having a man advantage of their own when a pass didn't make it out of the Cherry Creek zone and Petz pounced on it and slipped it just under the pads of Barnard (who made 29 saves in the contest) to end the game.
"Initially the kids are going to be upset, but I think they'll look back and say that we're right there, we just have to get over that hump," Mielnicki said. "Once the kids get over this, I think they are going to say we had a really good year and the ones that return are going to want to hunt for more."
No. 4 Regis Jesuit (which won a thriller over Monarch in the quarterfinals, story) faces No. 1 Valor Christian at 4:30 p.m. March 4 in the first semifinal contest, which will be followed at 7 p.m. by Ralston Valley against second-seeded Denver East, a 4-1 winner over Chaparral in the quarterfinals. The semifinal winners move on to the March 7 5A state championship game at Magness Arena.
Courtney Oakes is Sentinel Colorado Sports Editor. Reach him at [email protected] Twitter: @aurorasports. IG: Sentinel Prep Sports
(3) RALSTON VALLEY 3, (6) CHERRY CREEK 2 (OT)
Score by periods:
Cherry Creek   0  1  1  0 — 2
Ralston Valley  0  1  1  1 — 3
SCORING
Second period
Ralston Valley — Tyler Schons (Zachary Palik, Carson Petz), 6:49
Cherry Creek — Garrett Veyna (Maxamillion Tauoa), 1:06 (power play)
Third period
Ralston Valley — Devin Strong (Tsavo Cole), 9:51 (power play)
Cherry Creek — Dominic Suchkov (Ayden Schmidt, William O'Grady), 6:45 (power play)
Overtime
Ralston Valley — Petz
Cherry Creek saves: Ethan Barnard (32 shots on goal-29 saves). Ralston Valley saves: John Hickam (22 shots on goal-20 saves)