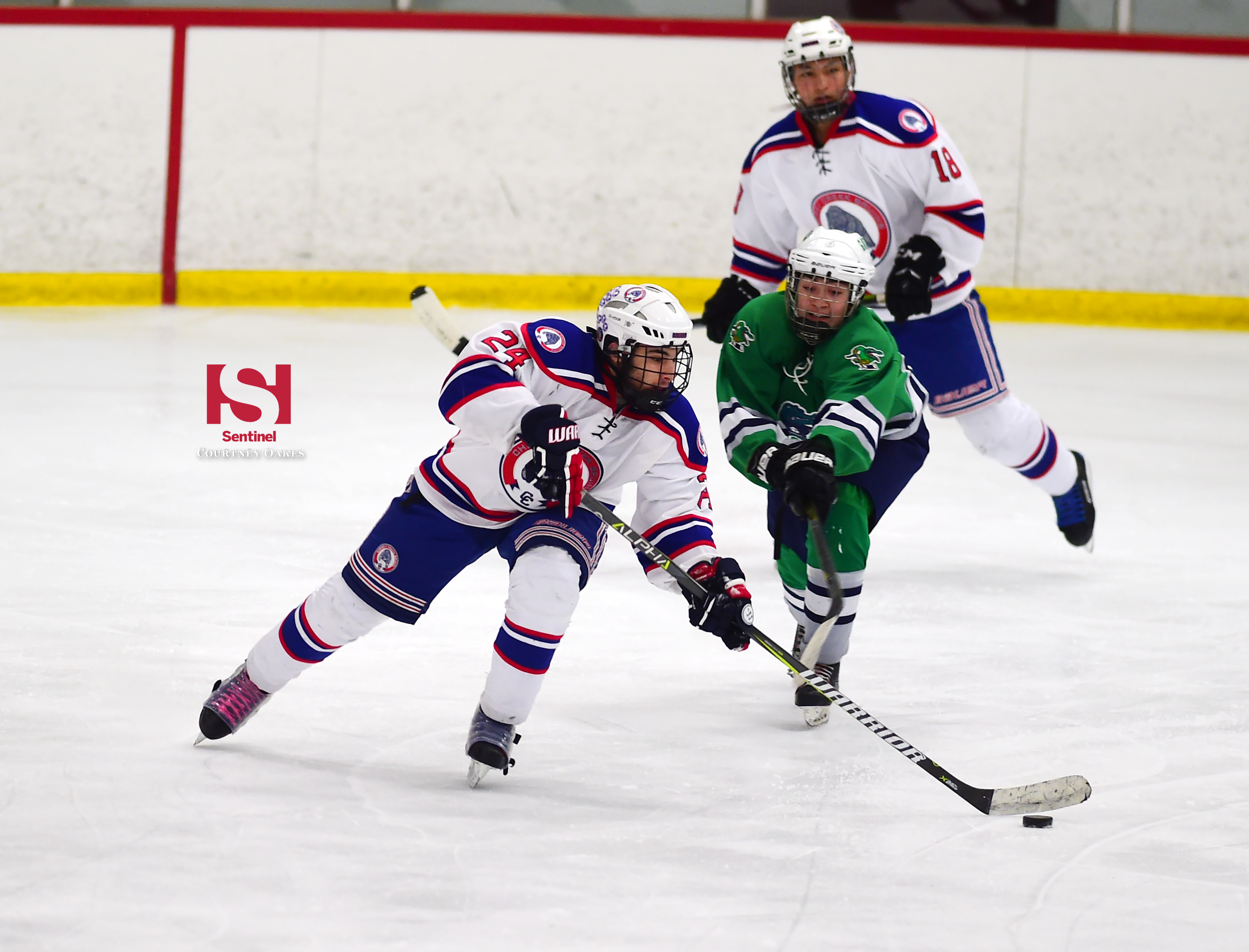 CENTENNIAL | Down two goals after two periods and facing a potential first-round exit from the state ice hockey playoffs, the Cherry Creek co-op team exploded for six goals for a 7-4 win Tuesday night.
The ninth-seeded Bruins entered the postseason on a six-game losing streak and seemed on the ropes after surrendering three goals to No. 24 Standley Lake in the second period.
But starting the third period with a 5-on-3 power play, coach Jeff Mielnicki's Cherry Creek team quickly climbed back into the game and blew past the Gators to advance to the second round.
Junior Luke Flay (Cherokee Trail) scored back-to-back power play goals to ignite the final period, then senior TJ Ranone (Overland) tied it up after Standley Lake gained the lead again and senior Ryley Brekkas (Cherokee Trail) had the eventual game-winning goal with just over six minutes remaining.
Hunter Fieweger and Joe Kuzminski (Cherokee Trail) and Jordan Nelson (Cherry Creek) also had goals for the Bruins, who moved into a second round matchup against No. 8 Doherty at 1 p.m. Feb. 22 at Family Sports Center.
Courtney Oakes is Sentinel Sports Editor. Reach him at 303-750-7555 or [email protected] Twitter: @aurorasports. FB: Sentinel Prep Sports
(9) CHERRY CREEK 7, (24) STANDLEY LAKE 4
Score by periods:
Standley Lake  0  3  1 — 4
Cherry Creek    1  0  6 — 7
SCORING
First period: Cherry Creek — Hunter Fieweger (TJ Ranone, Christian Brown), 16:45
Second period: Standley Lake — Tristan McLeod (Andrew Matthias) (power play), 8:22; Standley Lake — Noah Takitani (Will Samudio), 9:00; Standley Lake — McLeod (Takitani)(power play), 13:28
Third period: Cherry Creek — Luke Flay (Fieweger) (power play), 3:19; Cherry Creek — Flay (Jordan Nelson, David Kirilchuk) (power play), 4:38; Standley Lake — Vladislav Suhhodolov (Romeo Luna, Trevor Wahl), 6:07; Cherry Creek — Ranone (Brown) (power play), 9:42; Cherry Creek — Ryley Brekkas (Clayton Delaney), 13:40; Cherry Creek — Nelson (Jaret Roberts, Delaney), 15:44; Cherry Creek — Joseph Kuzminski, 16:49
Saves — Standley Lake: Ben Marquis (39 shots on goal-32 saves); Cherry Creek: Dylan Romanow (17 shots on goal-13 saves)