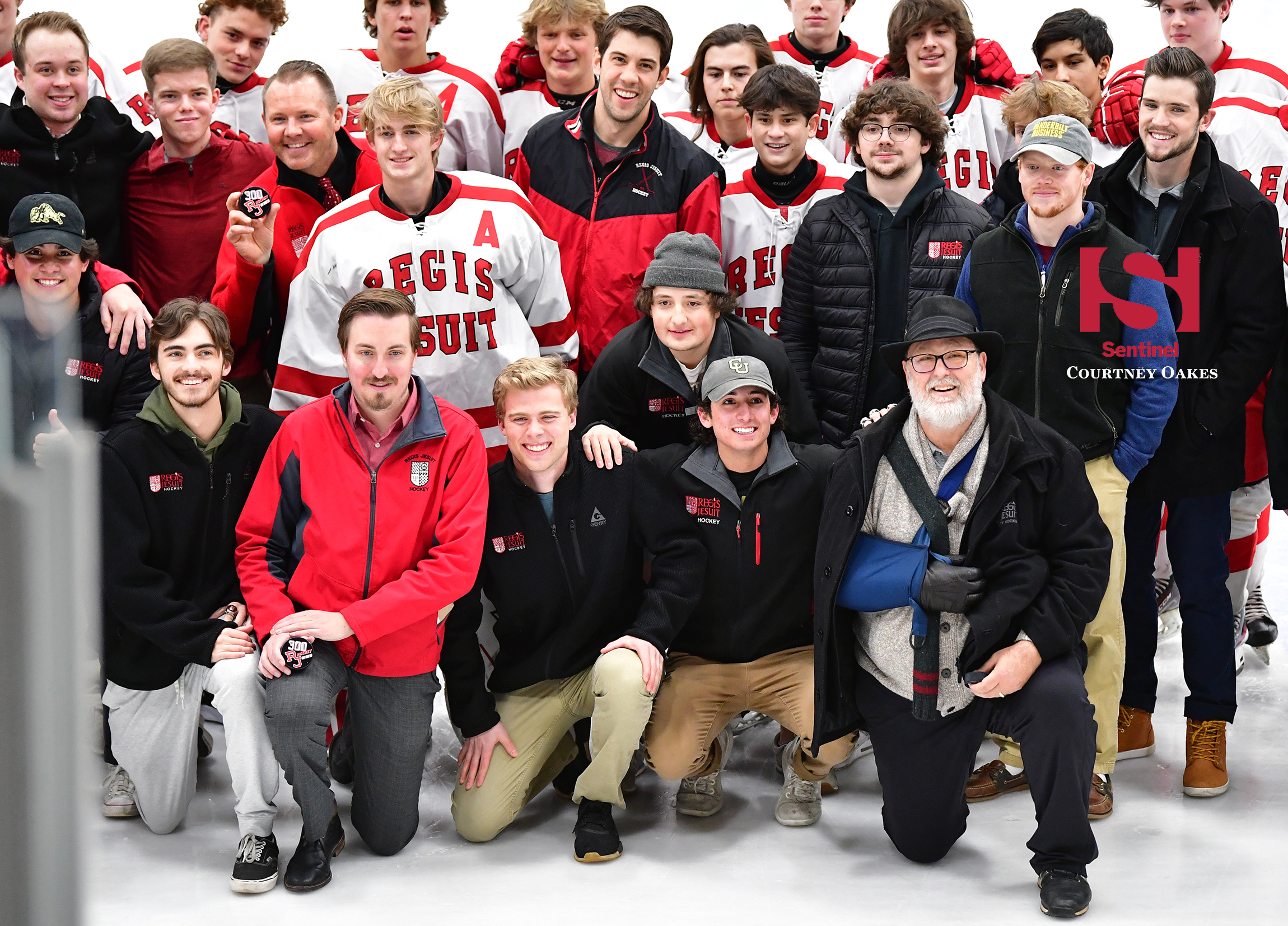 With an ailing shoulder, Dan Woodley contemplated missing his Regis Jesuit ice hockey team's game Friday against Ralston Valley.
The longtime Raiders' head coach's wife, Faye, wouldn't allow it though, which slightly raised his suspicions.
When Woodley arrived at Family Sports Center, he found a large group of familiar faces from players who had donned sweaters and played for him during a 17-year run on the bench at Regis Jesuit. They were there to celebrate Woodley's 300th career victory.
"My wife told me I couldn't miss that game, so I knew something was up, but I didn't know what," Woodley said. "I had no idea. Celebrating with all those returning players was fantastic."
Woodley picked up career win No. 300 in the final game before winter break. He, his longtime assistant Terry Ott and his son, Grant, received pucks commemorating the achievement as handed out by team captains current (Gage Bussey) and former (John Booren from 2008 — who also served on the coaching staff for a time — and Jack Jordan from 2016). Also among the returnees was John Schubert, goaltender on a team that won the 2009 state championship.
Ott (who handles the offense) has been on the bench with Woodley since the program began, while Grant Woodley (who works with the defense) has been part of well over 100 victories as part of his father's staff.
"Terry has been around from the start, so he absolutely deserves all 300 as much as anybody," Woodley said of Ott, who had to run off to coach a junior varsity game.
With Woodley and Ott on the bench, Regis Jesuit has captured six state championships with back-to-back victories in 2008 and 2009 as well as in 2018 and 2019 sandwiched around wins in 2012 and 2016. The program has the second-most state titles all-time in Colorado behind Cheyenne Mountain — a powerhouse in the 1990s — which has 14.
The Raiders have a remarkable 6-2 all-time mark the state finals with losses coming to Lewis-Palmer in 2011 and Monarch in 2017.
One of the games Woodley points out as most prominent in his mind was the 2016 state title game in which Regis Jesuit fell behind Monarch — then undefeated and the clear state championship favorite — just 15 seconds into their game at the Budweiser Events Center in Loveland, only to score six unanswered goals to win the title.
"Watching our guys bear down and methodically come back and score two goals each period against a really good Monarch team was definitely memorable," Woodley said.
That game was also special because Woodley's son Cale — who died in a tragic accident in February 2020 — was in uniform and scored a goal in the victory.
After the milestone celebration, the Raiders then went out and delivered win No. 301 for Woodley and staff with a 6-0 victory over Ralston Valley.
Regis Jesuit picked up two more wins the next day with victories over Heritage and Dakota Ridge in an uncommon doubleheader played at different venues. The Raiders defeated the Eagles 8-1 at South Suburban Ice Arena, then headed to the Edge Ice Arena where they defeated the other Eagles 7-4.
Now 10-0 and ranked No. 1 in the Colorado High School Activities Association's rankings, Regis Jesuit is back in action on Jan. 14 against Resurrection Christian in a Foundation Game that won't count in the standings. The Raiders then face Cherry Creek on Jan. 21 in a rematch of a game they won 5-4 before winter break.
Courtney Oakes is Sentinel Colorado Sports Editor. Reach him at [email protected] Twitter: @aurorasports. IG: Sentinel Prep Sports