The Overland co-op gymnastics team won its first big meet of the season Friday, as it claimed the the championship of the Loveland Invitational.
With a score of 181.725 points, the Trailblazers had a comfortable margin of victory over runner-up Thornton (178.625) atop the 10-team meet.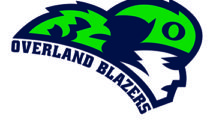 Coach Lisa Sparrow's Overland team led the meet in the vault, beam and floor exercise, while it was second-best on the uneven bars.
Freshman Mattea Dolan (Grandview) had a strong meet, as she topped the All-Around competition (37.025 points) thanks to top-three finishes in three of the four events. She won the bars with a score of 9.200, took the No. 2 spot in the vault (9.475) and third on the beam (9.350).
Junior Mabry Robinson (Smoky Hill) also won an event for Overland, as the score of 9.775 she earned in the floor exercise was the top mark of the entire meet in any event.
The Trailblazers dominated the all-around competition by sweeping the top five spots, with Sam Demoss and Bailey Rodriguez (Eaglecrest) and Autumn Ivester (Cherokee Trail) taking spots No. 2-4 ahead of Robinson in fifth.
Courtney Oakes is Sentinel Colorado Sports Editor. Reach him at 303-750-7555 or [email protected] Twitter: @aurorasports. IG: Sentinel Prep Sports
2019 LOVELAND INVITATIONAL GYMNASTICS MEET
Team scores: 1. OVERLAND 181.725 points; 2. Thornton 178.625; 3. Arvada West 172.525; 4. Mountain Range 171.250; 5. Rocky Mountain 163.975; 6. Mountain Range 161.850; 7. Lone Star/THS 161.100; 8. Loveland 159.625; 9. Bear Creek 149.825; 10. Thomas Jefferson 144.050
All-around (top 5): 1. MATTEA DOLAN (OVERLAND), 37.025 points; 2. SAM DEMOSS (OVERLAND), 36.400; 3. BAILEY RODRIGUEZ (OVERLAND), 35.950; 4. AUTUMN IVESTER (OVERLAND) 35.925; 5. MABRY ROBINSON (OVERLAND) 34.675
Vault (top 5): 1. Haley Like (Thornton) 9.750; 2. MATTEA DOLAN (OVERLAND) 9.475; 3. MABRY ROBINSON (OVERLAND) 9.450; 4. SAM DEMOSS (OVERLAND) 9.300; 5. BAILEY RODRIGUEZ (OVERLAND) 9.275
Uneven bars (top 5): 1. MATTEA DOLAN (OVERLAND) 9.200; 2. Kayla Powell (Arvada West) 9.025; 3. Karstyn Wittwer (Thornton) 9.000; 4. Tiff Lewis (Thornton) 8.925; 5. Jules Medina (Mountain Range) 8.900
Balance beam (top 5): 1. Haley Like (Thornton) 9.650; 2. AUTUMN IVESTER (OVERLAND) 9.500; 3. MATTEA DOLAN (OVERLAND) 9.350; 4. Kelly Heald (Arvada West) 9.250; 5. Rachel Ardehali (Thornton) 9.225
Floor exercise (top 5): 1. MABRY ROBINSON (OVERLAND) 9.775; 2. Haley Like (Thornton) 9.600; 3. Brekyn Haddick (Thornton) 9.550; 4. BAILEY RODRIGUEZ (OVERLAND) 9.500; 5. SAM DEMOSS (OVERLAND) 9.425