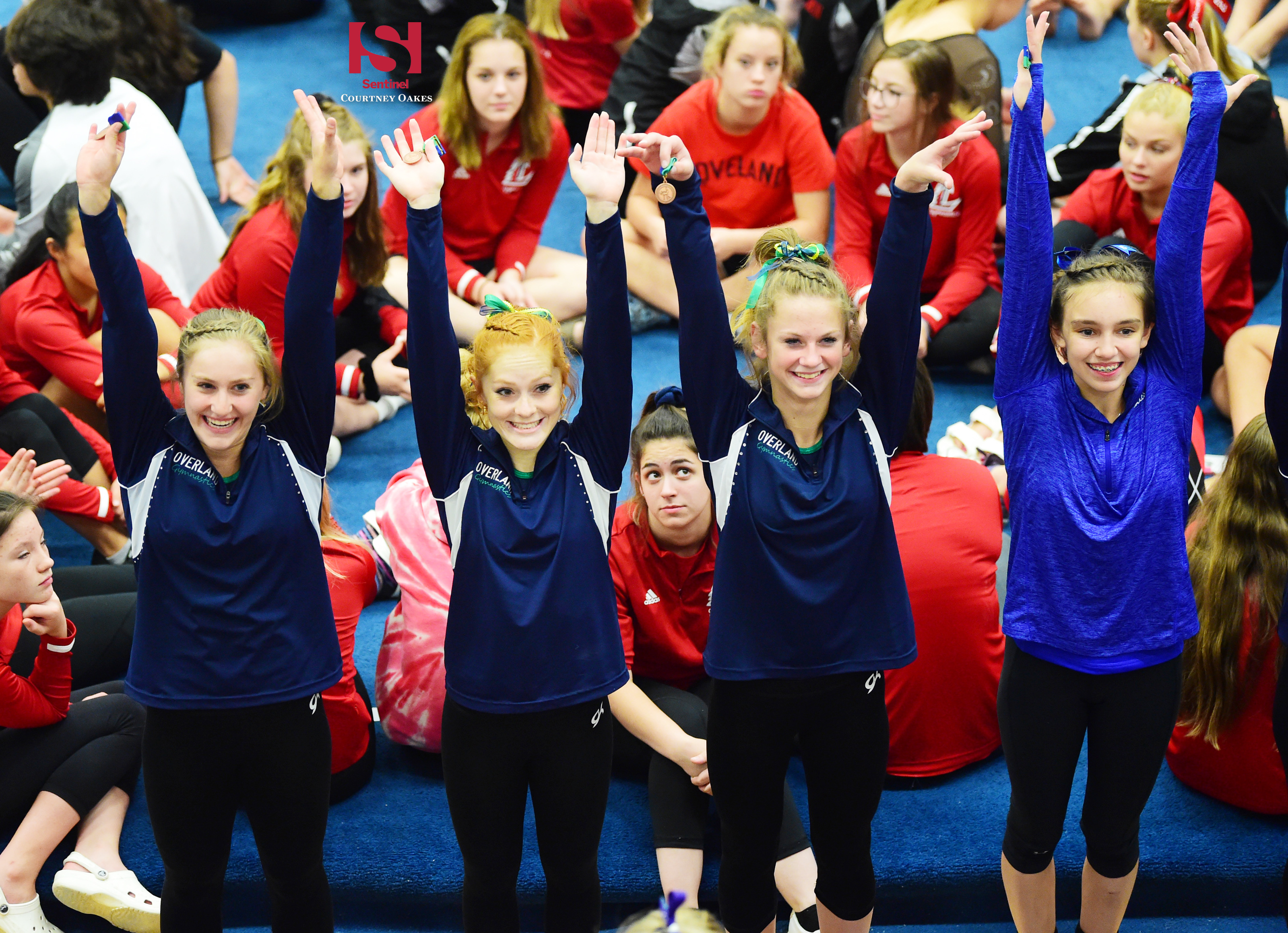 Lisa Sparrow beamed about her Overland co-op gymnastics team's performance at the Overland Invitational Sept. 21, but not because of the beam.
The Trailblazers struggled on the balance beam — a tradition at their own meet — but did just about everything else right on their way to winning their second major invitational of the 2019 season.
Junior Mabry Robinson (Smoky Hill), senior Sam Demoss (Eaglecrest) and freshman Mattea Dolan (Grandview) gave Overland a sweep of the top three spots in the all-around and it had more than enough points (180.650) to top Broomfield (176.475) for the team championship.
"We had a rough time on beam; we have a lot of high risk routines and the girls are still working on putting those together," said Sparrow, calling the beam the 'make or break event' in big meets. "We have not always had the best beam at the Overland Invite. It's always a good wake up call."
The Trailblazers were strong on the vault and uneven bars and finished on a high note with their best event, the floor exercuse, but the beam was the one event in which they did not have the individual event champion.
Junior Bailey Rodriguez (Eaglecrest) and Robinson finished fourth and fifth in the event, respectively, but it was definitely a departure from the other events which were won by Robinson (vault and floor) and Demoss (bars).
"I think we all wanted to make our routines today and we worked really hard this week to try to make them," said Robinson, who scored 9.000 on the event with Rodriguez at 9.100.
"Because we are doing big things, there's a lot of little intricate things you need to think about and that have to be in the right place to make those things happen," she added. "Overall, I think we lost focus a little bit, but we all knew we needed to pull it back together after beam. We were trying to focus on what we need to do, it just didn't end up happening today."
The best thing for Overland was the beam came as the second event of the day and the Trailblazers were able to put it behind them with a strong showing on the uneven bars (won by Demoss).
They got to finish it with the floor exercise, which Robinson crushed with a score of 9.700, with Demoss at 9.550 and Dolan at 9.475 for the top three scores in the event.
"It's great to come to an event that we know that we are good at and we know we can hit every single time, especially when we have a bad beam set like we did today," Robinson said. "It's a great event, it's so much fun and we love upholding the reputation we have on that event."
Most encouraging for the Trailblazers was the sweep of the all-around competition, which could be good foreshadowing for the big meets at the end of the season.
Overland has finished second behind Pomona for three straight seasons at the 5A state meet, relying mostly on depth while the Panthers have had several all-around standouts.
This year, Robinson plans to compete in the all-around at the state meet and Dolan has been a pleasant surprise with her ability to excel in all the events.
That coupled with the return of Demoss — third in last season's all-around — could provide the team a huge boost when it comes to chasing down the state championship.
"When those three girls all put together at one meet, it's an impressive group," Sparrow said.
With a few small meets sprinkled in, Overland's next big challenges comes at the Broomfield Invitational on Oct. 5 and Cherry Creek Invitational Oct. 19, which precedes league championships (Oct. 24) and regional state qualifying on its home floor Nov. 1.
Courtney Oakes is Sentinel Colorado Sports Editor. Reach him at 303-750-7555 or [email protected] Twitter: @aurorasports. IG: Sentinel Prep Sports