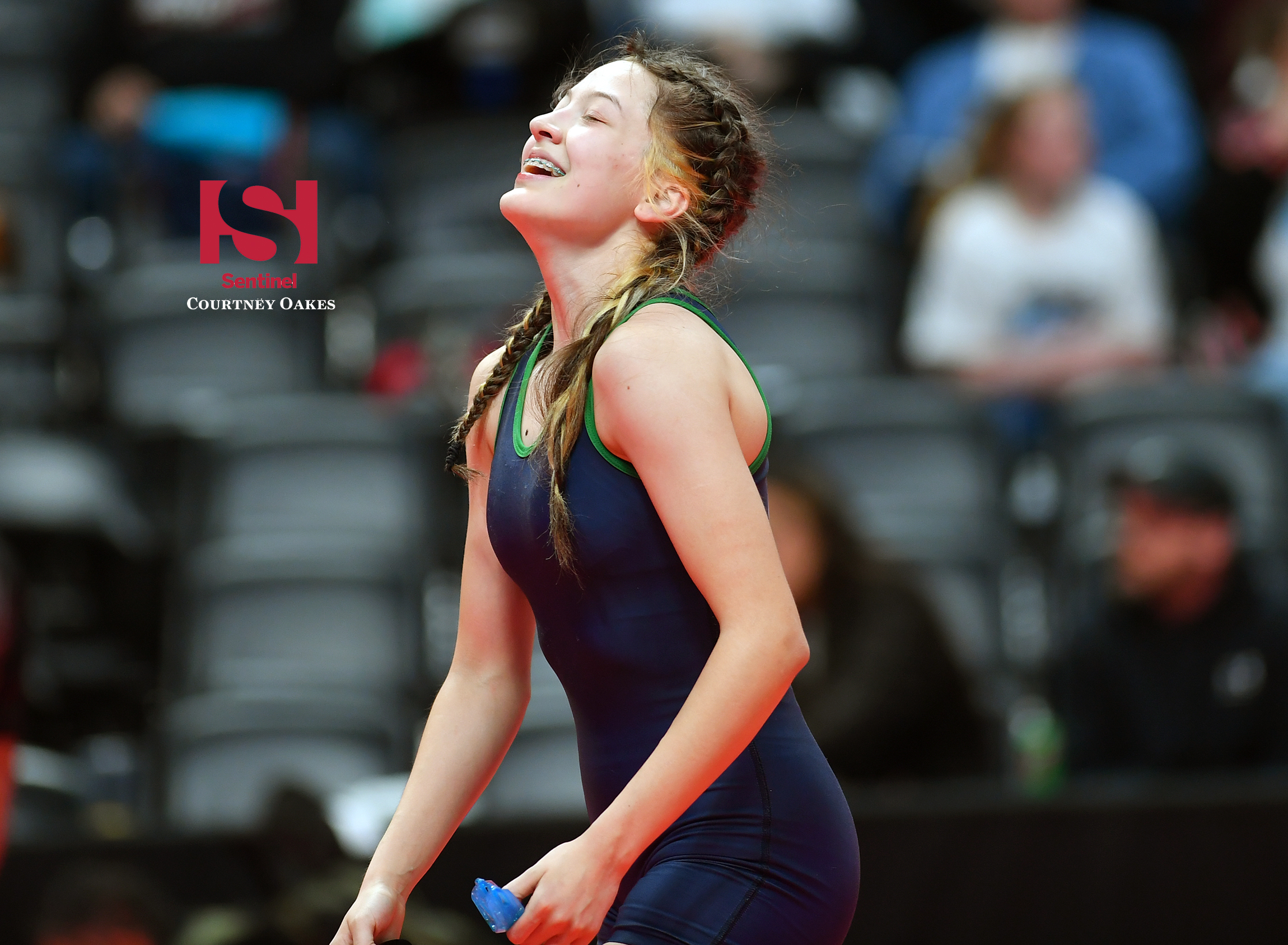 DENVER | Overland senior Vianca Mendoza had her arm raised in her final prep match, as she was victorious in the 120-pound fifth-place match Saturday at Ball Arena.
Mendoza stayed alive for all three days of the girls state tournament and opened the final day with a third-round consolation victory — in an all-Aurora match with Vista PEAK's Reagan Perez — that secured her first career podium finish.
She lost by fall in the consolation semifinals, but then ended up winning by pin over Harrison's Yesenia Morales in the fifth-place match. Mendoza finished 4-2 in the tournament and end her senior season 39-12 overall. She gave the Trailblazers a state placer for the second straight season as she followed the fourth-place finish of Katelyn Czerpak in 2022.
Mendoza earned the highest place for Aurora girls other than the three that will compete in Saturday night's championship matches, Regis Jesuit's Alexis Segura (125 pounds), Vista PEAK's Leilani Caamal (155) and Eaglecrest's Blythe Cayko.
The other wrestler from a city program to earn a spot on the medal podium is Vista PEAK junior Rachel Allred, a first-time state qualifier who finished sixth at 145 pounds.
Allred won her first state match and then dropped into the consolation bracket with a quarterfinal loss to championship finalist Desza Munson of Pomona, then went 2-2 in the consolation bracket. She assured herself of a podium spot with a 7-5 decision of Liberty Canyon's Viviana Torrejon in the third round of consolations, then went down by fall in the consolation semifinals.
Fort Lupton's Anastyn Livesay scored the only points of the fifth-place match with a takedown in the second period and held off Allred to win 2-0.
Freshman Amelia Bacon (115) and Perez lost in the third round of consolations and were eliminated as was Eaglecrest junior Chasey Karabell at 100 pounds.
Courtney Oakes is Sentinel Colorado Sports Editor. Reach him at [email protected] Twitter: @aurorasports. IG: Sentinel Prep Sports
GIRLS STATE WRESTLING TOURNAMENT PLACING MATCHES
Championship matches
100 pounds: Katey Valdez (Doherty) dec. Phoebe Gutierrez (Adams City), 9-7 (OT)
105 pounds: Alexis Jacquez (Fountain-Fort Carson) dec. Hayden Newberg (Vista Ridge), 7-0
110 pounds: Janessa George (Chatfield) pinned Morgan Johnson (Loveland), 1:38
115 pounds: Mia Hargrove (Discovery Canyon) dec. Amaya Hinojosa (Widefield), 4-0
120 pounds: Persaeus Gomez (Pomona) maj. dec. Lexie Lopez (Loveland), 14-2
125 pounds: Isabella Cross (Mesa Ridge) dec. ALEXIS SEGURA (REGIS JESUIT), 4-0
130 pounds: Timberly Martinez (Pomona) maj. dec. Mollie Dare (Central G.J.), 11-2
135 pounds: Taylor Meiss (Chatfield) pinned Adrianna Lopez (Discovery Canyon), 2:40
140 pounds: Ryan Hickey (Chatfield) pinned Ashley Booth (Mead), 2:59
145 pounds: Janida Garcia (Discovery Canyon) pinned Desza Munson (Pomona), 3:43
155 pounds: Victoria Guinard (Discovery Canyon) dec. LEILANI CAAMAL (VISTA PEAK), 5-1
170 pounds: Nevaeh Garcia (Platte Valley) maj. dec. Makaela Simpson (Moffat County), 13-5
190 pounds: Taylor Knox (Calhan) dec. BLYTHE CAYKO (EAGLECREST), 3-2 (UTB)
215 pounds: Ciara Monger (Calhan) pinned Natasha Kuberski (Riverdale Ridge), 0:57
Third-place matches
100 pounds: Eyvori Jacquez (Fountain-Fort Carson) dec. Marie Jordan (Bennett), 6-4
105 pounds: Alora Martinez (Pomona) pinned Rylee Balcazar (Fort Lupton), 2:07
110 pounds: Sarah DeLaCerda (Alamosa) pinned Journey Ruiz (Columbine), 1:34
115 pounds: Lindsey Lopez (Loveland) maj. dec. Hannah Rocklin (Chatfield), 13-5
120 pounds: Kate Doughty (Canon City) pinned Kate Hinojosa (Platte Valley), 4:18
125 pounds: Naomi Kidd (Doherty) dec. Isabella Ciotti (Arvada), 6-4
130 pounds: Olivia Newel (Vista Ridge) pinned Abbie Reeves (Manitou Springs), 2:40
135 pounds: Sadie Percy (Severance) dec. Kenna Pino (Pueblo Central), 5-4 (UTB)
140 pounds: Sierra Moskalski (Loveland) pinned Abbigail Smith (Poudre), 3:48
145 pounds: Camryn Scott (Chatfield) pinned Kirsten Davis (Mead), 1:53
155 pounds: Alissa DuBois (Bennett) pinned Madison Farris (Rifle), 1:49
170 pounds: Alison Evans (Vista Ridge) maj. dec. Sicily Frates (Pomona), 13-3
190 pounds: Mahalia Jones (Mesa Ridge) pinned Elizabeth Sandy (Douglas County), 0:52
235 pounds: Lynessia Duran (Olathe) dec. Alejandra Alfaro (Denver East), 6-4 (OT)
Fifth-place matches
100 pounds: Piper Montoya (Canon City) pinned Yilani Garcia (La Junta), 3:00
105 pounds: Katlyn Faczak (Bennett) dec. Larhae Whaley (Soroco), 6-5;
110 pounds: Mia Thorne (Discovery Canyon) pinned Jessica Farmer (Coronado), 4:07
115 pounds: Jylian Cabral (Douglas County) dec. Ashley Marshall (Yuma), 7-3
120 pounds: VIANCA MENDOZA (OVERLAND) pinned Yesenia Morales (Harrison), 4:23
125 pounds: Genevieve Hunt (Fort Lupton) dec. Faith Vondy (Severance), 5-1
130 pounds: Samantha White (Broomfield) maj. dec. Neveah Torres (Denver North), 15-3
135 pounds: Apollonia Middleton (Central G.J.) pinned Sydney Wu (Broomfield), 1:00
140 pounds: Kacey Walck (North Fork) pinned Kaydence Bonewell (Vista Ridge), 1:48
145 pounds: Anastyn Livesay (Fort Lupton) dec. RACHEL ALLRED (VISTA PEAK), 2-0
155 pounds: Rosebelle Atayde (Denver North) pinned Aby England (Olathe), 4:48
170 pounds: Jzunie Jones (Mullen) dec. Raquel Rios-Paiz (Prairie View), 7-6
190 pounds: Laylah Casto (Central G.J.) pinned Ozi Ogu (Mountain Vista), 0:40
235 pounds: Rya Burke (Central G.J.) pinned Mariah Gonzales (Poudre), 1:48