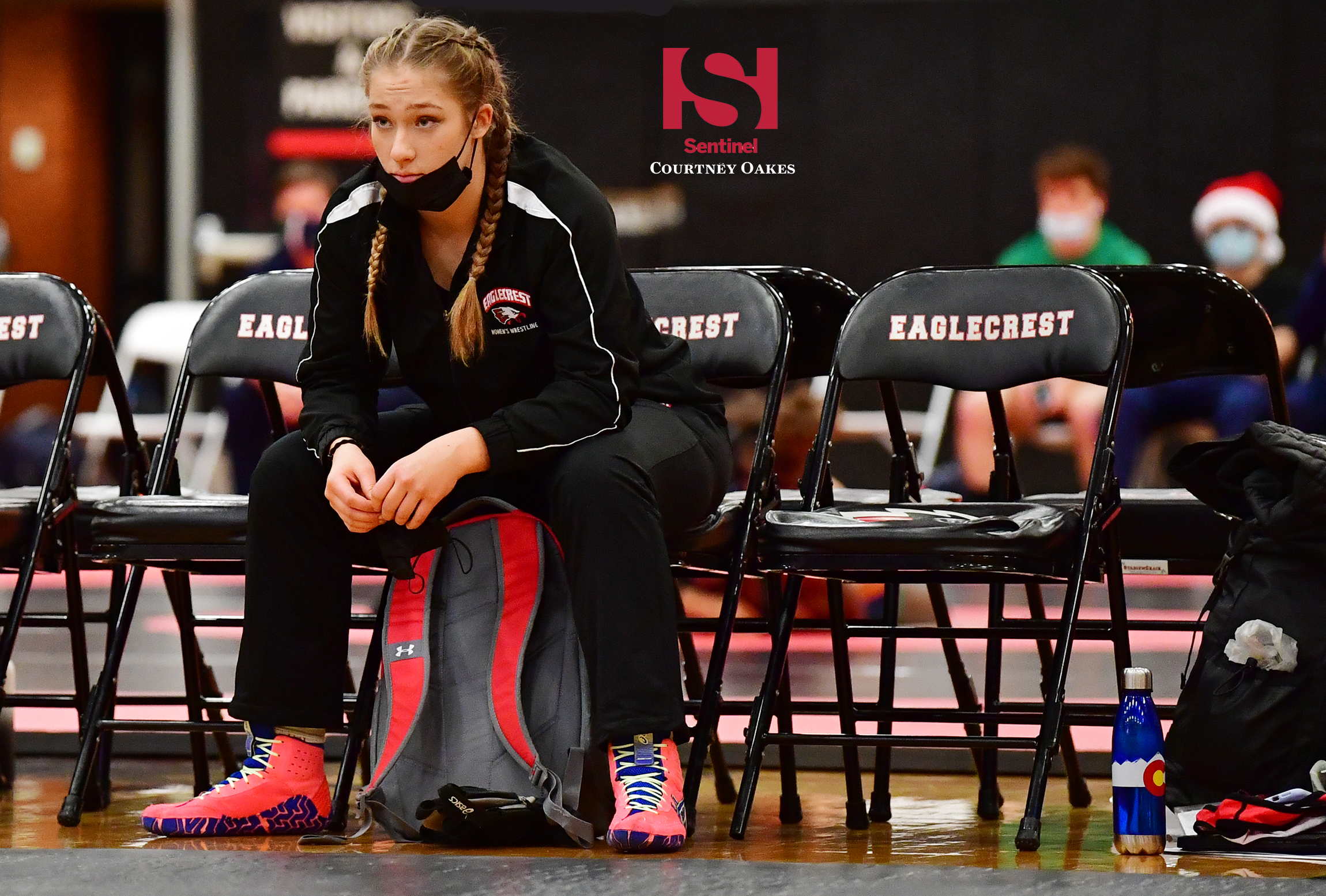 The Eaglecrest girls wrestling team had a memorable trip out of state prior to winter break to compete in the first girls Reno Tournament of Champions.
Coach Sparky Adair's Raptors — who are comprised of wrestlers from Cherokee Trail, Eaglecrest and Grandview — fared well as a team as they scored 62 points to finish fifth among more than 30 teams from several states including California, Colorado, Idaho, New Mexico, Oklahoma, Oregon, Texas and Utah.
Junior Blythe Cayko came away as the big winner for Eaglecrest, as she earned All-American status by going 5-0 to win the 182-pound bracket. Cayko entered the tournament perfect in Colorado with championships at the Arapahoe and Eaglecrest invitationals and ranked No. 1 at 185 pounds by On The Mat.
She plowed through five matches in the round-robin bracket and pinned each of her opponents — Reece Woods of Eagle, Idaho; Kate Hardy of Hyrum, Utah; Jordynn LeBeau of Eagle, Idaho; Khaira Addison-Vinson of Allen, Texas and Mikaylee Stitcher of South Jordan, Utah — in the opening period. Her quickest win by fall came against Addison-Vinson, who was able to stave her off for just 16 seconds.
For her efforts, Cayko was selected as Most Outstanding Wrestler for the tournament.
"Blythe embodies the spirit of a true competitor," Dollamur Reno Tournament of Champions tournament director Ryan Teubner told the Sentinel. "While her tenacity proved helpful on the mat with five first-period pins, off the mat, she was extremely grateful to being named Outstanding Wrestler of the girls tournament. It was our first-ever girls tournament, and we couldn't think of a better individual to carry the OW award than Blythe. I believe she will have a great impact in this sport and we hope to see her back with her teammates next year."
Also placing for the Eaglecrest team was Kaiya Winbush (a junior at Cherokee Trail), who finished fourth the 132-pound bracket. Winbush began the tournament by upsetting third-seeded Isabel Limon of Stilwell, Oklahoma, with a win by fall and then moved into the semifinals with another pin, this time of Kaylee Apodaca of Idaho.
Winbush's championship push — which would have put her against another Colorado wrestlers, Alicen Dillard of Pomona — ended with a loss by fall to Mia Meno of Lemoore, Calif., and Laylla Liles of Allen, Texas, won a 13-0 major decision in the third-place match.
Katrina Cervantes (a Cherokee Trail student ranked No. 5 at 127 pounds in Colorado) went 1-1 at 126 pounds and Gianna Falise (a Grandview student ranked. No. 6 at 147 pounds) went 2-2 at 145 pounds as well for Eaglecrest, which returns to action on Jan. 8, 2022, at the Lamar invitational.
Courtney Oakes is Sentinel Colorado Sports Editor. Reach him at [email protected] Twitter: @aurorasports. IG: Sentinel Prep Sports