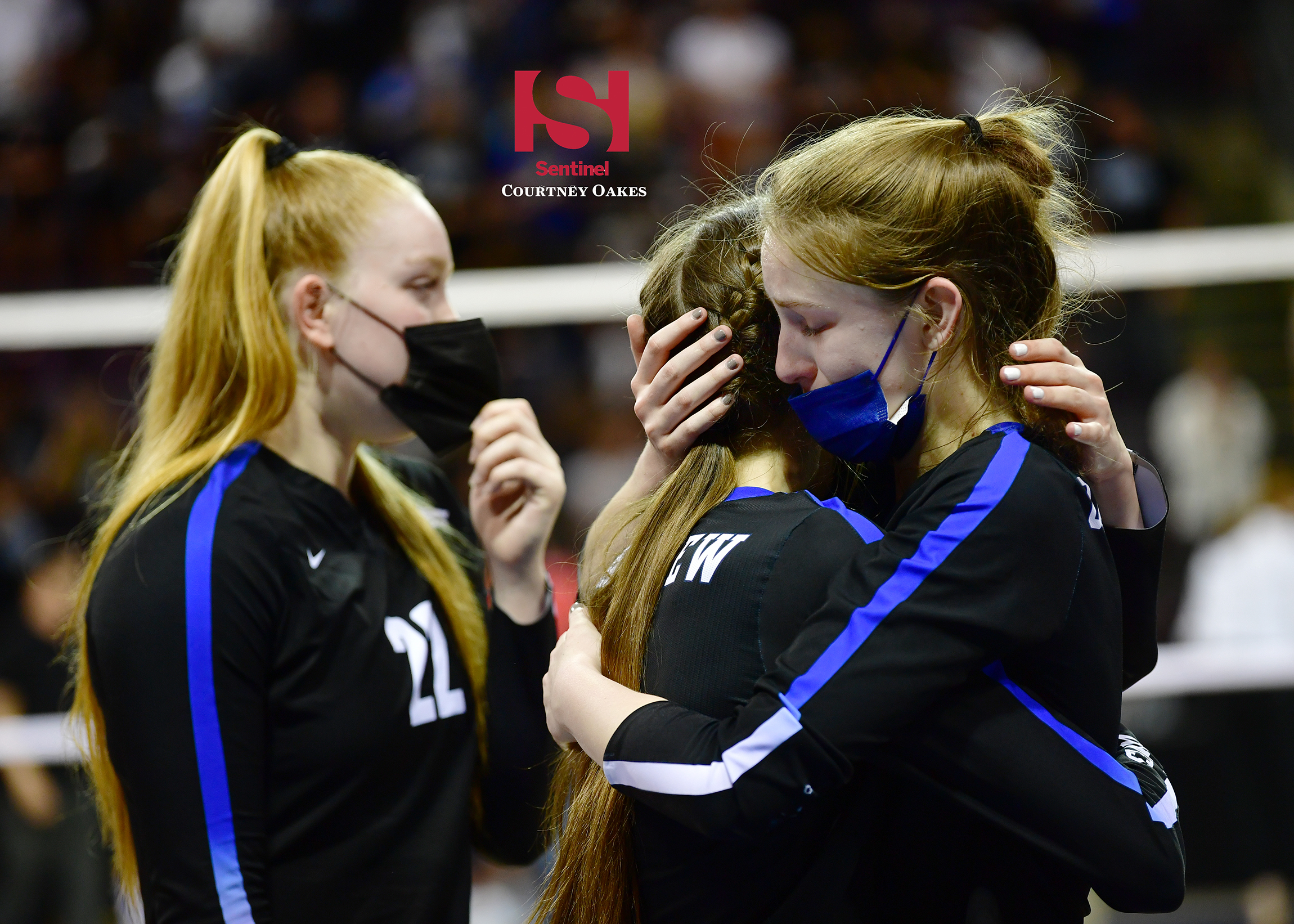 COLORADO SPRINGS | The Grandview volleyball team penned itself a remarkable story this season that just didn't quite finish with a fairytale ending.
The underestimated Wolves turned the Class 5A Season C postseason upside down with a variety of upsets that carried them all the way into the May 13 state championship match with a chance to take down one more giant in Rampart.
The Rams had the star power and resiliency to be the one team that ended Grandview's bid to win the program's sixth all-time state championship, capturing a 25-17, 22-25, 25-13, 25-23 victory in front of a large crowd by pandemic standards at World Arena.
"I kept saying that this was their story and we had to just keep writing it the way we wanted it," Grandview head coach Rob Graham said. "I told them this was the last chapter and they needed to write it the way they wanted it to end.
"They were really buying into it and doing what they could, but it was Rampart's night."
Grandview made its first appearance in a state championship match under Graham, who took over for legend Patty Childress five seasons ago. Childress led the Wolves to 10 state finals appearances, winning titles in half of those chances.
The Wolves' appearance in the championship match was satisfying given that not many expected them to be there, especially after they finished third in the Centennial League standings behind Cherry Creek and Cherokee Trail.
But Grandview lit the postseason on fire as the No. 18 seed, upsetting defending state champion Chaparral in regionals, then knocking off top-seeded Mountain Vista in the opening match of the single-elimination state tournament.
The Wolves followed that up by rallying from a two-set deficit to upset Columbine in the semifinals before they battled to the end in the championship match before a powerhouse Rampart team just had too much firepower.
"We left it out there and we made it really far from where we started the season," senior standout Addison O'Grady said. "We're pretty satisfied, but not totally."
Added junior setter Maya Deferme: "I feel great, it still feels not real that we're here and I'm so proud of how we got here. Rampart is a great team. It obviously sukcs to lose, but I'm so proud of where we are."
Best of all was the fact that Wolves made it to the championship match with an abundance of youth.
The lineup for the postseason included two freshmen and a sophomore, while the junior varsity was filled with young players that expect to fill in for the departed seniors.
The fact that a team camp is coming up in just two months — thanks to the season getting pushed back because of the coronavirus pandemic — means the Wolves hope they can pick right back up where they started.
"We wanted to fight for these girls who are seniors, but when we start looking at it, I'm very excited with what we can do when all these young players come back," Graham said.
"We have a good pipeline for the future."
Courtney Oakes is Sentinel Colorado Sports Editor. Reach him at [email protected] Twitter: @aurorasports. IG: Sentinel Prep Sports
2021 SEASON C CLASS 5A GIRLS STATE VOLLEYBALL TOURNAMENT
Thursday, May 13 at World Arena
Championship
Match 7: No. 2 Rampart def. NO. 8 GRANDVIEW 25-17, 22-25, 25-13, 25-23
Semifinals
Match 5: NO. 8 GRANDVIEW def. No. 4 Columbine 23-25, 22-25, 25-15, 25-22, 15-12
Match 6: No. 2 Rampart def. No. 3 Ralston Valley 25-18, 20-25, 25-21, 25-17
Wednesday, May 12 at World Arena
Match 1: NO. 8 GRANDVIEW def. No. 1 Mountain Vista 27-25, 21-25, 25-17, 25-15
Match 2: No. 4 Columbine def. No. 5 Cherry Creek 25-19, 25-21, 14-25, 25-22

Match 3: No. 3 Ralston Valley def. No. 6 Chatfield 25-22, 25-18, 25-22
Match 4: No. 2 Rampart def. No. 7 Legend 25-17, 25-15, 25-20