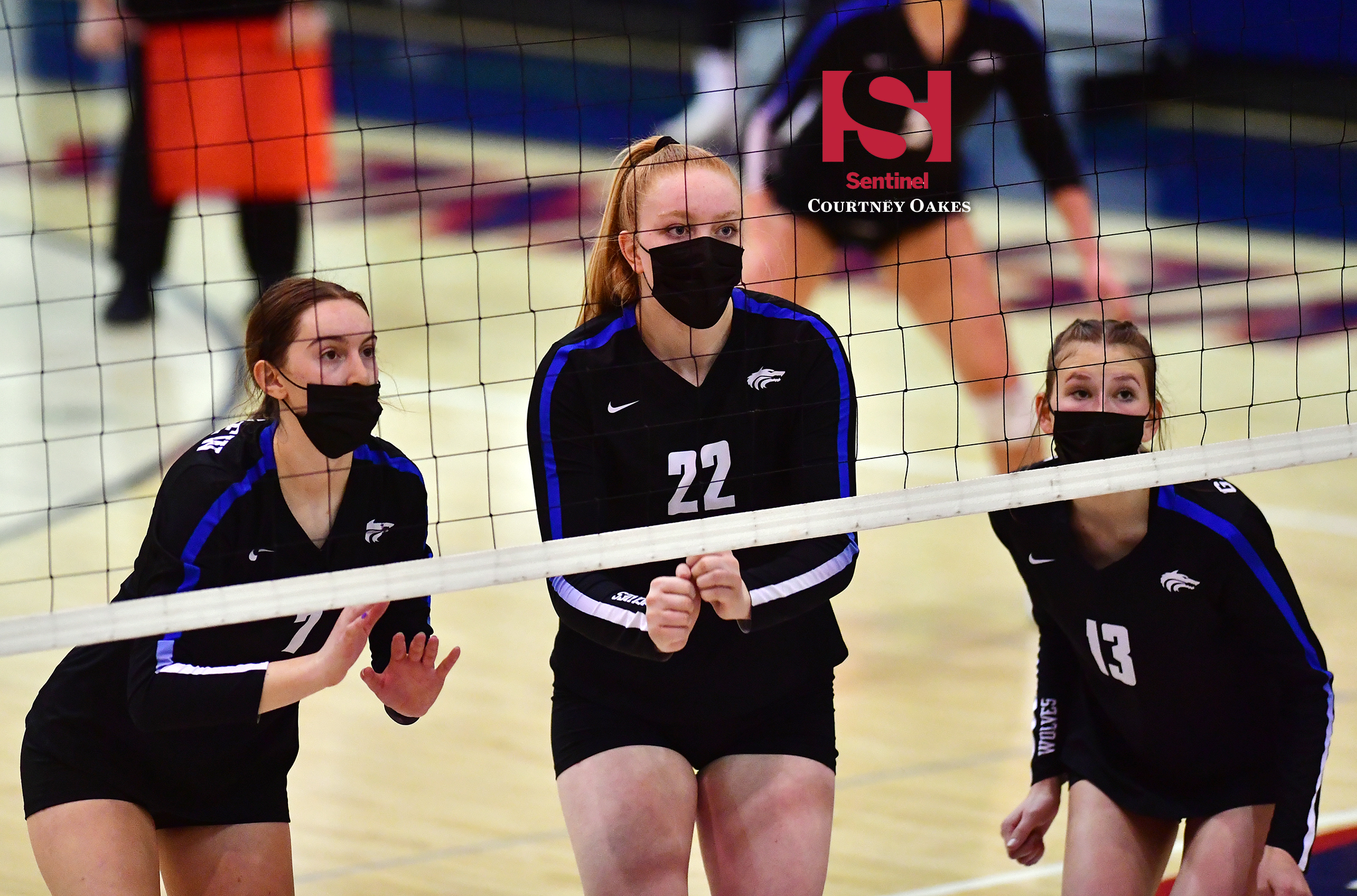 Addison O'Grady racked up plenty of blocks during the basketball season, but she didn't stop there.
The 6-foot-4 multi-sport Grandview star who is headed to hoop at the University of Iowa hasn't limited her swats to basketball, however, as she is an integral part of an intimidating block that has helped the Wolves become the only Aurora team to qualify for the May 12-13 Class 5A state volleyball tournament in Colorado Springs.
Coach Rob Graham's Grandview team will need its block to be at its best as it opens the state tournament at 8 a.m. May 12 against top-seeded and undefeated Mountain Vista (visit sentinelcolorado.com/preps for results).
"We have to come out to beat the best right away," said Graham, whose team upset defending state champion Chaparral in three sets to win the Region 7 tournament May 1.
"They knocked us out last season, so we have extra motivation from that," he added.
Well before the Colorado High School Activities Association put out the bracket for this season's state tournament — which has only eight teams and is single-elimination this year, both adjustments for the coronavirus pandemic — Graham anticipated the matchup with the Golden Eagles as his team was the highest-seeded regional winner at No. 18. No. 11 Legend and No. 9 Chatfield also were upset winners of their respective regionals.
The Wolves come into state with four losses, two apiece to 15-1 Cherry Creek (the Centennial League's other 5A state qualifier) and 14-2 Cherokee Trail, which lost at regionals in a five-set with a state berth at stake.
Grandview's ticket to the state tournament came from its block, which is the second-most prolific among teams in 5A. The Wolves have racked 159 total blocks in 15 matches, which trails only Ralston Valley, a state qualifier that has 223.
The Mustangs have the top two individuals in blocks in the classification, but right behind them are Grandview's O'Grady and junior Isabel Bennett, who have 74 and 59 stuff, respectively. Junior setter Maya Deferme is next with 41, which is also top 20 in 5A.
The Wolves were very effective at the net in their 25-23, 26-24, 25-18 upset of seventh-seeded Chaparral with six players registering multiple blocks.
"Our blocking is definitely our strength," O'Grady said earlier in the season. "I think other teams are just intimidated. They try to hit around us or over us and sometimes they don't even try."
Graham is thankful for that presence at the net, especially with some young players on the back side of the defense.
"If you can slow things down at the net, it speeds everything else up," he said. "We are a great blocking team, so it makes hitters think different. They try to attack from more difficult angles and then you can position your defense better."
Sophomore outside hitter Haley Gluntz — whose play was critical in the win over Chaparral — has seen the effects of what Grandview puts up at the net on the other side.
"Our block is a big part of our defense; it makes the other team scared frankly and nobody plays good when they are scared," she said. "It makes everything easier for our defense."
Should Grandview be able to win its opener, it could get a rematch with No. 5 Cherry Creek, which it lost to twice in Centennial League play in the semifinals, which are scheduled for 8 a.m. May 13. The 5A state championship match is slated for 5 p.m.
"I think anything can happen this year," Deferme said. "There will be a lot of great teams there, but this team has improved so much throughout the season."
Courtney Oakes is Sentinel Colorado Sports Editor. Reach him at [email protected] Twitter: @aurorasports. IG: Sentinel Prep Sports
2021 SEASON C CLASS 5A GIRLS STATE VOLLEYBALL TOURNAMENT
Wednesday, May 12 at World Arena

Court 2

Match 1: NO. 8 GRANDVIEW (12-4) vs. No. 1 Mountain Vista (15-0), 8 a.m.
Match 2: No. 5 Cherry Creek (15-1) vs. No. 4 Columbine (12-1), 11 a.m.

Match 3: No. 6 Chatfield (9-4) vs. No. 3 Ralston Valley (16-0), 8 p.m.
Match 4: No. 7 Legend (10-3) vs. No. 2 Rampart (10-1), 5 p.m.