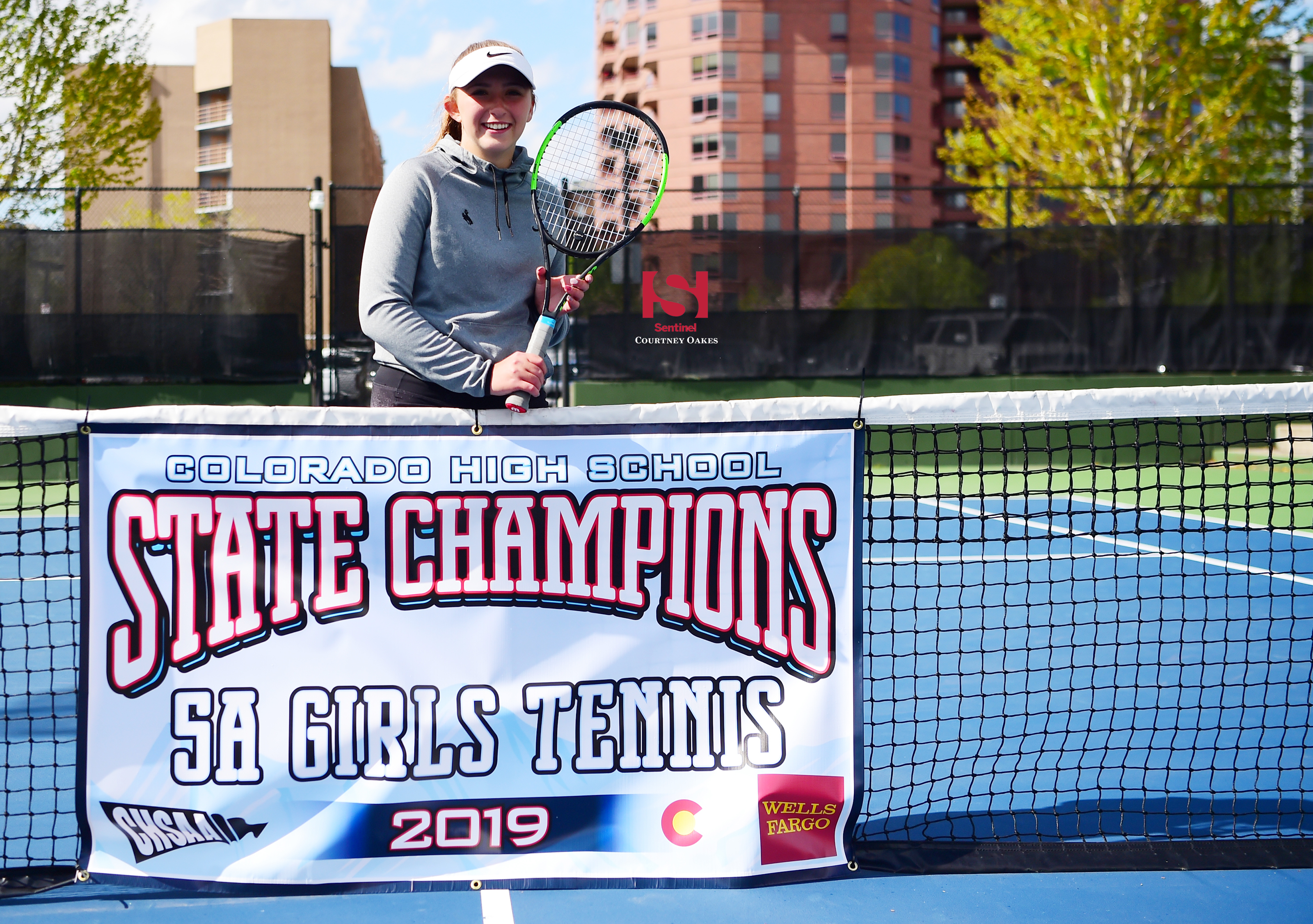 It was a monumental season for girls tennis in Aurora, at least when it comes to high-profile No. 1 singles.
The Class 5A No. 1 singles state champion came from an city school for the first time in 26 seasons as Smoky Hill sophomore Valerie Negin finished on top of a grueling, rain-shortened state tournament May 10-11 at Denver's Gates Tennis Center.
Negin, who became the program's first singles state champion since Patti Urban's three-year run in the mid-1980s, highlights Sentinel Colorado's 2019 All-Aurora Girls Tennis Team, as determined by state results.
Coach Jeff Davis' Buffaloes had a No. 1 singles finalist in 2017 in Anshika Singh — who lost in three sets to Poudre's Ky Ecton — but Negin was able to get it done by overcoming injury to win three straight matches and top Fairview's Sophie Pearson 6-4, 4-6, 6-2 in a match on Center Court with plenty of observers.
A severely twisted foot nearly derailed Negin's championship hopes in her first trip to state on the opening day, but after work by the tournament trainer and some rest in between the second and third sets, she gutted through it to defeat Cherry Creek's Eliza Hill in the second round, then downed ThunderRidge's Veronika Bruetting in a three-set semifinal to make the title match.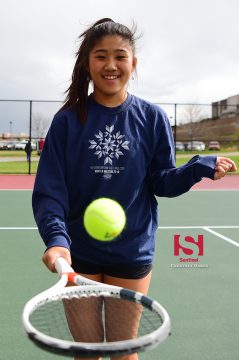 Another three-setter awaited her in the championship match against Pearson, but the mentally-tough Negin overcame problems holding serve to prevail. She was also the only Aurora placer at the state tournament and earned enough points (17) to put Smoky Hill eighth in the team standings.
Rounding out the singles ranks on the All-Aurora team are junior Nicole Ahn of Cherokee Trail in the No. 2 position and Regis Jesuit senior Elizabeth Dewey at No. 3.
Ahn spent two seasons in the Cougars' No. 1 spot before gladly making way for the arrival of standout freshman Alissa Gurkovskiy and qualifying for state for the first time. She and Gurkovskiy both won regional championships and ended a state drought for the program that lasted since 2013.
The lone Aurora No. 2 singles state qualifier, Ahn battled ThunderRidge's Mackenzie Wheeler in by far the most competitive opening round match at the state tournament at the position before Wheeler prevailed 7-6, 6-7, 7-5.
Dewey, a multi-sport athlete who helped the Regis Jesuit field hockey team win the state championship in the fall, made a huge jump from No. 4 doubles (where she was an All-Aurora performer last season with Chloe Martinet) to the No. 3 singles spot and became Aurora's only qualifier at the position.
Dewey — the Region 8 champion — got to play three matches at state, as she won her opener, dropped her quarterfinal to eventual state champion Sayuri Garud of Cherry Creek before falling in a playback thanks to Garud's advancement to the final.
Grandview qualified its entire set of doubles teams for the state tournament and the top two — the No. 1 duo of senior Felicia Tay and junior Mia Nguyen and the No. 2 team of seniors Rithika Ginjupalli and Juniel Figures — earned All-Aurora honors for coach Jeff Ryan's Wolves.
Tay and Nguyen placed fourth at No. 3 doubles in 2018 and handled the rise to the top doubles spot well during the season, though their state tournament run was stopped after one match with a very tight three-set loss to a team from Chatfield.
After a Centennial League slate in which they dropped only one match to Cherry Creek, Tay and Nguyen placed fourth in regionals and won a playback to earn their way into state.
Ginjupalli and Figures played together for a second year in a row and had a strong regular season that saw them lose just to Cherry Creek's Kaki Cantor and Miranda Kuwala (who won the 5A state championship at No. 2 doubles) and Cheyenne Mountain's Reed Vaughn and Ruby Muhl, 4A's third-place finisher.
A regional championship put Ginjupalli in the state tournament for the third time and Figures played in it for a second year in a row. They won their opening match and took a set lead in the quarterfinals before falling in three to a Valor Christian team that was subsequently beaten in the semifinals.
Both players were All-Aurora performers in 2017 as well, with Figures at No. 3 doubles and Ginjupalli at No. 4.
Coach Hailey Johnson's Regis Jesuit team took its full compliment of doubles teams to state as well ( and the No. 3 team of sophomore Tara Connolly and junior Chloe Martinet and the No. 4 team of sophomore Ally Gosser and senior Laura Tschatschula earned All-Aurora spots.
Of the four doubles players, Martinet was the only one with state experience (which she got with Dewey last season) and she used it to help varsity newcomer Connolly to a successful season.
The duo won more state matches than any other Aurora qualifier save Negin as they were victorious in the first round over Lakewood's Fallon Hobson and Emily Ballard before eventual 5A runner-ups Olivia Vreeman and Vivienne Bersin beat them in the quarters. Martinet and Connolly bounced back with a win over Heritage's Tricia Maloney and Isabella Lewis to open playbacks before a loss to a duo from Fort Collins.
Gosser and Tschatschula each made it on the varsity for the first time and settled in after they played a couple of matches with different partners, eventually making it through the Continental League season with only a three-set loss to Mountain Vista.
They won a gritty three-set Region 8 championship match to earn their first state trip and won their opening match in straight sets before they fell in the quarterfinals to a team from Fossil Ridge that would go on to place third.
Courtney Oakes is Sentinel Colorado Sports Editor. Reach him at 303-750-7555 or [email protected] Twitter: @aurorasports. IG: Sentinel Prep Sports
2019 SENTINEL COLORADO ALL-AURORA GIRLS TENNIS TEAM
First team: No. 1 singles — Valerie Negin, soph., Smoky Hill; No. 2 singles — Nicole Ahn, jr., Cherokee Trail; No. 3 singles — Elizabeth Dewey, sr., Regis Jesuit; No. 1 doubles — Mia Nguyen, jr. and Felicia Tay, sr., Grandview; No. 2 doubles — Rithika Ginjupalli, sr. and Juniel Figures, sr., Grandview; No. 3 doubles — Tara Connolly, soph. and Chloe Martinet, jr., Regis Jesuit; No. 4 doubles — Ally Gosser, soph. and Laura Tschatschula, sr., Regis Jesuit
Honorable mention: Singles — Alissa Gurkovskiy, fr., Cherokee Trail (No. 1); Grace Neff, jr., Regis Jesuit (No. 1); Doubles — Marie Manassee, jr. and Sarah Sinelli, jr., Regis Jesuit (No. 1); Carly Markowski, soph. and Emily Smith, soph., Regis Jesuit (No. 2); Ashley Oh, jr. and Amelia Pulsipher, fr., Grandview (No. 3); Chloe Coles, jr. and Leah Hardin, soph., Grandview (No. 4)