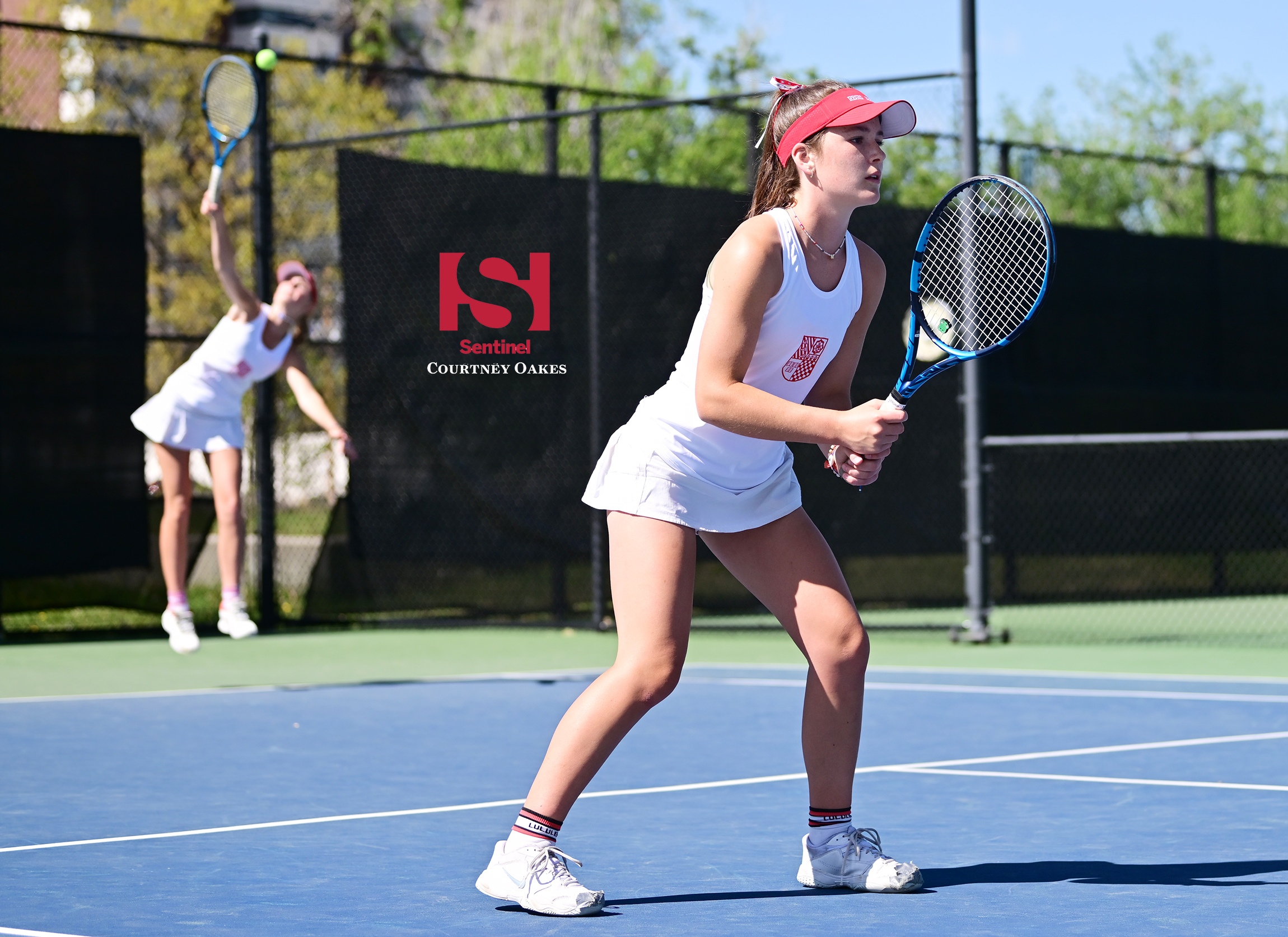 DENVER | The Regis Jesuit No. 1 doubles team of sophomores Mary Clare Watts and Lucy Filippini prevailed in two grueling three-set matches on the opening day of the Class 5A girls state tennis tournament.
The Raiders' semifinal match at Gates Tennis Center Friday morning went much quicker and unfortunately in the other direction.
Watts and Filippini — two of the three players on Regis Jesuit's full state contingent who had been at the tournament previously — dropped a 6-2, 6-0 decision to Cherry Creek's Vivienne Bersin and Victoria Moldovan to end their championship hopes.
The duo bounced back later in the afternoon, as they picked up a 6-1, 6-0 victory over Columbine's Addi Burns and Makenna Schneider to earn a spot in the third-place match at 9 a.m. Saturday. Watts and Filippini meet Mountain Vista's Peyton Hostelley and Olivia Ivankoe, who they lost to in a three-set tiebreaker when they met in Continental League play.
All three of the singles players for coach Laura Jones' Regis Jesuit team — No. 1 Madison Wei, No. 2 Quinn Binaxas and No. 3 Peyton Tinsley — were brought back into the playback brackets at their respective positions when the opponent they lost to in Thursday's quarterfinals advanced to the final.
Wei won her playback opener 6-3, 6-2 against Doherty's Addison Leisure, but the junior — playing in the state tournament for a second straight season — was kept out of the placing round by Cherry Creek's Jacqueline Persall, who rebounded from a semifinal loss for a 6-0, 6-0 victory.
Tinsley, a senior, cruised past Fruita Monument's Breckyn Dunn 6-1, 6-3 in her first playback match, then came up against Heritage's Megan Johnson for a third time on the season. Johnson won each of those matchups, including a 6-3, 6-3 decision in the playback.
Binaxas — who lost to finalist Stella Laird of Fairview in the quarterfinals — dropped a 7-5, 6-1 playback match to Boulder's Sandra Redak.
The results of the semifinals eliminated the other Aurora qualifiers in the field: Grandview's Shriya Ginjupalli (No. 1 singles) and Halia Pena (No. 2 singles), as well as Cherokee Trail's Sierra Martin (No. 2 singles).
Courtney Oakes is Sentinel Colorado Sports Editor. Reach him at [email protected] Twitter: @aurorasports. IG: Sentinel Prep Sports
2022 CLASS 5A GIRLS STATE TENNIS TOURNAMENT
Friday at Gates Tennis Center
Semifinals
NO. 1 SINGLES: Upper bracket — Lily Chatambar (Boulder) def. Ally Lowe (Ralston Valley), 6-1, 6-2; Lower bracket — Quinn Bernthal (Fairview) def. Jacqueline Pearsall (Cherry Creek), 2-6, 6-2, 6-3
NO. 2 SINGLES: Upper bracket — Lorena Cedeno (Cherry Creek) def. Sammie Sedillo (Ralston Valley), 6-1, 6-0; Lower bracket — Stella Laird (Fairview) def. Marian Hayes (Mountain Vista), 6-3, 6-2
NO. 3 SINGLES: Upper bracket — Elle Middleton (Fairview) def. Kylie Englesman (Ralston Valley), 6-0, 6-2; Lower bracket — Jisele Boker (Cherry Creek) def. Megan Johnson (Heritage), 6-1, 6-0
NO. 1 DOUBLES: Upper bracket — Vivienne Bersin/Victoria Moldovan (Cherry Creek) def. MARY CLARE WATTS/LUCY FILIPPINI (REGIS JESUIT), 6-2, 6-0; Lower bracket — Lizzy Roth/Virginia Gomulka (Fairview) def. Ashley Treat/Audrey Stefanski (Fossil Ridge), 6-2, 6-3
NO. 2 DOUBLES: Upper bracket — Jane Roth/Maya Brakhage (Fairview) def. Haley Zimmerman/Hannah Schumaker (Valor Christian), 6-2, 6-3; Lower bracket — Farrah Bendell/Sayeesha Garud (Cherry Creek) def. Devree Van Tassell/Becca Fahrner (Fossil Ridge), 6-3, 6-4
NO. 3 DOUBLES: Upper bracket — Riley Loehr/Sabraina Shama (Cherry Creek) def. Amelia Wenger/Sienna DeGhetto (Valor Christian), 4-6, 6-1, 6-1; Lower bracket — Zoey Prokopyschyn/Parker Lucas (Ralston Valley) def. Mia Grayson/Emily Hao (Fairview), 6-4, 6-4
NO. 4 DOUBLES: Upper bracket — Kate Erickson/Zoey Hao (Cherry Creek) def. Afton Sidwell/Avery MacKenzie (Fossil Ridge), 6-2, 6-0; Lower bracket — Elle Crockett/Bri Underwood (Mountain Vista) def. Morgan Smith/Claire Pfaff (Valor Christian), 6-3, 6-4