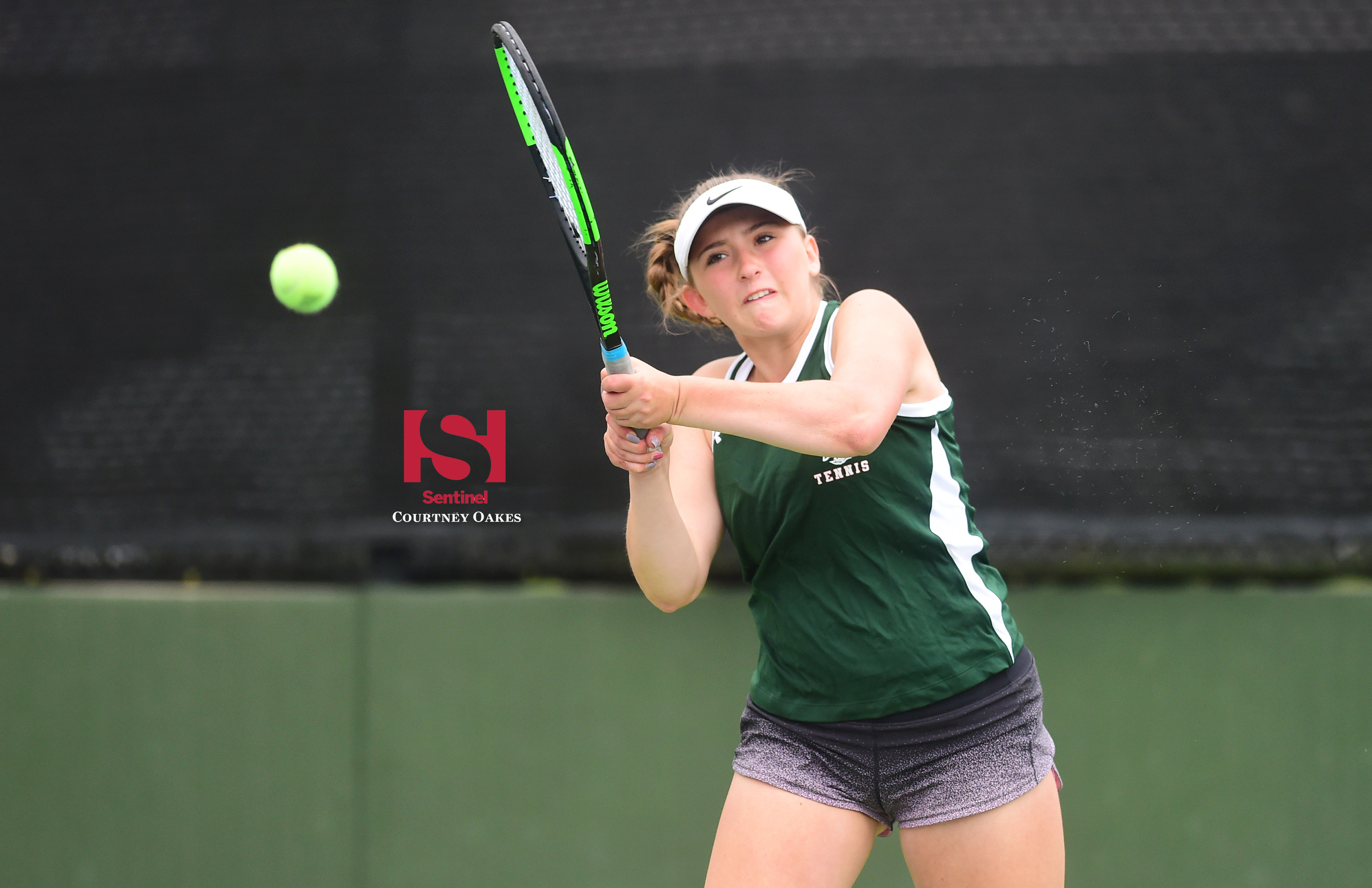 Valerie Negin experienced both agony and ecstasy in a 24-hour period at the Class 5A girls state tennis tournament.
A day after the Smoky Hill sophomore No. 1 singles player sat on the bench on a side court at the Gates Tennis Center nursing a painful injury, she was in the spotlight on center court as state champion.
Negin fought through a foot injury in the second round and battled her way through two grueling three-set matches to become the school's first state tennis champion in 32 years.
"It felt great to win this, but I don't think it's even sunk in yet," Negin said following her difficult 6-4, 4-6, 6-2 victory in the final over Fairview senior Sophie Pearson.
"Sophie played great and she's such a great player. I'm glad that we got to play this match."
Negin became the first Smoky Hill No. 1 singles state champion since Patti Urban, who won back-to-back-to-back titles at the top position in 1985-87. The last No. 1 singles title from any Aurora program came from Overland's Emily Severance in 1993.
Negin's championship patch faced a roadblock on the previous day, however.
During her second round match against Cherry Creek standout Eliza Hill, Negin twisted her left foot early in the second set after she won the first one 7-6 (9-7) in a tiebreaker.
Down 1-2, Negin needed to be worked on by the tournament trainer for several minutes. She could have retired from the match — which would have ended her championship dream — but instead she decided to continue to play in spite of her agony.
"It hurt so bad, but I decided to keep playing," Negin said. "After I lost the second set, my coach said 'You either walk off the court or you keep playing and fighting.' I just decided to forget about the pain and push through."
Hill reeled off four of the next five games against an obviously hobbled Negin to earn a split in the match and take the momentum.
Negin used the break before the decisive third set to bounce back physically and mentally and went on to a 6-4 victory to earn her way into the semifinals.
"Tennis is such a mental game that you have to be able to rebound and bounce back, point after point after point," Smoky Hill coach Jeff Davis said.
"There are so many peaks and valleys and Valerie is just really good at handling those. She's a special player."
Negin came back and prevailed in yet another difficult three-setter in the semifinals, as she had to outlast ThunderRidge junior Veronika Bruetting, which she did with a 6-2, 1-6, 6-4 victory.
The win put a Smoky Hill player in the No. 1 singles final for the second time in the past three seasons, as Negin followed up on Anshika Singh's appearance in 2017. Singh lost a three-set match to Poudre's Ky Ecton.
Negin — who beat Singh in a playoff for the No. 1 singles spot last season, but was unble to play at regionals or state because of a previously scheduled tournament in Texas — advanced to face Pearson, who had a relatively smooth path to the finals.
The two slugged it out in the final with the service game difficult for both — particularly in the second set, when the first seven games resulted in breaks — until they reached the third set.
As she had all tournament, Negin came out on fire to start the final set as she held serve twice and earned a break to go up 3-0. Pearson crept back to within 4-2, but Negin held serve again and put an end to the match with another break of Pearson, who put her final shot into the net.
"The serving was definitely frustrating and I think both of us had to overcome things," Negin said. "Tennis is such a mental thing. My coach told me 'Don't focus on tennis, focus on your energy, your attitude and your footwork and so I came out and did whatever I could.
"It's such an honor to do that for my school. I'm glad I can be an athlete to represent Smoky Hill. This is more of a win for Smoky Hill than it is for me."
Courtney Oakes is Sentinel Colorado Sports Editor. Reach him at 303-750-7555 or [email protected] Twitter: @aurorasports. IG: Sentinel Prep Sports