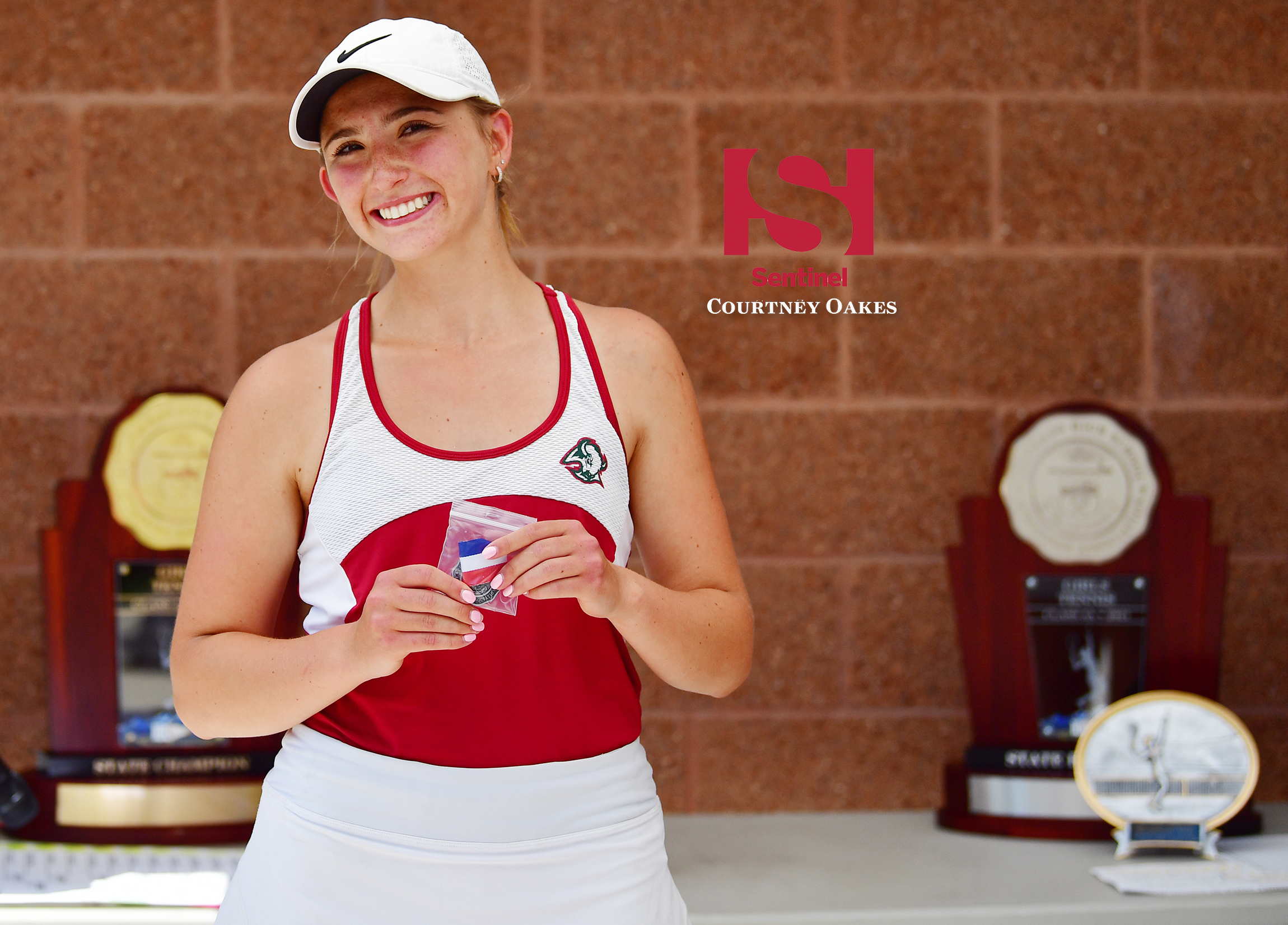 Sitting under the shade of a hot dog vendor's umbrella held by her dad with her mom holding a bag of ice on the back of her neck and encouragement coming from all around, Valerie Negin had all the support she needed June 12.
The Smoky Hill senior didn't quite have enough energy to come back and win her second Class 5A No. 1 singles state championship, however.
Severe cramping from playing back-to-back matches over nearly six hours in the blazing sun at the Gates Tennis Center and an elite opponent in Boulder's Lily Chitambar ultimately proved to be too much even for a player as tough as Negin.
"I've never felt more support in my entire life, from my parents especially," Negin said afterwards. "I probably gave them so much stress and so many nerves, but I'm so thankful for them and for everybody that came out and watched. It was incredible."
The state championship match was definitely a memorable one for everybody who crowded around "Charlie's Court," which served as Center Court this year.
It would have been easy to believe that Chitambar would have had the advantage in the opening set given that she had played a tidy semifinal in which she downed Cherry Creek's Jacque Pearsall in straight sets and got a significant break while Negin toiled for two-plus hours before topping Fairview's Alexis Bernthal 6-4, 6-4.
Chitambar came out looking fresh in the opening set, racing out to a 5-0 lead and seemed ready to take command.
But Negin wasn't ready to cede it and came roaring back to win five straight games herself. Chitambar went up 6-5 and had four set point opportunities, but Negin survived each time and pushed it to a tiebreak.
The Smoky Hill star fell behind 5-2 in the race to seven, but came all the way back to win six of the last seven points and take the set.
"I didn't really think I could get all the way back, I just tried to get one point at a time," Negin said. "All I could do was fight."
The fight, however, took its toll in the second set. Down 0-2, but hoping to rally, Negin doubled over during her service game and had to call for a medical time out.
A trainer worked on her thigh and she pumped fluid as her family shaded her. It certainly wasn't what any competitor wants in a big match, but Negin got back out on the court and made it through the set, which she dropped 0-6.
"I was exhausted, both my knees cramped and my legs; I couldn't walk, but I had to keep going," Negin said. "I knew the one thing I was not going to do was pull out."
Negin battled through injury during her sophomore year on her way to the championship and tried to overcome it again.
Chitambar went on to win the second set 6-0, but the best part of the equation is that the players receive a 10-minute break when they split sets, which is just what Negin needed.
She got out of the sun, attempted to hydrate and had her cramps worked on for the decisive third set.
Again she fell behind Chitambar, who had changed her approach after losing the first set and hit a lot more winners, but again she rallied.
Finally, after getting within 5-4, Negin ripped a return into the net that ended only the second defeat of her prep career. It was the first loss she sustained since late in her freshman season against Mullen's Lauren Manwiller, who won this season's 4A state championship.
"I wanted to win so badly, so I had to just keep fighting," Negin said. "Congrats to Lily, it's fun to play your friends in a match like that."
Smoky Hill coach Jeff Davis — who simply had to offer Negin a bit of advice here or there and give her mental support — soaked in every minute he had Negin in the program.
"She's a once in a lifetime player," Davis said. "I know a lot of coaches who have coached longer than me that have never had a Valerie and they never will and I probably never will again.
"I've enjoyed the journey. It's been amazing. Even though I've had very little to do with her success — she was an elite player before she got to Smoky Hill — she's been great for the program. Her teammates love her and she really has opened a window of hope for all our players."
Even though Smoky Hill didn't have any other players of her caliber, Negin did her best to help the level of the program improve.
She left it out on the court and she will definitely miss playing high school tennis.
"It's bittersweet; I would love to come back and do it again, but you have to leave some time," said Negin, who is headed to Creighton. "There's nothing that can compare to a match like that with everybody cheering and all the craziness. I feel so much adrenaline rushing through me at all times when I'm playing on center court. It feels electric."