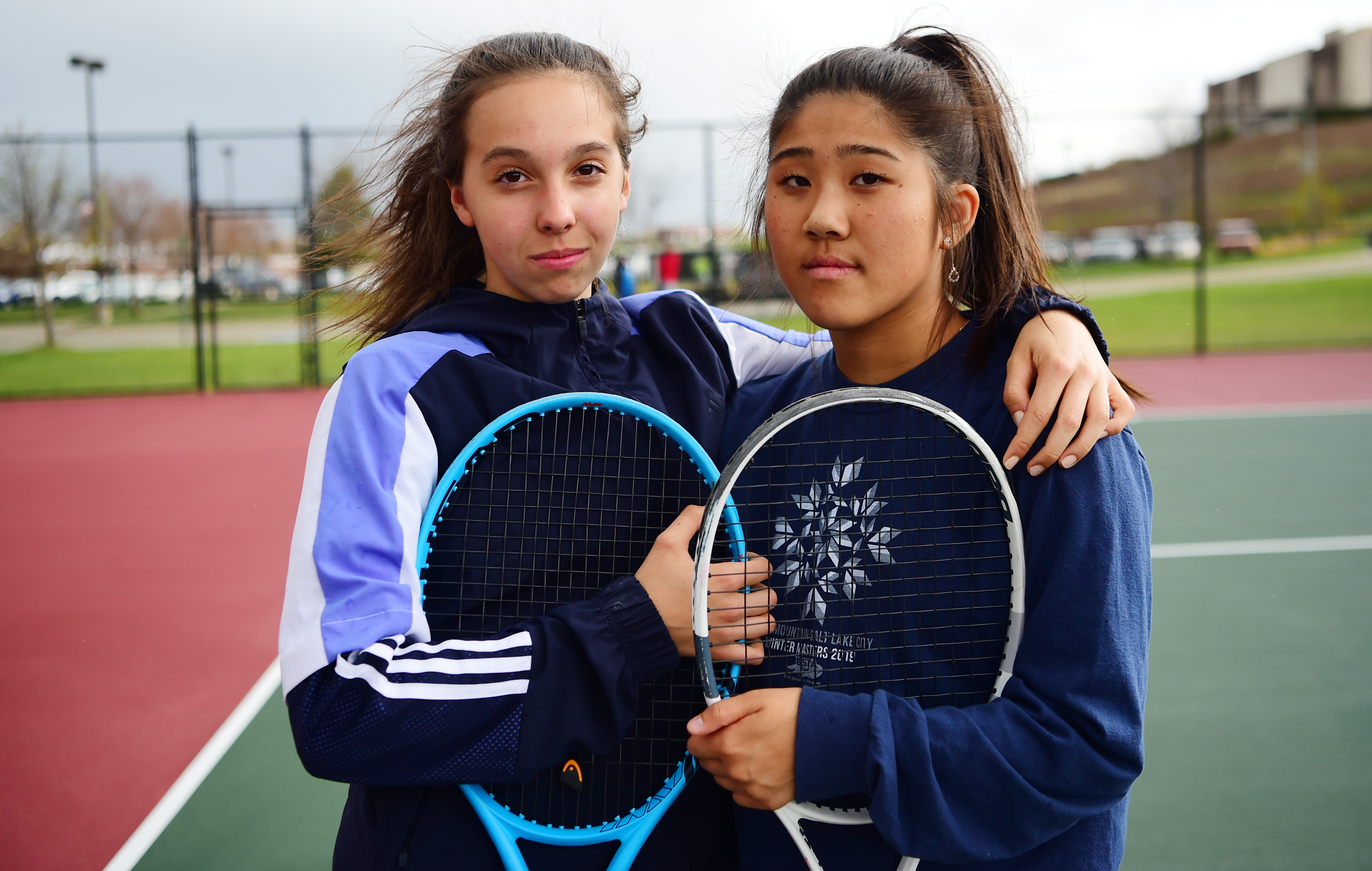 Nicole Ahn knew what was coming and she was OK with it.
Entrenched as Cherokee Trail's No. 1 singles player for the past two seasons, the junior knew that run would come to an end this season when talented Alissa Gurkovskiy joined the team.
The freshman's arrival turned out to be good things for both players, as they both won regional championships and ended an absence for the program at the Class 5A girls state tennis tournament that stretched back to 2013.
"I love Alissa and I wanted a better team, so I'm happy with where I'm at," said Ahn, who earned her way into the 5A state tournament May 10-11 at Gates Tennis Center in Denver.
"We were a decent team, but with her we were on a different level," she added.
That different level came in the form of state representation, something the Cherokee Trail program hadn't had since No. 3 singles player Sydney Reese made it in 2013. The Cougars haven't had multiple positions at state since 2012.
Cherokee Trail could even have a chance to score some team points if the singles duo can continue to play the way they did in winning their brackets at the Region 8 tournament in Grand Junction.
Following a season in which she suffered just three losses — two to Smoky Hill sophomore phenom Valerie Negin and one to Mullen standout Lauren Manwiller — Gurkovskiy dropped just one game combined in her two matches.
Dedicated to tennis since the age of 7 — when she gave up her interest in dance — Gurkovskiy now wants to see what she can do at the state tournament.
"I think I'll do well; I'm confident in my draw and I've done really well against a lot of players there," said Gurkovskiy, who credited Ahn's guidance with helping her all season.
Ahn capitalized from her new position to put past regional frustrations behind her and win her way into state.
With the rigors of playing in the No. 1 spot behind her — and better preparation from coach Paul Whipple — Ahn has lost just one time going into the state tournament.
The Cherokee Trail players won't be the only other Aurora locals to potentially make a splash in their state tournament debuts.
Negin should be a threat in the No. 1 singles bracket after she went undefeated and cruised to win the Region 4 tournament in Fort Collins. Negin dropped only four games in the process in her two matches, including three to previously undefeated Olivia Desso of Lakewood in the title match.
Buffaloes coach Jeff Davis believes Negin has the whole package for a tennis player.
"Valerie is an all-around player and she does everything well," Davis said. "She hits with so much power and she's really strong and athletic."
Smoky Hill had a No. 1 singles finalist as recently as 2017 in Anshika Singh, who finished as the 5A runner-up to Poudre's Ky Ecton, who also won the 2018 crown before she graduated.
Negin defeated Singh in a challenge match last season for the No. 1 spot, but was unable to play in regionals because of a conflict with a national tournament in Dallas.
The sky could be the limit in her state debut according to Davis.
"I don't think she'll be satisfied if she doesn't win state, but she's also very pragmatic," Davis said. "She knows that anything can happen and that her opponent could have a good match or she could run into a style that she doesn't match up with. She's aware anything can happen, but she's got a great attitude and she's a competitor."
Regis Jesuit makes its debut at state under new coach Hailey Johnson, who saw six of seven positions advance through Region 8.
Among the Raiders' state-bound contingent are juniors Grace Neff and Marie Manassee, who teamed up to win the state championship at No. 3 doubles last season, but enter this state tournament at No. 1 singles and No. 1 doubles, respectively.
Manassee's new partner, Sarah Sinelli, plays at state for a third time, Chloe Martinet on the No. 3 doubles team also has state experience, as does No. 3 singles player Elizabeth Dewey.
Grandview has all four of its doubles teams qualified, with senior No. 2 doubles player Rithika Ginjupalli and junior No. 1 doubles player Mia Nguyen each going for a third time. Nguyen and partner Felicia Tay placed fourth last season at No. 3 doubles.
Courtney Oakes is Sentinel Colorado Sports Editor. Reach him at 303-750-7555 or [email protected] Twitter: @aurorasports. IG: Sentinel Prep Sports