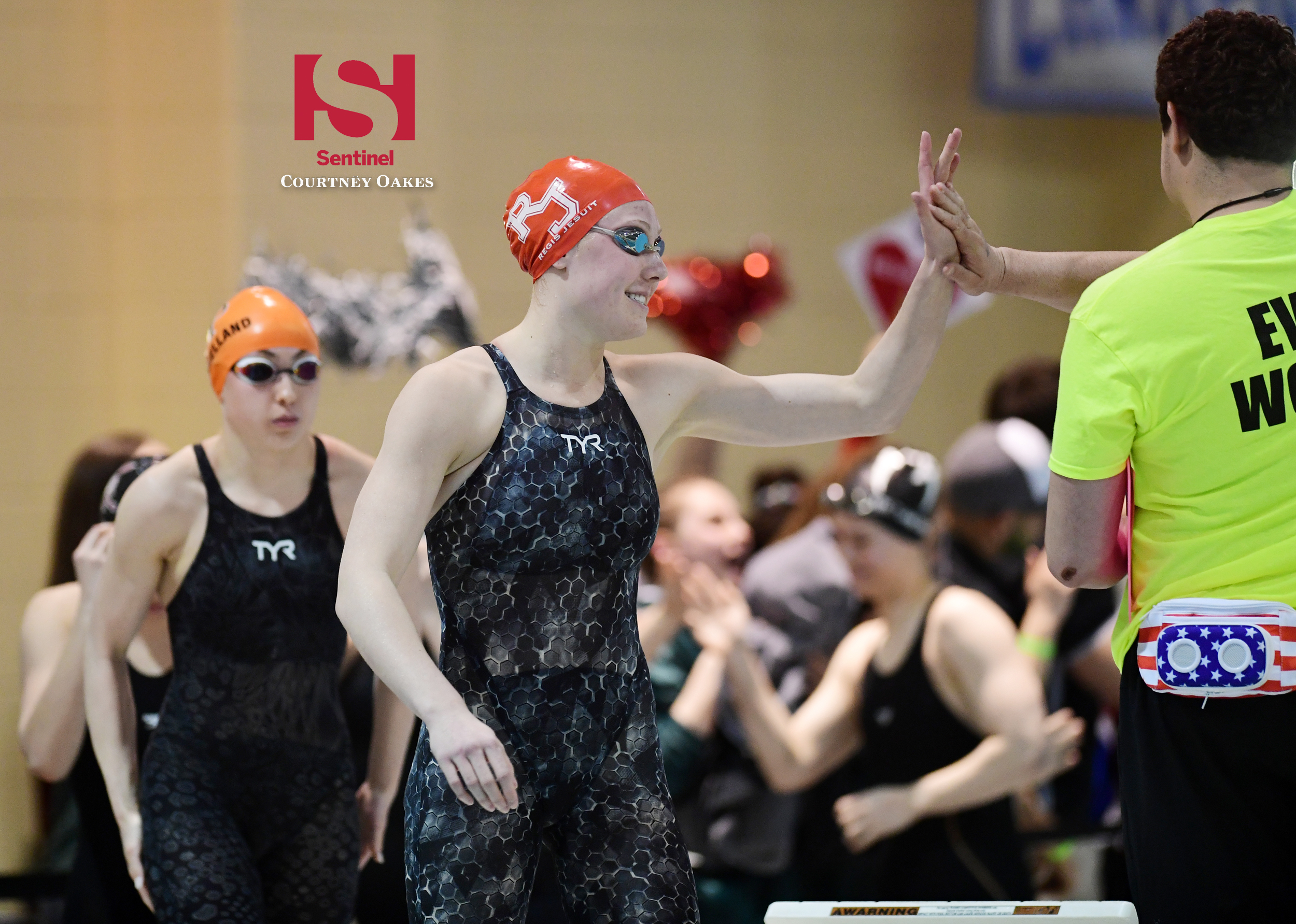 The first winter prep sports season to reach its conclusion, girls swimming, proved good to the last stroke for Aurora.
The Sentinel Colorado 2019-20 All-Aurora Girls Swim Team — which is based on results from the Class 5A state swim meet in February at the Veterans' Memorial Aquatic Center, which saw five city teams get on the scoreboard and finished with 29 individual places and 11 top-20 relays — includes a significant amount of Regis Jesuit swimmers, as well as individuals from Eaglecrest, Grandview and Smoky Hill.
Regis Jesuit went into the meet seeded to finish in 11th place as a team, but coach Nick Frasersmith's team ended up in third place — and within 22 points of runner-up Cherry Creek —  thanks to some outstanding performances, especially by seniors.
Senior Sophia Bradac had the most outstanding meet for the Raiders and earned four spots on the All-Aurora team, twice in her individual events — the 200 yard individual medley and 100 yard breaststroke — as well as with the 200 medley and 400 freestyle relays.
Bradac, a Notre Dame signee, finally secured the state championship in the 100 breaststroke that she'd been after for her entire career. She improved her finish every season and finally won the title with a high school best time by one-one hundreth of a second. Bradac topped a championship finals field that also included younger sister Catherine, who finished eighth.
Bradac was also a city-best ninth in the 200 IM and swam legs on Regis Jesuit's fourth-place 200 medley relay and third-place 400 freestyle relay.
Fellow senior Jada Surrell-Norwood capped her prep career in fine style and was awarded 5A Swimmer of the Year honors by the coaches in attendance at the state meet.
Surrell-Norwood was unable to defend her 100 yard freestyle state title (she finished third), but in the wake of a season in which she missed a significant portion of the season with the team as she trained for junior club meets and took a two-week service trip to Belize, she was mostly happy with the result.
The University of Alabama signee also placed fourth in the 50 freestyle and earned All-Aurora spots on the 200 and 400 freestyle relays.
That was the tip of the iceberg for Regis Jesuit's senior class, which left a great final impression.
Parker Biley (an Indiana State commit) led the way among city finishers in the 100 backstroke with an eighth-place finish and Franna Hutchens earned All-Aurora honors in the 100 butterfly with a 14th-place result, while Ariana Mitsuoka (who also placed twice individually) swam legs of the 200 medley and runner-up 200 freestyle relay, which also included Isalina Colsman.
Grace Dale was a big point-scorer for Regis Jesuit as a sophomore with two eighth-place individual finishes, but her All-Aurora contributions came with the 200 and 400 freestyle relays, while fellow sophomore Greta Leege swam a leg on the 200 medley relay.
Junior diver Catie Rodocker was the only Eaglecrest competitor on the second day of the state meet and she made the most of it with a third-place finish. Rodocker — buoyed by the support of many of her Mile High Dive Club teammates competing for other schools — gave the Eaglecrest program its highest finish in five seasons.
Junior Hailey Matthews led Grandview to a 17th-place finish, which was second-best among Aurora teams, with a city-best fifth-place result in the 200 freestyle. She came into the meet seeded second in the event, but swam slightly slower than her season-best to take fifth while she also anchored the Wolves' placing 200 and 400 freestyle teams.
Senior Blythe Iverson represents Smoky Hill on the All-Aurora team thanks to her 10th-place finish in the 500 freestyle. The only city swimmer to make the championship final in the event, Iverson swam 0.20 of a second slower in the final than her seed time, but it moved her up from 14th to 10th.
Courtney Oakes is Sentinel Colorado Sports Editor. Reach him at 303-750-7555 or [email protected] Twitter: @aurorasports. IG: Sentinel Prep Sports
2019-2020 SENTINEL COLORADO ALL-AURORA GIRLS SWIM TEAM
200 yard medley relay — Regis Jesuit (Parker Biley, Sophia Bradac, Greta Leege, Ariana Mitsuoka); 200 yard freestyle — Hailey Matthews, jr., Grandview; 200 yard individual medley — Sophia Bradac, sr., Regis Jesuit; 50 yard freestyle — Jada Surrell-Norwood, sr., Regis Jesuit; 1-meter diving — Catie Rodocker, jr., Eaglecrest; 100 yard butterfly — Franna Hutchens, sr., Regis Jesuit; 100 yard freestyle — Jada Surrell-Norwood, sr., Regis Jesuit; 500 yard freestyle — Blythe Iverson, sr., Smoky Hill; 200 yard freestyle relay — Regis Jesuit (Grace Dale, Ariana Mitsuoka, Isalina Colsman, Jada Surrell-Norwood); 100 yard backstroke — Parker Biley, sr., Regis Jesuit; 100 yard breaststroke — Sophia Bradac, sr., Regis Jesuit; 400 yard freestyle relay — Regis Jesuit (Grace Dale, Parker Biley, Sophia Bradac, Jada Surrell-Norwood)
HONORABLE MENTION: Individuals — Samantha Aguirre, fr., Regis Jesuit (100 yard butterfly); Parker Biley, sr., Regis Jesuit (100 yard freestyle); Catherine Bradac, jr., Regis Jesuit (100 yard breaststroke); Skylar Brgoch, soph., Cherokee Trail (200 yard freestyle/100 yard butterfly); Kenna Cashman, soph., Regis Jesuit (500 yard freestyle); Isalina Colsman, sr., Regis Jesuit (50 yard freestyle); Grace Dale, soph., Regis Jesuit (50 yard freestyle/100 yard freestyle); Rosie Jump, fr., Regis Jesuit (200 yard freestyle/500 yard freestyle); Brynn Koehler, fr., Grandview (500 yard freestyle); Ellie Lopez, jr., Regis Jesuit (100 yard backstroke/200 yard IM); Faith Marsicek, soph., Regis Jesuit (200 yard freestyle); Ariana Mitsuoka, sr., Regis Jesuit (50 yard freestyle/100 yard freestyle); Manna Nelson, sr., Regis Jesuit (500 yard freestyle); Maggie Robben, sr., Smoky Hill (200 yard freestyle/100 yard breaststroke); Olivia Roumph, fr., Regis Jesuit (100 yard breaststroke)
Relays — CHEROKEE TRAIL: 200 yard medley relay (Morgan Walker, Kiyah Dotson, Skylar Brgoch, Sarah Torline); 200 yard freestyle relay (Kiyah Dotson, Trudi Paetzold, Claire Whitner, Emily Sovern); 400 yard freestyle relay (Sarah Torline, Emily Sovern, Tatum Louthan, Skylar Brgoch); GRANDVIEW: 200 yard medley relay (Megan Thomas, Paige Dailey, Jenna Moss, Rebecca Hildebrand); 200 yard freestyle relay (Rebecca Hildebrand, Kya Guikema, Jenna Moss, Hailey Matthews); 400 yard freestyle relay (Kya Guikema, Megan Thomas, Megan Doubrava, Hailey Matthews); SMOKY HILL: 200 yard medley relay (Kristina Domashevich, Maggie Robben, Annelise Thomas, Katie Power); 400 yard freestyle relay (Katie Power, Kristina Domashevich, Annelise Thomas, Maggie Robben)