The Class 5A state meet at the Veterans' Memorial Aquatic Center didn't produce a state championship, but the members of the Regis Jesuit-heavy 2017-18 Sentinel All-Aurora Girls Swim Team shone brightly.
Coach Nick Frasersmith's Raiders were seeded to finish 10th, but again proved projections meaningless with a solid third-place finish behind powerhouses Fossil Ridge and Fairview.
The tone was set for the Raiders by the 200 yard medley relay team of sophomores Parker Biley, Sophia Bradac and Hayley Cook, plus junior Rachel Hubka. The group was seeded 13th coming into the meet, but rocketed up to third place.
Biley — who had the honor of singing the National Anthem to open the meet — led off a the relay, which clocked an All-American Consideration time of 1 minute, 46.08 seconds. The same group swam a 1:45.84 the previous day in prelims.
Junior Claire Brennan was next to give Regis Jesuit a boost as she touched the wall fourth in the 200 freestyle, a full 22 spots ahead of where she was seeded coming into the meet. She was second behind Fossil Ridge star Coleen Gillilan in prelims.
It was especially rewarding for Brennan, who spent the season rounding into form after undergoing shoulder surgery the previous year.
"This was a recovery season and at state, I finally hit that point where I was healthy and ready to swim fast again," said Brennan, who later finished 12th in the 100 freestyle.
Biley got her adrenaline pumping when she got to sing in front of a packed house.
"It's nervewracking, but not as nervewracking as swimming, so I feel like once you can do something like that, you can prepare yourself for the energy of what the state meet is going to be like," Biley said.
"It's fun to get up there and do something that I love in both settings. To singing and swimming was pretty cool."
The swimming part also went well for Biley, who earned All-Aurora slots individually in the 200 yard individual medley (in which she moved from 22nd coming in up to sixth in the finals) and 100 backstroke (in which she posted best times in a 13th-place result), while she also contributed to the medley relay and second-place 400 freestyle relay with fellow sophomores Jada Surrell-Norwood and Bradac and junior Meriel Upton.
Surrell-Norwood improved on her seeding in the 50 freestyle (third) and 100 freestyle (second for the second straight season with an Automatic All-American time of 50.26 seconds), while anchoring both freestyle relays.
Every prelim and finals swim for Surrell-Norwood produced an Automatic All-American or All-American Consideration time and she relished her team's 400 freestyle relay win over Fossil Ridge head-to-head in prelims.
"We didn't expect it, we just went out there and swam and gave it our all," Surrell-Norwood said. "It was awesome, very fun."
The SaberCats put their foot on the gas in the finals, however, with a seven-second win over the Raiders.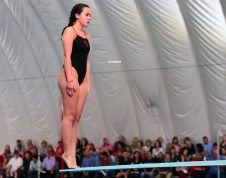 Senior diver Anne Marie Kenny turned in an eighth-place finish for Regis Jesuit.
The Tulane University signee topped four other divers from Aurora schools in the finals and finished with 431.45 points, the most she'd scored in four trips to state. Kenny's eighth-place finish marked her second-best behind her sixth-place showing as a sophomore, while she was 11th as a freshman and 12th as a junior.
Bradac swam the breaststroke leg of the medley relay to open the meet and dropped a second and a half from the relay times she'd been swimming all season. She knew it would set her up well for the breaststroke finals later and she was right, as she touched the wall fifth after coming into the meet with the 17th seed.
Bradac made the junior cut in the event she'd missed by 0.2 of a second over the summer with an Automatic All-American time of 1:03.66 in prelims. She clocked a 1:04.46 in finals.
"The breaststroke was really exciting for me," she said.
The 200 freestyle relay team of Hubka, fellow juniors Upton and Izzie Capra and Surrell-Norwood clocked an All-American Consideration time in a third-place result and Surrell-Norwood, Biley, Bradac and Upton capped the meet with a runner-up finish to Fossil Ridge, a day after beating the SaberCats in prelims.
Regis Jesuit appears in position to challenge for the state title next season given that only two of its point scorers were seniors in Kenny and Dani Carr (16th in 100 breaststroke), who combined for 12 of the team's 235 points.
Frasersmith estimated the Raiders return the second-most points behind Fairview and an expected strong class of freshmen could give them a boost to challenge for the state title next year.
Grandview junior Lyssa Wood and Smoky Hill senior Natalie Rotondo earned the other individual All-Aurora spots on the 500 freestyle and 100 butterfly, respectively.
Continuing her family's tradition in the 500 free, Wood finished eighth in both the prelims (5:14.51) and finals (5:16.81), which left her somewhat disappointed. She was sixth in the event last season and swam faster (5:10.57) in the finals.
""I feel like it could have been a better season; I definitely wanted to go faster," said Wood, who also finished 12th in the 200 freestyle and anchored the Wolves' 10th-place 400 freestyle relay team.
Wood's goals are a top-three finish in the 500 next season — her sister, Mia, placed second in the event in 2016 — and a championship finals appearance in either the 200 freestyle or 200 individual medley.
Rotondo capped an exceptional prep career with an Aurora-best 11th place result in the 100 butterfly, a jump of three spots from her pre-meet seeding to help coach Scott Cohen's Buffs place 14th as a team.
Her time of 58.45 seconds in the consolation final of the 100 butterfly — which tied her with Lewis-Palmer's Katelyn McClelland for 11th — left her just shy of the school record. She did get the record in the 50 butterfly with her leg on Smoky Hill's ninth-place medley relay team and she also finished 10th individually in the 200 freestyle.
Rotondo's energy and impact will no doubt be missed by Smoky Hill next season. The feeling is definitely mutual.
"I'm going to miss it, it was the best four years of my life," said Rotondo, who will swim at CSU-Pueblo in the fall.
Courtney Oakes is Sentinel Sports Editor. Reach him at 303-750-7555 or [email protected] Twitter: @aurorasports. FB: Sentinel Prep Sports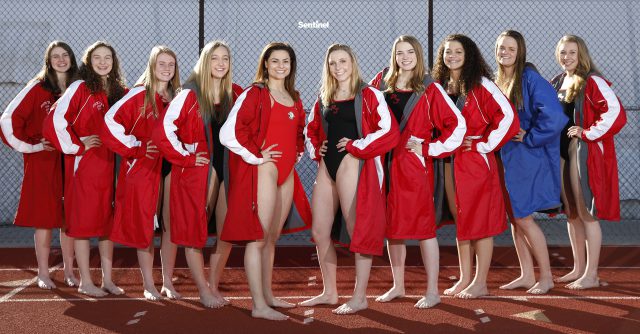 2017-18 SENTINEL ALL-AURORA GIRLS SWIM TEAM
200 yard medley relay — Regis Jesuit (Parker Biley, Sophia Bradac, Hayley Cook, Rachel Hubka); 200 yard freestyle — Claire Brennan, jr. (Regis Jesuit); 200 yard individual medley & 100 yard backstroke — Parker Biley, soph. (Regis Jesuit); 50 & 100 yard freestyles — Jada Surrell-Norwood, soph. (Regis Jesuit); 1-meter diving — Anne Marie Kenny, sr. (Regis Jesuit); 100 yard butterfly — Natalie Rotondo, sr. (Smoky Hill); 500 yard freestyle — Lyssa Wood, jr. (Grandview); 200 yard freestyle relay — Regis Jesuit (Meriel Upton, Izzie Capra, Rachel Hubka, Jada Surrell-Norwood); 100 yard breaststroke — Sophia Bradac, soph. (Regis Jesuit); 400 yard freestyle relay — Regis Jesuit (Meriel Upton, Parker Biley, Sophia Bradac, Jada Surrell-Norwood)
HONORABLE MENTION
Sophia Bradac, Regis Jesuit, soph. (200 IM); Claire Brennan, Regis Jesuit, jr. (100 freestyle); Dani Carr, Regis Jesuit, sr. (100 backstroke); Rachel Hubka, Regis Jesuit, jr. (50 freestyle); Franna Hutchens, Regis Jesuit, soph. (100 butterfly); Ava Leege, Regis Jesuit, soph. (200 IM); Sarah Mortenson, Rangeview, jr. (diving); Manna Nelson, Regis Jesuit, soph. (500 freestyle); Maggie Robben, Smoky Hill, soph. (200 IM/100 breaststroke); Catherine Rodocker, Grandview, fr. (diving); Natalie Rotondo, Smoky Hill, sr. (200 freestyle); Jaclyn Santiago, Smoky Hill, jr. (diving); Meriel Upton, Regis Jesuit, jr. (50 freestyle/100 freestyle); Courtney Vale, Regis Jesuit, jr. (100 breaststroke); Lyssa Wood, Grandview, jr. (200 freestyle); Christie Yee, Cherokee Trail, sr. (diving); Relays: Cherokee Trail 200 yard freestyle relay (Caitlyn Agee-Keys, Madison Houtkooper, Kaity Brookes, Sarah Torline); Grandview 200 yard medley relay (Lyssa Wood, Julia Matney, Jadyn Phillips, Molly Nankey); Grandview 200 yard freestyle relay (Jadyn Phillips, Lily Williams, Molly Nankey, Simone Cade) & Grandview 400 yard freestyle relay (Sam Hufford, Jadyn Phillips, Simone Cade, Lyssa Wood); Smoky Hill 200 yard medley relay (Kristina Domashevich, Maggie Robben, Natalie Rotondo, Brieyana Walton) & Smoky Hill 200 yard freestyle relay (Brieyana Walton, Maggie Robben, Katie Power, Natalie Rotondo), 13th