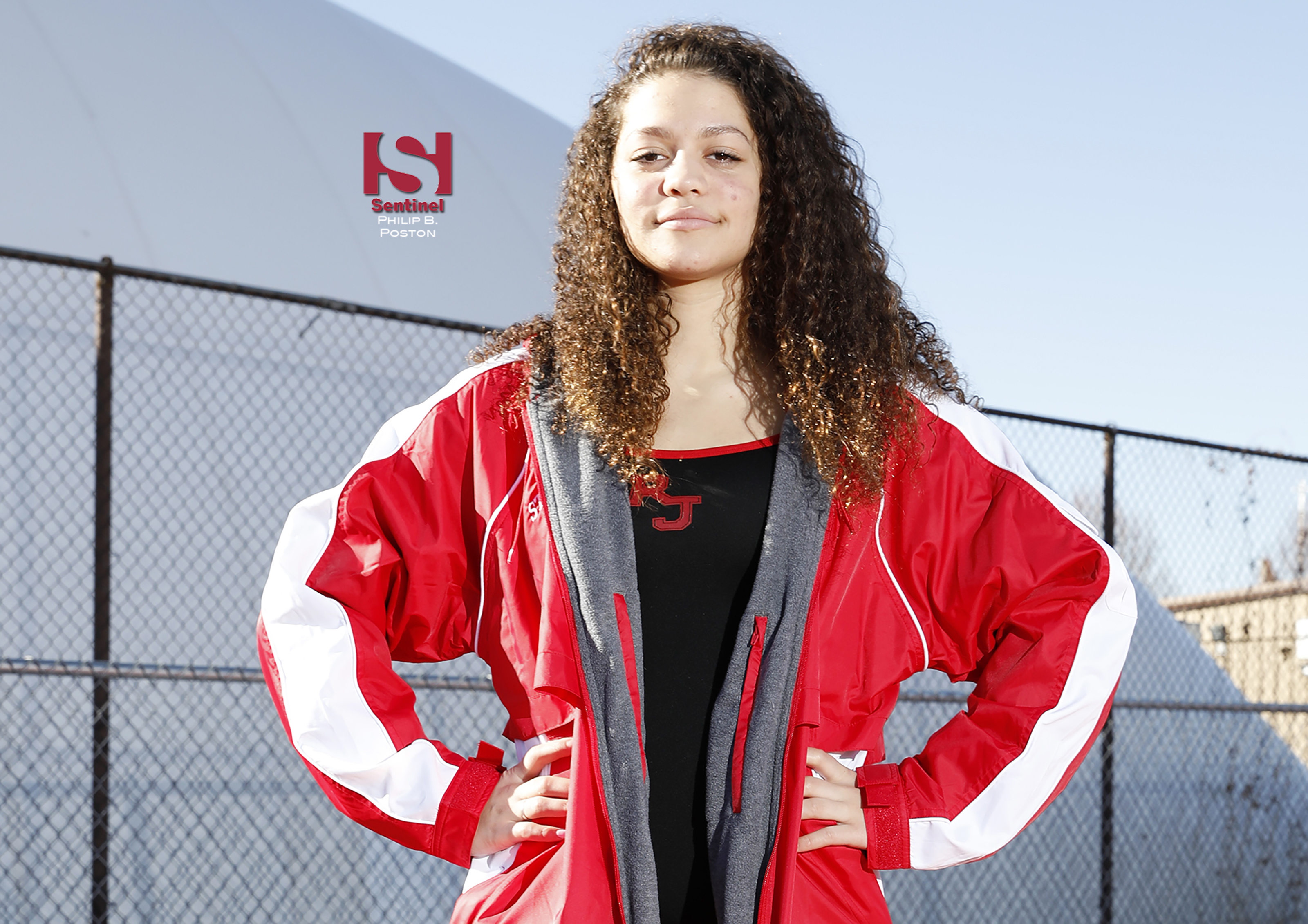 AURORA | The Regis Jesuit girls swim team made some headway in the 2017-18 season in its pursuit of powerhouse Fossil Ridge.
Coach Nick Frasersmith's Raiders couldn't catch the dominating SaberCats or Fairview at the Class 5A state meet, but put up a number of performances at various points during the season that ranked among the best turned in anywhere in the country.
Juniors-to-be Jada Surrell-Norwood and Sophia Bradac earned individual All-American honors from the National Interscholastic Swim Coaches Association (NISCA), which issued its nation-wide list of honorees July 3. Regis Jesuit's 200 and 400 yard freestyle relay teams also earned the distinction.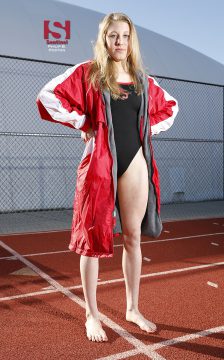 NISCA annually recognizes the top 100 individuals or relay teams who met the prescribed time standard during the season and have their performances verified. Colorado girls swimmers — whose individual event times are adjusted for altitude — landed a total of 66 All-American honors between swimming and diving, a total that ranked 10th in the country.
All of the Raiders' All-Americans were underclassmen, giving Frasersmith hope that his team can challenge for the 5A state title next season.
Surrell-Norwood was a four-time All-American in 2016-17 and added three more of the coveted accolades with her individual performance in the 100 yard freestyle and her contributions to both freestyle relays.
Though a little bit behind her best effort of the previous year (50.02), Surrell-Norwood's top time of 50.15 seconds in the 100 freestyle ranked 48th-best in the country. Surrell-Norwood finished as the 5A runner-up to Fossil Ridge star Kylee Alons.
Bradac had been working hard to earn a juniors cut time in the 100 breaststroke and she finally got it at the state meet, when she recorded a time of 1:03.52 in prelims. She placed fifth in the finals.
Senior-to-be Meriel Upton earned All-American honors in relays for a third straight season as she swam on both freestyle relays.
Seniors-to-be Izzie Capra and Rachel Hubka combined with Upton and Surrell-Norwood on the 200 freestyle team that was the 73rd-fastest in the country with its mark of 1:35.84, while junior-to-be Parker Biley teamed with Upton, Bradac and Surrell-Norwood on the 400 freestyle relay team that ranked No. 75 (3:28.77).
Regis Jesuit's 200 medley relay team of Biley, Bradac, Hubka and Hayley Cook clocked an All-American Consideration time of 1:46.08, but fell short of making the list. The last All-American time of 1:45.68 came from a team from Ohio.
Fossil Ridge dominated Colorado's All-American awards, topped by the 200 yard medley relay team of Alons, Bailey Stewart, Zoe Bartel and Coleen Gillilan, who set a national record with their time of 1:38.13.
Courtney Oakes is Sentinel Sports Editor. Reach him at 303-750-7555 or [email protected] Twitter: @aurorasports. FB: Sentinel Prep Sports

2017-18 COLORADO NISCA GIRLS ALL-AMERICAN SWIMMERS
200 yard medley relay (AA 1:44.91): 1. Bailey Stewart, Zoe Bartel, Coleen Gillilan, Kylee Alons (Fossil Ridge), 1 minute, 38.13 seconds (National Record); 11. Catriona Clarke, Edenna Chen, Allana Clarke, Lindsey Immel (Rampart), 1:42.86; 53. Natalie Arky, Holley Dennis, Teagan Haberkorn, Annie Osmun (Mountain Vista), 1:44.47
200 yard freestyle (AA 1:48.82): 7. Coleen Gillilan (Fossil Ridge), 1 minute, 45.67 seconds; T38. Kylie Andrews (Heritage), 1:48.31
200 yard individual medley (AA 2:01.89): 3. Zoe Bartel (Fossil Ridge), 1 minute, 57.71 seconds; 41. Delaney Smith (Arapahoe), 2:01.01; T43. Cat Wright (Cheyenne Mountain), 2:01.03
50 yard freestyle (AA 23.24): 15. Kylee Alons (Fossil Ridge), 22.70 seconds
Diving: Franny Cable (Arapahoe); Samantha Tamborski (Douglas County)
100 yard butterfly (AA 54.56): 1. Coleen Gillilan (Fossil Ridge), 52.05 seconds; 41. Audrey Reimer (Fort Collins), 54.09; 77. Cat Wright (Cheyenne Mountain), 54.89
100 yard freestyle (AA 50.41): 10. Kylee Alons (Fossil Ridge), 49.53 seconds; 48. JADA SURRELL-NORWOOD (REGIS JESUIT), 50.15; T73. Kylie Andrews (Heritage), 50.55; T98. Emily Barrier (Rocky Mountain), 50.83
500 yard freestyle (AA 4:52.12): 82. Kathryn Shanley (Chatfield), 4:55.95
200 yard freestyle relay (AA 1:35.67): T16. Coleen Gillilan, Madeleine Mason, Andrea Niemann, Caraline Baker (Fossil Ridge), 1:34.15; 39. Meredith Smithbaker, Amy Fromme, Alex Engelhardt, Emily Barrier (Rocky Mountain), 1:35.00; 73. MERIEL UPTON, IZZIE CAPRA, RACHEL HUBKA, JADA SURRELL-NORWOOD (REGIS JESUIT), 1:35.84
100 yard backstroke (AA 55.05): 22. Bayley Stewart (Fossil Ridge), 54.03 seconds; 46. Meredith Rees (Lewis-Palmer), 54.75; 54. Natalie Arky (Mountain Vista), 54.90
100 yard breaststroke (AA 1:02.82): 5. Zoe Bartel (Fossil Ridge), 1 minute, 0.33 seconds; T38. Edenna Chen (Rampart), 1:02.19; T56. Caraline Baker (Fossil Ridge), 1:02.77; T56. Aleksandra Olesiak (Air Academy), 1:02.77; T76. Sophia Bricker (Cheyenne Mountain), 1:03.18; T94. SOPHIA BRADAC (REGIS JESUIT), 1:03.52
400 yard freestyle relay (AA 3:27.95): 6. Bayley Stewart, Caraline Baker, Zoe Bartel, Kylee Alons (Fossil Ridge), 3 minutes, 22.53 seconds; 51. Lindsay Stenstrom, Ashley Stenstrom, Makayla Hoehn, Ella Kirschke (Valor Christian), 3:27.58; 60. Catriona Clarke, Lindsey Immel, Edenna Chen, Allana Clarke (Rampart), 3:28.13; 75. MERIEL UPTON, PARKER BILEY, SOPHIA BRADAC, JADA SURRELL-NORWOOD (REGIS JESUIT), 3:28.77