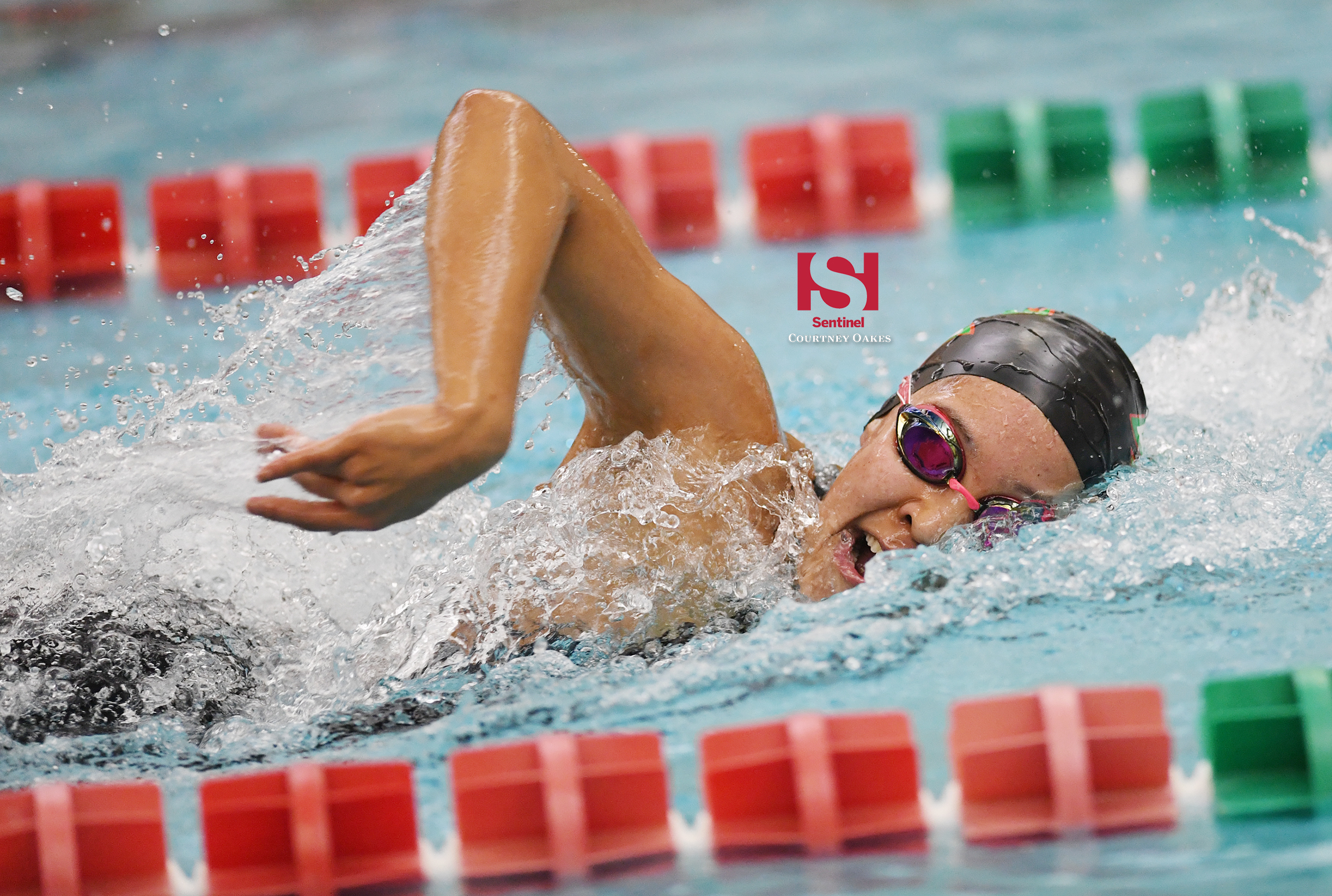 AURORA | A virtual swim meet was already strange enough for Scott Cohen and Smoky Hill Thursday, until another wrinkle came along.
What was supposed to be a Centennial League dual meet between the Buffaloes and Arapahoe — contested in their own separate pools to lesson the potential spread of COVID-19 — later turned into a tri-meet that also included Cherry Creek, which lost its opponent.
When the results from all three separate swims was merged, the newcomer Bruins ended up on top with 106 points, followed by Arapahoe with 49 and Smoky Hill with 31.
The Buffaloes claimed two of the 12 events and both involved senior Jadyn Phillips.
Phillips posted the best time among the three teams in the 200 yard freestyle when she touched the wall in 1 minute, 57.99 seconds, while she also teamed with Annelise Thomas, Virginia Berglund and Kristina Domashevich on the fastest 400 yard freestyle team. The Buffaloes clocked a time of 3:47.44.
None of the results qualified for the Class 5A state meet, however, as only the top 20 finishers in each event will make it this season.
Courtney Oakes is Sentinel Colorado Sports Editor. Reach him at 303-750-7555 or [email protected] Twitter: @aurorasports. IG: Sentinel Prep Sports
Cherry Creek 106, Arapahoe 49, Smoky Hill 31 (virtual meet)
200 yard medley relay — 1. Cherry Creek (Charloette Wilson, Liberty Edwards, Teagan Steinmetz, Hannah Eckerman), 1 minute, 49.76 seconds; 200 yard freestyle — 1. Jadyn Phillips (Smoky Hill), 1 minute, 57.99 seconds; 200 yard indiv. medley — 1. Teagan Steinmetz (Cherry Creek), 2 minutes, 6.20 seconds; 50 yard freestyle — 1. Lyndsey Wehr (Arapahoe), 24.55 seconds; 1-meter diving — 1. Brooke Bennett (Cherry Creek), 190.15 points; 100 yard butterfly — 1. Alexis Greenhawt (Cherry Creek), 56.87 seconds; 100 yard freestyle — 1. Avery Hall (Cherry Creek), 54.17 seconds; 500 yard freestyle — 1. Megan Bergstrom (Cherry Creek), 5 minutes, 24.61 seconds; 200 yard freestyle relay — 1. Cherry Creek (Eva Maxey, Kaisa Harris, Avery Hall, Liberty Edwards), 1 minute, 43.30 seconds; 100 yard backstroke — 1. Charloette Wilson (Cherry Creek), 59.08 seconds; 100 yard breaststroke — 1. Teagan Steinmetz (Cherry Creek), 1 minute, 5.72 seconds; 400 yard freestyle relay — 1. Smoky Hill (Annelise Thomas, Jadyn Phillips, Virginia Berglund, Kristina Domashevich), 3 minutes, 47.44 seconds