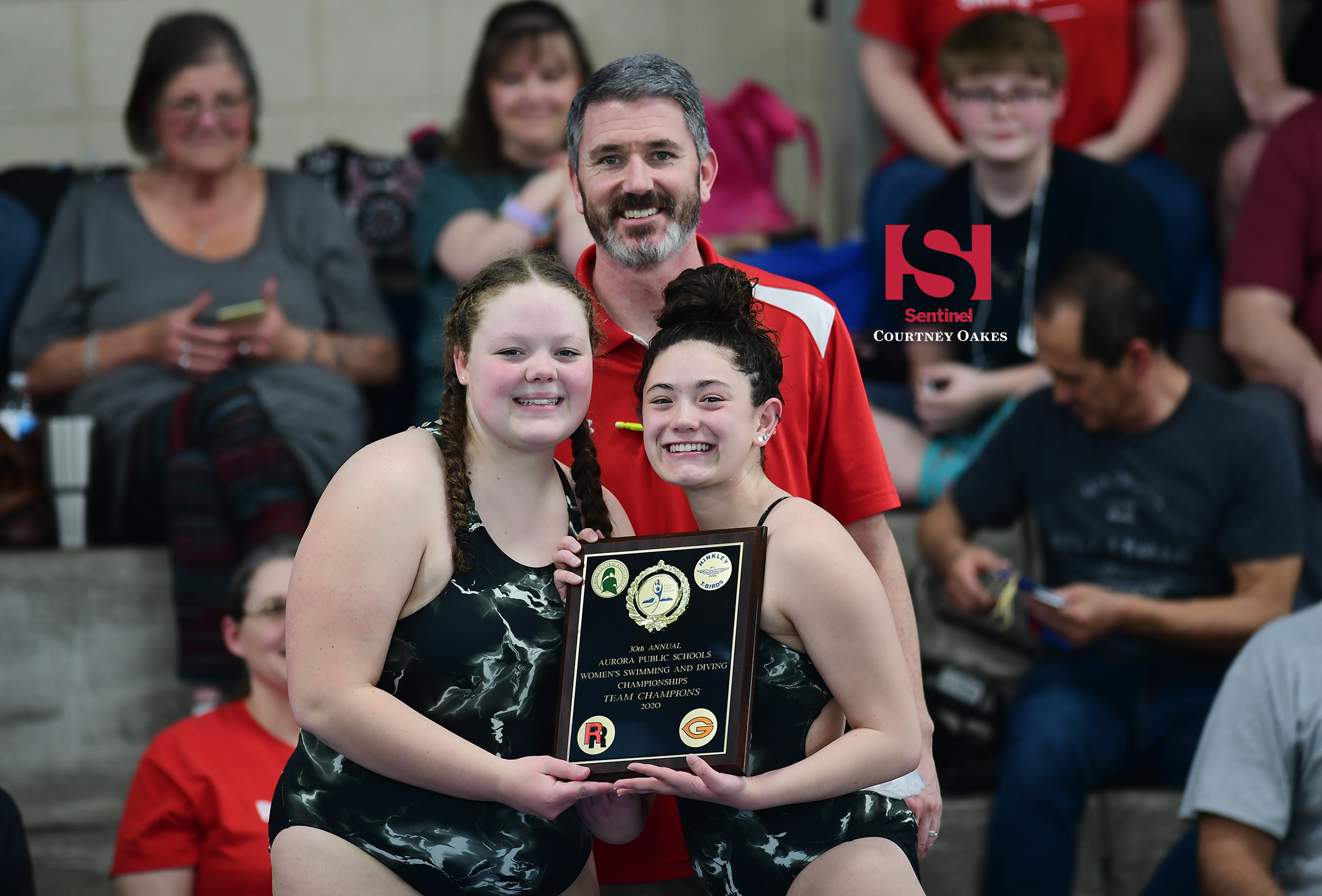 The Rangeview girls swim team and Hinkley's Alyssa Lutz put on a show Feb. 1 at Hinkley High School in the finals of the 31st annual Aurora Public Schools Championship girls swim meet.
Coach Peter Girard's Raiders won 10 of the 12 events contested and accrued 529 points — one more than they had last season — to win the gathering of the four APS programs for the 17th consecutive season.
Senior Jasmine Johnson completed an undefeated individual career at the city meet with her seventh and eighth individual championships as she won the 50 yard freestyle and 100 breaststroke, Julie Maldonado took both distance freestyle events, Haley Zant (Vista PEAK) won her fourth straight APS title in the 100 freestyle and Tristyn DiPentino (Vista PEAK) in the 200 individual medley and diver Mercedes Capozzolo also won individually for Rangeview, which took all three relays.
Lutz prevented a sweep for Rangeview with victories in the 100 butterfly and 100 backstroke, which she captured in record-setting fashion.
The sophomore set Hinkley program records in both events the previous day in prelims, then bettered herself in the finals with times of 1 minute, 5.22 seconds, in the butterfly and 1:06.28 in the backstroke.
Both program records were set in 1980 and were held by Larice Temple (100 butterfly) and Karen Zuzelski (100 backstroke).
Gateway, which got a pair of top-five individual finishes from Jenny Lorie, finished third, followed in fourth by Aurora Central, which was led by its third-place 200 yard medley relay team.
Courtney Oakes is Sentinel Colorado Sports Editor. Reach him at 303-750-7555 or [email protected] Twitter: @aurorasports. IG: Sentinel Prep Sports
31ST AURORA PUBLIC SCHOOLS CHAMPIONSHIP GIRLS SWIM MEET
Feb. 1, 2020, at Hinkley High School
Team scores: 1. Rangeview 529 points 2. Hinkley 284; 3. Gateway 170; 4. Aurora Central 107
200 yard medley relay: 1. Rangeview (Irene Kim, Tiffany Vo, Jasmine Johnson, Tristyn DiPentino), 2 minutes, 8.71 seconds; 200 yard freestyle: 1. Julie Maldonado (Rangeview), 2 minutes, 15.28 seconds; 200 yard individual medley: 1. Tristyn DiPentino (Rangeview) 2 minutes, 46.76 seconds; 50 yard freestyle: 1. Jasmine Johnson (Rangeview), 26.94 seconds; 1-meter diving — 1. Mercedes Capozzolo (Rangeview), 310.25 points; 100 yard butterfly: 1. Alyssa Lutz (Hinkley), 1 minute, 5.22 seconds (Hinkley program record); 100 yard freestyle: 1. Haley Zant (Rangeview), 59.56 seconds; 500 yard freestyle: 1. Julie Maldonado (Rangeview), 6 minutes, 11.54 seconds; 200 yard freestyle relay: 1. Rangeview (Jasmine Johnson, Tiffany Vo, Taralyn Brennan, Haley Zant), 1 minute, 56.27 seconds; 100 yard backstroke: 1. Alyssa Lutz (Hinkley), 1 minute, 6.28 seconds (Hinkley program record); 100 yard breaststroke: 1. Jasmine Johnson (Rangeview), 1 minute, 12.77 seconds; 400 yard freestyle relay: 1. Rangeview (Haley Zant, Leily Le, Gracey Loucks, Julie Maldonado), 4 minutes, 17.15 seconds
— Full 2020 APS Championship meet results, here