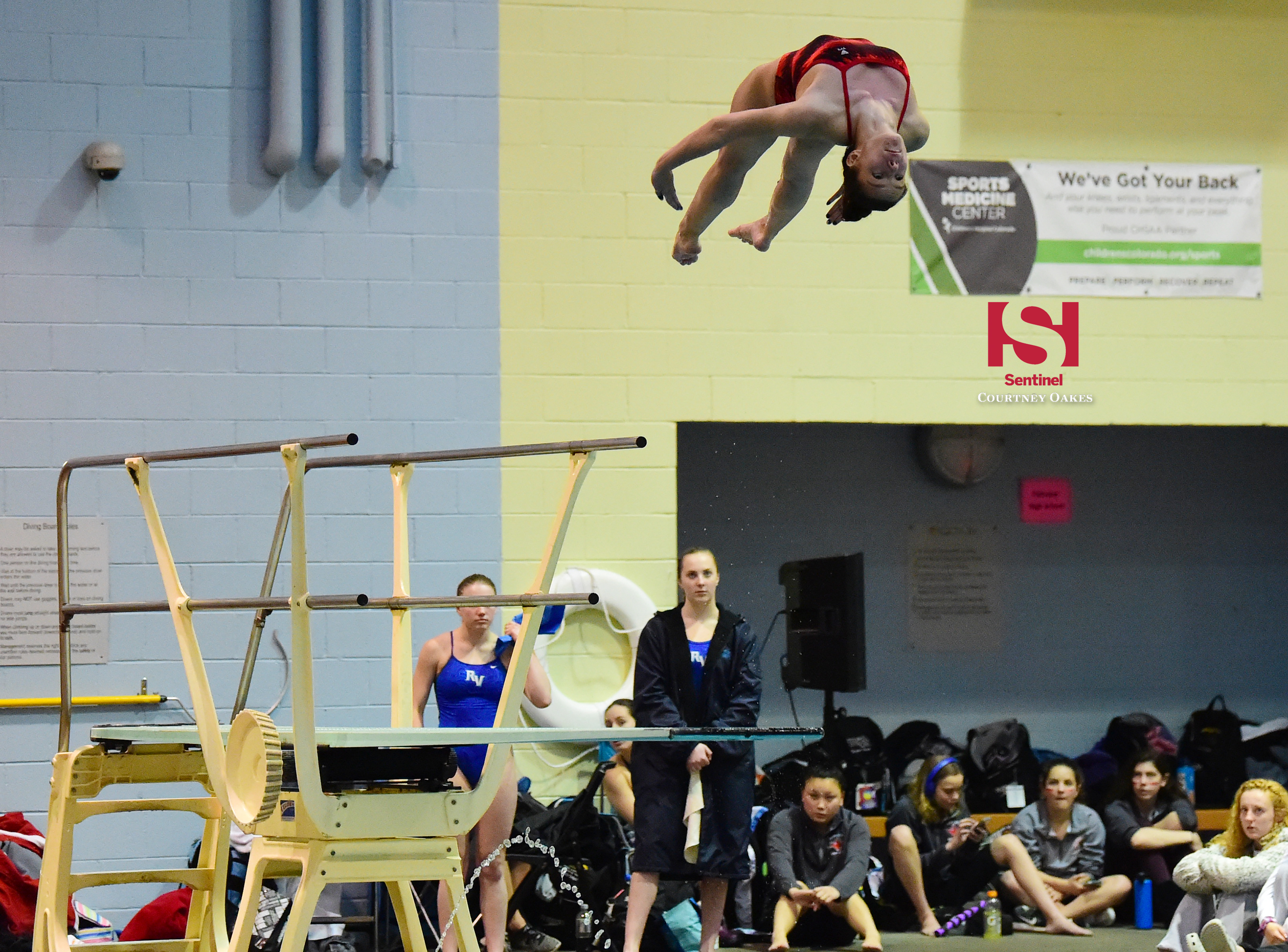 THORNTON | Sarah Mortenson saved her best for last Saturday.
The Rangeview senior nailed her final dive at the Class 5A girls state swim meet at the Veterans' Memorial Aquatic Center, which helped her post her a score of 411.28 points and capture 13th place.
Mortenson's score came up 4.12 point shy of what she recorded at state in her junior year, but it landed her the same spot in the final diving rankings. There were 20 divers in the finals this season instead of 16, one of the byproducts of a change passed by the Colorado High School Activities Association's Legislative Council in April.
"My last dive — my front one and a half, two twists — was definitely rough this morning in warmups and all week, so the fact that I made it in the finals was great," Mortenson said. "I could tell that I rode the board a lot better, so I could tell it was going to come around pretty easily."
A week after she scored 450.10 points to win the EMAC championship for a third straight season, Mortenson racked up 194.15 points through preliminary round (even though she found it difficult to be awake enough for the morning prelims) and gathered 307.80 points by the end of the semifinals. She and Smoky Hill senior Jaclyn Santiago were the lone Aurora divers to qualify for the finals.
Mortenson — who missed the finals as a freshman, placed 16th as a sophomore and 13th in each of her last season seasons at state — has a scholarship to dive at Western State next year.
Coach Peter Gerard's Rangeview team had three relay groups and junior Jasmine Johnson (100 yard breaststroke) compete in prelims, though none made it back to championship or consolation finals.
Johnson swam on all three relays and clocked the 65th-fastest time in the breaststroke prelims (1 minute, 12.72 seconds), while senior Keaghan Banaitis and junior Haley Zant swam on all three relays as well for the Raiders and junior Avery Hill swam on both freestyle relays.
Courtney Oakes is Sentinel Sports Editor. Reach him at 303-750-7555 or [email protected] Twitter: @aurorasports. FB: Sentinel Prep Sports
RANGEVIEW'S 2019 CLASS 5A STATE SWIM PLACER
Sarah Mortenson (13th, 1-meter diving)
RANGEVIEW PRELIM RESULTS
200 yard medley relay: 30. Rangeview (Lauren Graff, Jasmine Johnson, Haley Zant, Keaghan Banaitis), 2 minutes, 1.37 seconds; 200 yard freestyle relay: 33. Rangeview (Jasmine Johnson, Keaghan Banaitis, Avery Hill, Haley Zant), 1:49.26; 100 yard breaststroke: 65. Jasmine Johnson, 1:12.72; 400 yard freestyle relay: 29. Rangeview (Haley Zant, Avery Hill, Keaghan Banaitis, Jasmine Johnson), 3:58.47
200 med 1:59.66; 200 1:48.59; 400 free 3:56.57; 1;11.69