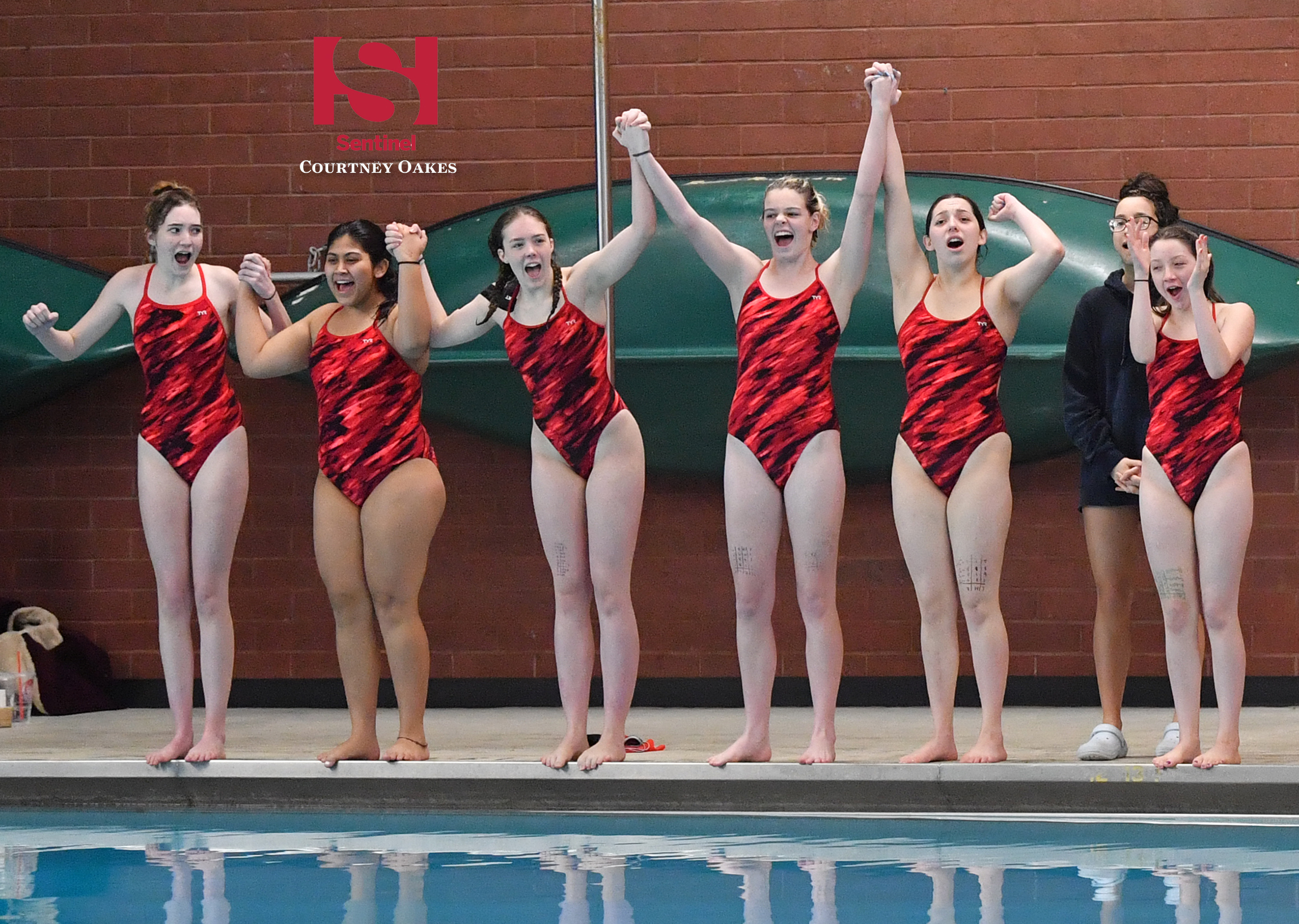 AURORA | Robin Allen is so used to her Rangeview team winning the annual Aurora Public Schools Championship girls swim meet that she knows a celebratory dip in the pool is coming.
Allen — in her second stint as head coach of the Raiders — came to her home pool Jan. 22 prepared for the very likely chance that the Raiders would win 33rd annual gathering with the Aurora Central, Gateway and Hinkley for the 19th straight time.
With help from two individual championships apiece from senior Savannah Snow and sophomore Kayla Allen and wins from five others, Rangeview did so by winning 11 of 12 events for a total of 469 points, which put them well in front of the Thunder (179), Olympians (138) and Trojans (134).
"I remembered to bring an extra set of clothes this time," Robin Allen joked. "A lot of people had really great swims, some of the splits on the relays were fantastic and the girls just really pushed themselves."
Junior Kateland Rodriguez, sophomores Hailey McDonald, Shemiah Turner and Bella Gonzalez and freshman Fernanda Recio also won events for Rangeview, which also took two of the three relays.
The Raiders — who haven't been beaten at the meet for the last two decades with the 2021 meet lost to the coronavirus pandemic — still find great pleasure in winning, but moreso in the meet with its overwhelming sense of camaraderie among the teams.
"We're a big team, so we usually have a lot of advantages going into this meet and we have a really strong team," said Snow, who won the 50 yard freestyle and 100 yard backstroke.
"Even though we almost have that guarantee just based on the size of our team, we are always so supportive of the other schools. …This is my favorite meet, everyone is so nice to each other and cheering for everybody. I've always loved that part."
There was plenty to cheer about on the Rangeview side in terms of performances.
Snow repeated as the APS backstroke champion and also won the 50 freestyle (after she took the 200 freestyle in 2022), Gonzalez won a championship for the second straight season (the 100 yard breaststroke after she took the 200 yard individual medley last season) and McDonald repeated as the district champion in diving.
Kayla Allen earned her first two APS titles when she bested three other teammates in the 100 yard butterfly after she eased to the 200 IM.
"The fly was what I was most proud of because the competition was very close and I think I did very well for being really tired," Allen said. "I really pushed myself."
Rodriguez took the 200 freestyle, Turner claimed the 100 — with a win by just 0.11 of a second over teammate Daveah Archibeque — and Recio claimed the 500 as Rangeview showed its strength in every area.
The Raiders might have had a clean sweep of the events, but both of its teams were disqualified in the meet-opening 200 medley relay (as was one of Hinkley teams), which made the Aurora Central team of of Persais De Haro, Audrey Sandoval, Bernice Guerrero and Lizzett Mireles the APS champions in the event.
Coach Beth Himes' runner-up Hinkley team — which swam without graduated Alyssa Lutz, a two-event winner at the meet in 2022 — got two championship finals appears from Vicky Castellon and Janelle Hawley, plus a third place from Lizzie Baker in diving.
"I think we had a good meet," Himes said. "It was the first time a lot of my girls had been to a championship-type meet, so it was good for them to experience it."
Gateway had a runner-up in the 200 yard individual medley in junior Fenix D'Zorn, who also swam on all three of the relays, including the 200 medley and 400 yard freestyle teams that finished as runners-up, for coach Lizzie Lansdown's Olys.
Aside from the championship in the 200 yard medley relay (in which it dropped three seconds from prelims), coach Barbara Dirscherl's Aurora Central team got two championship finals swim from Guerrero and De Haro.
The APS Championship meet took place a week earlier than usual due to a change in leagues for Hinkley and Rangeview, which were part of the now-defunct EMAC last year, but have since moved into the City League (formerly the Denver Prep League).
Per its tradition, the City League holds "A" and "B" League meets on consecutive weekends — the same way the Centennial and Continental leagues do — while the EMAC used to conduct just a single championship meet.
The City League "B" and "A" League meets will be held at Hinkley on consecutive weekends.
Courtney Oakes is Sentinel Colorado Sports Editor. Reach him at [email protected] Twitter: @aurorasports. IG: Sentinel Prep Sports
33RD AURORA PUBLIC SCHOOLS CHAMPIONSHIP GIRLS SWIM MEET

Jan. 21 at Rangeview H.S.
Team scores: 1. Rangeview 469 points; 2. Hinkley 179; 3. Gateway 138; 4. Aurora Central 134
Event champions: 200 yard medley relay — 1. Aurora Central (Persais De Haro, Audrey Sandoval, Bernice Guerrero, Lizzett Mireles), 2 minutes, 43.42 seconds; 200 yard freestyle — 1. Kateland Rodriguez (Rangeview), 2 minutes, 31.43 seconds; 200 yard indiv. medley — 1. Kayla Allen (Rangeview), 2 minutes, 45.26 seconds; 50 yard freestyle — 1. Savannah Snow (Rangeview), 27.54 seconds; 1-meter diving — 1. Hailey McDonald (Rangeview), 315.75 points; 100 yard butterfly — 1. Kayla Allen (Rangeview), 1 minute, 13.09 seconds; 100 yard freestyle — 1. Shemiah Turner (Rangeview), 1 minute, 7.29 seconds; 500 yard freestyle — 1. Fernanda Recio (Rangeview), 6 minutes, 48.13 seconds; 200 yard freestyle relay — 1. Rangeview (Shemiah Turner, Kayla Allen, Lexi Finnimore, Savannah Snow), 2 minutes, 1.06 seconds; 100 yard backstroke — 1. Savannah Snow (Rangeview), 1 minute, 13.90 seconds; 100 yard breaststroke — 1. Bella Gonzalez (Rangeview), 1 minute, 29.07 seconds; 400 yard freestyle relay — 1. Rangeview (Kateland Rodriguez, Fernanda Recio, Lexi Finnimore, Hailey McDonald), 4 minutes, 40.48 seconds
— Full APS Championship meet results, here