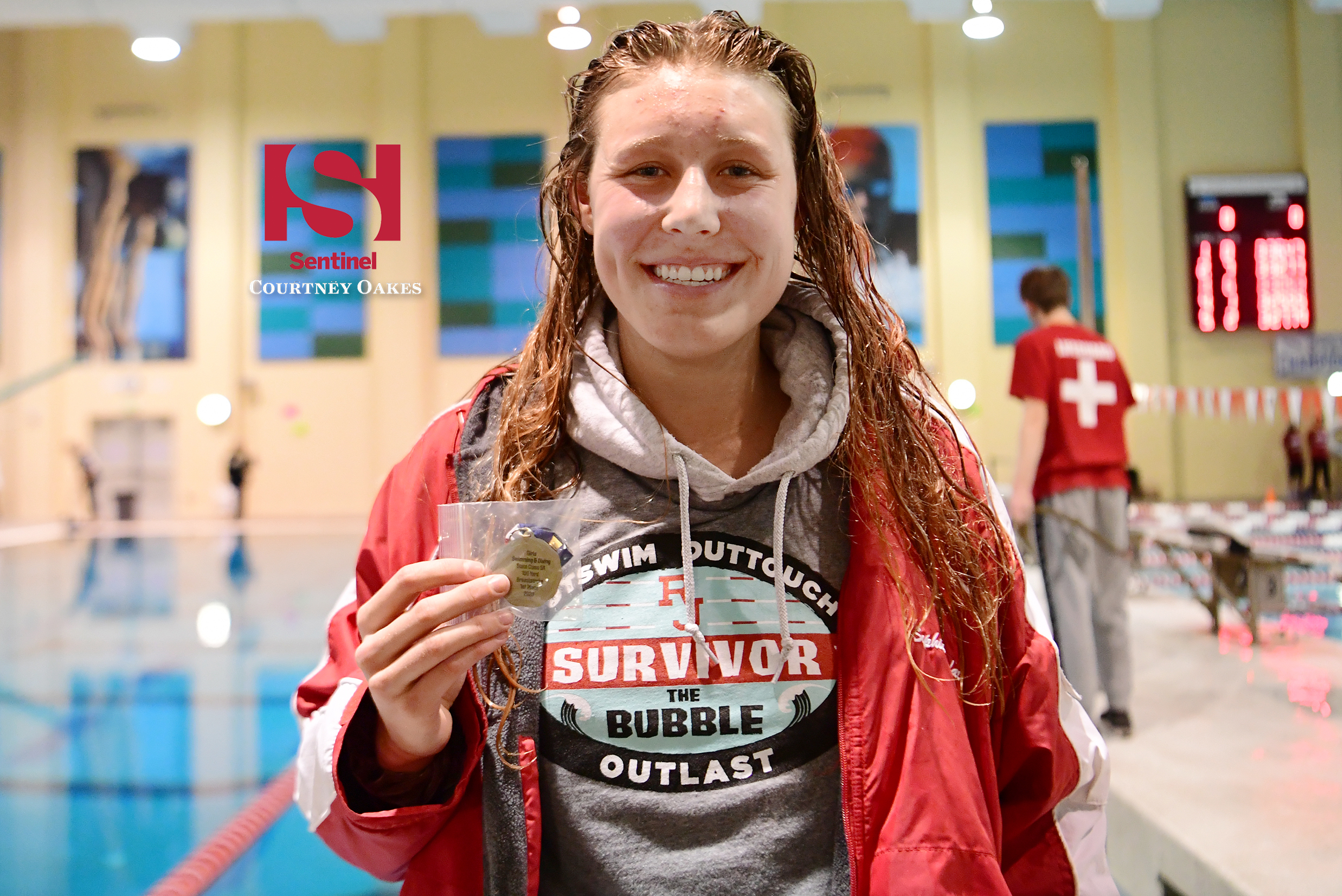 Genetically, Sophia Bradac probably should have been a distance freestyle swimmer.
Neither the Regis Jesuit girls swim star nor her younger sister, Catherine, inherited that inclination from their father, however.
Bradac gravitated towards the breaststroke and she ended her prep career as the best one in the state of Colorado when she won the event at the Class 5A state championship Feb. 14 at the Veterans' Memorial Aquatic Center.
"My dad was a backstroker and swam distance freestyle, too, mainly, so he has no idea where we learned to swim the breaststroke," Bradac said shortly after wrapping up an extremely successful prep swimming career.
"I have another younger sibling who also enjoys the breaststroke, so I guess it's a family thing," she added.
Her proficiency in the breaststroke has opened quite a few doors for Bradac, who has signed to swim at Notre Dame and has qualified to swim the 100 meter version of the event at the U.S. Olympic Trials in June in Omaha, Nebraska.
Bradac's final prep breaststroke race was special because she touched the wall first in the event in a high school best time of 1 minute, 2.22 seconds — which topped her previous best time by a mere 0.01 of a second — but it was even more special because of the fact that Catherine raced in the final as well.
It nearly happened last season, but Catherine Bradac finished just outside of the top 10 needed to make the championship final and instead won the consolation heat. She moved up 10 spots from her pre-meet seeding — posting the fifth-fastest time in prelims — to become the second family finalist.
Catherine Bradac ended up eighth.
"It was really awesome, it's not every day that siblings get to go to the finals together, let along my senior year," Sophia Bradac said. "It was really special, especially since I won't be here with her next year. It was a really good way to end the season."
It was a better way to end than last season, when Bradac saw the title slip away when Fairview's Emma Weber surged past her in the final 25 yards to earn the victory by 0.34 of a second.
This time Heritage's Aislyn Barnett tried to play the spoiler and closed fast, but finished just 0.65 of a second behind Bradac, who was solely focused on her finish.
"I had no idea she (Barnett) was that close and I didn't see her," Bradac said. "Honestly, I was just trying to make it to the wall as fast as I could. I was building my last 25 because I knew I wanted it. I didn't know it was that close, but it was great."
Bradac won the championship despite a season full of "struggles" that included training for several club meets, which impacted her when she
Teammate Jada Surrell-Norwood —who was selected by coaches as 5A's Swimmer of the Year — had an uneven season like Bradac and she was glad it ended well, even though she wasn't able to duplicate her victory in the 100 yard freestyle from her junior season.
"I was really happy for Sophia, she deserves it," said Surrell-Norwood, who swam with Bradac on the third-place 400 yard freestyle relay as well. "She works really hard inside the pool and out and she's the most dedicated girl I've ever met. She keeps me going and I get a lot of encouragement from her that gets me through it."
Regis Jesuit coach Nick Frasersmith also took pleasure in seeing the final result for Bradac, who swam the breaststroke at state meet for the fourth straight season and moved up from ninth as a freshman to fifth as a sophomore to runner-up last season and finally state champ.
"It was so awesome to see Sophia go out as a state champion," Frasersmith said.
Courtney Oakes is Sentinel Colorado Sports Editor. Reach him at 303-750-7555 or [email protected] Twitter: @aurorasports. IG: Sentinel Prep Sports