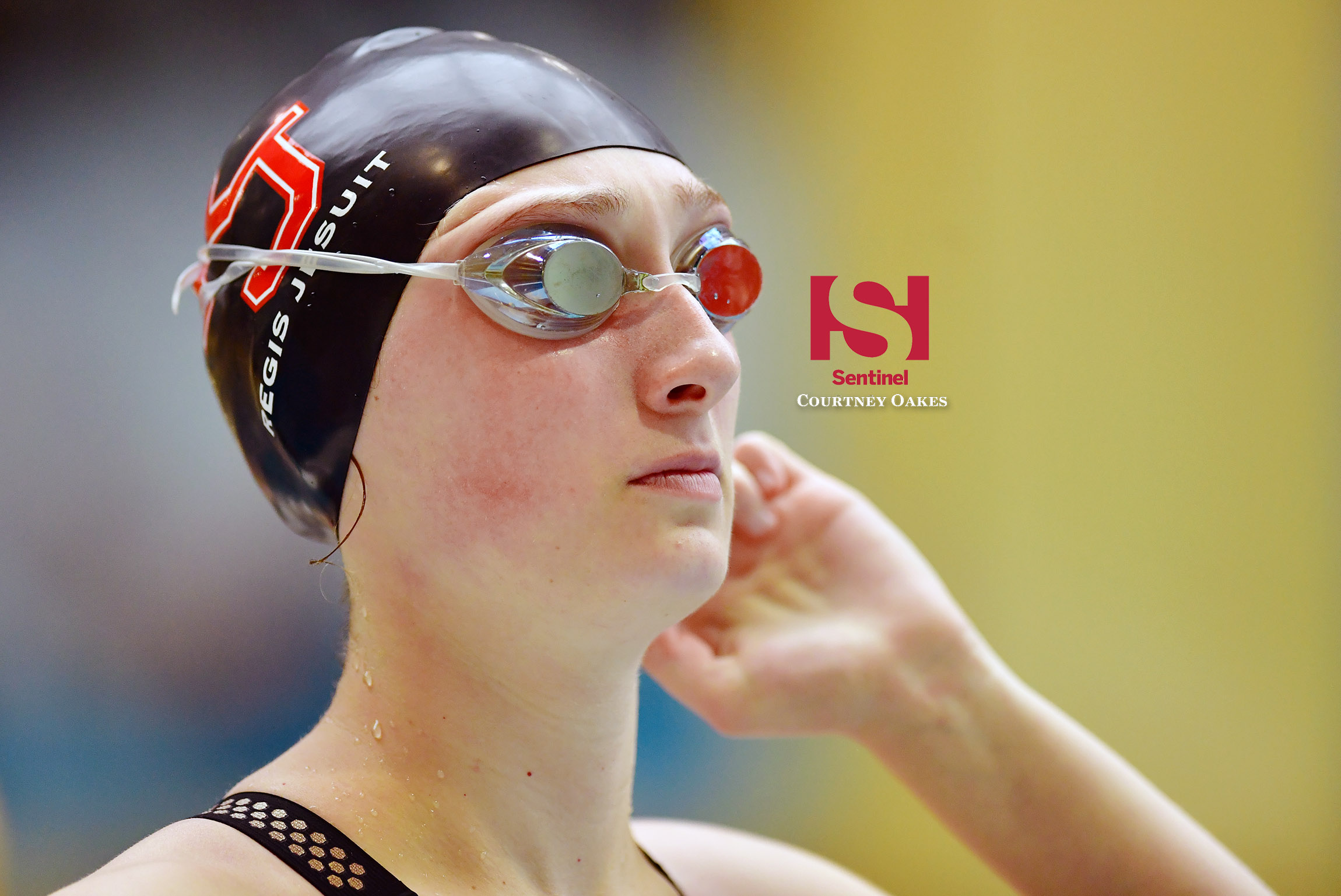 AURORA | The fastest 100 yard breaststroker in the national prep ranks during the 2020-21 girls swim season hailed from an Aurora program, as Regis Jesuit junior Emma Weber topped the list in the event in the All-American lists issued Friday by the National Interscholastic Swim Coaches Association.
Not only did the time of 59.93 seconds Weber clocked on March 21 at the Veterans' Memorial Aquatic Center win her the Class 5A state championship in the 100 breaststroke, it was also the only official time submitted to NISCA that broke the 1 minute barrier in the event during a season affected by the coronavirus pandemic.
Weber — a University of Virginia commitment who went on to swim at the U.S. Olympic Trials in June — finished as an All-American four times over for coach Nick Frasersmith's Raiders, as she also earned the honor individually in the 200 yard individual medley and with Regis Jesuit's 200 yard medley and 200 yard freestyle relay teams. Her 5A state championship-winning IM time of 2:01.08 put her 24th nationally.
The Raiders' other individual All-American performances this season came from senior Catherine Bradac and junior Grace Dale.
Bradac (a Boston College signee) gave Regis Jesuit two All-American breaststrokers as her time of 1:03.52 — which did not come at the state meet, where she finished eighth — put her 84th nationally. Dale (who verbally committed to Tulane after the season) parlayed the time of 23.48 seconds that put her fourth in the 50 yard freestyle at the state meet into a tie for the 77th place position on the NISCA All-American list.
Juniors Allie Sanchez and Greta Leege and sophomore Rosie Jump contributed to the All-American performance of Regis Jesuit's 20th-ranked 200 medley relay team and Leege and Jump combined with Weber and Dale on the country's 56th-fastest 200 freestyle relay.
Grandview — which finished eighth at the state meet — joined the All-American mix as well.
Coach Karen Ammon's Wolves had a pair of All-American honors as well, which came individually from senior Julia Matney, who was also on the the 200 and 400 yard freestyle relay teams that earned the accolade as well.
Matney finished sixth at the state meet in the 100 yard butterfly, but swam faster in a previous meet with a 55.20 that gave the Fresno State signee All-American status as the 75th-fastest in the country.
Matney teamed with fellow senior Hailey Matthews and freshmen Amelia Brown and Keira Vail for a time of 3:29.41 in the 400 freestyle relay that tied Grandview for 63rd nationally, while the state meet time of 1:36.91 achieved by the team of Matney, senior Jenna Moss, junior Skylar Nollenberger and Brown put then 94th nationally in the 200 freestyle relay.
Boulder, Broomfield, Chatfield, Cherry Creek, Cheyenne Mountain, Fossil Ridge, Heritage, Legacy, Lewis-Palmer, Mullen, Niwot and Rampart also were represented.
Courtney Oakes is Sentinel Colorado Sports Editor. Reach him at [email protected] Twitter: @aurorasports. IG: Sentinel Prep Sports
2020-21 COLORADO GIRLS SWIMMING NISCA ALL-AMERICANS
200 yard medley relay: 4. Fossil Ridge (Renee Gillilan, Mahal Erlandson, Rylee O'Neil, Lucy Bell), 1 minute, 40.88 seconds; 5. Boulder (Jenna Reznicek, Julianne Jones, Edie Simicek, Morgan Lukinac), 1:41.54; 15. Heritage (Anna Shaw, Aislyn Barnett, Inge Ehm, Amaia Sherman), 1:42.86; T20. REGIS JESUIT (Allie Sanchez, Emma Weber, Greta Leege, Rosie Jump), 1:43.12; 23. Cherry Creek (Charlotte Wilson, Teagan Steinmetz, Alexis Greenhawt, Avery Hall), 1:43.26; 30. Broomfield (Abbie Kehmeier, Sabrina Rachjaibun, Sydney Bales, Indigo Armon), 1:43.79; 40. Mullen (Charlotte Burnham, Claire Chahbandour, Lindsey Sowitch, Chase Davison), 1:44.11; 70. Lewis-Palmer (Sydney McKenzie, Katelyn McClelland, Hannah Schoenauer, Abigail Nelson), 1:45.53
200 yard freestyle: 7. Mary Codevilla (Niwot), 1 minute, 46.31 seconds; 17. Kathryn Shanley (Chatfield), 1:47.32; 24. Chase Davison (Mullen), 1:48.04; 32. Karolina Bank (Fairview), 1:48.58; 41. Caroline Bricker (Cheyenne Mountain), 1:49.06; 52. Elizabeth Brock (Cherry Creek), 1:49.41
200 yard individual medley: 13. Caroline Bricker (Cheyenne Mountain), 1 minute, 59.39 seconds; 22. Mahala Erlandson (Fossil Ridge), 2:01.01; 24. EMMA WEBER (REGIS JESUIT), 2:01.08; 37. Charlotte Burnham (Mullen), 2:02.11; 48. Sabrina Rachjaibun (Legacy), 2:02.64
50 yard freestyle: 3. Anna Shaw (Heritage), 22.22 seconds; T25. Lucy Bell (Fossil Ridge), 22.99; T60. Lawson Ficken (Cherry Creek), 23.32; T75. Morgan Lukinac (Fairview), 23.46; T77. GRACE DALE (REGIS JESUIT), 23.48; T80. Avery Turney (Chatfield), 23.50; T86. Lindsey Immel (Rampart), 23.52
100 yard butterfly: 4. Lucy Bell (Fossil Ridge), 52.38 seconds; 16. Eddie Simecek (Fairview), 53.75; T30. Alexis Greenhawt (Cherry Creek), 54.24; T37. Caroline Bricker (Cheyenne Mountain), 54.39; T37. Jenna Reznicek (Fairview), 54.39; T57. Sydney Bales (Legacy), 54.88; 75. JULIA MATNEY (GRANDVIEW), 55.20
100 yard freestyle: 3. Anna Shaw (Heritage), 48.13 seconds; 11. Lucy Bell (Fossil Ridge), 49.37
500 yard freestyle: 6. Kathryn Shanley (Chatfield), 4 minutes, 45.71 seconds; 11. Mary Codevilla (Niwot), 4:46.79; 25. Elizabeth Brock (Cherry Creek), 4:50.48; 40. Caroline Bricker (Cheyenne Mountain), 4:53.67
200 yard freestyle relay: 8. Fairview (Samantha Mosier, Karolina Bank, Julia Urbanowski, Morgan Lukinac), 1 minute, 33.80 seconds; 17. Cherry Creek (Lawson Ficken, Alexis Greenhawt, Avery Hall, Jenna Smith), 1:34.45; 25. Mullen (Gabrielle Zinis, Claire Chahbandour, Lindsey Sowitch, Chase Davison), 1:34.84; T33. Niwot (Jamieson Legh, Mia Prok, Emiley Yie, Mary Codevilla), 1:35.05; 56. REGIS JESUIT (Greta Leege, Rosie Jump, Emma Weber, Grace Dale), 1:35.74; 94. GRANDVIEW (Julia Matney, Jenna Moss, Skylar Nollenberger, Amelia Brown), 1:36.91
100 yard backstroke: 15. Sydney Bales (Legacy), 53.95 seconds; 20. Anna Shaw (Heritage), 54.27; T26. Jenna Reznicek (Fairview), 54.41; T32. Chase Davison (Mullen), 54.62; T43. Edie Simecek (Fairview), 55.03; 67. Abigail Storm (Chatfield), 55.58; 80. Claire Timson (Rampart), 55.79
100 yard breaststroke: 1. EMMA WEBER (REGIS JESUIT), 59.93 seconds; 36. Aislyn Bennett (Heritage), 1:02.30; 40. Mahala Erlandson (Fossil Ridge), 1:02.43; 42. Claire Chahbandour (Mullen), 1:02.50; T48. Sydney McKenzie (Lewis-Palmer), 1:02.73; 51. Katelyn McClelland (Lewis-Palmer), 1:02.74; 52. Charlotte Burnham (Mullen), 1:02.77; 53. Karolina Bank (Fairview), 1:02.84; T63. Teagan Steinmetz (Cherry Creek), 1:03.14; 78. Julianne Jones (Boulder), 1:03.37; 84. CATHERINE BRADAC (REGIS JESUIT), 1:03.52
400 yard freestyle relay: 11. Fossil Ridge (Lucy Bell, Rylee O'Neil, Mahala Erlandson, Emily Rinker), 3 minutes, 24.68 seconds; 15. Boulder (Samantha Mosier, Jenna Reznicek, Edie Simecek, Karolina Brink), 3:25.33; 26. Cherry Creek (Lawson Ficken, Elizabeth Brock, Madison Saldanha, Jenna Smith), 3:26.67; 27. Chatfield (Avery Turney, Abigail Storm, Meghan Mulvihill, Kathryn Shanley), 3:26.74; 30. Heritage (Kenzie Myco, Carolina Dimig, Cora Buelow, Anna Shaw), 3:27.03; T40. Niwot (Jamieson Legh, Mia Prok, Emiley Yie, Mary Codevilla), 3:28.15; 58. Legacy (Abigail Zadorozny, Sabrina Rachjaibun, Sydney Bales, Indigo Armon), 3:29.07; T63. GRANDVIEW (Amelia Brown, Keira Vail, Julia Matney, Hailey Matthews), 3:29.41