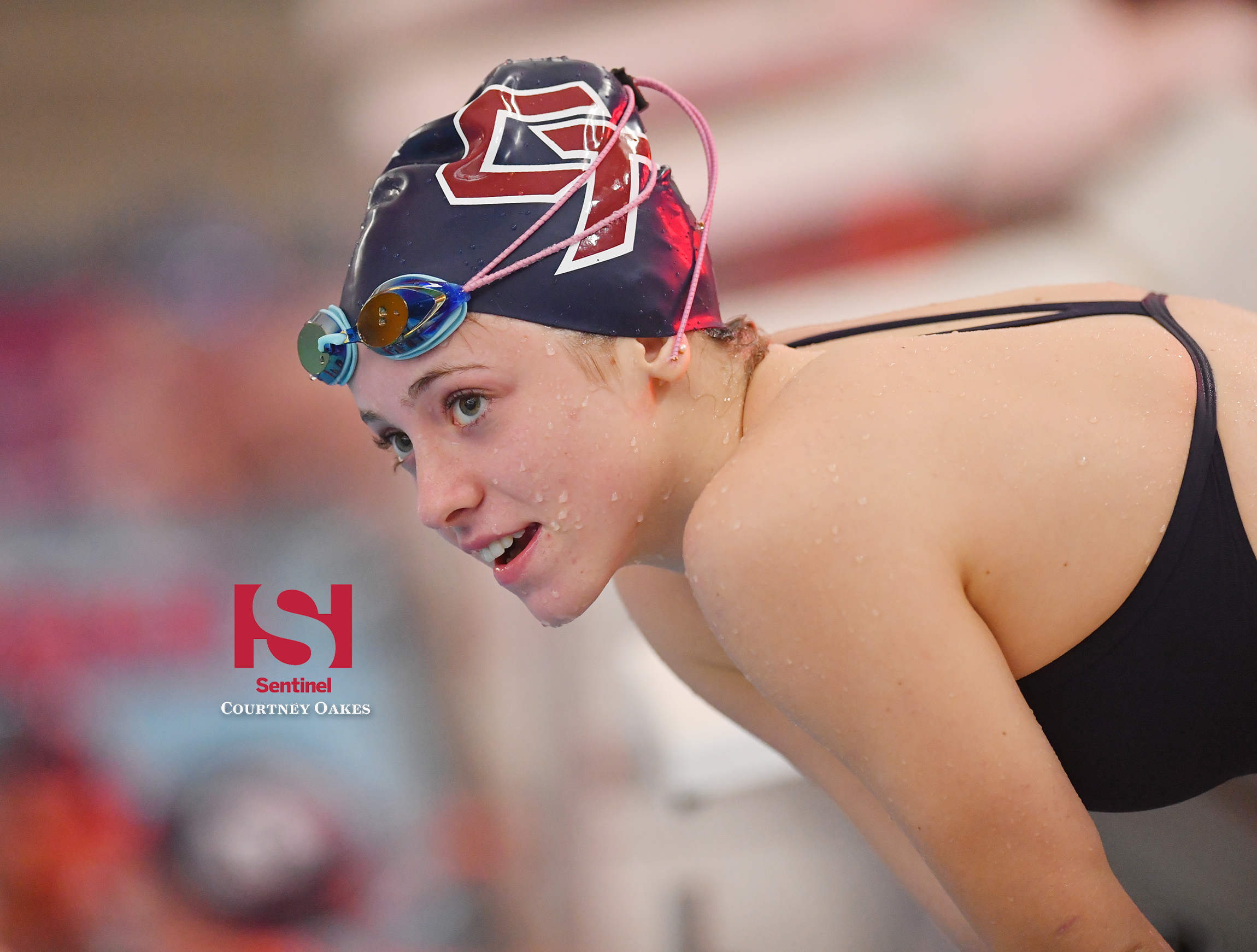 GREENWOOD VILLAGE | When he saw his swimmers finished second, third and fourth in the 50 yard freestyle during Thursday's dual meet at Cherry Creek, Cherokee Trail girls swim coach Kevin Chatham started to see the possibilities.
He had constructed his lineup for the best chance to challenge the Class 5A top-ranked and state championship favorite Bruins and his team performed exactly how he had hoped.
Senior Morgan Walker, sophomores Olivia Jisa and Ella Drakulich won events individually and Cherokee Trail also captured the 200 yard freestyle and 400 yard freestyle relays on its way to a 97-89 victory. It was the first time in program history that the Cougars have defeated Cherry Creek in a dual meet.
"That's the perfect way to end the dual meet season on the road against the No. 1 team in the state and walk away with a win," Chatham said. "The whole plan was we needed to test ourselves against the best in the state and let's see what happens. We hope we can keep that going into leagues and state."
While Chatham — who currently has 10 individuals and all three relay teams qualified for the 5A state meet — believes the Bruins might not have deployed their top lineup, he was very pleased with his team's performance, especially considering Cherry Creek had a 10-point advantage in the diving competition by sweeping the top three places.
Jisa got Cherokee Trail off to a good start when she tied for first in the 200 yard freestyle along with Cherry Creek's Madison Williams, which was followed by Drakulich's victory in a tight 200 yard individual medley.
Freshmen Jameson Young and Bella Lane then finished second and third in the 50 yard freestyle behind Bruins star Alexis Greenhawt, while junior Sarah Woren took fourth in an event in which the top five finishers all posted 5A state qualifying times.
Walker opened up the second half of the meet with a comfortable victory in the 100 yard butterfly and was flanked by Metzmaker in third, while Lane was just touched out in the 100 freestyle with Woren just behind her as well.
Cherokee Trail's 200 yard freestyle relay of Young, Lane, Woren and senior Mckenna Mazeski — which Chatham believes is the strongest unit his team has currently — won that event by more than a full second, which preceded runner-up finishes by Walker in the 100 backstroke and Young in the 100 breaststroke.
The Cougars clinched the meet with a win of better than three seconds in the 400 freestyle from the team of Woren, Lane, Mazeski and Metzmaker.
Next up is the Centennial "B" and "A" League meets — at Smoky Hill and Arapahoe, respectively — the next two weeks leading up to the state meet Feb. 9-10 at the Veterans' Memorial Aquatic Center.
"I don't think this was their best swimming either," Chatham said. "I beat them up pretty good at this point in the season (with training). We haven't hit taper yet, so I think we're going to see some even faster swims in the next few weeks."
Courtney Oakes is Sentinel Colorado Sports Editor. Reach him at [email protected] Twitter: @aurorasports. IG: Sentinel Prep Sports
Cherokee Trail 97, Cherry Creek 89
200 yard medley relay — 1. Cherry Creek A, 1 minute, 49.77 seconds (5ASQT); 2. CHEROKEE TRAIL A (Morgan Walker, Aria Clouse, Emme Metzmaker, Jameson Young), 1:54.03 (5ASQT); 3. CHEROKEE TRAIL B (Pacee Russell, Ella Drakulich, Giavelle Salsig, Madalynn Rodau), 1:58.22 (5ASQT); 4. Cherry Creek B, 2:00.05 (5ASQT); 200 yard freestyle — T1. OLIVIA JISA (CHEROKEE TRAIL), 2 minutes, 2.59 seconds; T1. Madison Williams (Cherry Creek), 2:02.59; 200 yard individual medley — 1. ELLA DRAKULICH (CHEROKEE TRAIL), 2 minutes, 18.59 seconds;
50 yard freestyle — 1. Alexis Greenhawt (Cherry Creek), 23.96 seconds (5ASQT); 2. JAMESON YOUNG (CHEROKEE TRAIL), 24.86 (5ASQT); 3. BELLA LANE (CHEROKEE TRAIL), 24.98 (5ASQT); 4. SARAH WOREN (CHEROKEE TRAIL), 25.09 (5ASQT); 5. Lily Esmas (Cherry Creek), 25.58 (5ASQT); 1-meter diving — 1. Delaney Price (Cherry Creek), 231.10 points; 4. BROOKLYN LUCAS THRASHER (CHEROKEE TRAIL), 179.40;
100 yard butterfly — 1. MORGAN WALKER (CHEROKEE TRAIL), 1 minute, 0.27 seconds (5ASQT); 2. Katie Cohen (Cherry Creek), 1:01.30 (5ASQT); 3. EMME METZMAKER (CHEROKEE TRAIL), 1:01.47 (5ASQT); 100 yard freestyle — 1. Alana Maxey (Cherry Creek), 54.36 seconds (5ASQT); 2. BELLA LANE (CHEROKEE TRAIL), 54.43 (5ASQT); 3. SARAH WOREN (CHEROKEE TRAIL), 54.63 (5ASQT); 500 yard freestyle — 1. Katie Cohen (Cherry Creek), 5 minutes, 33.84 seconds (5ASQT); 2. SAGE TRUSLER (CHEROKEE TRAIL), 5:36.71; 200 yard freestyle relay — 1. CHEROKEE TRAIL A (Jameson Young, Bella Lane, Mckenna Mazeski, Sarah Woren), 1 minute, 41.40 seconds (5ASQT); 2. Cherry Creek A, 1:43.07 (5ASQT); 3. CHEROKEE TRAIL B (Ella Drakulich, Aria Clouse, Madalynn Rodau, Meagan Walker), 1:48.65 (5ASQT); 100 yard backstroke — 1. Lily Esmas (Cherry Creek), 1 minute, 0.57 seconds (5ASQT); 2. MORGAN WALKER (CHEROKEE TRAIL), 1:02.88; 100 yard breaststroke — 1. Teagan Steinmetz (Cherry Creek), 1 minute, 6 seconds (5ASQT); 2. JAMESON YOUNG (CHEROKEE TRAIL), 1:11.05 (5ASQT); 400 yard freestyle relay — 1. CHEROKEE TRAIL A (Sarah Woren, Bella Lane, Mckenna Mazeski, Emme Metzmaker), 3 minutes, 43.59 seconds (5ASQT); 2. Cherry Creek A, 3:47.11 (5ASQT); 3. CHEROKEE TRAIL B (Morgan Walker, Sage Trusler, Seunghee Oh, Rachel Williams), 3:57.41 (5ASQT)