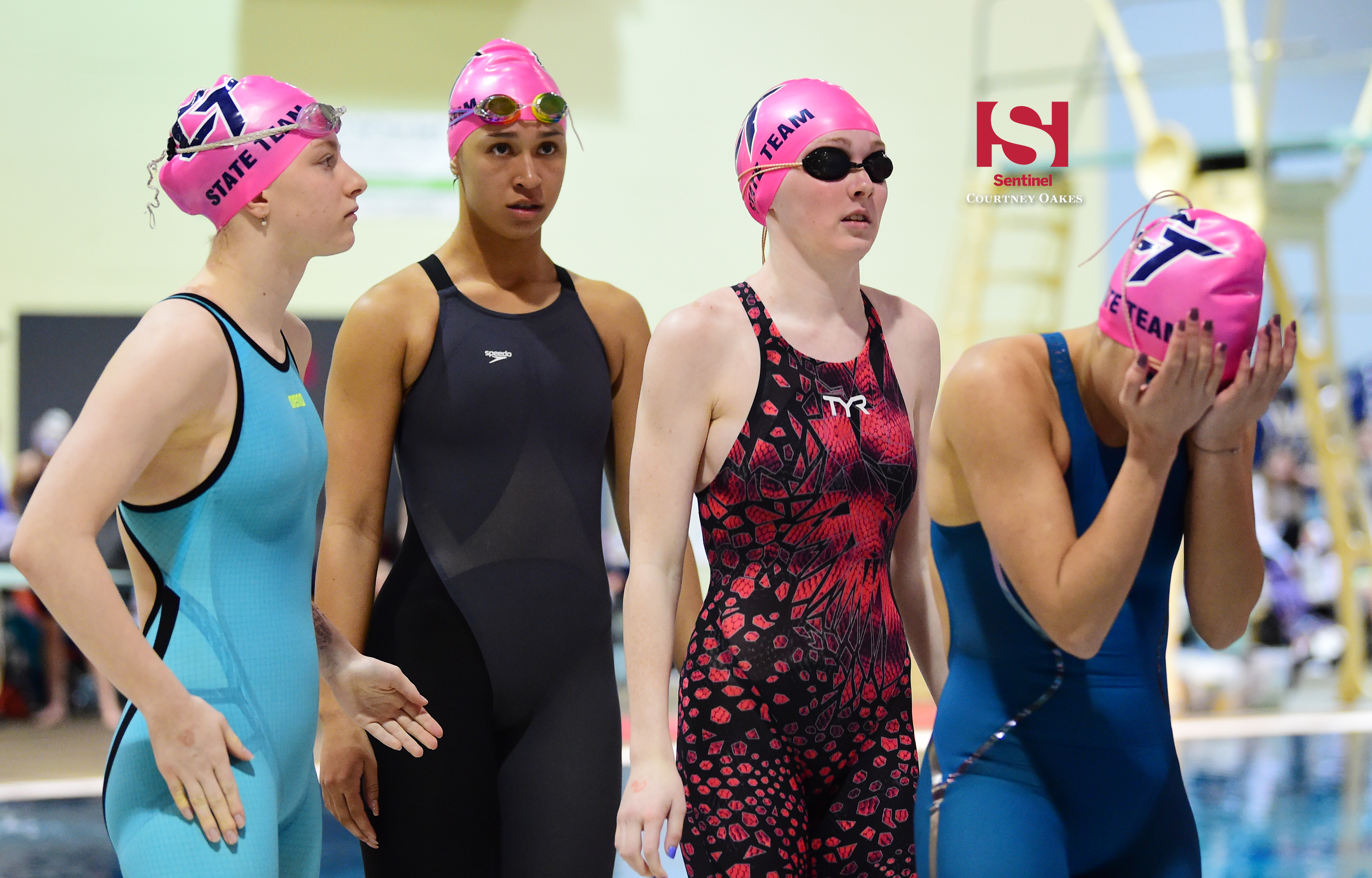 THORNTON | The Cherokee Trail girls swim team matched its highest-ever point total at the Class 5A state meet by collecting 14 when the meet concluded Saturday.
Coach Kevin Chatham's Cougars had one relay team make it back to consolation finals at last season's meet, but both the 200 and 400 yard freestyle relays each earned spots in the finals session at the Veterans' Memorial Aquatic Center.
The 400 freestyle team of senior Maddie Wilson, junior Sarah Torline, sophomore Tatum Louthan and freshman Skylar Brgoch recorded Cherokee Trail's top time of the season in its final swim as the group finished in 3 minutes, 42.21 seconds to claim 18th place.
The Cougars scored 10 more points than last season and finished 22nd out of 26 scoring teams (full team scores, championship and consolation finals results, here).
Wilson and fellow senior Caitlyn Agee-Keys, Louthan and Brgoch came up just shy of a season-best time in the 200 freestyle relay, as the 1:43.12 (17th place) they recorded was just a bit behind their seed time of 1:42.77.
The Cougars benefited from the change to 20 scoring places — up from the 16 previous — a move approved by the Colorado High School Activities Association's Legislative Council last April.
Cherokee Trail nearly had all three relay teams make it back, but the 200 medley relay swam the 22nd-fastest time and ended up as the second alternate with a time of 1:54.37.
Individually, Wilson had the Cougars' top individual result in prelims when she finished 34th in the 500 freestyle.
Courtney Oakes is Sentinel Sports Editor. Reach him at 303-750-7555 or [email protected] Twitter: @aurorasports. FB: Sentinel Prep Sports
CHEROKEE TRAIL'S 2019 CLASS 5A STATE SWIM PLACERS
Relays — 200 yard freestyle relay (Maddie Wilson, Tatum Louthan, Skylar Brgoch, Caitlyn Agee-Keys), 17th; 400 yard freestyle relay (Maddie Wilson, Sarah Torline, Tatum Louthan, Skylar Brgoch), 18th
CHEROKEE TRAIL PRELIM RESULTS
200 yard medley relay: 22. Cherokee Trail (Meghan Mai, Paige Hickman, Caitlyn Agee-Keys, Sarah Torline), 1 minute, 54.37 seconds; 200 yard freestyle: 36. Maddie Wilson, 2:00.89; 39. Skylar Brgoch, 2:02.19; 45. Tatum Louthan, 2:03.21; 200 yard individual medley: 54. Caitlyn Agee-Keys (Cherokee Trail), 2:19.75; 50 yard freestyle: 56. Sarah Torline, 25.69; 100 yard butterfly: 38. Skylar Brgoch, 1:00.81; 40. Caitlyn Agee-Keys, 1:00.93; 100 yard freestyle: 46. Sarah Torline, 55.88; 500 yard freestyle: 34. Maddie Wilson, 5:28.46; 200 yard freestyle relay: 19. Cherokee Trail (Maddie Wilson, Tatum Louthan, Skylar Brgoch, Caitlyn Agee-Keys), 1:44.21; 100 yard backstroke: 43. Meghan Mai, 1:01.87; 100 yard breaststroke: 67. Paige Hickman, 1:13.22; 400 yard freestyle relay: 20. Cherokee Trail (Maddie Wilson, Sarah Torline, Tatum Louthan, Skylar Brgoch), 3:45.58