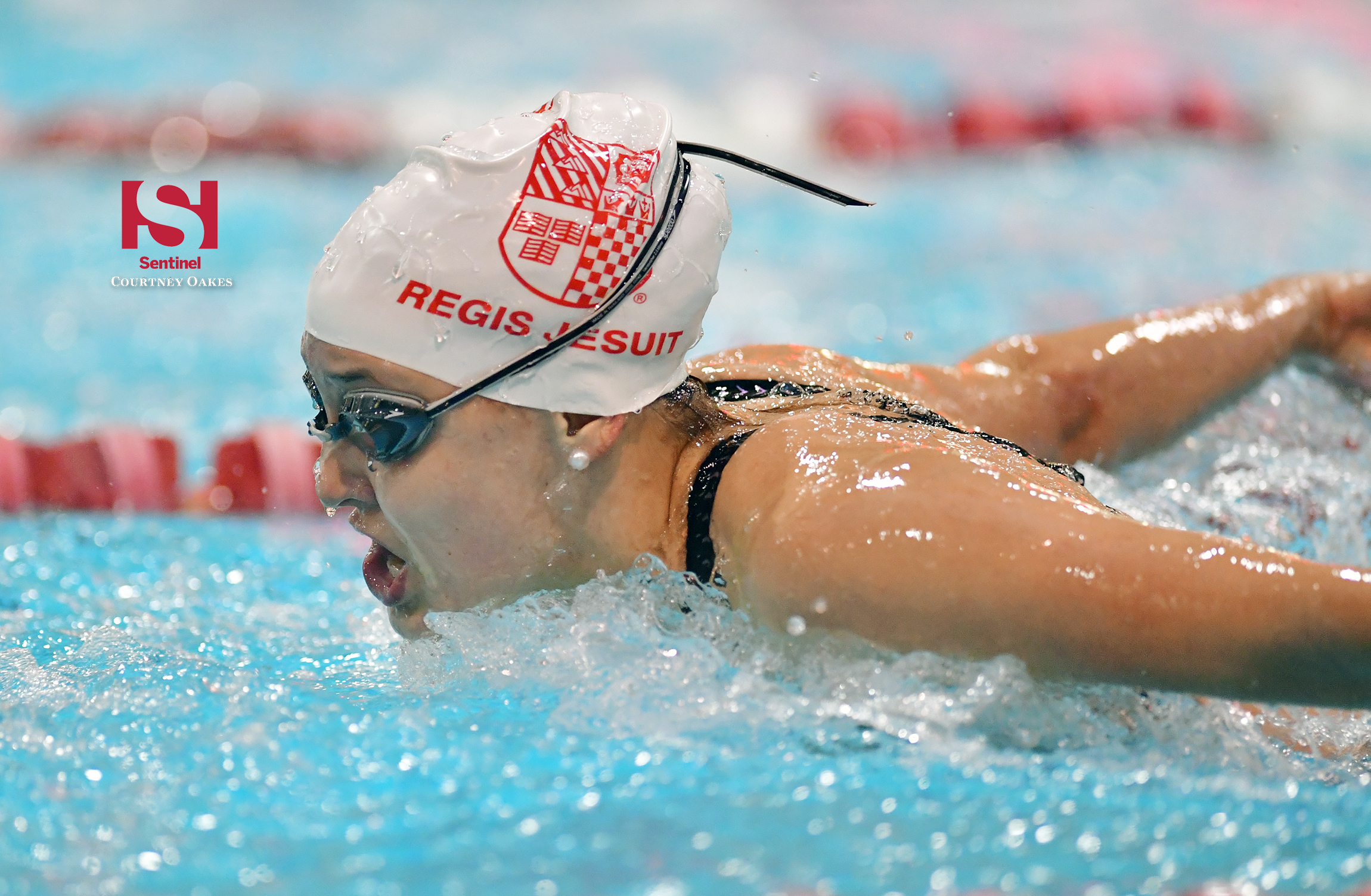 AURORA | A brief look at some of the details of the 2022 Class 5A girls state swim meet, scheduled for Feb. 15-16 at the Veterans' Memorial Aquatic Center in Thornton:
Courtney Oakes is Sentinel Colorado Sports Editor. Reach him at [email protected] Twitter: @aurorasentinel.com. IG: Sentinel Prep Sports

AURORA'S 2022 CLASS 5A GIRLS STATE SWIM MEET AT A GLANCE
SCHEDULE: Swimming prelims open the meet at 5 p.m. Feb. 15 at the Veterans' Memorial Aquatic Center. Diving prelims begin at 9:55 a.m. Feb. 16 and the diving competition will run until completed due to expected weather. Swim finals begin at 5 p.m.
TICKETS: Must be purchased online, not available for purchase onsite. Tickets are $15 for an all-day pass, which allows entrance two hours prior to start of each session. To buy tickets online, click here.
BREAKDOWN: Aurora has 53 individuals and 14 relay teams qualified to compete across five programs (full qualifiers list, here and below) as follows: Regis Jesuit (32 individuals & 3 relays), Grandview (13 individuals & 3 relays), Cherokee Trail (6 individuals & 3 relays), Smoky Hill (2 individuals & 3 relays) and Eaglecrest (2 relays). Scoring the meet on pre-meet psych sheets (courtesy of PrepSwimCo.com), Regis Jesuit would score 235 points and finish in fourth place, with Grandview (145) in 10th and Cherokee Trail (138) in 12th. The Raiders were third last season, the Wolves eighth and Cougars 21st.
RETURNING AURORA STATE CHAMPION: The lone returning state champion in the field from an Aurora program is Regis Jesuit senior Emma Weber, who won both the 200 yard individual medley and 100 yard breaststroke at last season's state meet. Weber has a chance to defend both titles and goes into state seeded No. 5 in the 200 IM and No. 3 in the 100 breaststroke, the event in which she had the top prep time in the national a year ago (59.93 seconds) and in which she swam in the U.S. Olympic Trials in over the summer.
RETURNING AURORA STATE PLACERS: Regis Jesuit has back 10 swimmers/divers who earned at least one individual top-20 place at last season's state meet in Weber, fellow seniors Kenna Cashman, Grace Dale, Chiara Lopach, Allie Sanchez, juniors Samantha Aguirre, Sophia Frei and Olivia Roumph and sophomore Mia Henninger, while Aguirre, Dale, Leege, Sanchez, Weber and junior Rosie Jump all swam on at least one placing relay. Grandview has back individual placers in juniors Megan Doubrava and Paige Dailey along with senior diver Madeleine Hemstreet, while Dailey, senior Skylar Nollenberger and sophomore Keira Vail contributed to placing relays. Cherokee Trail's lone returning individual placer is senior Skylar Brgoch, who along with junior Morgan Walker and sophomores Emme Metzmaker and Sarah Woren were on at least one placing relay. Smoky Hill has back multiple-event individual placer Annelise Thomas, a senior who also was on a placing relay last season as was sophomore Virginia Berglund.
TOP AURORA SEED BY EVENT W/TIME: 200 yard medley relay — No. 1 Regis Jesuit, 1 minute, 42.72 seconds; 200 yard freestyle — No. 5 Skylar Brgoch (Cherokee Trail), 1:54.99; 200 yard indiv. medley — No. 5 Emma Weber (Regis Jesuit), 2:06.42; 50 yard freestyle — No. 15 Grace Dale (Regis Jesuit), 24.46; 1-meter diving — No. 6 Chiara Lopach (Regis Jesuit), 454.70 points; 100 yard butterfly — No. 4 Skylar Brgoch (Cherokee Trail), 55.90; 100 yard freestyle — No. 12 Emme Metzmaker (Cherokee Trail) 53.74; 500 yard freestyle — No. 11 Megan Doubrava (Grandview), 5:14.34; 200 yard freestyle relay — No. 8 Grandview, 1:39.69; 100 yard backstroke — No. 12 Ava Zadigan (Grandview), 57.75; 100 yard breaststroke — No. 3 Emma Weber (Regis Jesuit), 1:04.11; 400 yard freestyle relay — No. 7 Regis Jesuit, 3:36.33
AURORA QUALIFIERS BY EVENT: 200 yard medley relay (5); 200 yard freestyle (9); 200 yard indiv. medley (12); 50 yard freestyle (12); 1-meter diving (8); 100 yard butterfly (14); 100 yard freestyle (10); 500 yard freestyle (4); 200 yard freestyle relay (5); 100 yard backstroke (9); 100 yard breaststroke (12); 400 yard freestyle relay (4)
AURORA 2022 CLASS 5A GIRLS STATE SWIM MEET QUALIFIERS BY SCHOOL
CHEROKEE TRAIL (6): Skylar Brgoch, sr., 200 yard freestyle (5th, 1 minute, 54.99 seconds) & 100 yard butterfly (4th, 55.90); Ella Drakulich, fr., 200 yard indiv. medley (15th, 2:10.84) & 100 yard breaststroke (24th, 1:08.13); Mckenna Mazeski, jr., 100 yard freestyle (44th, 56.13); Emme Metzmaker, soph. 200 yard freestyle (17th, 1:57.70) & 100 yard freestyle (12th, 53.74); Morgan Walker, jr., 200 yard indiv. medley (27th, 2:14.01) & 100 yard backstroke (29th, 1:00.78); Sarah Woren, soph., 50 yard freestyle (21st, 24.95) & 100 yard freestyle (15th, 53.78); Relays (3): 200 yard medley (12th, 1:50.03), 200 yard freestyle (9th, 1:39.81) and 400 yard freestyle (8th, 3:36.51)
EAGLECREST: Relays (2): 200 yard medley (30th, 2:01.24) and 200 yard freestyle (30th, 1:48.81)
GRANDVIEW (13): Peyton Belcher, soph., 50 yard freestyle (29th, 25.45) & 100 yard butterfly (25th, 1:00.69); Addison Campbell, fr., 1-meter diving (29th, 342.30); Paige Dailey, jr., 200 yard indiv. medley (41st, 2:16.71) & 100 yard breaststroke (5th, 1:04.43); Megan Doubrava, jr., 200 yard indiv. medley (18th, 2:11.62) & 500 yard freestyle (13th, 5:14.34); Kya Guikema, jr., 200 yard freestyle (44th, 2:02.03) & 100 yard backstroke (25th, 1:00.63); Kaitlyn Hafer, soph., 200 yard indiv. medley (45th, 2:17.45) & 100 yard breaststroke (11th, 1:06.28); Madeleine Hemstreet, sr., 1-meter diving (18th, 383.35); Rebecca Hildebrand, jr., 200 yard freestyle (35th, 2:01.27) & 100 yard freestyle (40th, 55.92); Brynn Koehler, jr., 200 yard freestyle (36th, 2:01.41) & 500 yard freestyle (18th, 5:19.67); Skylar Nollenberger, sr., 50 yard freestyle (38th, 25.60) & 100 yard freestyle (38th, 55.87); Caroline Payne, jr., 100 yard butterfly (42nd, 1:01.70) & 100 yard backstroke (55th, 1:02.88); Keira Vail, soph., 50 yard freestyle (36th, 25.57) & 100 yard freestyle (37th, 55.83); Ava Zadigan, fr., 200 yard indiv. medley (19th, 2:11.65) & 100 yard backstroke (12th, 57.75); Relays (3): 200 yard medley (8th, 1:47.33), 200 yard freestyle (8th, 1:39.69) and 400 yard freestyle (9th, 3:38,02)
REGIS JESUIT (32): Samantha Aguirre, jr., 200 yard freestyle (6th, 59.79) & 100 yard butterfly (17th); Caroline Armistead, sr., 100 yard butterfly (29th, 1:01.04); Kenna Cashman, sr., 200 yard indiv. medley (31st, 2:15.36) & 100 yard breaststroke (33rd, 1:09.83); Caroline Clouatre, sr., 200 yard indiv. medley (33rd, 2:15.58) & 100 yard butterfly (51st, 1:02.13); Amelie Colsman, sr., 50 yard freestyle (47th, 25.71) & 100 yard breaststroke (53rd, 1:11.79); Grace Dale, sr., 50 yard freestyle (15th, 24.46) & 100 yard freestyle (17th, 53.88); Claudia Donez, jr., 100 yard backstroke (56th, 1:02.93); Shelby Enderlein, sr., 50 yard freestyle (37th, 25.60) & 100 yard butterfly (55th, 1:02.41); Sophia Frei, jr., 200 yard indiv. medley (36th, 2:16.03) & 100 yard backstroke (23rd, 1:00.21); Mia Henninger, soph., 1-meter diving (8th, 424.00); Gabriella Herrera, sr., 1-meter diving (26th, 359.70); Taylor Hoffman, fr., 50 yard freestyle (28th, 25.43) & 100 yard butterfly (26th, 1:00.92); Kathryn Jewell, soph., 1-meter diving (20th, 372.65); Rosie Jump, jr., 200 yard indiv. medley (24th, 2:13.63) & 100 yard breaststroke (48th, 1:11.21); Elise Kittleson, fr., 200 yard freestyle (50th, 2:02.84) & 100 yard breaststroke (57th, 1:12.09); Tierney Kohl, soph., 200 yard indiv. medley (29th, 2:14.55) & 100 yard breaststroke (34th, 1:09.89); Maya Kriz, soph., 1-meter diving (30th, 341.25); Greta Leege, sr., 50 yard freestyle (45th, 25.70) & 100 yard butterfly (24th, 1:00.68); Vivian Leege, fr., 100 yard butterfly (49th, 1:02.07); Chiara Lopach, sr., 1-meter diving (6th, 454.70); Sarah Mann, soph., 1-meter diving (12th, 409.45); Amelia Marsicek, soph., 100 yard butterfly (50th, 1:02.33) & 100 yard backstroke (34th, 1:01.39); Faith Marsicek, sr., 50 yard freestyle (52nd, 25.76) & 100 yard freestyle (43rd, 56.06); Sophia Mitsuoka, jr., 50 yard freestyle (48th, 25.71) & 100 yard butterfly (22nd, 1:00.64); Molly Nichols, jr., 50 yard freestyle (42nd, 25.67) & 100 yard freestyle (47th, 56.36); Marian Penry, soph., 100 yard breaststroke (36th, 1:10.06); Olivia Roumph, jr., 100 yard breaststroke (16th, 1:07.03); Allie Sanchez, sr., 100 yard butterfly (12th, 57.96) & 100 yard backstroke (14th, 58.11); Camille Shifrin, sr. 200 yard freestyle (22nd, 1:58.84) & 500 yard freestyle (19th, 5:19.73); Avery Stanga, fr., 100 yard breaststroke (52nd, 1:11.69); Emma Weber, sr., 200 yard indiv. medley (5th, 2:06.42) & 100 yard breaststroke (3rd, 1:04.11); Ava Wiley, sr., 200 yard freestyle (33rd, 2:01.12) & 500 yard freestyle (29th, 5:27.67); Relays (3): 200 yard medley (1st, 1:42.72), 200 yard freestyle (11th, 1:39.97) & 400 yard freestyle (7th, 3:36.33)
SMOKY HILL (2):  Virginia Berglund, soph., 100 yard freestyle (42nd, 55.99); Annelise Thomas, sr., 100 yard butterfly (7th, 57.16) & 100 yard backstroke (16th, 58.21); Relays (3): 200 yard medley (27th, 1:56.09), 200 yard freestyle (27th, 1:46.73) and 400 yard freestyle (26th, 3:49.01)