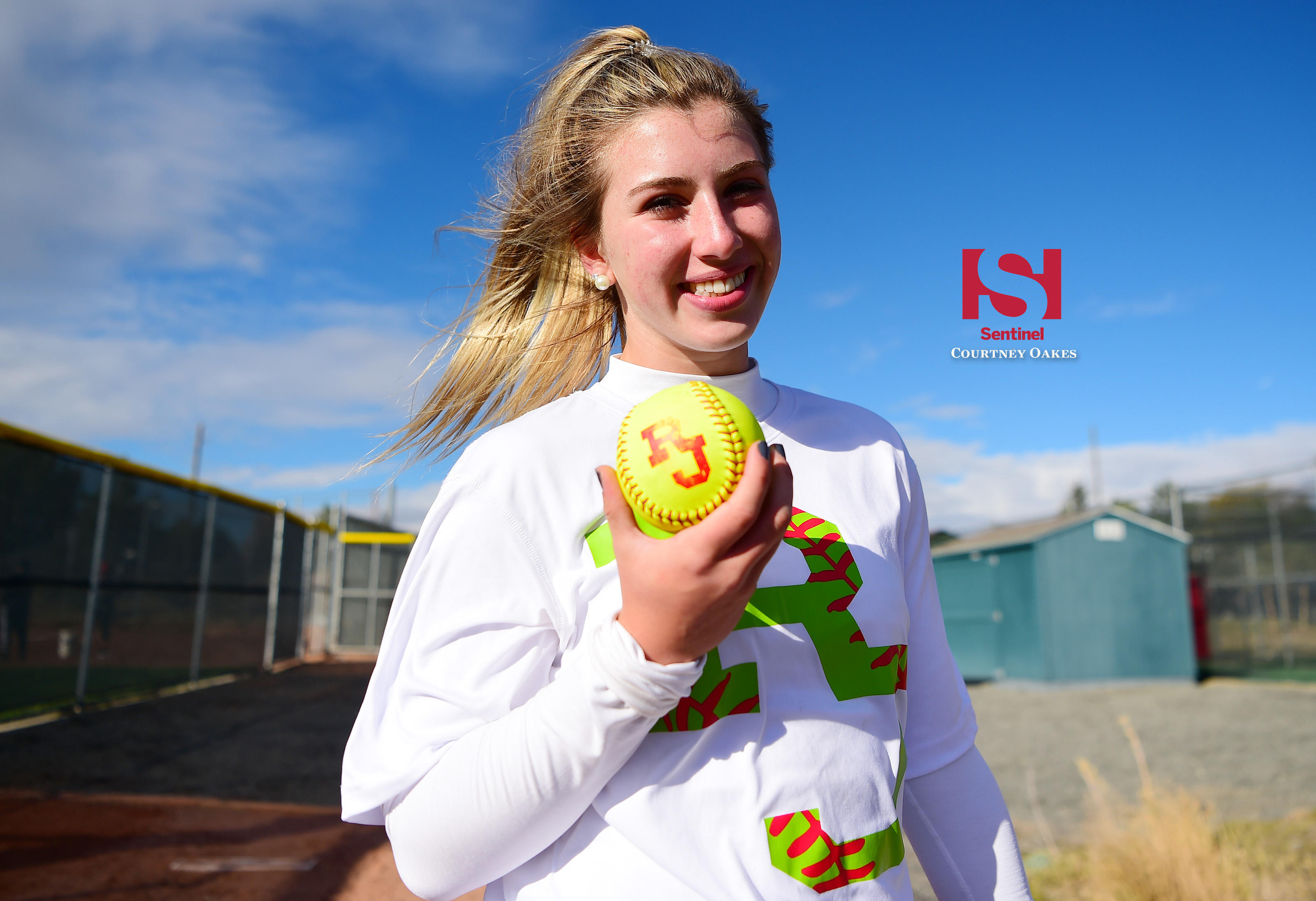 AURORA | No matter how long the Regis Jesuit softball team's run in the Class 5A state softball tournament lasts, Jackie Cal will undoubtedly enjoy the ride.
That the Raiders' senior pitcher and her teammates have the chance to take the field at the Aurora Sports Park Friday as one of the last 16 teams left standing is a testament to the growth the program has experienced over the past few seasons.
Fifteenth-seeded Regis Jesuit — one of four Aurora qualifiers — will finally realize its journey in the biggest way possible when it plays its first state tournament game at 12:15 p.m. against second-seeded Fossil Ridge at Complex B.
"Being in the postseason, there's just a different energy around the team," said Cal, one of four seniors who have been with the team for four seasons. "We're all just excited to be here. We're living in the moment and really embracing the opportunity."
Four of Regis Jesuit's five seniors — Cal, Izzy Macias, Caroline Saro and Anna Dinkel — won six games as freshmen, five games as sophomores and eight as juniors. Going into their matchup with Fossil Ridge Friday, they have 15 in their pocket so far as seniors.
Two of the biggest wins came at last week's 5A Region 3 tournament at Broomfield Community Park, where the Raiders (playing in the postseason for the first time in 11 seasons) twice knocked off Cherry Creek — a 2017 state tournament qualifier — to earn one of the coveted 16 spots in the state tournament.
Coach Merideth Feik, who has been with the team as a head coach or assistant for the lion's share of the program's existence, found herself a bit overcome when she tried to address her players after their clinching 5-4 victory.
"They tease me because I was trying to talk to them and I was getting a little emotional about it," said Feik, her voice breaking a little.
"That's because it's so awesome to see how much they've accomplished. I'm so proud of how far they've come. It's one of those things that you really can't put into words. I can't really explain how strongly I feel. I think they are grateful for the opportunity, but they feel like they've earned it and they have."
For a program that typically fields far fewer numbers than traditional softball powers at the 5A level — 24 to 28 players on two levels, including a junior varsity mostly made up of players with little to no experience — it's an especially impressive accomplishment.
An influx of young talent in players such as sophomores Lanie Smith, Chloe Valdez and Carlie Jo Caldwell (whose two older sisters played in the Regis Jesuit program in its early years) and freshman Catharine Redden — four of the team's top six hitters by average — has been a big boost, but it has taken the seniors to mold them into a team.
"The seniors have set a great example and they are role models on the field and in the building," Feik said. "They work really hard to create a culture of togetherness to the group and that's them. That's on the players to do that. They have to come together on their own.
"As coaches, we can try as much as we want, but what matters most is what the kids decide to do together and it comes from the older kids."
Macias — who came down with the flu after the regional tournament and spent most of the week leading up to state recovering — has been a definite tone-setter.
Playing a pivotal role as a catcher, definitely one of the most important positions on the field, she's also tied with Valdez for the team lead in home runs (four), paces the Raiders in RBI (22) and stolen bases (10) and sports a .386 batting average.
But Macias' value goes far beyond statistics according to Cal.
"I am so thankful for Izzy, I wouldn't want to have anybody else behind the plate," she said. "Being here four years and going through this with her, I've seen her become such a leader, especially this year. She's really stepped up and she's been such a hard worker and such a leader for this team. She should get a lot of credit for everything she's done for this program."
So, too, does Cal, who has taken her pitching to a new level each season since she became the team's workhorse starter as a sophomore.
Cal credits the energy of the team behind her for lifting her up in crucial spots.
She has pitched 151 2/3 of the 168 innings played by the Raiders this season and owns a 15-9 record with a 2.58 ERA and 139 strikeouts, which marks career bests in every single category.
"I think the overall environment that I feel this team has created has really helped me thrive, knowing that the team always has my back," Cal said. "Of course, there is a ton of work put in in the offseason and through competitive season, but more than anything else, it's these girls and these coaches. I've been extremely blessed to be part of this group.
"I completely feed off the energy. I look at my teammates and I say 'you know what, I've got you here. I know you have me and I have you.'"
The Raiders go into the state tournament as underdogs to be sure, but feeling now pressure and with a schedule behind them that includes nine games played against 5A state tournament qualifiers, they feel good.
"You get to this point, it's anybody's opportunity," Feik said. "Even though maybe we're at No. 15 (seed), that doesn't really mean much to us. We're one of the top 16 teams, we deserve to be there and they are going to fight for it."
Courtney Oakes is Sentinel Sports Editor. Reach him at 303-750-7555 or [email protected] Twitter: @aurorasports. FB: Sentinel Prep Sports