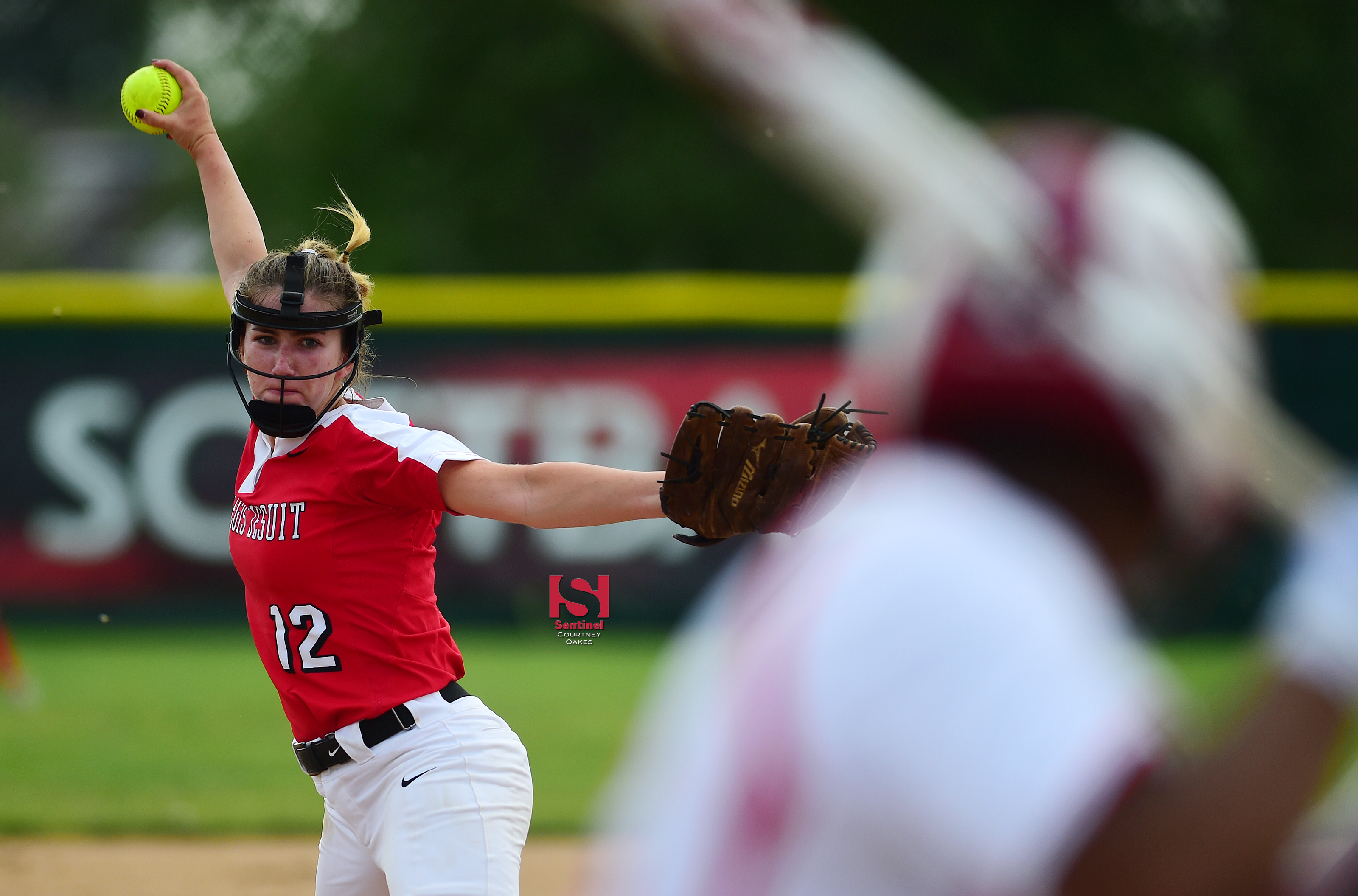 AURORA | With the very definition of small ball, the Regis Jesuit softball team earned a 1-0 victory at Smoky Hill Wednesday afternoon.
Pitching and defense were on point on both sides in the early season non-league matchup of Aurora programs, so only the Raiders' station-to-station production of a run in the fourth inning made it onto the scoreboard.
Sophomore Katelyn Marshall laid down a bunt to bring in senior Isabel Macias for the only run of the game and senior pitcher Jackie Cal made it stand up with a complete game three-hitter as Regis Jesuit prevailed in Smoky Hill's home opener.
Coach Merideth Feik's Raiders (3-2) collected eight hits, stole four bases and had traffic on base in several innings, yet only broke through in the fourth against Buffs' freshman starter Paris Elsberry.
Elsberry got out of a bases-loaded, one-out situation in the top of the second inning unscathed and then got help from freshman center fielder Izzy Waleski with a catch at the wall in the third inning to blunt another potential rally.
Macias got fooled on a couple of pitches in her at-bat to lead off the top of the fourth, but a check swing turned into a single to center field. The senior catcher stole second base, then tagged up and advanced to third on a fly ball to deep right field by sophomore Carlie Jo Caldwell.
Marshall laid down a bunt as Macias broke for the plate and scored easily.
Coach B.J. Kingsbaker's Smoky Hill team — which had collected 13 hits in an 11-1 win over Westminster a week earlier — managed just three hits against Cal (2-2), who walked none in seven innings and struck out six.
Freshman Izzy Giroux had two of the Buffs' three hits, including a late triple.
Courtney Oakes is Sentinel Sports Editor. Reach him at 303-750-7555 or [email protected]: @aurorasports. FB: Sentinel Prep Sports
REGIS JESUIT 1, SMOKY HILL 0
Score by innings (r-h-e):
Regis Jesuit  000 100 0 — 1  8  0
Smoky Hill    000 000 0 — 0  3  2
WP — Regis Jesuit: Jackie Cal (7 IP, 3 H, 0 R, 0 ER, 0 BB, 6 K). LP — Smoky Hill: Paris Elsberry (4 1/3 IP, 6 H, 1 R, 1 ER, 0 BB, 2 K). Regis Jesuit hitting: Carlie Jo Caldwell 2-3; Jackie Cal 2-3; Katelyn Marshall 1-3, RBI; Isabel Macias 1-3, run, 2 SB; Kilee Stortz 1-3, SB, Lanie Smith 1-3, SB. Smoky Hill hitting: Izzy Giroux 2-3, 3B; Paris Elsberry 1-3