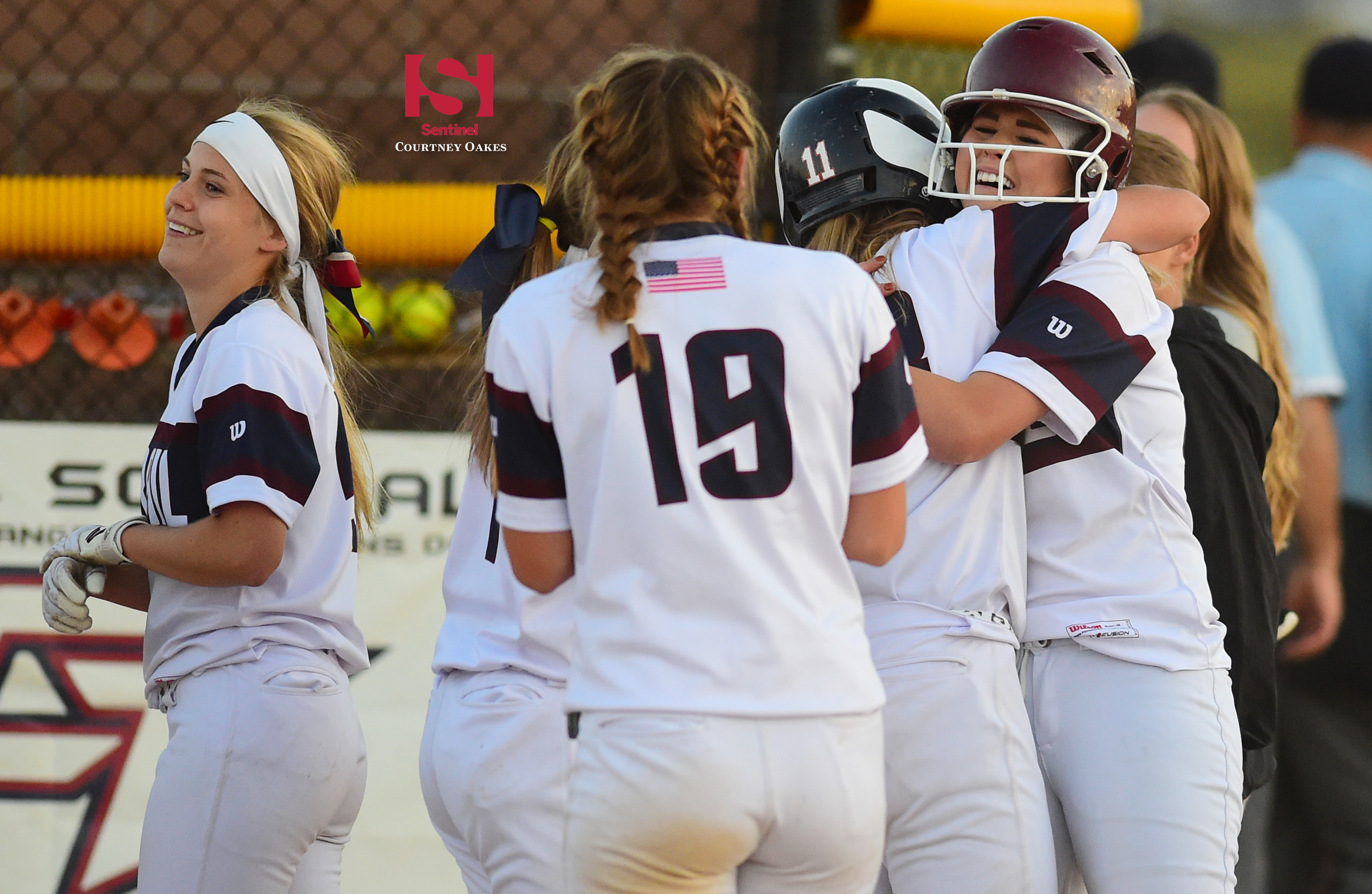 AURORA | Delanie Cox never got the chance to do damage Thursday afternoon in the Cherokee Trail girls softball team's huge matchup against Eaglecrest, but KT Hoffman sure did.
Just after the Raptors intentionally walked the dangerous Cox for the fifth time in the game — with the bases loaded to force in a run — Hoffman hammered a hanging change-up over the center field fence for a grand slam to give the Cougars an 11-9 walk-off win.
Cherokee Trail trailed for the entire ballgame until an eight-run seventh inning rally to stun Eaglecrest and take over sole possession of first place in the Centennial League standings with three games remaining on the schedule. Coach Caley Mitchell's team — who earlier in the season scored eight times in the seventh inning to rally past Legend — moved to 18-1 overall and 4-0 in league play.
"At first, I was just looking for a base hit, just get a couple of runs in because I knew were down," Hoffman said. "Next thing you know, I made contact and it was over the fence.
"It felt really, really good."
Senior Shayelyn Allen homered three times for coach Yvette Hendrian's Eaglecrest (15-4, 3-1) team — the last one a line drive that popped off the top of the center field fence and went over to give her team a 9-3 advantage — which led for the entire game after putting four runs in the opening inning.
The Raptors' early margin could have been greater if not for some key defensive plays, especially by senior right fielder Alexis Cortez, who threw out Risa Segura trying to score in the second inning and reached up to snare Rachel Sabourin's line drive with a runner in scoring position and two outs in the fourth.
Behind junior starting pitcher Reese Waggoner, Eaglecrest held Cherokee Trail's potent offense at bay until the final inning, when sophomore Abby Rupeka, junior Adreanna Lance and junior Shea Boland each collected run-scoring base hits to cut the deficit to 9-6.
Eaglecrest turned to sophomore Alex Hendrian, who got a big catch in left field from junior Maddie Unrein for the first out of the inning, but then walked Haley Albers to load the bases.
Yvette Hendrian chose to force home a run with a fifth intentional pass to Cox — who came into the game hitting over .600 with seven home runs — which brought to the plate Hoffman, who had grounded out in her last two times to the plate.
Hoffman wasted little time to deposit her first home run of the season over the fence and she sprinted around the bases on her way to home plate, where she was mobbed by her teammates.
Cox, who ended up scoring the winning run on the home run, remained confident in her team despite having the bat taken out of her hands.
"It was a little frustrating, it got to me a little bit, but KT came back and picked me up," Cox said. "We have each other's backs and she came back in the end and had mine."
Hendrian believed her strategy was sound given Cox's track record against her team.
"I knew what they had over there, that's why Delanie Cox never saw a pitch, because that kid over the last three years has burned me so many times," she said. "She wasn't going to do it this game and someone else did."
Junior Ashleigh Siefken picked up the win in relief for the Cougars, as she held the Raptors to two runs — both solo home runs — in three innings.
Courtney Oakes is Sentinel Sports Editor. Reach him at 303-750-7555 or [email protected] Twitter: @aurorasports. FB: Sentinel Prep Sports
CHEROKEE TRAIL 11, EAGLECREST 9
Score by innings:
Eaglecrest  400 220 1 —   9
Cher. Trail  200 100 8 — 11
WP — Cherokee Trail: Ashleigh Siefken. LP — Eaglecrest: Alex Hendrian. HR — Eaglecrest: Shayelyn Allen 3, Alex Hendrian, Reese Waggoner; Cherokee Trail: KT Hoffman