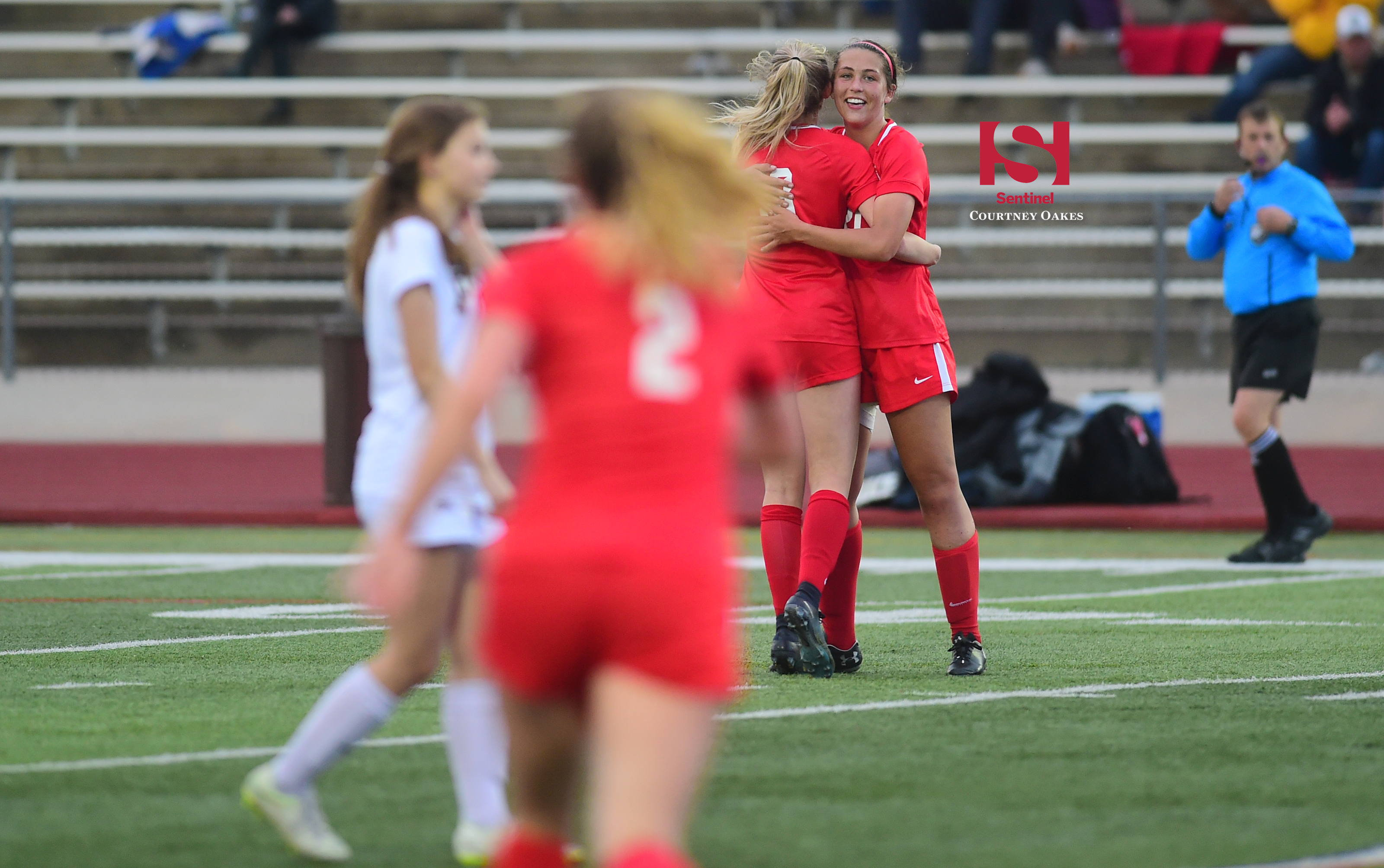 AURORA | The Regis Jesuit girls soccer team played three games in last season's Class 5A state playoffs in which they scored a combined three goals.
The Raiders had that many tallies in the first 12 minutes of Tuesday's 5A state playoff opener against visiting Prairie View at Lou Kellogg Stadium and advanced with a 6-0 victory.
Freshman Anna Lantz scored two of the early goals and juniors Lauren Emerson and Ava Laden also found the back of the net in the first half, while seniors Olivia Hernandez and Molly Reich scored goals in the second half for coach Will Cropper's sixth-seeded Regis Jesuit team, which kept 27th-seeded Prairie View scoreless.
"We came out pretty strong, so you can't complain about that start," Cropper said. "We didn't really know anything about that team, so you come in a little bit unsure, but the girls played well tonight."
Regis Jesuit (11-2-2) — which had to play all three of its postseason contests on the road last season as the No. 29 seed — will play a second straight home game in the second round when it plays host to 11th-seeded Columbine at 5:30 p.m. May 10. The Rebels (11-4-1) shut out No. 22 Boulder in the opening round.
Laden and senior Annika Schultze added assists for Regis Jesuit against Prairie View, while the Raiders welcomed back sophomore goalkeeper Hannah Cosgrove.
Cosgrove made three save to record a shutout in her first action since she was injured in a game against Mountain Vista April 18.
Regis Jesuit got all the offense it needed early when Emerson and Lantz scored two minutes apart, then Lantz scored again for a 3-0 edge just 12 minutes into the contest.
Laden — who had a hat trick in the team's regular season finale against Legend — boosted her team-leading goal total to 12 when she scored with seven minutes left in the first half. Hernandez and Reich both converted free kick chances into goals, the later coming from around 40 yards out.
Laden was proud of how her team handled the challenge against a relatively unknown side, much as the Raiders were last season when they upset both Fruita Monument and Legacy on their way to the final eight.
"We have to take all of our opponents seriously since we were the 29th seed last year and make the quarters," Laden said. "It was nice we scored those goals early so we could play how we play instead of playing stressful."
Aurora teams finished 2-0 in first round contests, as second-seeded Grandview also advanced with a 4-0 defeat of No. 31 Horizon. Cherokee Trail, the No. 15 seed, had its first round game with No. 18 ThunderRidge postponed to 7 p.m. Wednesday.
Updated Class 5A girls state soccer scoreboard & schedule, here.
Courtney Oakes is Sentinel Colorado Sports Editor. Reach him at 303-750-7555 or [email protected] Twitter: @aurorasports. FB: Sentinel Prep Sports
(6) REGIS JESUIT 6, (27) PRAIRIE VIEW 0
Score by halves:
Prairie View  0  0 — 0
Regis Jesuit  4  2 — 6
Regis Jesuit goals: Anna Lantz 2, Lauren Emerson, Ava Laden, Olivia Hernandez, Molly Reich. Regis Jesuit assists: Laden, Annika Schultze. Regis Jesuit saves: Hannah Cosgrove (3 shots on goal-3 saves)