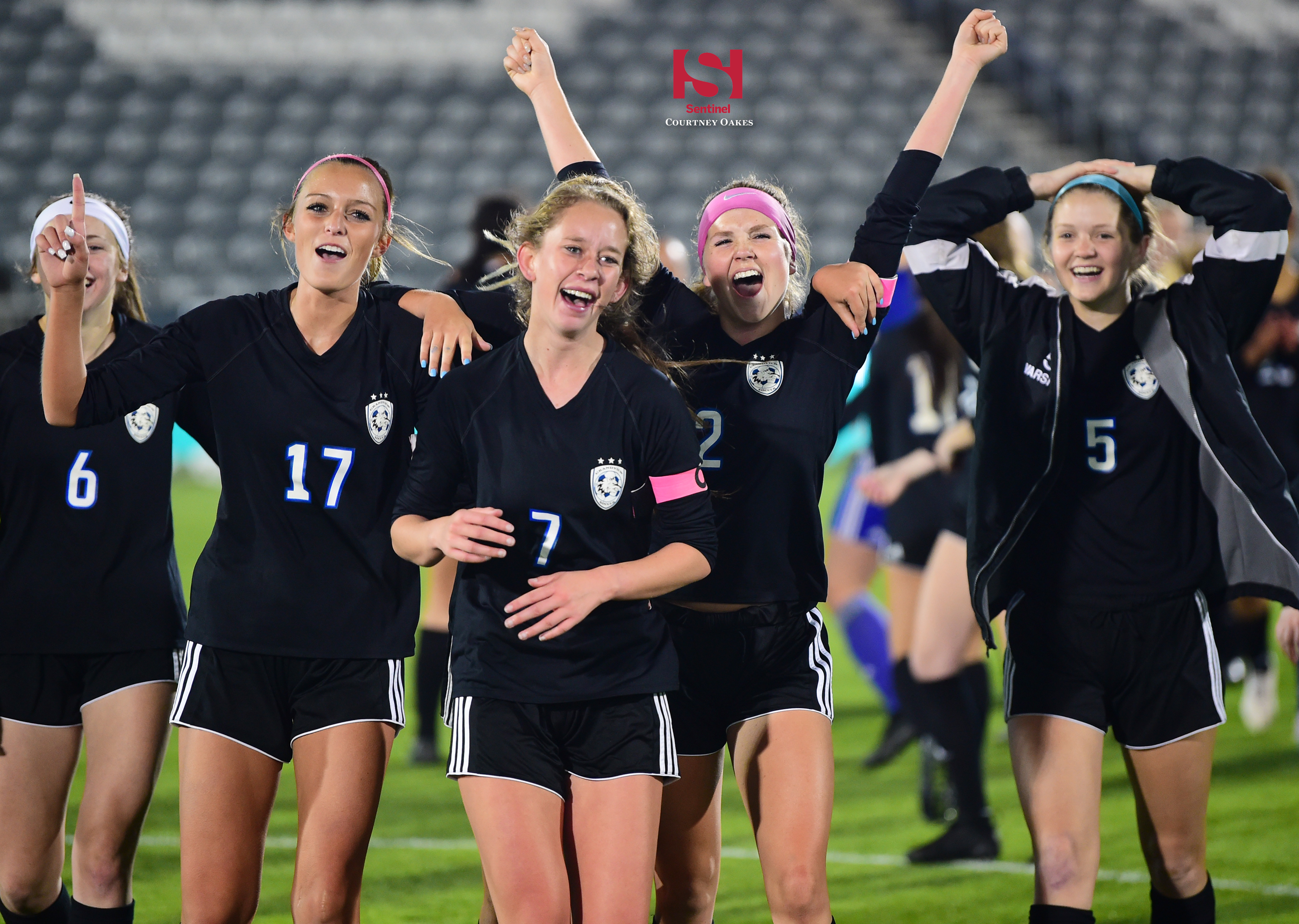 DENVER | If the word dynasty hadn't yet been attributed to the Grandview girls soccer program, it would have to be after Wednesday night.
The Wolves laid claim to their fourth Class 5A state championship in the past five seasons — and fifth all-time — with a drama-filled 2-1 victory over Arapahoe at Dick's Sporting Goods Park, which has become their regular haunt of late.
Junior Caylin Lyubenko scored twice in the first half and coach Tari Wood's Grandview team defended desperately for the rest of the game to defeat their Centennial League rivals, who were looking for their first state championship since 2006 and 10th all-time.
"Four championships in the last five years? That's pretty good, I would think it's a dynasty," senior midfielder Kacy Johnston said. "When I first came to Grandview, we'd won a state championship my eighth grade year and I knew a lot of girls on the team. I never thought we'd win three more when I was actually there."
The Wolves (17-2-1) moved into a tie for third in Colorado in all-time titles with five state championships, which includes prior wins in 2008, 2015, 2016 and 2018.
Lyubenko delivered last season's state championship with a golden goal in overtime against Broomfield and she provided the game-winner again this time.
The junior captain got Grandview on the scoreboard first in the 25th minute on the end of a nice play off a throw-in. Skyler Whitcher threw it in to Shalom Prince, who headed it deep to Jillian Skurcenski, who laid it off to an open Lyubenko for a left-footed strike into the upper corner of the net.
Arapahoe countered just two minutes later when senior Audrey Weiss netting the equalizer when she snuck one past Grandview senior goalie Madison Livingston and the game remained tied again as it neared halftime.
Lyubenko struck again with just under two minutes left in the half when she got a ball in the middle of the field, cut back to make two defenders miss and hit a line drive from just outside the top of the goal box that got past Warriors goalkeeper Grace Cadorette.
It was Lyubenko's team-leading 11th goal of the season and what turned out to be the biggest one.
Arapahoe rallied from a 2-0 deficit in the second half of the Centennial League game between the teams in April and put on tremendous pressure the entire second half trying to send it to overtime, where four of the last five meetings between the teams ended up.
Livingston rose to the occasion for Grandview with a handful of big saves, while her defense that included veterans in seniors Lauren Holleran, Keelie Wortmann and Whitcher — plus precocious freshman Taylor Gentry — stood up Arapahoe's offensive players and limited dangerous looks.
Courtney Oakes is Sentinel Colorado Sports Editor. Reach him at 303-750-7555 or [email protected] Twitter: @aurorasports. IG: Sentinel Prep Sports
(2) GRANDVIEW 2, (12) ARAPAHOE 1
Score by halves:
Arapahoe   1  0 — 1
Grandview  2  0 — 2
SCORING
First half
Grandview — Caylin Lyubenko (Jillian Skurcenski), 25th minute
Arapahoe — Audrey Weiss, 27th minute
Grandview — Lyubenko, 38th minute