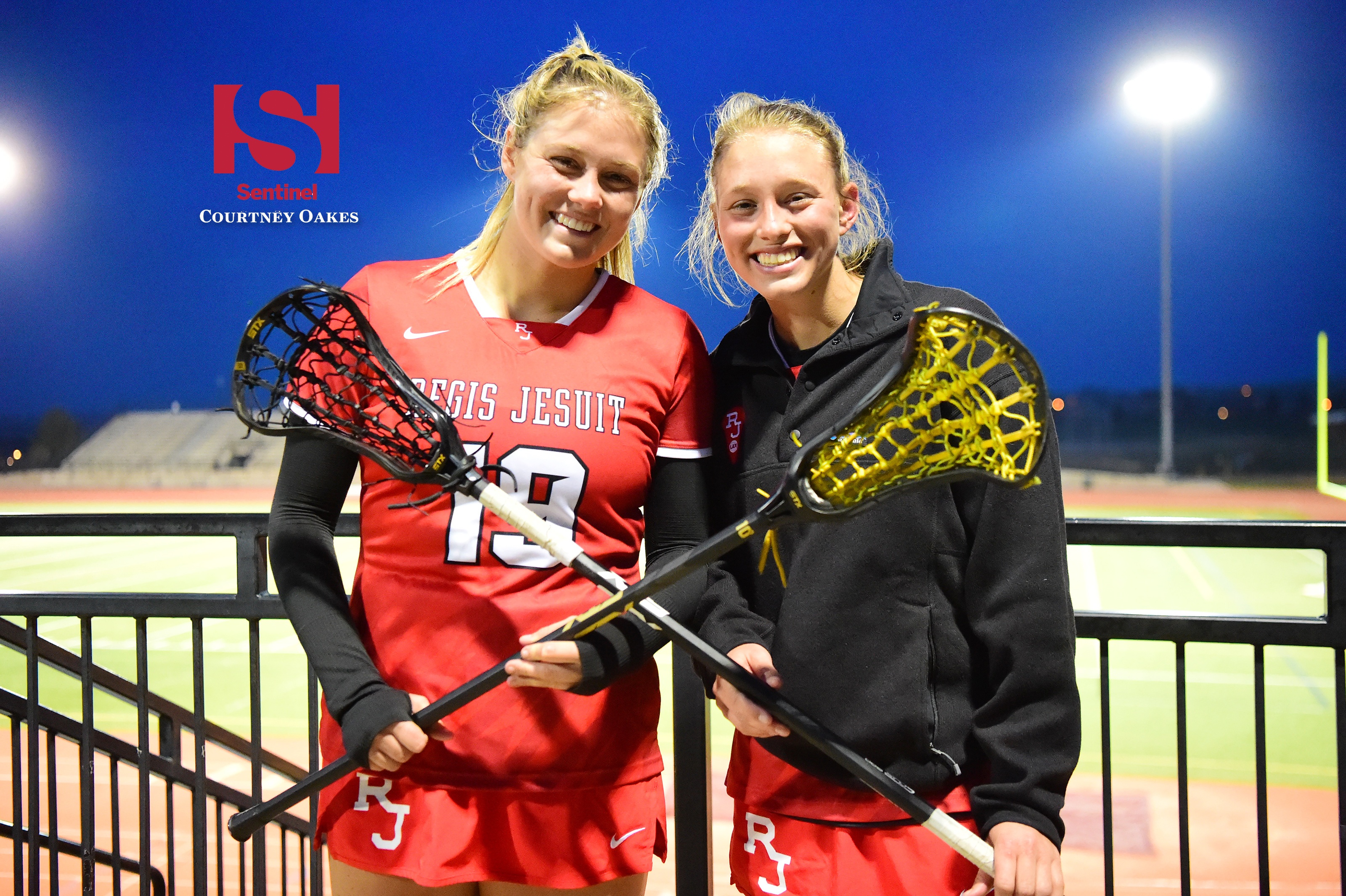 The days of throwing in the front yard together are nearing an end for Sidney and Grace Weigand.
Sidney will head off to play at West Point after she graduates and Grace will be left to continue the family lacrosse legacy for two more years at Regis Jesuit.
But until those days are done, the sisters will relish each time they get to play or practice together during the spring season. The Weigands have helped coach Kathryn Ames' Raiders get off to a 4-0 start and develop the look of a state championship contender.
"It was awesome to play with her this last basketball season, but obviously lacrosse is our main sport and it's what we love to do the most," Sidney said.
"Being able to be out there and make all these cool plays with her and just around with her is really really special. It's so nice to have her support when I'm struggling and to support her when she's struggling.
"It's definitely something special that not everyone can do, so I'm taking in every game and enjoying it a lot."
Grace can see the end of the tunnel as well in the time that she'll get to play with her older sister, so she is also relishing each time the two can take the field together.
"It's so cliche, but you don't realize what you have until it's gone and she's almost gone," she said. "I'm having a good time with her."
In the winter, the sisters paired up on the Regis Jesuit girls basketball team, which fell a bit short of its goal of winning the state championship with a loss in the semifinals.
As key role players surrounding the triumverate of Fran Belibi, Avery VanSickle and Jada Moore, the Weigands did all sorts of little things that helped coach Carl Mattei's team succeed.
Their roles on the lacrosse team are vastly different as two of the team's major driving forces and helped the Raiders make last season's state quarterfinals.
The Weigands combined for seven goals in an 18-5 win over Grandview April 2 and have teamed up for 30 goals on the season. Utilizing her speed and ability to get into scoring spaces, Grace has scored 14 goals in just four games and well on her way to shatter her total of 19 goals from last season.
"I think I grew a lot over the summer," said Grace, who also helped the Regis Jesuit field hockey team win its first-ever state championship in the fall.
"I was just trying to work really hard to get my offensive piece because I knew that was what I was missing," she added. "Now, I have a lot of confidence in it. With the help of the entire team and my sister, the passes are great. So it just comes from them, too."
Sidney has long been a key figure for Regis Jesuit — with 84 goals and 52 assists in the past two seasons and the majority of the work on faceoffs — and with the team's overall improvement, is enjoying a chance to take a bit of a step back in terms of what she has to do in a game.
"My team is amazing this year and I have such strong support in the circle; Cate (Lord) and Grace and all the subs that come in for them just hustle so much and help win faceoffs," Sidney said. "It's fun to have people to play with and make all these good plays on goals and assists and it helps to have a strong defense. It's been really, really fun so far."
The Raiders are certainly more than just the sisters, as Ames continually emphasizes. They have veterans on all levels of the field and an influx of young talent that gives them what looks to be the right recipe.
"I say to the girls all the time that all the pieces matter," she said. "I like where we're heading and I think we have a lot to build on, but I'm definitely never satisfied. I think we need to keep improving on teamwork and ball movement and that will help us in the end."
Regis Jesuit has a big game with four-time defending state champion Colorado Academy upcoming April 9, which will be a true measure of how far its come. But before that, the Raiders face Arapahoe and Cherry Creek in a busy week back from spring break.
Courtney Oakes is Sentinel Colorado Sports Editor. Reach him at 303-750-7555 or [email protected] Twitter: @aurorasports. FB: Sentinel Prep Sports